If you do not breastfeed, then you ought to give your baby the right formula. In most cases, the baby formula is obtained from cow milk and offers a wide range of nutrients. As you know, a healthy baby will start breastfeeding a few hours after birth.
Experts and doctors consider breastfeeding to be an important thing for the baby, and it can reduce the risk of different diseases. Also, breastfeeding has a lot of benefits to offer. Moreover, it is more economical than formula. There are different reasons parents should go for the formula.
Until your baby is six months old, baby formula or breast milk will be breakfast, lunch, and dinner. It is what your baby needs to be healthy. Most parents opt for a combination of formula and breastfeeding, adding bottles once the baby establishes a nursing route.
If you want to try a baby formula for your one-month-old babies, you should consult your doctor before proceeding. It is advisable to keep breastfeeding the baby at routine times to ensure your milk supply does not run out. The following are tips to help you when shopping for the best formula for one month old.
What Is the Best Formula For One Month Old Babies?
Picking the Best Formula For Breastfed 1 Month Old Babies
Types of Baby Formula For One Month Old Babies
You should note that the baby formula is available in three forms: ready-made liquid, concentrated liquid, and powder. Other than the standard formula, which is obtained from the cow milk, you can find special formulas for babies who have issues with digesting lactose that is found in milk.
Ideally, specialized formulas are meant for babies who have allergies to cow milk. For instance, the hydrolysate formula can be given to babies who may be allergic to soy or cow milk. The good thing about this formula is that it is easier to digest. If you want your baby to have only a vegetarian diet, you should go for soy formula.
Formula For Allergic Babies
Nowadays, you can find different formulas that are meant to ease fussiness, colic, gas, and diarrhea. Also, you can find the formula that is made for low-birth-weight babies, toddlers, and older babies. Ensure you consult your pediatrician on the best advice about what to feed your baby. Also, your baby's nutritional needs and preferences affect your choice too. If the baby does not like the first formula you give, then you may need to try a few formulas to get the right one.
You do not have to heat the formula for proper nutrition. Instead, you should warm up the baby's bottle if you want but do not use a microwave as it creates hot spots that can burn the baby. The best option is to warm the milk by putting a bottle in warm water and always test its temperature before you give it to the baby.
Powdered Formula
This is the cheapest type of baby formula you can purchase. The issue here is that you must be careful when measuring the amount of water you add to ensure your baby gets the correct concentration of nutrients. You should avoid preparing multiple bottles at the same time.
Concentrated Liquid Formula
You will find this type of formula quite convenient as water is already mixed. Moreover, it can be quite expensive. You will find it available in different sizes. Ensure you recommend shaking well before opening.
Features of Baby Formula
The standard formula is based on cow milk.
However, there are other special formulas that are meant for babies who have issues digesting lactose. You should note that lactose is the main carbohydrate in milk. Also, you can find formulas that meant to prevent fussiness, colic, gas, and diarrhea. The fact that there are several varieties on the market, it does not mean you should keep switching from one formula to another.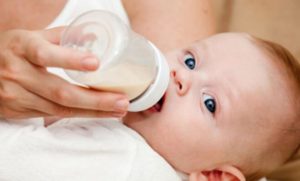 Most formulas on the market are fortified with DHA and ARA.
These are essential fatty acids that occur in breast milk. ARA and DHA are added as they promote brain and eye development. You should note that DHA and ARA in formulas is not the exact match for breast milk. That is because breast milk contains several components that cannot be replicated.
Also, the formula you purchase ought to be fortified with iron.
You should avoid low-iron formulas as they result in causing iron deficiency. Remember that lack of adequate iron in the blood can cause anemia.
Shopping Tips
You should avoid stocking up before birth. Always the pediatrician for recommendations, but do not buy a lot of them after the baby is born. Most companies offer free samples, and the hospital can give you samples before you go home.
It is advisable to look for savings as many companies have exclusive savings and offers. You can also benefit from infant formula, coupons, and partner offers. Keep checking prices on different platforms that may offer free shipping. Experts recommend that you buy in bulky to save on cost. That is because of large cans, whether in liquid or powder form.
Conclusion
If you have a fussy baby, then choosing the Enfamil Gentlease Sensitive Baby Formula.
If your baby has a problem with digestion, it is best to pick Happy Baby Organic Infant Formula.
If your baby is allergic to cow milk, then Neocate SyneoTM Infant Formula can be the best choice.
Title
Best Non GMO Formula
Price
$34.87 ($1.68 / Ounce)
---