Portable baby swing, as the name suggests, is a small and compact swing machine, it is extremely light that you can carry it anywhere you want. Some of the portable types are able to be folded up, so it becomes the half size of its origin, easy to be packed into suitcase or backpack for traveling.
Therefore, if you intend to buy a swing that uses frequently outside, then a portable baby swing will be your perfect choice.
Top 4 Best Portable Baby Swings For Travel
Portable Baby Swing Brands
Actually, there are many baby swing brands designing and producing portable baby swings, among which Ingenuity is the leader and can be regarded as an expert. Convert Me Swing-2-Seat Portable Swing, Comfort 2 Go Portable Swing and Power Adapt Portable Swing series are all on the best selling. The design style of Ingenuity is mostly unisex. The size is small and compact, easy to be folded up for storage or for traveling.
Fisher Price is another top-rated baby swing brand, the portable series include Take-Along Swing and Seat, Space Saver Swing and Seat and Deluxe Take Along Swing and Seat are all reliable and stable enough for choosing. Many colors and patterns can be selected as well.
Portable Baby Swing vs Regular Baby Swing
A regular baby swing is normally referred to as full-size baby swing. Thus the primary difference between them is the size. The portable one is far smaller than full size one and can be a space saver, perfect for small spaces. Full size is large and uneasy to move, basically, it stays near the plug after assembling. For outdoor travel use, battery-operated portable baby swing saves your time and energy on finding a plug anywhere. But also, the battery cost can be rather high and is even more expensive than a full-size baby swing price for a long period of use.
The function of the portable baby swing is simple, meeting the basic needs of a soothing baby with swing motions only, some are equipped with music and vibrations. On the other hand, a regular baby swing is more functional and has more entertainment ways including light beam, mp3 plug, and even unique swing motions. The price of the full-size baby swing is of course much higher than a portable one.
In conclusion, a portable baby swing is powered mainly by a battery, lightweights, and less functional. Full-size one has a plug-in operation, hard to move but is more functional.
Types of Portable Baby Swing
1. Foldable baby swing
Folding baby swing refers to the machine that is able to fold up its legs. On traveling or when used for outside, the foldable baby swing can be folded half of its original size and packed into a suitcase or large backpack. It can be folded up easily and conveniently.
2. Portable baby swing that plugs in
Most portable baby swings are operated by battery, if you get one portable baby swing that plugs in, that means it can be used for indoor and outdoor both perfectly. Battery cost can be rather high, thus if it can be plugged in the wall, then it is a brilliant baby swing for small spaces.
3. Portable battery-operated baby swing
As it is used mainly for outdoor, battery operation baby swing saves you much energy and time in finding a plug anywhere. And you can take it to close with you when you need to go out for buying or just need to wash or cook in other rooms. Of course, the biggest problem with it is its high battery cost.
4. Portable baby swing that vibrates
Vibration is an effective soothing way for some babies, therefore, some baby swings are equipped with vibration modes powered by the battery. There are two vibration modes that can be chosen and speed is calming and make the baby feel relaxed.
Best Portable Baby Swings 2020 Reviews
1. Portable Baby Swing – Ingenuity Cozy Kingdom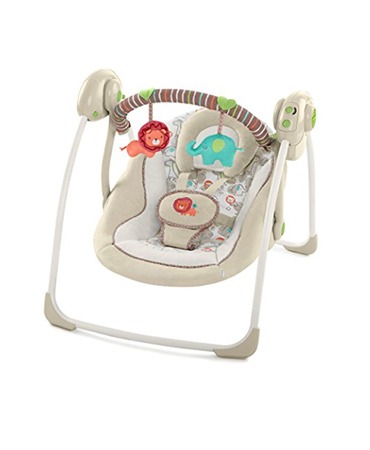 This baby swing is quite small and compact, it can be folded to half of its original size, easy to be packed in a suitcase or large backpack. The toy bar can be removed if you find it hard to get baby in and out.
Other features:
6 songs and natural sounds inserted
6 swing speeds
Soft and breathable seat pad
5 point harness keep baby safe all the time
Battery operation
Timer inserted

---
2. Top Portable Baby Chairs – Fisher Price Deluxe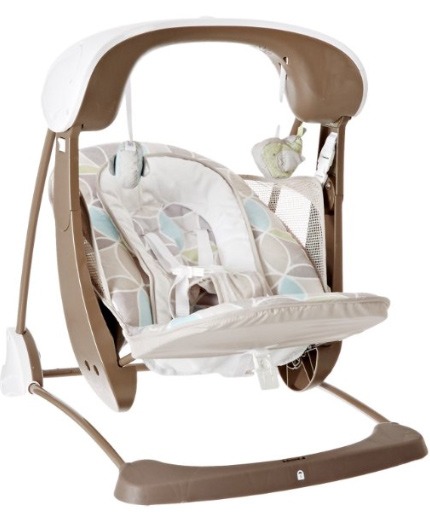 Fisher price portable baby swing of this series is light and easy for carrying. It can convert to a stable baby seat when you lock the seat belt. It is able to be folded for storage or take along.
Other features:
6 adjustable swing speeds
10 tunes and natural sounds
Calming vibration seat
Easy convert to stationary seat
Seat pad is soft and breathable
Battery operation

---
3. Best Travel Baby Swing – Ingenuity Convert Me Swing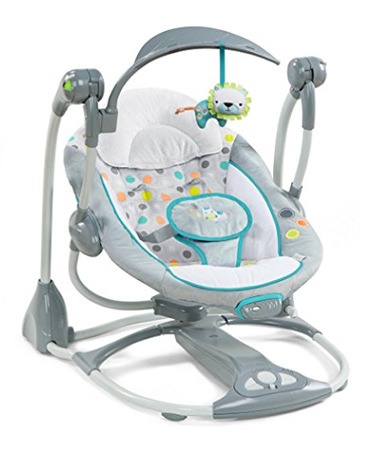 It is another series of Ingenuity baby swing. The small footprint makes it a space saver. It weights light, easy to be carried anywhere you want and you can fold the legs up. It has vibration modes that can be adjusted.
Other features:
5 adjustable swing speeds
Easily convert to baby seat with swing lock
Seat is soft and machine washable
5 point harness

---
4. Foldable Baby Swing – Graco Lite LX Gliding Baby Swing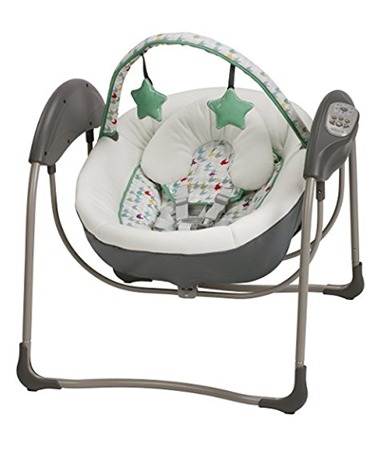 Unlike other recommended baby swing, this portable baby swing of Graco is powered both on battery and plug, saving a large sum of money for you. But it unfolds, so if you want to take it out for use, you may put it on the car seat.
Other features:
6 gliding speeds
Light weight, easy to carry
15 songs and natural music inserted
Built in timer
Plug in and battery operation

---
How to Choose Portable Baby Swing?
1.Folded type
If you need to take it for travel, we would like to suggest a folding baby swing to you. The swing leg can be folded up and it is easy to be put into a suitcase or backpack. But you need to make sure that in normal using process, the swing machine won't unintentionally be folded. And for each baby swing, folding ways can be different. Make sure the folding is smooth and convenient to operate.
2.Space
Estimating your extra floor space at home, if your home is crowded with baby stuff and has no place for a large baby swing anymore, then portable baby swing will be your best choice. But if you have a larger space and enough money, we still suggest a full size baby swing for you.
3.Function
Nearly all the portable baby swings are made into simple operation types, they meet the basic needs of soothing infants with gentle swing motions. But there are also some equipped with music or light. On choosing, you need to make clear which function you need most.
4.Plug in & battery
If you intend to use it outdoor frequently, then battery operated one is the best choice. But if you just want a compact and small baby swing for you do not have enough space for a full size one, then we strongly suggest you get a portable baby swing that plugs in. The battery is easily drained out and you need to change it basically once a month, the price of which is far expensive than the swing machine itself. Therefore, if using for indoor, you can choose the plug in type.
Pros&Cons of Portable Baby Swing
Pros:
1. Easy to carry
2. Occupy less floor space, suitable for small spaces family
3. Perfect for outdoor or travel use
4. Low price
5. Low working noise
Cons:
1. Simple functions
2. Swing from head to toe only
3. High cost on the battery
Summary
If you have an interest in other baby swings performances and prices, please check out on Amazon.
---