Ingenuity is a famous brand on producing various kinds of baby gears, the most popular products of it are baby swing. Apart from compact shape and elite quality, the Ingenuity baby swing is also awarded for noiseless working conditions.
Getting more knowledge about the brand history and product features is a must if you attempt to avoid something worthless.
Here, we offer you a comprehensive knowledge of the brand – we go into detail and provide comprehensive Ingenuity baby swing reviews.
Plus, there are also best Ingenuity baby swing reviews in 2023 on the market we picked out for you.
Go on reading now!
But first – if you're looking for a convenient registry tool, check out Amazon's Baby Registry. Amazon has millions of products to fill your house with all the right baby things. You'll also get a free welcome box when you create a registry today.
Types of Ingenuity Baby Products
As mentioned earlier, Ingenuity is a brand that rocks the world of baby products. They specialize in different baby products, and you will be sure of getting all that you need under the same roof. Here are a few of the types of products they offer. We tend to focus on Ingenuity baby swing reviews, but we also cover some of their other products.
Whichever outdoor or indoor gear you will need for your child will be here.
How Long Does Ingenuity Baby Swing Last?
The longevity of Ingenuity baby swings will always vary with their quality and type. However, you will always be sure of enhanced durability. They come with a limited warranty of one year, but they will last for years if taken care of properly.
Best Picks of 2023
1.  Portable Baby Swing – IngenuityConvert Me Swing

This baby swing machine is quite light and easy to be carried away. The round base plate saves a lot of floor space. It is easily changing into an infant bouncy seat with a swing lock.
Several swing speeds satisfy the baby's preference. Music helps soothe the baby into a sound nap, and the volume of music is much lower than other types. It can be folded up easily for traveling or using outside, assemble process is quite easy, approximately take up 30-50 minutes.
Built-in timer helps you turn off music and machine automatically, saving much energy on battery. Hybridrive technology makes the battery lasts 3 times longer than others.
It is only battery-operated without plug in option, can be much costly on buying battery constantly, and the swing speed is quite low even at the highest speed level.
All of these features put it at the top of our Ingenuity baby swing reviews.
---
2. Best  For Small Spaces – Ingenuity Cozy Kingdom Baby Swing

This machine can be best baby swing under $50 when in the budget, the compact and simple structure makes it portable and easy to carry from room to room.
Compared with other brands, it operates super quiet, does not make any noise at all. If you mind the working noise, this will be the best choice. The fabric is soft and folds flat in half, taking less floor space in your house. 2 reclining positions make baby feel content.
Smooth music and gentle swing speed calm the baby down quickly. Two toys ahead entertain baby when you have no time playing with him or her. Swing machine can be folded up and easily take along.
Battery operated design makes it much costly on buying and changing the battery from time to time. And the seat is quite low, barely to the ground.
This makes it a close second in our top list of Ingenuity baby swing reviews.
---
3. Best For Outdoor – Ingenuity Swing'n Go Portable Baby Swings

Swing'n go portable baby swing is really sturdy and cost-effective to the price. Ahead toy bar can be removed when the baby is taking a nap. The noiseless working motor makes baby sleep more soundly.
8 melodies and 3 nature sounds soothe baby quickly. Compact and simple structure makes a good space saver. Easy fold legs make it easy to carry and travel wherever you want. But it goes only from head to toe, and battery-operated setting makes it rather costly on buying the battery.
The seat is relatively low to the ground, therefore, parents need to bend down very low and carry a baby in or out, which can be rather annoying, so does the low button setting.
The built-in timer of it can be a lot of help in saving the power of the battery so that you won't drain it out when you are busy and forget to turn it off manually.
---
4. Best 2 In 1 – Ingenuity Simple Comfort Cradling Baby Swing

This baby swing is a full-size type, the big sturdy structure may occupy much space, so if you do not have much space in your home, perhaps you need to consider other types.
The toy bar is set ahead and two toys hanging, a small baby is able to touch the baby toy and play with them with fun. When you are doing chores, just turn the machine on and the 6 swing speed and 180 degrees rotating will help soothe your baby.
Unlike the portable type, this one is plug in operated, saving much money for you each month. If you want to move it to another room, just push it around, the wheels at the bottom will save much energy for you.
The control panel is quite simple to operate, and the seat pad can be removed into the washing machine.
---
5. Best For Cradling – Ingenuity Inlighten Cradling Swing

All the babies are curious about a light thing, this baby swing designed internal lighting electronic mobile, it can interest your baby when you are doing other things.
Fabric and cozy seat makes them feel warm and relaxed. If you do not like the built-in music, you can just connect it with your phone and play the music that your baby likes.
Through testing, we found this machine is lack of neck support and newborn baby may get trouble in its weak neck support, therefore, it is more suitable for larger baby use such as 3 or 4 months. The machine does not rotate singly from side to side or from head to toe but rotates 180 degrees.
And the two recline positions are able to make baby sleep sound and play comfortably. When you want to move it away, two wheels at the back of the legs will save much energy for you, just ensure not to put the baby in when you are moving.
Though it is easy to fold, it still takes up much space.
---
6. Best Functional –
Ingenuity Twinkle Teddy Bear 4 in 1 Soothing Solution

This one is quite the same as the Inlighten series, but it is a combo of swing and rocker. When your baby is growing up, you can take the baby seat down and change it into a rocker, it moves with your infant's motion manually.
The upper part of the machine is set with an electric mobile and mirror, inlighten design makes the baby more relaxed and enjoyable. You can easily plug your phone into the machine and play music your baby interests most.
The machine is quite heavy to carry but the bottom wheel can be a great helper, if you want to move it to another room, just pull it away. It has two reclined positions and 6 adjustable swing speeds, it also swings in multiple directions.
Anyone of which will be your baby's preference. In our test, the music will stop automatically for a short period of time, and for lack of head support, the baby's head is easily flip out, so it may be a lot suitable for a larger baby.
---
7. Best Automatic  – Ingenuity SmartSize 2-in-1 Baby Swing

Are you hesitating on buying a swing or a rocker? Why not buy a 2-in-1 one straightly? This swing machine is a swing and rocker combo, you can simply put the seat down and change it into a rocker.
It is said the special design saves 30% space for you, but it indeed is still a large thing and can be a trouble if you do not have much space in your house. However, when it turns into a rocker, you will be able to put it with you in any of the room you are staying.
The seat is able to rotate 360 degrees easily, you can connect your phone with the machine and play music even video with a mobile device. 3 automatic swing settings and 2 adjustable recline positions suit different demands of your little baby.
Swing leg is equipped with two wheels for convenient moving, but actually it works quite bad through our test, one still finds it hard to roll it around in the house, and the large structure can easily get stuck near the door or wall corner.
---
Ingenuity Baby Swings And Rocker Reviews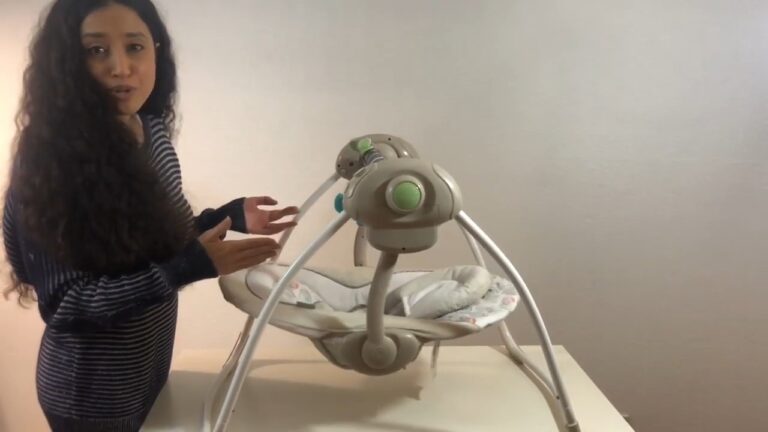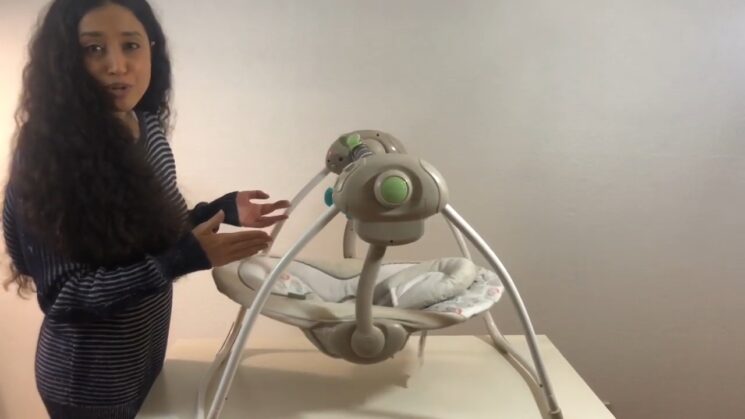 1. Ingenuity Twinkle Teddy Bear In Lighten Cradling Swing & Rocker
When you put the seat down, this swing machine changes into a rocker, 5 point harness prevents the baby from falling down. If it uses as a rocker, it will rock with the motion of a small baby. Rocking directions can be changed from both sides to side and from back to front.
It uses battery power to turn the vibration on and off.
2. Ingenuity SmartSize 2-in-1 Soothing Solution- Rowan
Different from the twinkle teddy bear series, when this baby swing changes into a rocker, mommy can rock it manually to have intimate interaction with the baby. As it is light and portable, if you need to bath or wash clothes, just put the rocker with you and to have fun easily with the baby while doing chores.
Before taking the seat down, remember to turn the toy bar away.
Ingenuity Plug In Baby Swing Reviews
For ingenuity, you can easily distinguish plug in type and battery type from its size. All the full-size baby swing of ingenuity use plugin, while portable ones are only battery operated. As the cost of the battery is quite high, plug in infant swing can help you save large money for you and is more convenient. Followings are the plug in types:
Battery Operated Baby Swings
Compared with a plug in machine, battery operated is costly on changing and buying batteries constantly. With daily use, the battery one is normally drained out in a month. But on traveling, it can be a good helper, you do not need to find an adapter outside. Therefore, you can use it everywhere you want.
Here is the Ingenuity battery operated baby swings reviews:
Travel Baby Swings
The key factors for travel baby swings are portable and battery operated. Once the baby swing is portable and is designed compact, it is easy to be carried everywhere, especially when they are folded up easily, you can even put them into a large suitcase or bag.
When traveling outside, you will find it hard to get a suitable adapter for plug-in types. Even you find one, you need to stay where the adapter at for a whole using time. Therefore, we suggest battery operated one for you, then the baby is able to enjoy the same cozy and comfort as at home.
The following are the recommended travel baby swings:
Ingenuity Swing Weight Limit
A baby swing is not quite the same as other types of the machine; it's using time or say, the service life is entirely limited to individual babies. As we all know, the baby grows rapidly; every day he or she changes to a new look or size. That is why we need to take much consideration of the baby swing's weight limit.
As the baby grows large enough, he or she might be too heavy or too big to sit still or lie in the machine. If you still use it, dangerous things happen at any time. For such conditions, you need to change a big baby swing or another soothing tool for infants to enjoy their happy time.
But how do we know what the weight limit is?
There will be a clear description of the products using instructions, and for parents looking for ideal types, the maximum weight limit shows on the product specifications once searching on Amazon.
Ingenuity baby swing's weight limit varies according to the types of machines. For example, Ingenuity Inlightens cradling swing and rocker weight limit is 19.84lbs. The average baby swing weight limit reaches around 20lbs, some are lower as 18 or 19lbs, while some are quite large, reaching up to 30lbs at its maximum range.
Ingenuity Baby Swing Age Limit
Different from the weight limit, there is no actual recommendation on age limit on using Ingenuity baby swing. Why? Because for each different baby, the weight level at the same age varies a lot. Compare your baby with your neighbors, am I right? Of course, babies between 2 and 8 months are more suitable to use a baby swing.
Thus if your small angle is far beyond the age, please be sure to stop using it immediately for safety.
About Ingenuity
Ingenuity is one of the top brands of baby swing in the market, the aim of which is to make the everyday life of your little one with a little more smooth and make a noticeable difference with their products in your life.
It pays much attention to baby care products, experts in the baby swing, high chair, bouncer, and baby seat. Compared with other brands, most hot selling ingenuity baby swings are compact types and portable. That's why we've done as many Ingenuity baby swing reviews as we have!
Critical Features of Ingenuity Baby Swings
Are you looking for the best baby swings? Indeed, Ingenuity has become a renowned brand in the recent past and is worth considering in this regard. As long as you understand what you are getting into, you will be good to go. We take a look at some of the most critical insights into the swings from this brand.
• Foldable
Most Ingenuity swings tend to be easy to fold, thanks to their compactness and collapsible design. With this, you are confident of enhanced portability
• ConvertMe technology
This technology is prevalent in these swings, which allows you to use the swing as either a vibrating seat or a swing.
• Soothing motions and multiple speeds
These swings allow you to switch between gentle, rocking movements and relacing vibrations. Besides, most of them offer up to six different speeds, giving the baby the comfort they so deserve.
• Quiet Motors
They operate on some of the most silent motors, which ensures that your baby enjoys enhanced peace. The only sounds heard will be the soothing melodies and nature sounds.
• Accessories
These swings usually feature hanging toys, which are accessible and suitable for different ages.
Why are Ingenuity Swings a Good Option?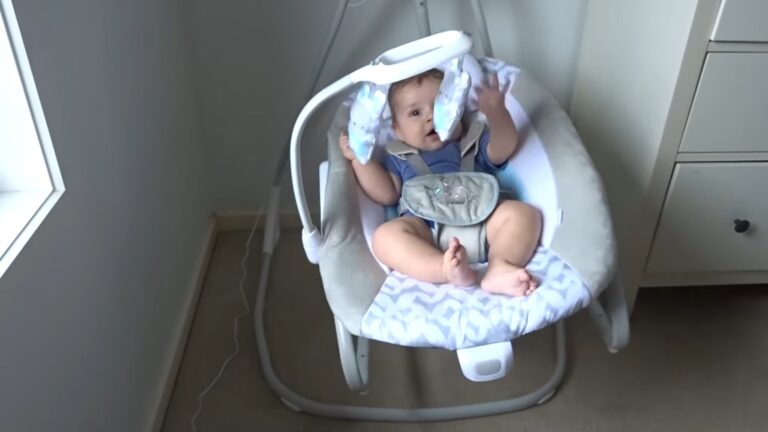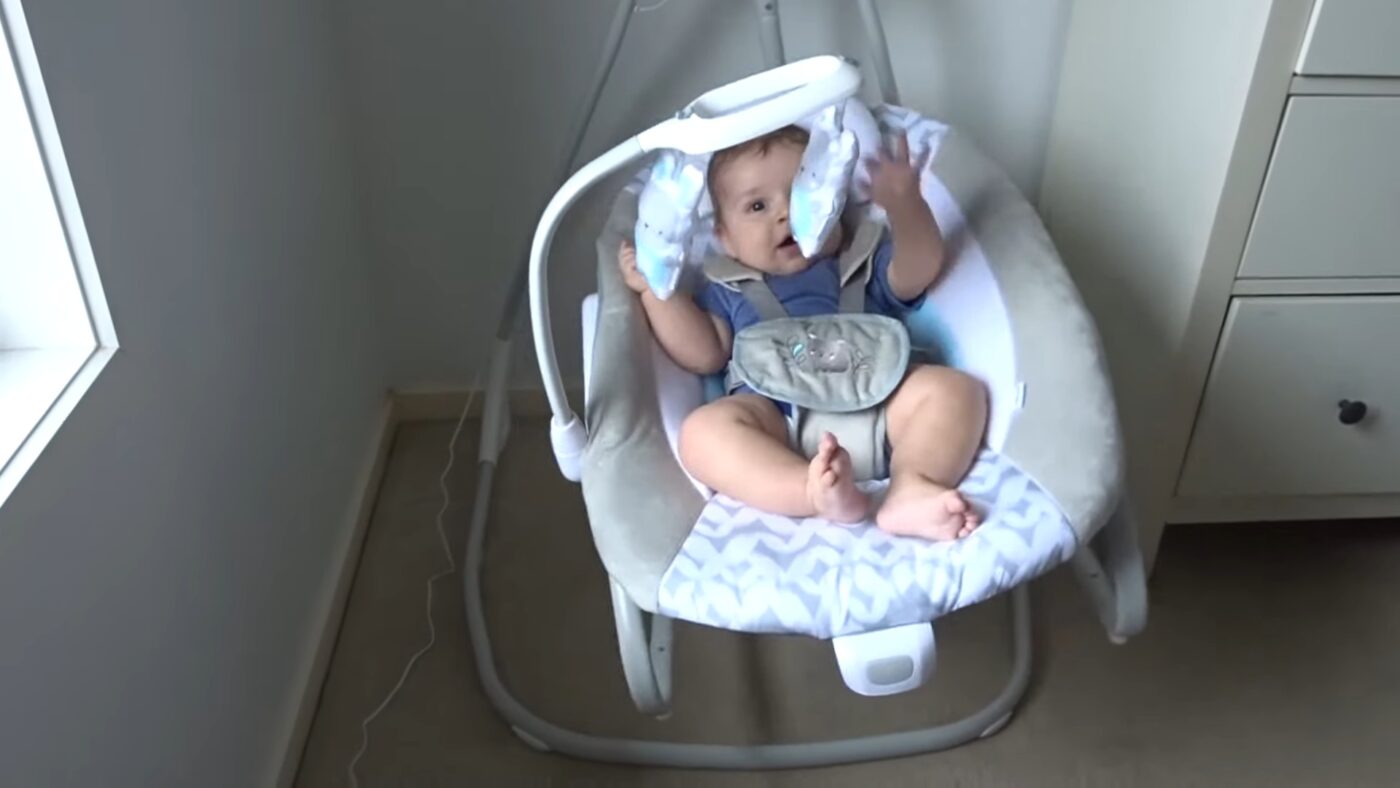 You can hardly ignore the predominance of Ingenuity swings in the market, thanks to their reliability. These swings assure you of enhanced comfort and safety at all times. The 5-point harness will come in handy in giving you peace of mind. On top of that, most Ingenuity swings are not only affordable but also durable. This way, you are confident of value for your money.
Ingenuity Baby Swing Technology
Ingenuity baby swings will often come with the ConvertMe technology, which is vital in enhancing versatility. This technology ensures that you comfortably switch between being a stationary seat and a swing. Besides, its Whisperquiet technology enhances quietness, which is vital for the peace of the child. Another reason why we did so many Ingenuity baby swing reviews.
How Long Can a Baby Use Ingenuity Swings
Ideally, a child should spend between 30 and 45 minutes on these swings. Limiting the use of these swings to two sessions of 30 minutes each will be the best move for your child.
Is Ingenuity a Good Brand?
You can hardly doubt the value that comes with Ingenuity products. From their durability to ease of use, you will fall in love with this brand at all times. Indeed, this brand is reliable, and it is worth buying your products from it.
Assembling Ingenuity Baby Swings
The process of assembling ingenuity baby swings is relatively straightforward. Usually, you will get the step-by-step process on how to do this on the manual provided. Ensure that each part is fixed where it needs to be, and securely so.
Safety Cautions when Using Ingenuity Baby Swings
Did you know that the 5-point harness in Ingenuity baby swings makes them some of the most reliable and safest swings? However, to be safer, you will need to observe the following.
Always ensure that the belts are snug but not choke the baby's airways
Do not go beyond the weight limits
Ensure that you keep supervising your baby at all times
Ensure that the swing is in the right angle, which is often between 30 and 45 degrees
Minimize obstructions
Ingenuity Baby Swing Battery Size
From our best baby swing review, you will know that there usually are two types of baby swings, one for plug-in baby swing, the other being battery operated baby swing. Here we do not talk too much about the difference between them(shows in our reviews).
For battery-operated baby swing Ingenuity type, you will find it super convenient to take along for outdoor use. However, what troubles most is, of course, the change of batteries. The more functional baby swing is, the more quickly the battery runs out.
Thus before purchasing, you may also want to know the Ingenuity baby swing battery size. This played a big factor in the ranking of our Ingenuity baby swing reviews.
The standard battery size of Ingenuity baby swing is 2 D or 4 D types, to make clear of it, you might as well check it on Amazon. After buying it, open up the battery box, and you will know the size of which.
Speak of this, we would highly suggest you buy one with standard batteries, or you will find it extremely headache on shopping for suitable batteries anywhere.
How to Choose the Right Ingenuity Swing?
Various aspects go into the selection of a credible Ingenuity swing. Unless you are conversant with these variables, you could readily end up disappointed. Here are the most critical aspects that you should always consider when comparing our Ingenuity baby swing reviews.
i. Consider your needs
It would be best to confirm the type of Ingenuity swing you need. More than often, you will have to choose from basic, fully-loaded, and no-frills. Each of these options gives you distinct levels of satisfaction.
For instance, the basic, smaller swing will come in handy if you do not have enough space. However, for the best experience, a full-size option will be best.
ii. What is your budget?
It will also be vital for you to confirm how much it will cost you. Take the time to compare how much you will pay for different types of swings.
Ideally, you should focus on a product that you can comfortably afford. Through this, you will no longer need to worry about financial constraints in the long run.
iii. Check their speed
Take the time to evaluate the speed and motion that the baby swing can provide. In most cases, you will choose baby swings that move either side-to-side or head-to-toe. Your choice is entirely dependent on your preferences.
Further, you will witness that the number of speeds will differ with the swing you choose. Multiple speeds will often come in handy for you.
iv. Comfort is vital
How comfortable is the Ingenuity swing? Most often, you will have to choose between reclining and static seats. Reclining seats will always be more ergonomic, giving your baby the comfort that they so deserve.
Such will also be the right time to confirm the padding of the swing. Enhanced padding will ensure that the baby remains safe and at ease.
v. Is it robust?
Confirm how sturdy this swing is. Indeed, sturdiness plays a vital role in improving the safety of your child. It will also be essential in defining how long the product will last.
During this time, you will need to verify the robustness of the construction. Always check the materials used in constructing this product. For instance, steel assures you of both sturdiness and durability.
vi. Accessories matter
It will also be vital to check any accessories and extras that the baby swing features. The more it comes with, the better for you. Whether you need toys, light displays, or mobiles, it should offer you exactly what the baby might need. While at it, they need to be conveniently placed so that the baby can access them easily.
FAQ: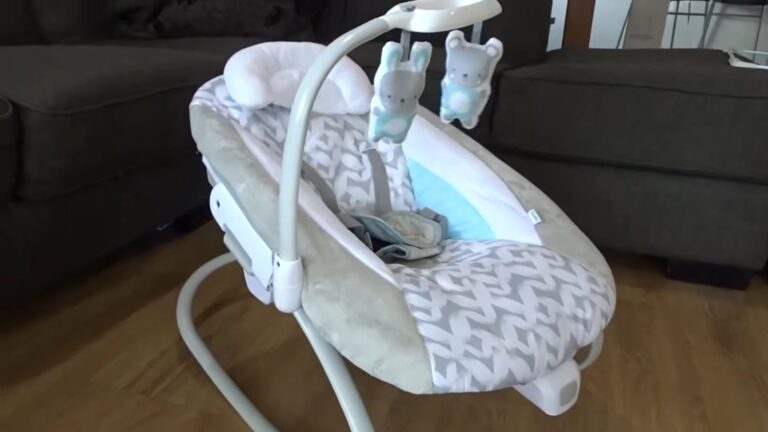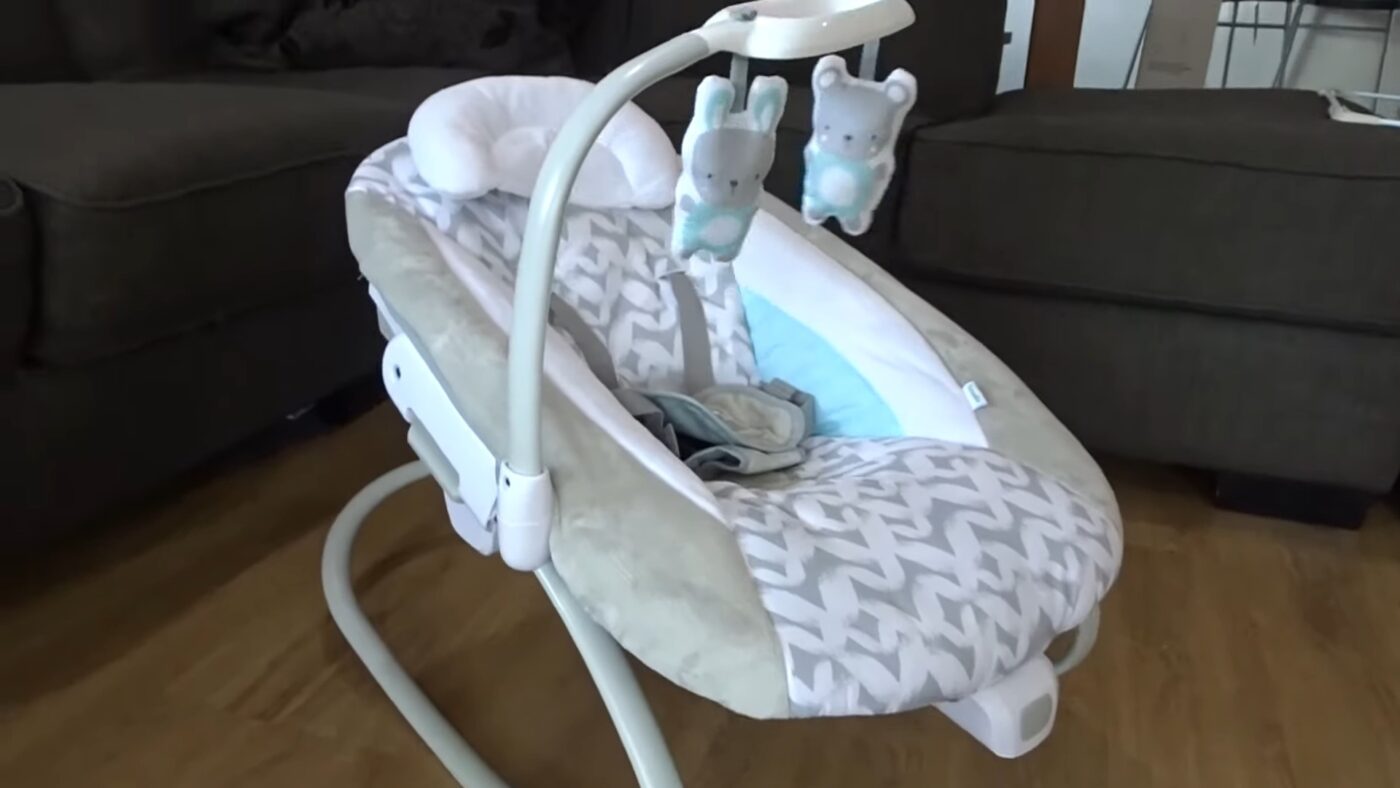 1. What is the age range of those baby swings?
Actually age is not a key factor in using baby swings, but the weight is. Even at the same age, the weight of two babies can be in great difference. Therefore, when buying a baby swing, you must read the recommended maximum weight range carefully and make sure your baby's weight is within the range, or it may cause danger.
2. Can the noise sound be heard?
Compared with Fisher price and Graco, baby swings of ingenuity are proved to be less noisy, some of which are even noiseless. Especially for portable ones such as Cozy Kingdom Portable Swing and Swing'n Go Portable Baby Swings-Hugs & Hoots. So if you feel motor noise can be so annoying, you'd better choose ingenuity one.
3. How long does the battery drain out?
As some of the products are battery operated only, we tested each of them and found the battery drained out for about two months in the daily use time. Compared with the full-size type, the function of portable ones are less, thus the battery is used only for swing, music, and vibration. But if you used it at home most of the time, we suggest plug-in types for you, which really saves a lot of money.
What We Choose…
On considering all the factors, we would like to pick Ingenuity Cozy Kingdom Portable Swing for you. This is a simple design swing, though a portable baby swing, it meets all the basic demands of baby and mom. When put at home, it spends less space and is perfectly suit every corner. It's out top Ingenuity baby swing review.
The lightweight of it enables you to carry it with you when you go to another room for bating or cleaning. As a baby swing around $50, this can be a perfect choice for you.
---
Here are some other interesting models that you might like: