A small baby is like an angel falling down, making you want to hug and kiss all the time. But as much as you love to hug and kiss them, there is still a time you need to put them down for some time and do something of your own. And that's why baby swing is able to play an important role in most families. Parents do regard it as a life saver and it helps to soothe baby while freeing moms and dads from hugging baby all day long.
Top 5 Infant Swings 2023 Reviews
What Is Baby Swing?
A swing is a baby gear used for soothing baby, it swings in specific motions automatically, imitating the way that parents hug and soothe baby in real life. When the infant is covered with amniotic fluid in mom's belly, the water is flowing all the time. So after the baby is born, he or she still gets used to the swing motion, making them feel familiar and is thus secure. That is why a swing can be a perfect soother for them. For some, music and vibration are inserted and used to calm the baby down.
Why Do You Need a Infant Swing?
A swing for a baby is a lifesaver to most new moms and dads, with it, you can have more time doing something of your own, whenever you want to take a small bath, or grab something to eat, you can put your baby down in a safe place.
For newborn babies, they easily get grumpy and you need to hug and swing to soothe them down, which can be extremely exhausting. By using a baby gear, it swings from side to side or front to back automatically, the baby is able to feel the same secure and relaxing when lying in the machine.
The unit is normally equipped with 3 points or 5 points harness, giving baby the most secure protection. Thus it is really a great helper to soothe baby as well as free moms and dads from tiredness.
It is designed to be used from newborn baby to relatively large ones, most of which can be used directly when the baby is taking home from the hospital. The average maximum weight limit is 25 pounds when baby outweighs the limit range or your baby is able to sit straight and climb out by oneself, it should be stopped using any longer.
The 8 Best Baby Swings to Buy 2023 on the Market Reviews
1. Fisher Price Sweet Snugapuppy Dreams Cradle'n Swing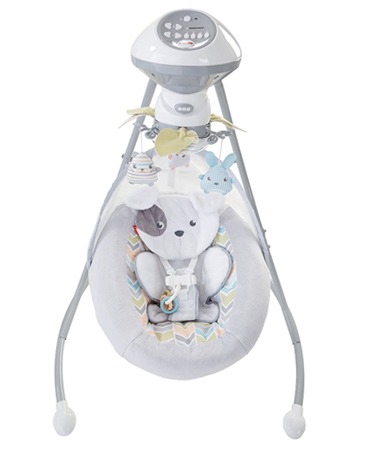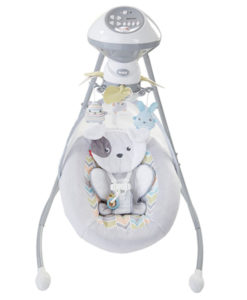 Weight Limit: 5.5-25 pounds
Best cost effective product
Author's Rating: 4.8
2 swing motions
2 recline positions
6 swing speeds, 16 soothing sounds
Smart technology senses baby's weight
Seat pad is soft and machine washable
It is the best selling one on the market of 2023. It swings in two motions, both from side to side and from head to toe. Weight limit of this one is 5.5-25 pounds, a relatively long time use infant swing. One reason for its first place position on our review is its simple but functional design. It has 2 comfy recline positions, 6 speeds on moving and 16 soothing songs to give baby auditory enjoyment.
The leg can be folded up for storage and assembling of it is quite easy, taking about 25 minutes to put all of it together, adjustable volume and mirrored globe mobile is also attracting. But that's where the simplicity ends. The major downside of this Fisher-Price swing is its bulk, taking up too much floor space. It has no vibration modes, so if you do want a portable or a vibrating one, you can have a look at other picks of us. But as a swing under $150, it is really the most recommended one and it definitely worth its value.
The seat pad is super soft and can be removed easily when it gets dirty, you can just throw it into the washing machine. Three plush toys are hanging on the mirrored mobile. What attracts most is its cute design, the teddy bear fits baby's favor, and when baby lying in it, two bear ears still exist and it looks pretty cute. 5 point harness keeps baby safe all the time.

2. Graco Slim Spaces Compact Baby Swing- Linus/Etcher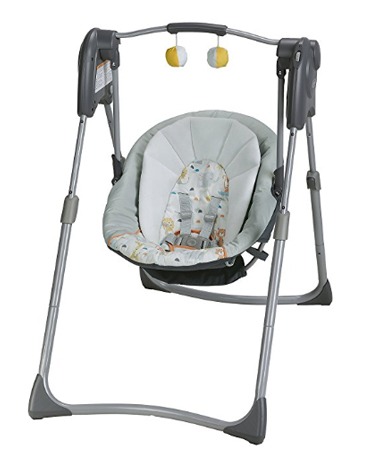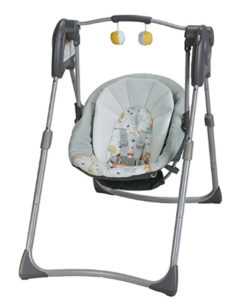 Weight Limit: 5.5-25 pounds
Best cheap product
Author's Rating: 4.5
Height adjustable legs
Space saver
Easy to fold
Adjustable swing speed
Suitable for baby with reflux or colic
This Graco swing is the most portable one, we rank it for second place mainly for its compact size and highly cost effective. The small footprint of the it saves much floor space at home. If you want to use it for outdoor, just fold it up and you can even put it in the suitcase or large backpack, so convenient.
Unlike other portable types, the seat height can be adjusted, just pull the support leg in and out, then seat height changes accordingly. It swings quite smooth, and the swing speed is adjustable. It swings only from head to toe like a glider. Two little toys hanging on the bar entertains baby when you are busy.
However, it adopts battery operation, which means you need to buy and replace the battery constantly, and you can imagine the whole battery cost… But as it has no music or vibration inserted, so the battery is only used to control swing motion, making it energy saver. For daily use, the battery is able to be used for about 3 months.
One thing needs mentioning is its relatively vertical recline position, making it a perfect unit for baby with colic or reflux.

3. 4moms 2015 mamaRoo Infant Seat with Bluetooth Classic Black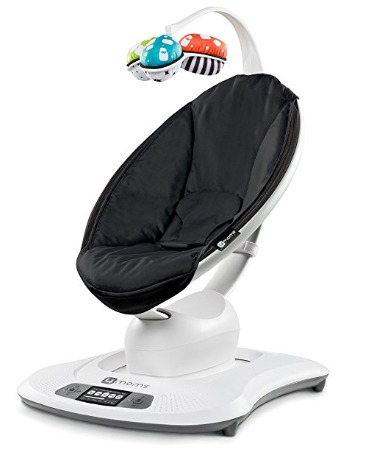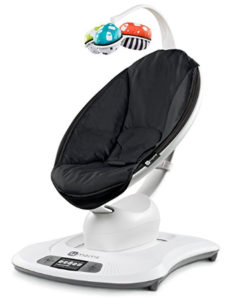 Weight Limit: 5.5-25 pounds
Best modern design product
Author's Rating: 4.5
5 unique motions
Bluetooth enabled remote control
4 built in sounds&mp3 plug
AC Adapter operation
Soft and removable seat pad
Well, look at the appearance and you will know why this one charges higher than other machines. It is regarded by many moms as the baby gear of the future. Not only for its modern looking, but also for its smart and technical functions. It is said to be the only swing machine that imitates the real motion parents use in real life, therefore, instead of front to back swing, it swings in 5 unique motions.
It enables Bluetooth remote control, and 4 built-in natural music coax baby into sleep soundly. It has good fluidity of movement and supports Mp3 plug in. But it can not work with the newer Android lollipop system, 4moms may fix it soon later I believe. The plug in operation helps save a large sum of money on battery. The adjustable seat recline gives baby both choice on playing and napping comfortably.
The seat pad is soft and cozy, and is machine washable, but no head support insert makes it unsuitable for newborn one unless you put extra in. Though being a functional unit, the small footprint makes it space saver at home. What's attracting most is that when you stop using it, you can also put it at the corner for a perfect decoration. In a word, if you have enough budget and intend to get a functional one, this can be a good choice.

4. Graco LX Gliding Swing – Affinia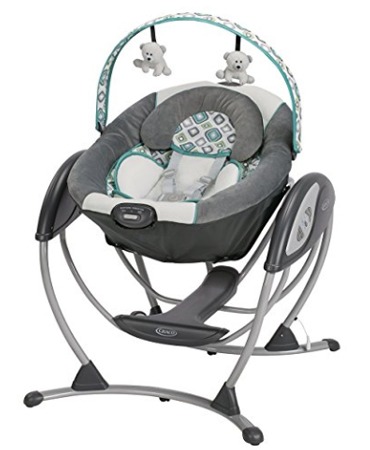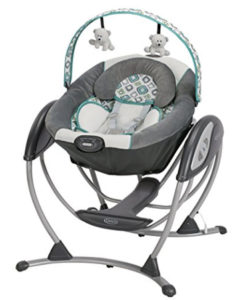 Weight Limit: 0-30 pounds
Slightest and smallest full-size swing
Author's Rating: 4.5
40% less space than other types
3 incline positions
3 timer inserted
6 swing speeds and 2 vibration modes
10 classical music and 5 natural sounds
This one is said to save 40% less space than other types, and after testing, we found it occupies small floor space the same as 4moms mamaRoo series, so it is a space saver. Among full size types, it is the lightest and smallest one, easy to move from one room to the other when you need cooking or cleaning.
The infant swing sets baby a lot higher, and there is no obstructive design, making it super easy to put the baby in and out. The control panel is set on the side of the seat, three timers can be used to stop machine off automatically for 10, 20 and 30 minutes later. 10 classical music and melodies give baby auditory joys and 5 natural sounds coax baby into sleep effectively.
3 recline positions can be set, satisfying the need for baby playing or napping in it. It swings from head to toe, with 2 modes of battery operated vibration. 5 point harness keeps baby safe. And it proves to be the most sturdy one among other types. Assembling of it is quite easy, nothing complicated parts participated and it takes only about 20 minutes to put all together. The vibration and swing power is quite strong. Battery and plug in operation make it suitable for both indoor and outdoor using.

5. Graco Simple Sway Baby Swing – Abbington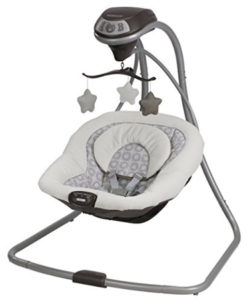 Weight Limit: 5.5-30 pounds
The most simple operation option
Author's Rating: 4.3
15 songs and sounds
6 adjustable speeds
Gentle vibration mode
Deep seat
Small space, a space saver
Graco swing of this type is a simple type, it also has 6 speeds and swings from side to side like a cradle, the fixed position makes it face to front only. There are 15 sounds and songs, with natural music inserted. The gentle vibration is powered by battery only. Sturdy structure keeps it safe when putting on the flat floor.
The function of this one is not as much as another full size one, but it only costs no more than $100, which is quite cheap. The maximum weight limit is 30 pounds, a relatively long using unit you can get with cheap price. Three toys hang on the toy bar, but the mobile does not rotate, fixed recline position keeps it a good place for baby to have a nap. The other failing of it is audible motor sound, it sounds a bit louder on higher speed settings.
The seat pad is soft and cozy, head support inserted for newborn use, and can be removed easily for washing. The seat is quite deep and 5 point harness keeps baby safe both from the upper side and lower side.
Anyway, if you need a low price stable one which meets the basic functions of soothing baby, this Graco simple sway one is a brilliant choice.

6. Fisher Price Papasan Cradle Swing – Starlight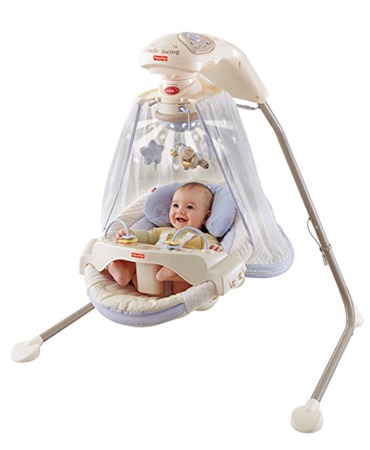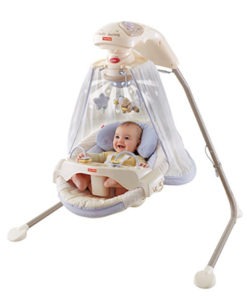 Weight Limit: 5.5-25 pounds
Best baby girl swing
Author's Rating: 4
Overhead starlight show and soft hanging toys
Canopy around gives baby sense of secure
6 motion speeds, 16 soothing sounds and songs
2 vibration modes
removable toy tray
We rank this one as the best baby girl swing, not only for its beautiful canopy but also for the shining starlight. The brightness is proved suitable for baby, not too shiny. The net around gives a baby sense of security and also protects baby from being burnt by the sunshine.6 adjustable speeds, 16 songs and music inserted all make it a good full size one. It has two positions, and swings from front to back when facing to the center, and swings side to side as you turn it to the left side. Plug in and battery operation enable you to use anywhere you want. But we strongly suggest you not, for it weights so heavy. From the wide open legs, you may discover how much space it will occupy, so if you don't have enough space, you may need to look at other types of our picks.
The seat pad is easy to remove and clean, head support inserted and 5 point harness protects both the baby's body and neck. The toy tray set on the seat can be removed when you put the baby in and out. And any cons? The light shut off after about 15 minutes if the sound isn't on the volume control, and you sure need to keep an eye on baby all the time in use. The canopy around may be something that the baby would like to grab.

7. Ingenuity Cozy Kingdom Portable Swing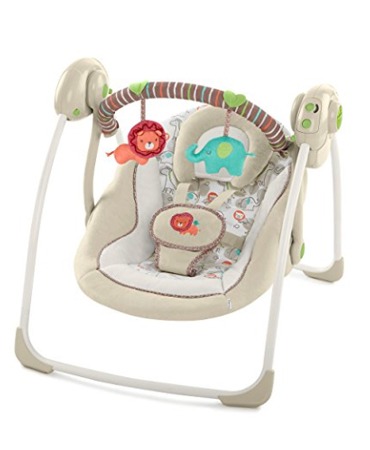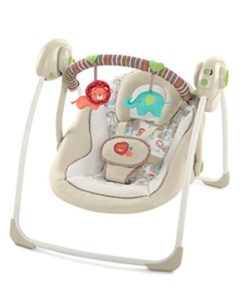 Weight Limit: 5.5-19 pounds
The quietest product
Author's Rating: 4
6 songs and natural sounds
6 moving speeds
Machine washable seat pad
Folded up design for travel
This swing is another portable one, we rank it after Graco Slim Spaces Compact Swing mainly for its low baby seat. The seat is bare to the ground, which means you need to kneel down to put the baby in and out, and the ahead toy bar gets in the way in the process. But that is the common problem of the portable type after all. Like all other portable types, this one can be folded up a half size as original and is easily packed into suitcase or backpack. Battery operation saves much energy in finding a plug anywhere outside but is also costly on constantly changing and replacing batteries. For daily use, the battery lasts about a month. It swings from front to back, 6 movement speeds can be adjusted. There are 6 sounds and songs inserted for soothing baby.
If you mind the working noise much, then this is the perfect pick for you, the setting is pretty quiet even when you turn it from medium to high speeds. In adjusting swing speed, only the knob itself can be heard, a minor popping sound is audible when attains the new speed setting. A timer setting also helps save battery life in case you forget turning it off and all the battery power drained out. The maximum weight limit is said to be 19 pounds, but it turns straining quite a bit with 14 pounds, so we this perhaps to be the maximum weight limit as well.

8. Fisher-Price Take-Along Swing and Seat – Rainforest Friends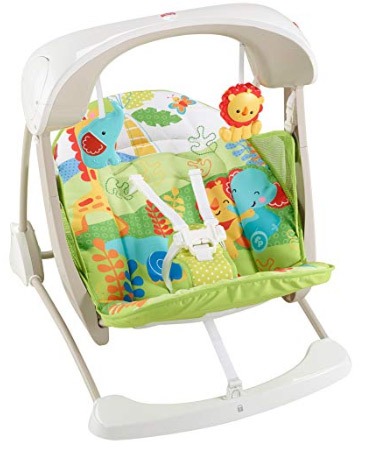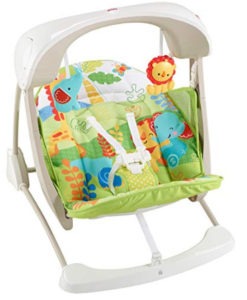 Weight Limit: 5.5-19 pounds
Portable but cost-effective one
Author's Rating: 4
6 adjustable speeds
10 tunes and natural songs
Calming vibration seat
Easily convert to stationary seat
Smaller than other types, suitable for travel
Compared with Ingenuity Cozy Kingdom Portable Swing, this one can be transferred into stationary seat when you lock the seat belt below. It has 10 tunes and music inserted, quite a bit of music kinds among portable types. Two plastic toys hanging on the toy bar and are set within baby's reach.6 adjustable speeds enable you to choose one that your baby enjoys most. The seat pad is really soft and breathable, when it gets dirty, you can remove it easily and throw into the washing machine. Folded up legs are suitable for storage or take along. Cute patterns with Rainforest theme suits baby's favor.
It has also vibrating seat, and most moms reflect it is really useful in soothing baby down. It is much smaller than other types, a perfect space saver for small space family. It runs battery only and lasts about a month. Thus, if you use it mainly for indoor and has enough budget, we still suggest a full size one for you. And this is a perfect one for outdoor or travel use. The quality and user experience of this is far beyond its value. So it can be a really cost effective one you can choose.

Best Baby Swings Brands
1. Fisher Price
Fisher price is a worldwide brand on producing all kinds of baby care products, such as infant swing, high chair and baby monitor, etc. The basic design style of Fisher price infant swing is functional, simple operational and colorful. Many of series like Snugapuppy, starlight, Rainforest and jungle theme are popular chosen. It designs many types of swing machines used for baby boy and baby girl especially. You can also find one for your home.
2. Graco
Based on its long history of producing and designing all kinds of peripheral baby products, Graco is becoming a top brand for many moms around the world. Unlike Fisher Price, baby swing in Graco is normally unisex types, any of which are suitable to be used for both baby girl and baby boy. All kinds of swings can be found whether for portable type or for the full size type. Apart from the swinging machine, it also produces bassinet, high chairs, and other baby stuff.
3. Ingenuity
As a swing for infant brand, Ingenuity is famous for its portable infant swing. All sorts of portable types meet your various demands and are perfect for outdoor or travel use. One remarkable feature of Ingenuity swing is its noiseless working condition. The unisex style also makes it perfect for each baby. Just as its aim goes, make the everyday life of your little one with a little more smooth, and make a noticeable difference with their products in your life. Ingenuity products can be your reliable helper in daily life.
4. 4Moms
Different from other brands, the units of 4moms has always been regarded as the baby gear of the future. All together two series are for hot sale now, one is RockaRoo, the other is MamaRoo. From the appearance of 4moms swings, you can feel a sense of technology. Even when the machine is out of its using year, you can still put it at home and it is a perfect decoration. It also produces high chairs and baby playards.
We also made reviews of the four  brands compare, check out for more information if you have an interest.
Is Baby Swing A Necessity?
Actually, a swing is not a necessity for each family. It is just a helper to moms and dads. When you need to do something urgently at home, you can put the baby into the unit and do your own business without worrying about the safety of your baby. For most new moms and dads, it is like a life saver, saving you from hustle and bustle situations.
It does not mean every family needs to buy one. The swing is some kind of luxury item, before buying, you need to consider the budget and baby stuff of your own family. If all the necessary baby stuff are affordable and you still have extra money, then you may consider such as lifesaver for you. According to the feedback of moms who bought it, moms will never regret having bought this machine.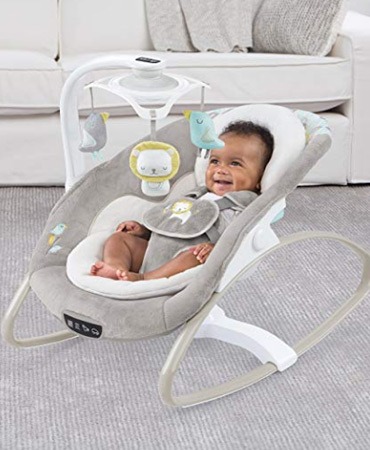 Pros & Cons Of Baby Swing
Pros:
1. It is a machine that is able to free mom's hands, so you have more time and energy to do some other things while still keep an eye on the baby's safety.
2. It is able to soothe baby when they are grumpy with music and mother-like swing motions and vibration.
3. The security of using swing is highly reliable and trustful. 3 point or 5 point harness keeps baby safe all the using time.
4. It brings a baby sense of secure and relaxes with smooth music and swing.
5. Some of the infant swings are made portable, so baby is able to enjoy the same cozy and comfort even for outdoor.
6. Multiple functional and smart designs help the baby's brain development.
Cons:
1. It can be used in a limited time when baby outweighs limit range, the infant swing must be stopped using immediately. So the using time can be quite short.
2. It can not be used for a long time in a day, a long time using is not good for spine development of the baby.
Best Baby Swings Buying Guide
There are many hot-selling types on the market, each with different functions and design principle. So how to choose the best one? Here we will offer you detailed information on the best buying guide.
Size:
1. Before choosing suitable gear, you should estimate the indoor space of yours, whether it is large enough for a full size one, or is there an only small piece of lands for a compact one. If putting a full size baby swing will narrow your daily activity space, you may consider getting a portable one.
2. The height of the machine should be suitable enough for mom to squat and play with baby, the length should be enough for using for a quite long time within limit range as baby grows. As for the width, it should be wide enough to pass through the door easily.
Seat Specification:
1. Maximum height
When it is set too high, the baby is likely to fall down from the seat, or the seat gets turn-over, which may bring disaster effects on small babies. If it sets low, one needs to make sure it will not hit the ground or other parts of it. So the maximum of seat height should be suitable enough.
2. Seat width
You should choose the swing seat as wide as possible. When the baby grows or wears thick clothes, there is still much space for a little baby to play around.
3. Length of backrest and cushion
It should be long enough for large baby use.
4. Detachable seat
Some  swings seats are designed to be detachable, you can remove the seat from the whole swing frame, and put down as a stationary baby seat on the floor.
5. Reasonable design
The seat pad on baby's head, back and hip must be thick enough, accessing the ergonomics of the baby seat.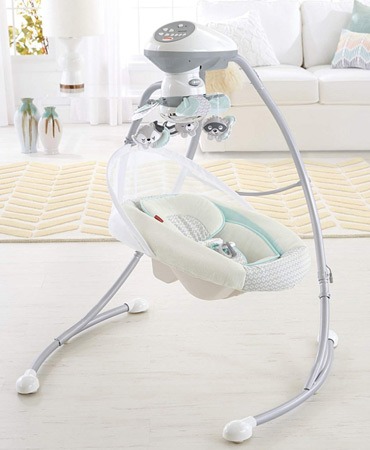 Material:
1. Stand material
Nearly all the top rated types adopt metal as frame construction, it is strong and sturdy enough. Avoid the plastic one, it is much weaker and easily broken.
2. Foldable stand
It refers to portable type only. Some of the legs can be folded up to a smaller size for storage or outside use.
3. Fabric material
Soft and cozy fabric makes baby feel warm and comfortable, breathable and all cotton material protects baby's delicate skin.
4.Seat recline
Newborn babies are unable to control their neck until 4 months, the swing seat should be reclined enough to prevent baby from slumping. Some of the swings have adjustable recline positions, you can choose a suitable one for play or for a nap.
Swing Angle:
Large swing angle freaks baby out and also has the potential of throwing the baby out of the seat. On the contrary, a small angle is unable to soothe the baby. Only appropriate swing angle makes baby feel comfortable and relaxed.
Swing Motion:
1.Adjustable swing speed
Full size infant swings normally have multiple swing speed, from fast to slow, you can choose the perfect one your baby favors most.
2.Swing direction
Two normal swing directions include side to side and front to back swing, apart from these, there are also multiple direction swing and unique swing motion you can choose.
3.Timer
A timer helps you to turn on and off the machine automatically. But be mind that some machines are only controlled by a timer, which means you need to turn the machine on again when the timer turns to zero. Normally 3 timer sets on the unit.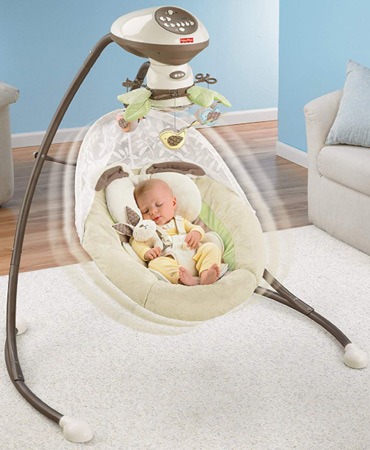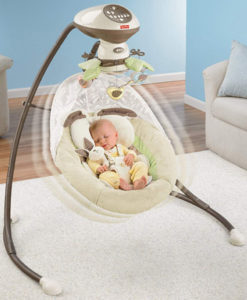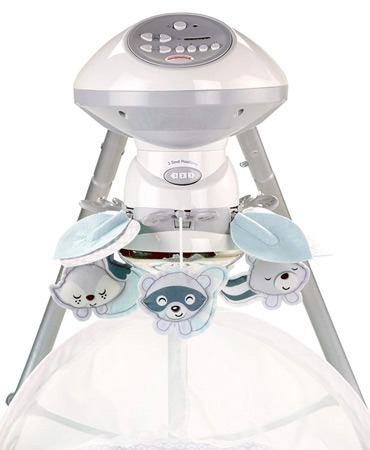 Safety:
Maximum weight limit
Follow the maximum weight limit of each unit, once baby outweighs, the machine must be stopped using immediately.
Seat belt
3 point harness and 5 point harness protect baby from falling down, compared with 3 point harness, 5 points one is much more reliable, for it protects both upper and lower part of the baby body.
The seat belt should be sturdy enough and connect closely with a baby seat. Make sure you can easily unfasten it after using. The length of which should be adjustable and the one with protecting fabric will be better, avoiding baby from being crushed.
Canopy
A canopy on the infant swing protects baby from being burnt by sunshine, especially when you use it for outdoor or beside the window.
Plug in & Battery:
1.Plug in
Most full size types adopt plug-in operation, when used at home, you can plug it in the wall, which saves a large sum of money on battery cost. But it also means you need to put the machine right near the plug, thus it is suitable for indoor use.
2.Battery
Battery operation is perfect for outdoor or travel use, you do not need to find a plug anywhere outside, only place the battery and baby is able to enjoy the same joy as at home. The battery cost can be relatively high, being even much more expensive than full size type for long time use.
Others:
1. The swing machine should be the ease at using and assembling.
2. Music and vibrations set are able to soothe baby effectively, both for having fun and for coaxing baby into sleep.
3. Other decorations such as toys, pocket, mobile, light beam can be chosen according to your own preference.
Different Types of Baby Swings
There are many kinds of baby products can be chosen according to functions and sizes. According to its size, it can be divided into a portable type and full size types, one is suitable for outdoor and travel use, thanks to its compact and foldable design, while the other is perfect for indoor use only as its bulk. Portable swings and full size infant swings reviews are made if you have an interest.
As with function, there are 2 in 1, 3 in 1 and even 4 in 1 type, which represents the combination of swings with rocker, bouncer, and glider.
The swing rocker moves from front to back with manual power, the bouncer moves with the motion of baby, and the glider refers to the slight swing from front to back.
How to Use Baby Swing?
Experts suggest that babies should lie in the baby gear for no more than one hour a day, or it may do harm to their spin developments. So you should never use it as a replacement for cradle or bed, it is a perfect place for baby to take a small nap when you are busying doing something of your own, but as the baby is used to sleeping in it, you will find it so difficult for them to sleep in the bassinet again.
After putting the baby into the infant swing, you should adjust a suitable angle and tight harness well, making sure it will be not too loose or tight for baby.
Keep the swing seat clean all the time, do not put clutter or food on it, and you should change the pad frequently. Once it gets dirty by baby urine or some others, you need to change it right now, air the seat pad out in the sun is healthful to baby's skin.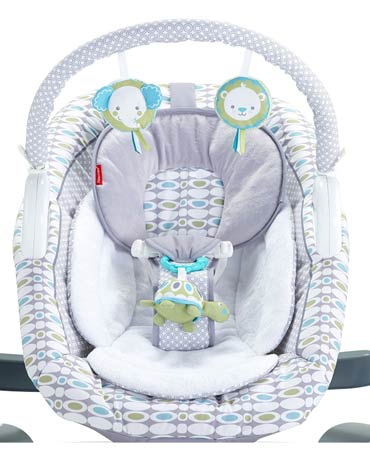 What Feature Should Baby Swing Have?
1.Multiple functions
The basic function of it is using swing motion to soothe a baby. It swings in specific directions and calms the baby down effectively. Apart from this, some are inserted with light beam and music, giving baby great joys both visually and on hearing.
2.Security
Security should be placed in the first place on producing it. All the swing machines are equipped with seat belt, either for 5 point harness or for 3 point harness. 5 point harness is able to protect baby both from the upper part and lower part, and thus is more reliable than 3 points one.
3.Integrity baby swing
Some of the swings are integrity types, known as 2 in 1, 3 in 1 and even 4 in 1 combo. They combine swing and rocker, bouncer or glider together, enjoying two baby gears together with low price.
Portable Swing Or Full Size Baby Swing?
The basic difference between portable swing and full size one is, of course, the machine size, full size can be twice or three times larger than the portable one. Thus on deciding, you should make clear how much space your home left for an infant swing. If you have a large room for a relatively large size, then full size baby swing will sure to be perfect. On the contrary, if your home is crowded with baby stuff and has no much space, then you can choose a compact or portable type.
Apart from size, they also differ in function. Full-size type is more functional, it normally has two swing motions, equipped with vibration mode, inserted with music and light beam, some even designed as a rocker or bouncer combo. While portable baby swing only meets the basic needs of soothing baby with swing motion.
Because of the bulk size of full size type, it is perfect for indoor use, thus it is operated mainly by plug in, which saves much battery cost. And the portable gear, because of its compact shape and fold up design, can be used as travel baby gear, they can be easily packed into a suitcase or large backpack for traveling, and thus is mainly operated by battery.
In conclusion, you need to choose one based on your preference, using place and of course, the budget. Price of portable one is sure to be much cheaper than full size one. If you do not have enough budget, then you can choose portable one, on the other hand, if you still have enough money, we would suggest a full size one, the function and safety are both worth the value after all.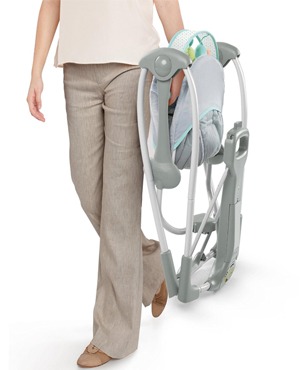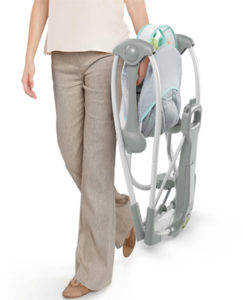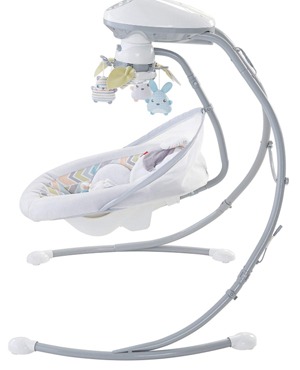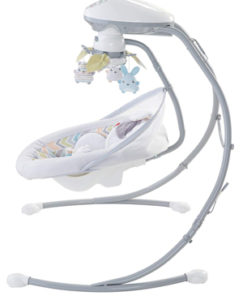 Baby Swing Safety
The unit is normally equipped with 3 or 5 point harness, the support leg is also made sturdy enough, but it does not mean there is no danger in using the baby soothing machine. There are still some tips you need to obey on using it safely.
1. Always keep an eye on your baby in using.
When a baby is sitting or lying in a swing, you should never leave your baby alone. Baby lacks the ability to protect itself in danger when bad things happen, you need to react quickly.
2. Follow the recommended weight limit
The baby swing is designed for a small baby, and each machine has its own weight range. When outweighs the limit, the swing machine may not able to carry it and drop baby down. So do remember to stop using it once your baby outgrows the weight limit. And never let large children or grown man sit on the machine.
3. Put the swing on somewhere flat and safe
When you put the it on an elevated or inclined floor, it is easily turned over. And make sure dog or pets cannot topple it over.
What Should You Know Before Buying Baby Swing?
For foldable swing, check how to open and fold it up, and once you open it up as a swing, it should be able to lock safely and sturdily into specific positions.
Check whether the seat pad is breathable and machine washable, make sure it can be removed easily.
The seat belt must be connected closely with seat, and is able to tie and untie easily and conveniently, or you may get crazy on dealing with the seat belt while hugging baby in arm.
The seat should be covered completely and appears no extrusive part.
The backrest should be sturdy enough to support the baby.
The stand needs to be thick and sturdy, the metal material is the prior option.
Maintenance
Clean the machine parts and seat pad regularly. The small infant has little resistance to disaster, if not clean the seat parts frequently, baby gets sick easily. Machine washable seat pad can be thrown into washing machine directly, and for swing machine, you can clean it by soap water.
Check the swing parts regularly. The swing parts may get loosen for a long time using, so you need to check it in detail frequently before using for safety.
If there is freak noise or the machine works in the wrong situation, stop it immediately and call the manufacturer for help.
How We Pick Best Baby Swings?
We are not professional manufacturer or seller, but we looked up the basic knowledge of the swing of baby and compared each different units, in order to give you the most useful and trustful reviews.
We read the user's reports, baby swings evaluations on each blog and tested hot selling swings' performances by our own. Many factors are considered and many performances are compared. Thus all our recommended best reviews are trustful and proved to be in top-rated performance.
Here is how we rate those machines:


<Safe and comfort>
Safety is the primary thing we considered in picking, it includes the seat belt set, supporting leg structure and stability of the swing machine. For the seat belt, we prefer 5 point harness to give baby overall protection. The material of supporting leg should be made in metal and is not tripped over easily. The machine should not be folded unintentionally and the motor is not burnt down.
The seat pad that we picked must be breathable and soft enough, machine washable type is able to save much time and energy for moms. All cotton fabric makes the baby feel warm and relaxed when lying in it.
<Easy to assemble and operate>
Assembling of the infant swing should be easy and convenient, the directions should be clear and no complicated parts and tools participated. The swing button should be set simple and easy operated. We'd like the one that supports both plug in and battery, so it can be used in different places both for indoor and for outdoor. And you do not need to find a plug anywhere around in outside.
<Entertainment>
Adjustable swing motions and swing speeds offer more choice for parents to choose one baby loves most. Music inserted is able to bring auditory enjoyment for baby. Plush or plastic toys hanging on entertains baby greatly and is helpful on its brain development.
<Valuable>
The price of the machine is not a small deal, when buying such an item, its value is pretty important. As it is used only for a short period of time, its function and value should worth its price. Most baby gears combine rocker, bouncer or glider together, which is highly cost effective. And it should be sturdy enough for your second or third baby to use again. Being more expensive than rocker and bouncer, its electronic motion and smart design can be a lot soother for new moms and dads.
All the factors are considered and compared before we pick the best one and made the reviews for you. All the reports and reviews made by parents are learned carefully by us, and we compared single products on each different electronics markets, so all the products we recommended are highly reliable.
FAQ:
1. What's the weight limit and age limit of baby swing?
For each different swing machine, the weight limit and age limit are different. You need to read the recommended weight range and obey the limit strictly. Once baby outgrows or outweighs, you should stop using it immediately for safety.
2. Is baby swing a must buy for each family?
Of course not, a baby gear machine is not a necessity as diaper or milk, it is only a helper. If you are affordable on other types of baby necessities, and still have extra money on the unit, you can choose one to relieve yourself. After all, nearly all the moms agreed that the swing is a lifesaver to them after buying.
3. How long can a baby stay in a baby swing?
Experts suggest that baby should stay in the machine for no more than 1 hour, the curly design of seat pad is not helpful for newborn baby's spine development when lying in it for a long period of time.
4. Can a baby sleep in the baby swing?
Baby can take a little nap in an infant swing, but never use it as a replacement of cradle or bed. When baby sleeps in it for a long time, it is likely that baby regards it as somewhere to sleep comfortably, then you will find how difficult it will be to coax baby into sleep on bed or cradle.
What We pick…
Among all the best products we recommended, we would like to suggest the Fisher Price Sweet Snugapuppy Dreams Cradle'n Swing to you strongly. 2 ways of swing motions and 6 swing speeds give parents more choice, 16 songs and sounds bring baby auditory enjoyment, breathable and cozy seat pad also makes baby feel relaxed and comfortable while lying in it.
The key reason for suggestion on this swing machine is its highly cost-effective, being a full size baby swing, the price of which is only under $150, the sturdy structure, simple operation, functional design, and easy clean fabric all make it far worth the value. If you intend to get a valuable full size one, this Fisher price one is definitely the most recommended one for you.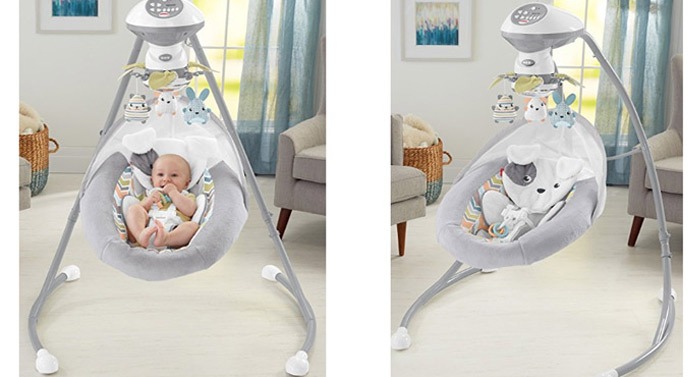 Choosing the Right Baby Swing
An infant swing is a thing that used only for baby, and any preference is also set upon the baby. There is no need to buy any by following others' choices, the most suitable one is the right one for you. On choosing the best type, one should take the actual situation into consideration, such as budget, extra floor space, using spaces and favorable swing motions into consideration. And always remember, what your baby likes most is the primary concern.
Check out more baby swings prices and performance on Amazon if you have an interest.