Babies love to sleep, thus the best thing that you can do for them is giving them a comfortable and safe place to rest and enjoy their sleep. However, more importantly, creating a place for your babies to lay on before they even arrive at your home. Giving your baby the best bassinet mattress in their nursery will ensure that your baby gets a cozy space to sleep on. Getting the best mattress for your baby's bassinet can be a challenge but if you know what you want, this will prove to be a fun task for you.
What Is the Best Mattress For Baby Bassinet on the Market?
Picking the Top 10 Best Mattress For Baby Bassinet
How Thick Should a Bassinet Mattress Be?
The last thing that you think about and is sometimes overlooked is the safety of the mattress on the bassinet. There are factors that you should look into when choosing a good bassinet mattress such as flammability, softness, how you have secure the mattress to the bassinet, and more importantly the thickness.
The thickness of the mattress should be anything between one inch and two inches thick. It should be no more than 2 inches thick if we are looking at providing safety to the baby. Some models come with innerspring that cushions the baby and adds comfort.
So why should be mattress 2 inches thick? This is to provide safety to a baby because a baby may sink into the padding of the mattress if it is thicker causing suffocation in case they are face down they are able to breathe.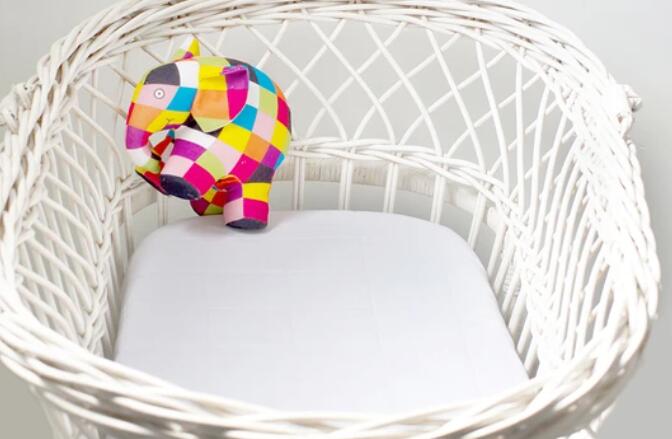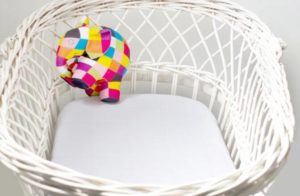 How Should a Baby Sleep in a Bassinet?
Newborn mothers tend to share the same bed with their baby's for the first week, a common yet no advisable thing. It is good to share a room with your newborn but not the bed. This is because of bed-sharing causes sleep-related deaths such as Sudden Infant Death Syndrome (SIDS). Here are important things to consider when putting your baby to sleep in a bassinet.
Place your baby on the bassinet on his or her back and not on the sides nor the stomach.
Ensure that the sleeping surface is firm while covering the baby with a snug sheet.
Ensure that the bassinet is clear from other things such as pillows, toys, or unfitted sheets.
Do not over bundle your baby with clothes and cover sheets. Dress your baby for room temperature.
If you are breastfeeding, you can alternatively put your baby to sleep using a pacifier.
Kindly note, that it will take your baby a few weeks before differentiating day and night. Worry not, you will soon establish a routine that your baby will settle on.
Do I Need a Mattress For Bassinet?
Yes. A mattress is a great feature for your bassinet because it gives your baby more comfort and safety when they are sleeping. Your baby is most definitely going to spend most of their time on their bassinet and this, in turn, means that they should enjoy their time there. A good mattress helps support your baby's body as they grow.
Factors to Consider When Buying a Bassinet Mattress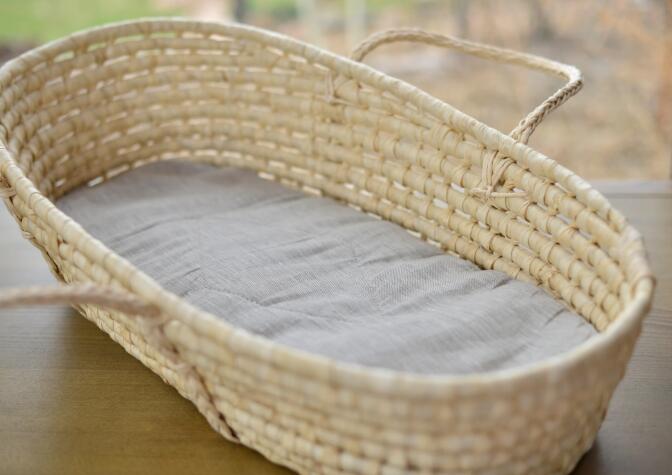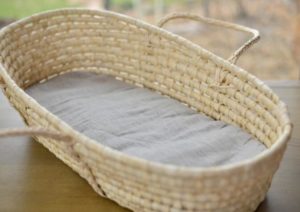 Shape
The mattresses come in various shapes such as oval or even squared shape but this depends on your taste. Consider purchasing a model that fits in your bassinet perfectly putting in mind all safety measures.
Standard Size
Always ensure that you know the size of your bassinet. There is no standard length for a bassinet mattress but it is advisable to settle for a mattress that is one inch to two inches thick.
Firmness
It goes without saying, your baby's safety comes first. Firm mattresses have been proven to reduce the chances of SIDS in babies. A good mattress should be firm enough to avoid the chances of dipping with the thickness being 1 inch.
Durability
Get a quality mattress that will give you value for money. A good mattress will last your baby to the desired age and you will not be required to purchase another one.
Material used
Having a knowledge of the material used allows you to know whether your baby is safe from inhalation of toxins. Consider buying a mattress that is made of 100% organic material such as cotton. Though costly, this is the better option for safety reasons.
Reviews of Best Mattress for Baby Bassinet
This model is made of 100% bamboo surface and is waterproof because the bamboo absorbs water and allows the flow of air offering your baby comfort. To protect the mattress from spills or bed-wetting the food-grade TPU backing layer features aids in this. The bamboo fleece surface also helps in absorbing sound and insulating it.
Check Latest Price on Amazon.com
This is an organically made bassinet pad that is designed according to pediatrician recommendations putting into consideration your baby's need. This model has the following features, a 2-inch thickness, and dimensions of 15 by 30 by 2 inches and produces no emissions.
Check Latest Price on Amazon.com
3. Comfortable Bassinet Mattress –

iLuvBamboo Swivel Sleeper Pad 

This model is made of 70% microfiber and 30% microfiber that is a perfect fit for your Swivel bassinet. The model boasts of the following features, it is quiet, smooth, and silky smooth since the mattress protector has no crinkly sound. It is waterproof and therefore you will not have to worry about water spills and bed-wetting. The bamboo fibers allow the model to be highly absorbent and allowing good circulation of air. The material helps keep the baby warm in cold seasons.

Check Latest Price on Amazon.com

It is made up of 100% cotton and the internal component is 100% polyester providing your baby with utmost comfort and safety. Some of the notable features that this model comes with are the waterproof pad is not only waterproof but also offers comfort to your baby. The soft material does not produce noise and is also very easy to clean. This model will give you value for money.

Check Latest Price on Amazon.com

It comes in 2pack and is the best fit for MiClassic 2in1 Stationary and Rock Bassinet. It is made of bamboo fiber that has moisture-wicking properties that regulate your baby's sleep temperature. The following features make this model popular it is waterproof and breathable, provides extra comfort, and is crease-resistant. Other features include easy to maintain and is wash durable and it does not produce crinkle noises.

Check Latest Price on Amazon.com

If you are looking for a model that will improve your baby's sleep quality helping relieve your baby's reflux and congestion by way of elevation then this is the right model for you. The model comes with the following features that come with 100% cotton fiber cover that is hypoallergenic, breathable, and non-toxic. It is waterproof and very easy to clean. It comes with a bag package that enables safe storage and carrying.

Check Latest Price on Amazon.com

Made from bamboo fiber materials that offer your baby the best environment for sleep because it is waterproof and provides for air porosity. The model is safe form water or spills damages all because of the TPU backing layer. The following features make up the model, this is a perfect fit for all, does not produce crinkle sounds, and is easy to maintain and wash. It comes with a lifetime guarantee.

Check Latest Price on Amazon.com

This is a very flexible bassinet mattress cover that perfectly fits in halo bassinet without bunching up. Kindly note that this is just a cover and not a pad. The model has the following features to boast off, they are breathable and waterproof, do not contain the plastic material that makes the mattress pad to make noise. It comes with a Biloban life time warranty.

Check Latest Price on Amazon.com

It is made to fit the Halo Swivel Sleeper Bassinet. The ultra-soft feature provides your baby with comfort during their nap time. Notable features are bamboo viscose that helps keep the model clean and fresh, made of dryer friendly, and waterproof material. The mattress does not produce any sound, is highly breathable and super absorbent.

Check Latest Price on Amazon.com
10. Momcozy Bassinet Mattress Pad Cover 
Made of 100% pure organic cotton that is a feature in three-layer waterproof protection. The pad protects the mattress from water and any other beverages spill. Other notable features are ultra-absorbent and breathable, which has a flexible fit that makes it easier to use in the different bassinet. It is very soft and does not produce noise. And it is easy to maintain.
Check Latest Price on Amazon.com
Conclusion
Choosing the best bassinet mattress should be an involving and fun task. This is because your baby needs a beautiful night and rest altogether. Without overlooking anything, choosing the best bassinet mattress to ensure safety for your newborn.
---
Check For Different Types of Baby Bassinets: