A quality bassinet is a necessity for newborn babies, for it provides a safe and cozy environment for baby to play and take a short nap. When picking the best baby bassinets, the safety issue is the primary consideration you should make. Apart from that, many integrated factors, such as comfort, durability, and price, also determine the service life and user experience of the product.
To save your time and money, here are the expert reviews on the best baby bassinets and what should you know about choosing and using them.
What Is the Best Baby Bassinet on the Market?
Picking the Top 13 Best Baby Bassinets
Best Baby Bassinets Reviews For Different Usages and Price Level
1.
Best Baby Bassinets –

Baby Delight Mesh Side Comfortable Bassinet & Bedside Sleeper Combo

With the Baby Delight Beside Me Dreamer Bassinet, you can sleep and have peace of mind knowing that your baby is comfortable and safer. Your baby is surrounded by the breathable mesh walls that allow the air to keep circulating and provides the baby with his or her own sleeping area. You can use it as a bassinet or as a sleeper. When using it as a sleeper, you only need to unzip the side panel to the bed. You can lean over to comfort, check on the baby, or nurse.

Key Features

【Quick and Easy Conversion】

You can simply unlock and lift up the sidebar to the unlatch bassinet wall. Within a few seconds, you can have the sleeper mode. Ensure you use straps to anchor this unit to the bed.

【Height Adjustment】

Each end of the bassinet has a knob that controls the height. That makes it quite easier to adjust the height to match that of your bed. In this way, you can ensure a proper fit.

Check Latest Price on Amazon.com

The Deluxe Sweet Beginnings Bedside Bassinet from Delta Children is made of durable and beautiful materials. It has a modern and neutral design that blends a lot of decors. The baby bassinet has a music module for playing soothing lullabies. Also, it has a dual-storage basket where you can keep diapers, linens, and other newborn supplies. This bassinet has locking wheels for extra safety, and you can easily move it from one room to another.

Key Features

【Sounds and Lights】

This bassinet features calming nightlight plus music mode that soothes your baby with lullabies. You should note that this bassinet needs AA batteries.

【Easy to Use】

The large locking wheels make it easier to move your bassinet from one room to another. Also, it comes with a fitted sheet and mattress.

【Perfect for Bedtime or Naps】

This bassinet features an adjustable canopy that can block light. In this way, it creates a perfect light that creates an ideal sleep environment.

Check Latest Price on Amazon.com
3.
Cheap Baby Bassinet –

Wishes Oval Rocking Bassinets with Large Adjustable Canopy

You will find the Wishes Oval Rocking Baby Bassinet to be a great addition to your nursery. This bassinet is lined with crisp bedding. You have the freedom to choose from a wide range of options that complement any given décor. The generously sized interior offers adequate room for your baby to sleep.

Key Features

【Adjustable Canopy】

The fact that this bassinet's canopy can be adjusted means you can use it in different positions depending on the circumstances. You can also remove it if you do not need the canopy. It is perfect for keeping bright lights or sunshine.

【Stylish Bedding】

You can choose from a wide range of patterns and colors. The bassinet comes with a foam pad, washable liner, and fabric canopy.

【Easy Assembly】

To assemble this bassinet, you only need to follow the six steps, as illustrated in the manual. The body zips securely onto the metal frame.

【Convenient Storage】

The bassinet has a basket beneath for storage. It can accommodate extra clothing, diapers, and fit blankets.

Check Latest Price on Amazon.com

The Fisher-Price Soothing Motions Bassinet is designed to foster the role sleep plays in the development and growth of the baby. As you know, your baby needs plenty of sleep. This bassinet offers various ways to soothe your baby. You can sway it gently, plus the mesmerizing lighting options can make your baby fall asleep. This bassinet has everything you need to help comfort and soothe your baby. In this way, you can get a great night's rest.

Key Features

【Comfy Sleeping Surface】

The bassinet provides your baby with a flat, comfy sleeping surface. Thus, it helps snooze and soothe your baby night after night.

【Storage】

This bassinet features a mesh basket beneath for storage of baby's essentials, such as blankets, diapers, wipes, and more.

【Versatile】

You can use this bassinet both indoors and outdoors. That is because it is made of tough polyester foam fabric. Moreover, its sleeping pad and double canopy add to its versatility.

Check Latest Price on Amazon.com

Dream On Me Bassinet is not only durable but also stylish. It is made of polyester fabric and has a sleeping bag and a double canopy. You will find this bassinet to be versatile and lightweight. In fact, this bassinet can easily be moved from one room to another. It needs minimum assembly before using it.

Key Features

【Innovative Design】

This bassinet has an innovative design that ensures you can have adequate sleep throughout the night. In fact, you should not be concerned about its safety as it cannot tip over. The design makes it easy to access an important feature that can help you take care of your baby. Also, it provides adequate space for your baby to enjoy comfort.

【Lightweight and Portable】

You will find this bassinet extremely portable and lightweight when you compare it with other bassinets. For instance, it weighs only 14 lbs and can accommodate a baby up to 25 lbs. The foldable legs make it easy to carry and store.

Check Latest Price on Amazon.com

This bassinet is designed to make every bedtime or nap on a royal occasion. It has printed iconic fairytale graphics and feature glass slippers, carriages, and magical wands meant to inspire the greatest dreams. This allows you to keep a watchful eye on the little princess both night and day. The locking wheels of this bassinet make it easy to move around your house.

Key features

【Design】

This unit features an adorable Disney design with lots of features meant to give your baby a comfortable sleep.

【Calming Features】

This bassinet features an electronic pod with a calming nightlight, soothing music, and vibration. The unit requires four AA batteries. Also, the adjustable canopy blocks light.

【Easy to Use】

The gliding base helps the baby to sleep. You only need to activate the gliding motion with a gentle push. Moreover, the large storage basket provides adequate storage for things your baby requires.

Check Latest Price on Amazon.com

This is a nice bassinet that provides your baby with a safe and soothing environment to relax and sleep. It does not matter whether you are at home or traveling; you can be assured your baby has a great sleeping surface. You will find this bassinet being easy to use. For instance, you only need to twist and lock the feet.

Key Features

【Comfortable】

This bassinet has a breathable, mesh siding that ensures there is adequate air circulation for your baby. It has a toy and mirror that your baby can play with.

【Easy Storage】

Like other moms, you may like the fact that this is a space-saving unit. That is because it folds and collapses for easy travel, storage, and moving from one room to another.

【Versatile】

At night, it will be a simple bedside sleeper, and it will provide a safe nap space during the day in the living room or at the beach. Due to its portability, you can take it anywhere you want.

Check Latest Price on Amazon.com
8.
Modern Baby Bassinet

–

Simmons Bedside Mesh Oval City Space Saving Bassinet

This bassinet is designed to be there for the baby as he or she grows. It is meant for the bassinet as it allows you to raise or lower the unit based on the height and size of your babies. The compact shape with wheels design allows you to move around from the living room to the bedroom. The mesh side brings in more fresh air while providing a clear view for a better nursery. The most convenient design is for its machine washable fabric, which enables you to remove it freely and throw it into the washing machine for cleaning.

Key Features

【Adjustable Frame】

The bassinet's frame has five different positions available for adjusting. Thus, you can raise and lower it as you want to nurse your baby or use it as a bedside sleeper.

【Mesh Sides】

These are quite important for the comfort of your baby. For instance, they help better air circulations and bring a view on the baby's actions and safety conditions.

【Easy to Clean】

The unit comes with a mattress pad that is both machine washable and waterproof. Remember that your child needs a clean place to rest and sleep.

【Safe】

The unit is certified to exceed and meet all the safety standards of ASTM and CPSC. Thus, it offers peace of mind as it provides parents with separate, safe sleep space for the baby.

Check Latest Price on Amazon.com

The Delta Children Moses Bassinet is designed to provide a comfortable sleep space for the newborns. It also comes with a Moses basket. The basket attaches to the bassinet frame, and you can remove it easily. With the electronic pod attached, you can play peaceful music, and it emits gentle vibrations with plush hanging toys.

Key Features

【2 In 1 Design】

This unit comes with Moses bucket that is attached to the stand. You can use the basket alone or attach it to the stand.

【Vibrations, Sounds, and Light】

The electronic pod is designed to play peaceful music and emit gentle vibrations. Also, it features a soft glow nightlight and keeps the baby happy at all times.

【Adjustable Canopy】

This is an important feature that is designed to block light during the daytime. Its easy-to-roll wheels make it easy to move from one room to another.

【Easy to Reach Storage】

The convenient storage is provided under the bassinet. You can use it to keep blankets, supplies, and diapers.

Check Latest Price on Amazon.com

This is the only bassinet from Graco. It is popular for its cry detection technology. The technology detects the cry of your baby and helps soothe the baby back to sleep. It has a built-in microphone that can hear your baby cry and respond by adjusting the bassinet's settings and help soothe your baby back to sleep. This is made possible with the 3 different speeds, soothing motion, 2-speed vibration, 10 soothing sounds, 10 sleepy sounds, and white noise.

Key Features

【Airy Mesh Sides】

This is a cozy bassinet that has mesh sides that offer both visibility and breathability.

【Reversible Canopy】

You can position the canopy to protect your baby from light while sleeping. In this way, the bassinet keeps your baby comfortable and cool.

【Integrated Storage】

The pockets help keep the diapers, wipes, and other baby essentials quite close.

【Integrated Wheels】

You can keep your baby close with the integrated wheels that help you to maneuver the bassinet around the home.

Check Latest Price on Amazon.com

This bassinet is designed to make the process of transiting into motherhood easy and simple. Ideally, this is the only bassinet you will find on the market that rotates 360 degrees to offer ultimate safety and convenience. With this unit, your baby can sleep as close as possible and still sleep in their sleep area. This reduces health risks that are associated with bed-sharing.

Key Features

【360-Degree Rotation】

This unit rotates and swivels about 360 degrees to get your baby as close as possible whilst enjoying safe sleep. Moreover, the sidewall lowers make tending to your baby easy.

【Sturdy】

You can base the tucks under the bassinet. The fact that it needs only 32-inch clearance from the wall, this bassinet is perfect for small spaces.

【Easy to Clean】

This bassinet is made of polyester, which you can easily wipe clean by using a damp cloth. The machine is washable and includes storage pockets that keep the baby's essentials.

Check Latest Price on Amazon.com

The Graco Dream Suite Bassinet is a reversible sleeper and changer for the baby. Other than being cozy, it soothes your baby with the 2-speed vibration and allows visibility and air with the mesh sides. Its canopy helps block light and entertain the soft toys. The unit has easy to clean fabrics and can hold up to 30 lb. Its large storage basket helps keep the baby's essentials quite close.

Key features

【Easy Maneuverability】

The unit has four locking wheels that make it easy to maneuver the bassinet around easily and allow the baby to be wherever you are.

【Canopy】

This is an important feature that provides adequate protection from light. Also, it has two included toys for the baby's playtime.

Check Latest Price on Amazon.com

The bedside bassinet provides you with the convenience and closeness of co-sleeping and allows your baby to be in a protected space. The sidewall lowers to allow you to tend to baby without having to leave the bed.

Key Features

【Bedside Sleeper】

This unit is perfect for breastfeeding and newborn. The unit is designed to help you and your baby to get adequate sleep after each comforting and feeding.

【Easy to Set Up】

The unit is easy to set up, and you can use it anywhere you want or wherever your baby wants to sleep.

【Two Side Pockets】

These pockets are quite important as it makes it easy to store the baby essentials, and you can easily access them.

【Adjustable Height】

The unit allows you to adjust the height from 13 inches to 21 inches and can accommodate the parent's beds.

【Easy Maneuverability】

The unit has built-in wheels that enable moving around easily and safely without hurting the floor.

Check Latest Price on Amazon.com

If you are a first-time parent, you may be finding it challenging to know what should be bought before you bring your child home. It might be difficult to find all the information you need concerning what to have on hand when you and your baby come home from the hospital. You know you will need the necessities, such as clothes, a table to change the baby on, sterilizers, and you will have to decide if you'll go with formula or breastfeeding. Another consideration to make is where your baby will sleep on those first few months as the two of you adjust?
Do You Need a Bassinet?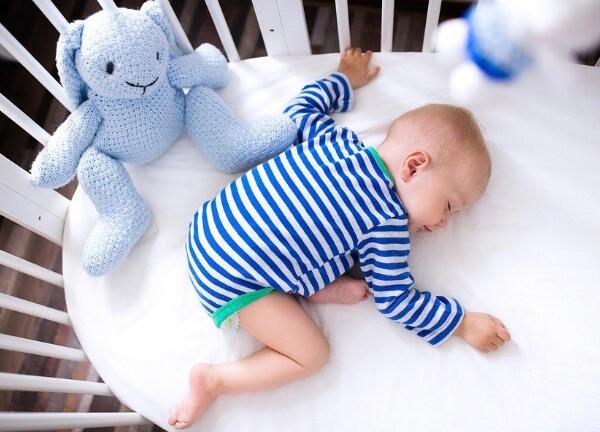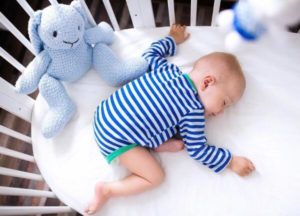 You may be receiving suggestions from friends and family on how to adjust your sleeping habits with your baby's once you come home from the hospital. Some will tell you it is best to have the baby sleep in your room, and some even suggest you co-sleep with your child. You may want to check the statistics of SIDS that are associated with co-sleeping with an infant. This method of sleeping is not recommended by many experts in the field of childcare. It does not mean you cannot co-sleep with your baby as this method of sleeping has been done since ancient times; however, there are recommendations you should follow from your pediatrician.
The American Academy of Pediatrics suggests you sleep in the same room as your baby, but not on the same surface. According to the research conducted on sleeping with your child, it is found they should sleep in crib or bassinet that you have placed in your bedroom, especially those first few nights home. A bassinet has been a preferred choice by many new parents as it provides the same cosey feel of a womb, which they've been sheltered in the past nine months.
When Do You Need a Bassinet?
According to the CDC (Centers for Disease Control and Prevention), you should have your newborn sleep in the same room as you, but in a separate sleeping surface. A bassinet is a perfect investment for your child's first few months as you will be able to move it around the house to keep your baby near you throughout the night as well as through daytime naps.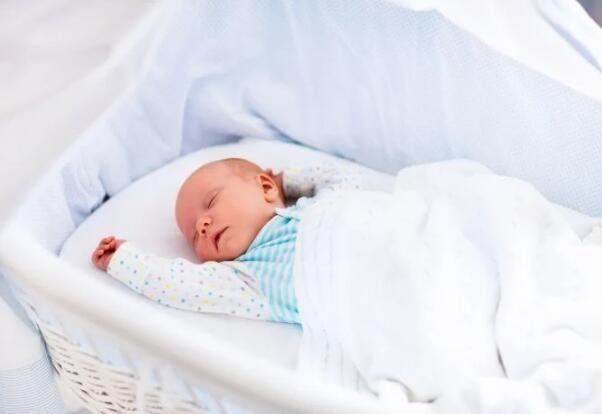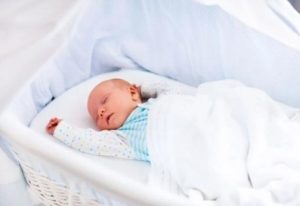 There are a lot of new items and supplies to buy when your baby comes into the world. Purchasing a bassinet is more affordable and will last you a few months while you adjust to having a new addition to your family. You will need a crib eventually, but using a bassinet for your child's first few months will be more convenient and affordable. The bassinet is also smaller and cozier for your newborn.
Features to Consider in Good Baby Bassinets
Your baby will outgrow the bassinet in about four months, but during those first four months of life outside your womb, you want them to be in a safe and friendly space. When you choose a bassinet for your newborn, there are some features you will want to consider. While there are no federal standards specifically for a baby bassinet, many manufacturers comply with the American Society for Testing and Materials (ASTM.) Check the bassinet you are considering for a seal from the Juvenile Products Manufacturer's Association to ensure your choice has complied with standards of the industry.
Choosing a bassinet should not be taken lightly as you want your newborn to be as safe as possible when they are in bed. To ensure the bassinet you've chosen meets these comfortable and safe requirements, it should feature: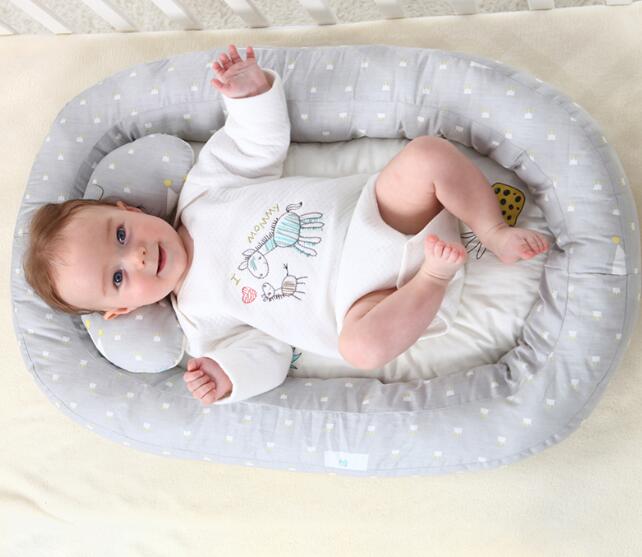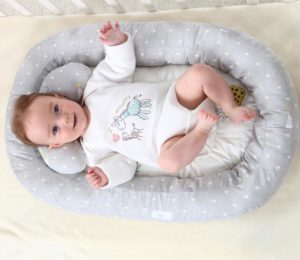 Sleep Surface and Breathability
Important design features and metrics to consider when choosing a bassinet for the safety of your baby's sleep are the sleep surface and breathability of the product. You want to be sure the sleep surface or mattress fits the frame and will not allow any type of accidental entrapment. It should also provide sufficient airflow for breathability.
Side Walls
The safest product will be designed with wood slats, much like a crib, and mesh walls to provide proper airflow for safer breathing. Some designs are similar to a crib bumper, which experts will agree should not be used in a baby's sleeping area as they increase the risk of SIDS.
Mattress with Support
Bassinets come with mattresses that are firm or thin. The reason for these mattresses is that the ASTM standards require bassinets to be less than an inch thick, and they should be firm. These guidelines have proven to reduce the risk of SIDS. A mattress in a bassinet should not be changed to anything different, as it would compromise the sleeping area of your newborn.
Functionality
A bassinet should be functional in that it can be used in a manner you need. A bassinet that comes off its base would be considered useful as you are able to take your baby with you to different rooms. Having a removable bassinet also allows you to take your sleeping child to your room for the night without disturbing their sleep.
Movement
A bassinet that is able to vibrate or rock may come in extremely handy when you are trying to put your child to sleep. Many babies find it easier to go to sleep when they can experience some form of movement.
Noise
Soothing sounds can help soothe your child. Sounds such as waterfalls, calming music, or sounds of nature have been found to soothe infants. There are bassinet models that come with built-in noise options you may want to consider as a helpful feature.
Bedding
A suitable bassinet will feature a mattress, fabric lining, and fitted sheets, which are all comfortable and soft for your baby.
Canopy
Canopies are a good idea if you intend to use the bassinet during the day or in well-lighted areas. A canopy can shield your baby against the light, which often stimulates a child instead of soothing them.
Storage Area
You will soon learn there are a lot of supplies needed in caring for your newborn. A bassinet with a storage area will be an extremely beneficial feature for you to keep diapers, wipes, toys, or any other baby essential you use while caring for your infant.
Your baby deserves the best you can provide for them. You want a bassinet that offers safety, comfort, and some of these must-have features when caring for your newborn.
Types of Baby Bassinets
Bassinets are perfect for your baby's first few months outside the womb. They offer a safe and cozy environment in which your baby will find the comfort they need. There are many sizes and styles to choose from in the baby bassinet market, including these: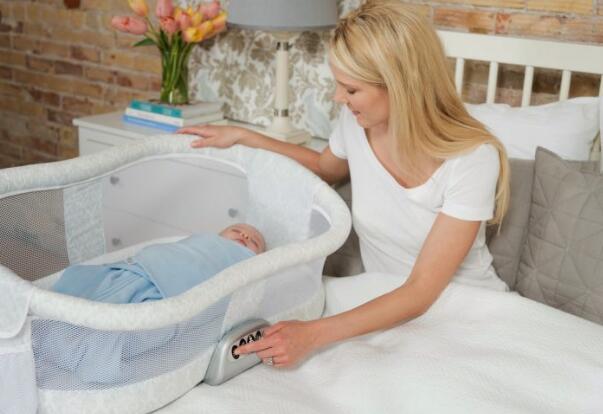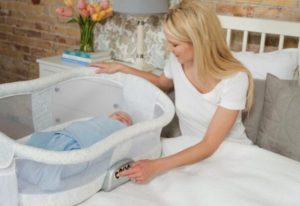 Bassinet for Preemies
A bassinet that rocks is ideal for preemies, and when choosing one specifically for a baby born early will give you a bassinet that is small enough to comfort the needs of a preemie. Choosing one with a vibration motion will add an even more calming effect on your baby's sleep time. Bassinet for preemies offers your baby more softness for their sensitive skin than is needed for babies that arrive full-term.
Bassinet for C-Section Babies
If you've had your child through a C-section, you may be finding it difficult to feed your baby at night and, at the same time, get a good night's sleep. The C-section procedure has weakened your body, and yet you have to interrupt your sleep to feed your newborn. A C-section bassinet takes into consideration two objectives. These bassinets will provide your newborn with a comfortable and cozy sleeping area, and help you to do your baby tasks without having to get out of bed.
Bassinet for Babies with Reflux
If your newborn is suffering from reflux, you may need to provide them with an inclined sleeping position. The bassinet for babies with reflux reduces their acid reflex action. Reflux occurs when your baby swallows milk, and their muscle to stop the food from coming back into their mouth has not yet fully developed. A bassinet in an inclined position will help to reduce this action from happening after feedings and will help them digest food, as well as breathe easier.
Bassinets for Small Spaces
If you are bringing your newborn home to an apartment or a house with limited space, you will want a bassinet that doesn't take up a lot of room. Bassinets are designed to be small so that they can give your newborn a structured cozy feeling. There are models on the market specifically designed to meet your baby's and your space needs.
Bassinets for Airplanes
Traveling with a newborn baby can be challenging. No matter where you are, your baby needs to be able to sleep, even when on an airplane. If you do not provide a safe and comfortable space for your newborn to sleep, it will significantly impact your travel plans. Special cabinets are sometimes available in business class, but few, if any, can be found in economy class. There are travel bassinets available that have been designed specifically for air travel. These bassinets are lightweight, fold, and are easy to carry.
Bassinets for Twins
Bassinets for twins are convenient and will offer your babies the coziness they seek. The bassinets for twins are compact, small, and some come with a built-in wheel to make moving from room to room easy.
What Are Some of the Factors You Should Consider When Buying a Baby Bassinet?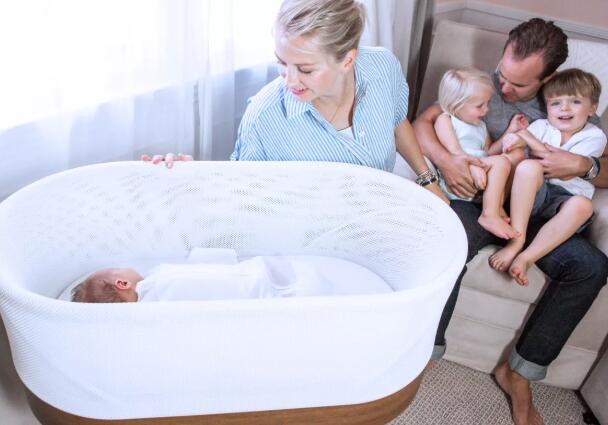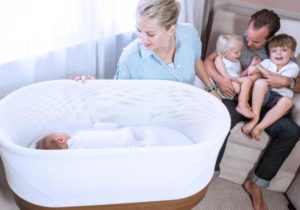 A bassinet is not a must-have when you bring your baby home, but they do make the first months of your baby's life easier on you as a parent. A bassinet is also a more comfortable and cozy space for your baby to feel safe and sleep easier. Some experts have reported a bassinet will increase the opportunity for you to bond with your newborn and potentially decrease the risk of SIDS. Some of the factors you should consider when buying a baby bassinet, include:
You will feel better if your newborn is sleeping near you, or in your room
If you desire a portable bed that you are able to move from room to room to keep them nearby you during the day during their early life
If you've had a C-section birth, a bassinet can help keep your baby close so you can heal faster
There are a variety of factors to consider when choosing your bassinet, but the benefits of including one of these in your baby gear can prove to provide new parents with real peace of mind by keeping their baby close to them at night.
How Long Does a Baby Sleep in a Bassinet?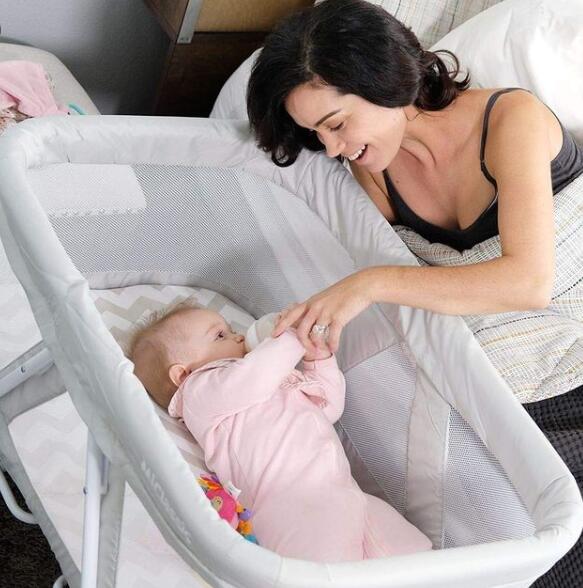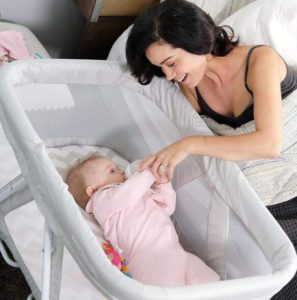 It may seem like a tough decision to make when you consider moving your baby from the bassinet to a crib, but it can also be a simple choice. Many newborns begin their life at home in a bassinet in the same room as their parents as it is convenient. This sleeping arrangement also allows parents to feed their infants easier during the night and provide comfort to their newborns. There is no hard-set rule for when you should change this arrangement.
Sometime between your baby being six months old to a year, they will outgrow their bassinet, and you will want to reclaim your bedroom. According to the Ameican Academy of Pediatrics, your baby should only be in a bassinet if they are under ten pounds. When your baby exceeds this weight, it is recommended you move them to a crib. The Academy also recommends this move occur by the end of your baby's first month, but some pediatrics claim a higher weight is safe as well as a longer time frame. You may feel safer using your own judgment to know when it's time for your child to move to a crib. There are several factors to consider when making your decision:
How heavy is your baby?
Bassinets differ in how much weight they can handle. Some bassinets are only able to hold up to ten pounds; others are designed to hold up to twenty pounds. Check your manufacturer's recommendations on weight restrictions.
Does your baby look too big?
Even if your child hasn't reached the weight capacity, they may have grown too long to fit comfortably in the bassinet. If your baby's feet or head are always bumping into the sides of the bassinet, or they are waking up suddenly and often, it may be an indication the bassinet is no longer comfortable.
Is your baby able to roll over or sit up?
The more movements your baby is learning to make, the more dangerous a bassinet will become. Bassinets are shallower than a crib, so if your baby can sit up or roll over, they may flip the bassinet and cause serious injury.
Most babies take the switch from a bassinet to a crib easily, and will not display any discomfort in having a new sleep space. If you are worried about making the switch, you can do it in stages, or create a routine for bedtime to make the transition easier.
Bassinets, Mini Cribs, and Playard: What's the Difference?
Having a baby opens up a whole list of questions on what equipment you should have to make taking care of your child easier, and make your baby safer. Sleep will be an essential factor in your life as you want your baby to get the rest they need, and provide you with opportunities to get the sleep you need. But what to choose can be difficult with all the choices on the market. A bassinet takes up less room than a crib and will work for your baby to sleep in your room; however, the mini crib will take up even less space than the bassinet. How much room you have available may be what determines your choice between the bassinet and the mini crib.
If you are trying to decide between a bassinet and a playard, you should know the difference between these two products.
The bassinet is a very small crib typically designed for a newborn baby, and most can be moved from room to room. Some of the bassinets can be placed on the floor, and others have structures that the bassinet can sit upon. These sleeping units are much smaller when compared to the playard.
The playard is both a sleeping and playing space for small children. These are typically able to be folded and packed up into smaller areas for travel or storage. These products are a portable, multifunctional piece of furniture that can be used in place of a crib, travel crib, or napper. Some playards are even designed with an attachable bassinet.
Choosing between the bassinet, mini crib, and playard may come down to your lifestyle and what will fit your needs. You may also be limited in space and have to choose the smaller sleeping unit for your baby.
Bassinet or Crib?
A bassinet is a smaller piece of furniture and can be moved easily. This form of sleeping area will work well for your newborn from the time they come home until about three months of age. The bassinet is typically used to help a new baby adjust to their world outside the womb in their new home.
A crib is a larger piece of furniture that is typically placed in your baby's room and will remain there until your child is two or three years of age. There are pros and cons to using each of these sleeping units for your new baby: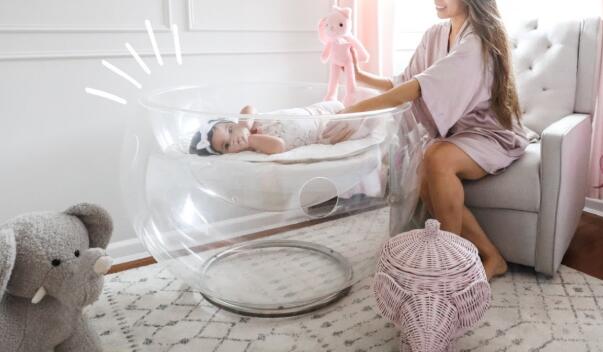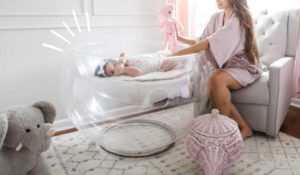 Pros of a crib:
A crib will last longer and will hold your child until they weigh about fifty pounds or three years of age
Cribs often offer additional space for you to store clothes and accessories
Cons of a crib:
Cribs are difficult to assemble
Cribs need more space in your living area
A crib is more expensive than a bassinet
Mattresses and sheets are more expensive for cribs
Cribs are often too big for newborn babies
Pros of a bassinet:
Bassinets are easy to carry around inside or outside the home
You can use a bassinet as soon as your baby comes home from the hospital
There is no assembly required
Bassinets take up less room than a crib
Cons of a bassinet:
Your baby will outgrow the bassinet quickly
Some bassinets cost as much as a crib
Most bassinets do not have storage to hold baby accessories
Almost every parent will spend an enormous amount of time trying to choose the right furniture, food, toy, and any other baby accessory that will be right for their baby. Your concern and time you are spending trying to make the right decision is a sign you are on the right path to do all you can for your child and that you are an extremely conscientious parent. Hopefully, this information will help you make the choice that fits you and your baby's needs.
FAQ:
Q: Is a bassinet safe for a newborn?
A: Bassinets are the recommended sleeping space for newborns. They are believed to be the safest sleep space and reduce the risk of SIDS.
Q: Can I put my own mattress or padding in a bassinet?
A: You should only use the mattress that has come with your bassinet and has been provided by the manufacturer. Using any other mattress may create cracks, gaps, or space inside the bassinet, which can be a danger to your baby.
Q: How long does a baby use a bassinet?
A: Most babies transition for a bassinet to a crib between the ages of three to six months.
Q: Can I buy a used bassinet?
A: Be extremely careful if you are considering the purchase of a used bassinet and carefully check its manufacture date as, before 1974, there were no federal safety standards in place. If you buy used, make sure to look for labels that say ASTM or JPMA to ensure the manufacturer participated in voluntary safety standards.
Q: Can my baby safely sleep in a bassinet all night long?
A: Yes, your baby can sleep all night long in the bassinet; in fact, this is the intent of the bassinet. It is intended for your baby to sleep close to you and allow you to reach out for comfort and feedings during the night easily.
Q: Do I need a bassinet for my baby?
A: No. You do not need a bassinet for your baby; however, they offer you and your newborn a lot of benefits. It can allow you to keep your baby close at night for feeding or comforting. Bassinets also will enable you to allow your child to remain sleeping close to you as they can be moved from room to room during the day.
Q: Are in-bed bassinets safe?
A: If the in-bed bassinet involves sharing the same bed, most doctors will advise against it as it can increase the risk of SIDS. The best solution is for a bassinet that sits alongside your bed.
Q: Is a vibrating bassinet safe for my baby?
A: Yes. A vibrating bassinet is both safe and effective for soothing your child.
Q: Should my bassinet have mesh sides?
A: Mesh is a preferable material for the sides of a bassinet as they make it a more breathable space.
Q: What kind of bedding should I use in the bassinet?
A: All your baby needs is a simple fitted sheet that should cover the bassinet mattress entirely. A safe sleep space for your baby is essentially bare. Adding soft bedding to your bassinet increases risks to your baby.
Top 3 Best Baby Bassinets
---