Baby swings all have the same purpose of relaxing babies enough for them to go to sleep and then to nap for a couple of hours or so. An issue that seems to concern some parents is whether a baby swing is better if it moves from side to side or from front to back. Babies are too young to say what they prefer, so some parents feel the need to think about the directions that a baby swing can move in. There are baby swings available that are capable of moving from side to side as well as from front to back. Some swings can move in multiple directions. Here are some pointers as to the best directions for baby swings to move in.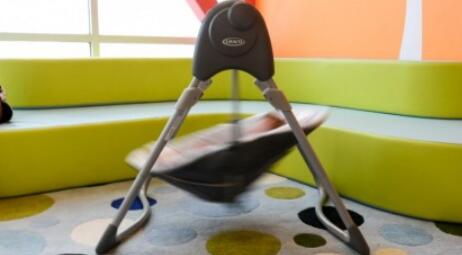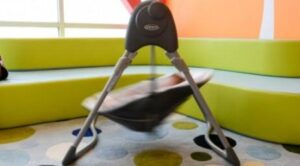 Yet baby swings can be basic or they can have extra features, although the main concern should be making that babies can sleep in the swing safely.
The Different Directions of Baby Swings
* Side to side
This appears to be the most common type of baby swing and often does enough to get babies sleeping.
Best Side to Side Baby Swing
Gentle, side-to-side swaying motion soothes and comforts baby
6 swing speeds allow you to find the right pace for baby
Deep, plush seat and head support keep baby cozy and comfortable
Small frame design fits easily anywhere in your home
2-speed vibration further comforts your little one
* Front to back
Now front to back baby swings are a little rarer, yet some babies and parents seem to prefer this type of baby swing.
Best Front to Back Baby Swing
Tackle to-dos while baby rests in comfort by your side in the Ingenuity Soothe 'n Delight Portable Swing; soothe baby with music using volume control and parent-controlled timer settings (15, 30 or 45 min); auto-shutoff at 60 min
Folds up for compact storage; easy travel to grandparents' house and beyond; removable toy bar with 2 plush toys for easy access to baby; powered by 4 C batteries (not included)
6 extra quiet swing speed options for more moments of calm; adaptive swing technology adapts with your baby's weight to maintain their ideal speed
Comfy fabrics soothe baby; headrest, seat pad and pillow are machine washable for easy cleaning; recline positions keep baby content while the toy bar engages their senses
Perfect baby swing for ages 0-9 months; supports a minimum weight of 6 lbs and maximum weight of 20 lbs; assembled dimensions: 26.77" (H) x 22.64" (W) x 28.74" (D)
* Both ways
Sometimes the best thing to do is to edge your bets, buy a baby swing that goes from side to side as well as front to back. Going for both ways options means being able to vary the direction that babies are swung in.
Best Baby Swing that Swings Both Ways
Swing arrives in packaging that reveals what's inside. To keep it a surprise, select "Ship in Amazon packaging" at checkout.
Woodland-themed, dual motion baby swing that gently rocks side-to-side or head-to-toe
Adjustable seat recline, 6 swing speeds, 16 soothing songs and nature sounds, and motorized mobile with dome mirror and 3 soft toys
Machine-washable seat pad and plush fawn head and body support
Legs fold for storage and travel; AC plug option helps save on batteries!
* Multiple directions
The baby swings that move in multiple directions not only supply the best of both worlds, but they also allow babies to be swung in even more directions.
Best Multi-directional Baby Swing
Dual-motion, puppy-themed baby swing sways side-to-side or head-to-toe
Customize with 6 swing speeds, 16 songs and sounds, and adjustable seat recline
Overhead mobile with dome mirror and 3 soft toys help entertain baby
Machine-washable, plush seat pad with deluxe Sweet Snugapuppy body cushion insert and head support
Legs fold for storage and travel, plus AC plug option (Saves on batteries!)
Why Do Baby Swings Go Side to Side?
Baby swings go side to side as sideways movement is considered to be a method of relaxing and soothing babies. Sideways movement is also generally gentler than front to back movements can be.
Traditionally swings were designed to only move front to back. Then were was some research that found babies found moving from side to side more relaxing, meaning they would be more likely to go to sleep.
How Do You Make a Baby Swing Go Back and Forth?
A baby swing can only go back and forth if it Is designed to do so. Some swings are not meant to be moved from front to back at all, while it may be possible to change some to allow for such movement it might not be wise to do so. If you want the option to have the swing go back and forth then it is best to buy a product designed to do so.
For those unsure about the direction of swings getting a swing that goes both ways or in multiple directions is a better option.
Is It Okay to Let My Baby Sleep in a Swing As Long As It Rocking Back and Forth?
Baby swings are designed for babies to fall asleep while inside them. Therefore it should be fine for infants to sleep in baby swings. Letting babies sleep in a swing should not cause any problems, indeed if the swing keeps on moving whether sidewards or front to back that should allow babies to sleep for longer.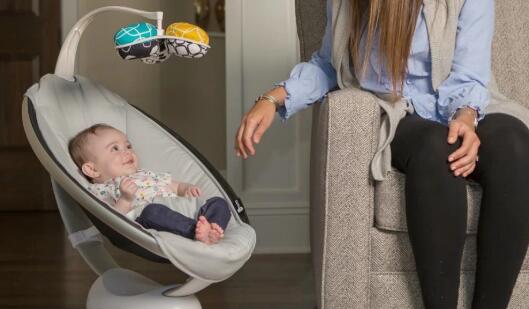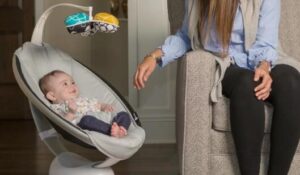 What Are the Benefits of Using a Baby Swing?
* A baby swing relaxes infants and helps them to sleep
* Most baby swings are portable enough to go anywhere that babies go to, so infants can sleep in unfamiliar places
* Swings are safe places for babies to have naps as long as they are monitored
* A low-cost means of getting babies to sleep at home or when somewhere else
What Swing Should You Get?
There is a wide selection of baby swings available and these vary widely in price and quality, and features. Here are some of the main considerations when thinking about, which baby swing to buy:
* How much it costs, and whether it is good value for money
* The directions it moves in
* Is it lightweight and portable?
* Is it powered by an adapter or batteries?
* Does it have sights and sounds to relax babies or get them to sleep?
* What is the best size to buy?
* Is a basic design as good as a top of the range swing?
* Will a travel swing be better than a full-size swing?
The choice of swings is almost bewildering, and just remember that the most expensive swings that have the fanciest extras do not always get babies to sleep. Sometimes parents buy what they want instead of thinking about what is best for their infants.
Why Front to Back Might Be Better?
Some people think that front to back might be better because:
* Swings always used to go front to back
* Some babies might not like moving from side to side
* It soothes babies better than sidewards movement
Things to Consider when Picking the Ideal Direction for Baby Swing
* The baby swing can safely be used when moving in different or multiple directions
* It is easy to change the direction that the swing is swinging in
* Things that allow the direction to be changed are reliable
* Will the baby swing continue swinging when the baby is asleep?
* Consider a model that goes in multiple directions so that infants are content sleeping in it
Conclusions
While some parents take no time considering the directions that a baby swing can move in, other parents consider that it is an important consideration when preparing to buy a baby swing. There is a wide selection of baby swings available and the great majority of these do what they are meant to do, relax babies enough for them to go to sleep in. Just about all baby swings are safe for babies to sleep in, as long as they are watched/monitored while they are asleep.
Just remember the swing with the biggest price tag might not get a baby to sleep but the most basic and no thrills model could do.