There are typically two ways of swing motions for a baby swing, one is from head to toe, the other swings from side to side like a cradle.
The motions of swinging make baby feel comfortable and sleepy just as lying in the arm of parents, thus one of the basic methods of baby swing to soothe baby is the swing motion.
But different babies have their different favors, and you need to find one that suits your baby most.
Top 2 Best Side to Side Baby Swings 2020
Best Side to Side Baby Swing Reviews
1. 2 In 1 Baby Swing – Graco Duet Connect LX Swing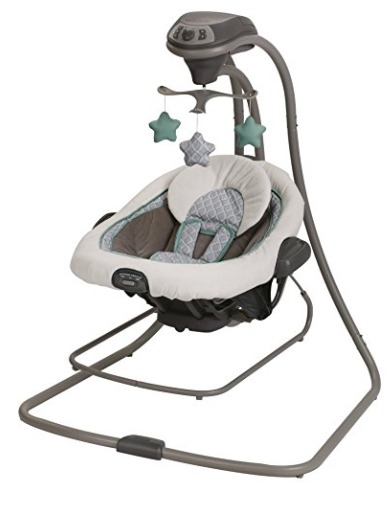 Maximum Weight Limit: 5.5-30 pounds
Recommendation Rate:

Features:
6 adjustable swing speeds
Suitable swing angle
Swing and bouncer combo
Small footprint of baby swing, making it a good space saver
Machine washable seat pad
15 songs and sounds (natural music included)

---
2. Graco Side to Side Baby Swing – Graco Simple Sway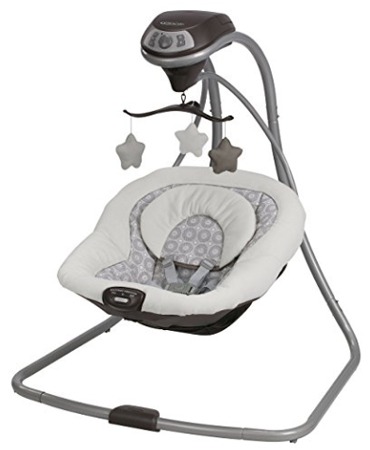 Maximum Weight Limit: 5.5-30 pounds
Recommendation Rate:

Features:
6 swing speeds
Suitable swing angle
15 sounds and songs inserted (natural sounds included)
Plug in and battery operation both
Machine washable seat pad
Five point harness keeps baby safe

---
Why Choose a Side to Side Baby Swing
The baby swing is not a necessity for parents, but you must get tired when you have to hug the baby for hours and have no time to take a bath or even to eat. Baby enjoys the swing motion because it gives them a sense of security, just like always lying the arm of parents. So that is the main reason on getting a side to side baby swing, the electric infant swing is able to soothe baby effectively with the swing motion, and thus parents get freed and have more time and energy to do something of their own.
The side to side baby swing is just moving like a cradle swing, when it moves, the baby will feel as a mom is always there staying with him or her, making the infant feel relaxed and cozy.
How to Select?
Side to side baby swing gives a baby a sense of lying right in a cradle, therefore, it is preferred by many babies.
Here we will offer you some tips on how to select the best suitable one:
1.Swing speed and frequency
Swing speed and frequency is the most important factor in choosing. Baby's head is in fast development and if the swing speed is too fast and too hard, it may do some harm to their brain. Therefore, choosing a smooth and relatively low swing speed is quite important.
2.Swing angle
The swing angle should not be too high, or the baby will be scared and refuse to stay there any longer, and it also has the potential of throwing the baby out. But of course, it does not mean the smaller the angle is, the better it will be. When the angle gets too small, it can hardly be felt and thus unable to soothe the baby effectively.
3.Multiple swing speeds motions
Different babies enjoy different swing speeds and frequencies, therefore, only one motion is unable to meet the demands of each baby. If equipped with multiple swing motions, parents are able to choose one that the baby loves most.
Back And Forth Baby Swing vs Side to Side
These are two commonly used baby swing motions, both of them intimate the way of mom soothing babies in real life when they are crying. Front to back baby swing is more like the way of lying the arm of moms, therefore most baby swings are made into this type. However, not all the babies enjoy the head to toe swing, they may prefer side to side motion more.
Thus there is no need to argue which one is better, all that depends on your baby's preference, if it suits your baby's temper, then it is surely the most suitable one and the best one for you.
After figuring out the basic features and selection of side to side baby swing.
Here we will give you the best side to side baby swing in 2018 in the whole baby swing market:
Summary
If you have interest in another side to side baby swings or want to know more about the price and performance of the products, please feel free to check out on Amazon.
---