Baby easily gets tired and needs frequent sleep to grow up rapidly, but hugging infant in arms can be really an exhausting thing. Therefore, most moms and dads would like to get one best baby swing for sleeping.
Baby swings are normally equipped with music and swing motions, either from front to back or from side to side, some with both motions even. With such entertainment design, parents are able to do one's own business while keeping baby sleep soundly in somewhere safe.
However, a baby swing is not designed for long time sleep, it is not flat as bed or cradle. If baby sleeps in it for a long period of time, it may bring bad influence on a baby's growth and bone development.
Thus we suggest moms use it mainly for entertainment or a place for baby to get a short nap, instead of sleeping all night.
The followings products we will recommend are mainly good for baby to take a short nap. If you have such demand, hope you can find the most suitable one from our best baby swing for sleeping review.
The 4 Best Baby Swing For Sleeping: Top Recommend
Best Baby Swing For Sleeping Reviews
1. Best Baby Swing For Sleeping – Graco Dream Glider Gliding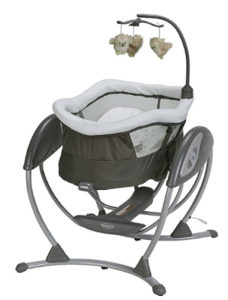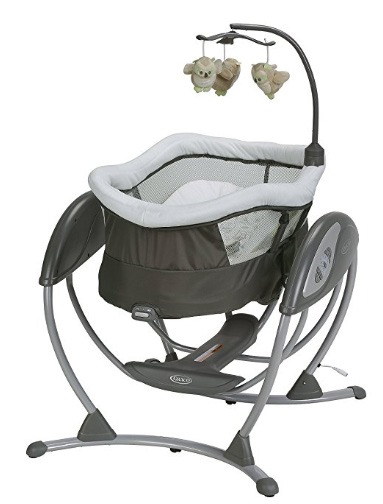 If you want one for baby to have a nap, this Graco baby swing is the best-recommended type. From the shape, we can find that it is designed totally into cradle shape. It has two modes of use, one is for gliding seat, while the other is for gliding sleeping. Through adjusting lever below the seat, you can change it into a flatbed or angled swing seat.
There is an infant head support but you can get an extra thick one for napping. A clean sleeping environment as a bassinet does for baby is important, it frees baby from getting sick. All the fabric on the machine can be taken off and washed by washing machine.
For baby sleeping, there are 10 songs and 5 sounds, white noise included can soothe baby down and get into sleep mode rapidly and effectively. Besides, if you add battery into it, you can have 2 vibration modes, one is hard while the other is slow, find the suitable one for your baby and you can do your own business while the baby is sleeping.
If you are getting tired of turning off music all the time, you can set a timer and it stops automatically. Thus battery life is saved to large extent.
Pros:
2 modes of using
6 gliding speeds
Plug in or battery
Easy to assemble
10 songs and 5 sounds inserted
Cons:
Take up much space
3 point harness

---
2. Best Baby Girl Swing – Fisher Price Papasan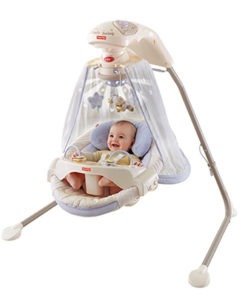 We recommend this Fisher Price baby swing as the second best baby swing for sleeping on our review, mainly for its appearance and delicate design.
There is a net around swing, and if you put it somewhere dark and turn the machine one, the light on net shines and interest baby a lot. Baby is afraid of staying alone, she or he is not ready enough to face strange things on the world alone, therefore, the net around gives him or her sense of security and makes infant peace and sound while staying inside.
There are 2 swing motions, one is from side to side while the other from front to back. Swing motion gives the baby a feeling of lying right in mom's arm. Soft hanging toys attract baby's attention and 16 songs and music relax baby a lot.
It is a full size baby swing, the open angled swing foot structure makes swing more stable but also occupies more space in home. For daily recreation, you can put toy tray on it.
Pros:
Removable toy tray
Foldable leg
2 swing motions
Plug in or battery operated
6 swing speeds
16 songs and sounds
Cons:
Light shuts off after about 15 minutes if sound isn't on volume control
Seat is not deep enough

---
3. Best Portable Baby Swing – Graco Lite LX Gliding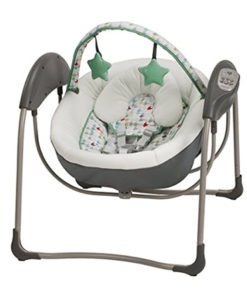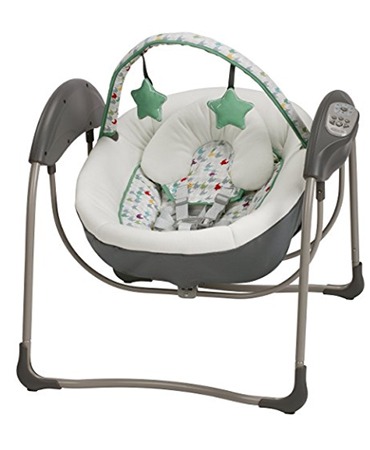 This baby swing is a small portable type, suitable for travel use or small tiny home use. Of course the price of which is super cheap, thus if you lack enough money but still want one for short sleeping of baby, you can choose this one.
The reason we suggest this one is for its seat design, the seat is quite deep and flat. When baby sleeps inside, he or she will feel secure. There are altogether 6 gliding speeds you can choose, from fast to slow. Control panel is set on the right arm of swing.
It has 5 point harness to keep baby safe in using time, infant head support is set within the machine, get a thick one if you think it is unable to support your infant. All the fabric on the machine is washable and can be taken off easily.
The swing serves as a small cradle and you can carry it around anywhere you go for its lightweight. There is also a built-in timer to automatically control it on and off. Most of travel baby swings are battery types, constantly changing the battery is also costly. However, this baby swing is designed to be plug-in type, you can plug it in the wall when used at home and choose a battery for outdoor travel use.
Pros:
Lightweight
6 gliding speed
Removable toy bar
Built-in timer
Plug in and battery both
Space save
Cons:
Unfold
You need to remove swing away before putting the baby in

---
4. Best Baby Swing For Small Space – Graco LX Gliding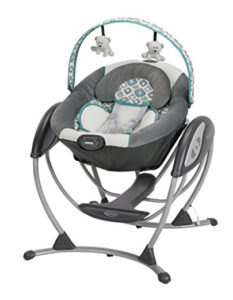 This is another Graco baby swing we would like to suggest for short sleeping. It looks pretty giant but is actually occupying 40% less space than other full size baby swings.
Like most of the types, this one also has different incline positions, if you want the baby to get a short nap, turn the seat into a flat position, for recreation play, just put it to the upright situation.
There are also 6 swing speeds you can adjust, from fast to slow, you can choose the most suitable one with your baby's preference. See the setting on the seat, that is vibration set, there are two modes also, but is driven by a battery.
Infant head support is inserted in the swing, there is also five-point harness to keep baby safe all the time. For cons? Well, it swings from head to toe only and is unfold, thus we suggest it be used mainly at home.
Ahead hanging toys are able to entertain babies.
Pros:
Save space
3 incline positions
6 swing speeds
2 vibration modes
Plug in and battery both
Cons:
Swings from head to toe only
Unfold

---
Attention:
The baby swing is designed mainly for freeing parents' hands and giving them more time in doing their own business. Thus it can also serve as a temporary place for soothing baby down. The swing seat is not good for the development of baby's bone when it stays inside for long period of time. Therefore, all recommended products in our best baby swing for sleeping review are suitable for taking a nap only. We strongly suggest baby not to sleep in swing for a long time, no more than 2 hours especially.
Though baby swing is equipped with all sorts of safety equipment, it still has unpredictable dangers in using period. Therefore, when the baby is using a swing machine, you should always keep an eye on him or her for safety.
Features of Best Baby Swing for Sleeping
1. Flat
Sleeping in somewhere flat such as bed or cradle is good for the development of baby's bone, therefore, most of the baby swings are designed to be multiple incline positions. You can either adjust it to flat positions or angled positions.
2. Soft fabric
Babies' skins are pretty soft and sensitive, the soft fabric can protect baby's skin. Besides, fabric and infant head support of most baby swings are easily taken off and are machine washable.
3. Built-in head support
Head support is inserted in to keep baby into a sound sleep.
Summary

Again, we strongly suggest baby swings are used mainly for taking a short nap no more than 1 hour instead of a bed.
If you want to know more details about products specifications or products, please feel free to check out on Amazon.
---