Fisher-Price baby swings are best awarded for their delicate design and thoughtful functions. Most Fisher-Price swings are full-sized and built for stable and sturdy for residential use. Safety is the major concern all parents have in using baby gears, and Fisher-Price doesn't disappoint with their quality and durability.
So should you get the best Fisher-Price baby swing?
Are Fisher-Price swings really worth buying?
That's the main topic we are going to talk about in this post. We will also do a brief intro to the brand and its products.
Read our best Fisher-Price baby swing reviews and you will get the best type according to your need.
But first – if you're looking for a convenient registry tool, check out Amazon's Baby Registry. Amazon has millions of products to fill your house with all the right baby things. You'll also get a free welcome box when you create a registry today.
About Fisher Price
Fisher price is a top-rated baby swing brand on the market, since the early 1930s, it has created more than 5,000 baby toys.
It is especially expert in producing baby bouncers, baby swings, baby monitors, high chairs and infant seats, etc. On baby caring, it is more professional.
Till now, Fisher-price baby swing is especially famous for its cradle swing series.
 9 Best Fisher Price Baby Swings Of 2023
Is the Fisher Price Baby Swing Safe for Newborns?
The Fisher Price Baby Swing is safe for newborns provided an adult remains close by when in use. Safety straps must always be applied to prevent infants wriggling free and suffering accidental falls from swing to floor.
Under no circumstances should a sleeping baby be left unattended in a Fisher Price Baby Swing. It is dangerous to leave a sleeping newborn unsupervised as their head may hang forwards and obstruct their airways. When a child falls asleep in the swing, move them to a safer location, or monitor them closely.
Is a Fisher Price Baby Swing Worth Buying?
Fisher Price has an excellent reputation for quality, safety, and affordability. What's more, it offers a selection of variably priced baby swings so there's a range of models to suit all budgets. As one of the world's leading manufacturers, it's a good option for parents who believe their baby will benefit from a swing.
As to whether all babies need a swing: the truth is it depends. Some babies love being positioned in a swing for gentle rocking or gliding. Others are indifferent to swings and, sometimes, newborns don't like them at.
Unfortunately, there's no easy way to tell whether a baby will take to a Fisher Price Swing. Most infants thoroughly enjoy them. However, in some cases, parents will buy a swing and rarely use it. Consider this when deciding how much to spend on yours.
Features of Fisher Price Baby Swings
There are several different Fisher Price baby swings on the market. Specifications vary across the manufacturer's product range. However, all of its baby swings come with a five-point safety harness, machine-washable seat pad, and AC adaptor plug.
The typical Fisher Price swing includes the following:
Motor powered by 4 or 5 D batteries
AC adaptor for battery-free use
Variable speed settings (between 3-6)
Volume control function
Foam/fabric hanging toys
Removable seats and head inserts
Fisher Baby Price Swing Technology
Fisher Price's baby swings use a small motor to power a seat or bassinet and move it gently backward and forwards. They come with variable speed settings (from slow gliding to fast swinging) and can be powered by batteries or an AC adaptor.
In recent years, Fisher Price has updated all of its baby swings to include SmartSwing Technology. It features a timer that powers the swing down automatically after a predetermined period. It also enables the swing to respond to the baby's weight.
As a child grows and gets progressively heavier, the precision of its swing settings doesn't change. A moderate swing stays a moderate swing even after an infant has grown significantly and is nearing the end of their time with the product. The rhythm is always steady and smooth because it's customized to fit the user.
Hanging Baby Mobile
Most Fisher Price swings come with a mobile of some kind for entertainment and visual learning. Hanging mobiles are great for newborn babies because they appeal to their senses at a time when most of those senses aren't yet fully functional.
Fisher Price mobiles combine plush fabric animals such as birds and rabbits with visually stimulating objects like lights and mirrors. Some even come with sound effects to further relax and delight the infant. As the swing rocks, the hanging mobile rotates and the baby gets to enjoy a delightful show.
Collapsible Frame
Many Fisher Price baby swings are collapsible to allow for easy storage. The seat pad can be removed and the frame folded together to decrease its footprint. It can then be slid effortlessly into a closet or cupboard when not in use.
Adjustable Seat (for reclining)
As a baby grows older and more aware of what's happening in the room, parents can adjust their swing's seat to provide more of an active stance. For newborns, the flattest position is usually the most appropriate. Older babies may benefit from a position that allows them to sit upright and look around. Fisher Price baby swings come with two or three reclining positions to accommodate growth and development.
SmartSwing Technology
As mentioned, the brand's SmartSwing technology means its baby swings are uniquely responsive. Unlike with other swings, the speed and power of their variable settings don't change. The swing simply responds to a child's growth by adding slightly more speed to accommodate the increased weight.
Prices of Fisher Price Baby Swings
When new, Fisher Price baby swings can cost anywhere between $75 and $200. The baby swings at the lower end are smaller, more compact, and normally designed for portable use. They have basic features and fewer toys but they tend to be lighter and often come with collapsible frames for easy travel.
At the higher end, there are larger baby swings with more features. They normally have broader frames, wider seats, and a greater range of hanging toys and colorful details for babies to look at. They're also more likely to come with song functions and speed settings than cheaper, portable versions.
Best Fisher Price Baby Swings Reviews
It is a super functional baby swing, it comes with smart technology to sense the baby's weight. When your baby grows, swing speed and frequency will adjust automatically according to infant's weight. 2 swing directions from side to side and from head to toe, together with 16 songs and natural music helps soothe a fussy baby. It has 6 swing speeds to fit your baby's different preferences.
It has two reclining positions, one holds baby about a 30-degree angle, not enough for baby with reflux but is much better than flat in the back. Plug in and battery options help reduce costs in constantly buying an expensive battery. But as a full-size baby swing, it may take up much floor at home. Compared with other brands, it lacks vibration, but the noise can be much lower.
Different patterns design on pads give you colorful choice, other patterns including Snugapuppy and Snugabear, each of which is super cute and can be best baby swings for a girl.


This is actually a Fisher price infant swing rocker. The great advantage of it is its long life, from infant baby to toddler, it can be used perfectly. When the baby grows large enough, the toy bar can be removed and the big baby has a larger space to play.
It is easily changing to a stable position with a kickstand, 3 point harness keeps your baby secure when you are busy doing your own business. Calming vibration soothes the baby easily, whole baby swing chair is powered by a battery, which may be much costly than other types.
Cozy and comfort pad brings baby warm and relaxed, the seating pad can be removed with one hand and is washable. As it is more like a rocker and is portable, it has no music and needs manual power to rock it on.

Fisher price 4 in 1 rock's glide soother is an integrity baby swing. When the baby is tired of gliding moving, the upper swing seat can be removed as a rocker. Adjustable moving positions make baby enjoy rock from both sides to side and front to back.
On and off option is set low on the swing leg, making it convenient to operate. You can just kick it slightly to turn it on and off when you are busy hugging the baby. 15 songs and white noise, and optional calming vibrations soothe baby quickly. Toy bar with two cute toys entertains small babies.
When you are bathing or washing clothes, try taking the baby swing seat down and putting it wherever you are. Plug in and battery option helps save much $$ for you. The seat is deep and body support inserted makes the baby feel more comfortable and cozy.

Fisher-price cradle swing is a perfect one for a little girl, the canopy behind makes the infant feel comfortable and secure. Imagine your baby girl lying there, isn't she a little angle lying peacefully in a beautiful place?
One thing that needs a mention is its starlight, when at night or somewhere dark, the starlight is turned on and the little star will shine on the canopy, greatly interest baby. It is a baby swing with tray, and of course, it is removable when the baby is growing larger.
As a full-size baby swing, wide-leg may take up much floor in use, so it is not suitable if you only have small space left. The canopy provides secure for baby, but most babies would like to drag the canopy, so keep them close with you when they are playing inside.

This fisher price baby swing is a rocker combo, swing seat can be removed down like a manual rocker. 2 sway positions including head to toe and from side to side. With smart connect technology, it can be linked through the app with your phone or another mobile device, easily control music, and speed through your phone when you are busy.
The leg can be folded up for storage if you kept it unused for a long time. Through testing, we found the assembling of it can be great pain, it may take much time when you are putting it together.
Compared with Snugapuppy one, it swings more quickly. 16 songs including 3 natural songs inserted, overhead mobile with light-up birdies helps soothe the little baby. But the light of birds can be a little bright at night.

6. Fisher Price Rainforest Swing 
This swing machine is super cute in pattern and toy ahead. As the name suggests, it is easily taken along and portable, perfect for small space or traveling.
6 swing speed and 10 songs and natural melodies soothe baby into a sound nap. It can easily change into a stable position when the lower belt is locked. Cozy and soft fabric and pad make the infant feel comfortable and relaxed, the seat pad is washable in messy.
Calming vibration seat and smaller design make it a good helper to calm the baby down. As a portable baby swing, it uses battery only and has no plug in options, so moms need to spend much money on buying battery constantly. And it swings only from head to toe.

Luv U Zoo series of fisher price baby swing is quite cute and active in pattern design. 5 swing speeds and 7 soothing songs make the baby feel cozy and relaxed. when seat belt below is locked, it changes into a baby seat, calming vibration keeps infant comfort.
Swing leg is easily folded up and is suitable to take along in traveling or for storage.
The seat pad is machine washable. 1 D battery for a soother and 2 C battery is used for swing motion or music, the functions can be turned on separately for saving battery life. But it has no plug in option.

The rotation of this baby swing machine is totally different from others, its rotation directions are various, which is multi-directional but not only from side to side or head to toe.
Ahead motorized mobile is engaged with starlight project, the shining little star interests baby a lot. 6 swing speeds and 16 songs and melodies are set to customize your baby's preference.
The swing machine can be connected with the mobile device, when you are cleaning or cooking, you can use a mobile device to control the speed and music. The leg design makes it take up much floor space and the only plug in option keeps it unmovable in use.

2 swing motions and 16 soothing sounds (including natural songs) make the baby feel comfortable and cozy. Easily washable pad and soft fabric make the baby feel warm and secure.
Calming vibration and 2 comfort recline positions give baby feelings of enjoyment. The full-size design can take up much space at home.2 swing positions keep it able to swing both from side to side and from head to toe.
It can be a lot heavy to move anywhere you want but is possible to move from room to room.

Above all are the best selling fisher price baby swing reviews in 2018. There are still many other series. Nearly all the fisher price infant swings are functional and are able to meet various demands on moms. From basic portable type to high technology full size type, mommies and daddies can choose suitable types according to space, money and of course, the temper of the baby.
How To Choose Best Fisher Price Baby Swings
Here are some things to consider when shopping for a Fisher Price Baby Swing:
Basic Model Vs Activity Center
The biggest difference between the lowest and highest priced baby swings is size and portability. While some products offer elements of both, your first choice is between a smaller, portable swing and a larger, freestanding activity center.
Both swing types are suitable for newborn babies. Both require close supervision from a parent. If you need a safe way to occupy a child while you get on with other responsibilities close by, consider a full size 'entertainment' style model. If you're unsure whether a baby will take to a swing, you might want to save money by buying a model with fewer toys, sound functions, and speed settings.
Battery Vs Plug-In
Most Fisher Price baby swings come with an AC adaptor plug as standard. It's still worth checking to make sure you pick a baby swing with this feature. Some smaller, travel style models are battery power only. You'll get an average of three hours' lifespan from one set of batteries. This isn't a very impressive lifespan so it's definitely useful to have the option of mains power.
Safety Harness
Never buy a motorized swing with a harness featuring fewer than three safety points. Fortunately, all Fisher Price baby swings provide this as a minimum. The vast majority of Fisher Price swings come with a five-point harness for assured safety. This type of restraint makes it much harder for a baby to wriggle free.
Speed and Motion
Most baby swings rock gently from forwards to back in a controlled sequence. Some rarer models operate with a side to side movement. The most expensive swings often combine forwards and side to side movements. Generally, forward-moving baby swings are better suited to entertainment, and sideways swings are good for soothing and sending newborn infants off to sleep.
Washable Covers
Babies are messy creatures. Therefore, it's helpful to have a baby swing with removable covers. In most cases, the seat pad is fully removable and machine-washable too. It's quite rare to find a product with a seat cover that cannot be separated.
However, not all baby swings offer a removable head insert. If easy cleaning is a priority, consider shopping for a product with this feature. It's also useful if toys and hanging accessories can be removed and machine washed. Check the specifications to make sure.
Toys and Accessories
Fisher Price baby swings come in a wide variety of styles. The more expensive ones come with extra hanging toys, free play toys (sometimes), and speakers for lullabies and soothing songs. Think carefully about how you plan to use the baby swing.
Colorful toys, flashing lights, and cartoon sounds are only useful if the swing will be an entertainment center. If it's primarily intended for soothing and rocking an infant to sleep, additional features like this aren't necessary. They might even prevent parents from getting maximum value out of the product.
Fisher Price Infant Swing Rockers
This rocker can be used for a long time, from infant to toddler. As the baby grows up, the toy bar can be removed away and give your big baby more space to rock by oneself. Swing or rock direction is quite single, only from head to toe.
Battery controls vibration and music. The below holder keeps the baby rocker balanced and your baby safe.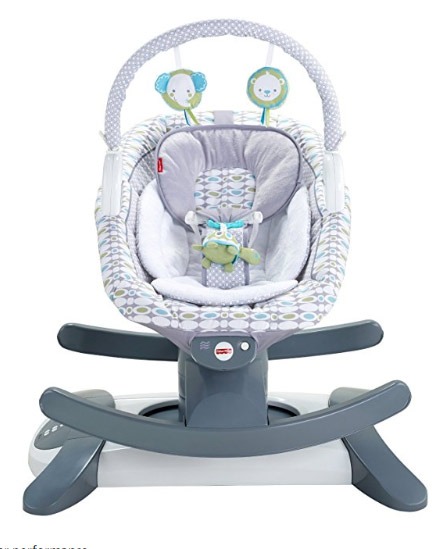 When you move the upper baby seat down, it changes into a baby rocker easily. 2 recline positions and swing directions can be chosen, both from side to side and from head to toe.
Calming vibration helps soothe the baby into the nap.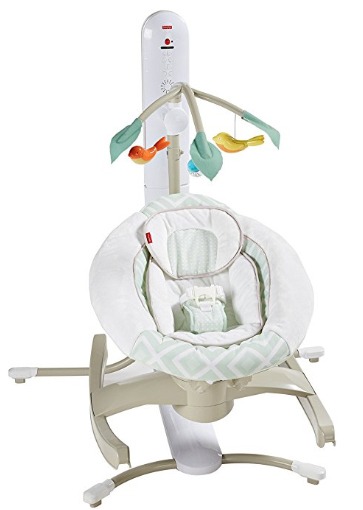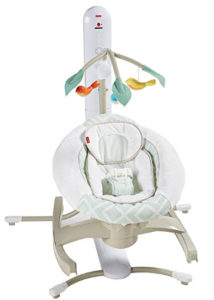 If you are cleaning or cooking, just take the baby swing chair down, and then it turns into a rocker. The rocker is quite light to carry everywhere you want. Once your baby is tired of swinging from head to toe, turn the seat around and it can swing from head to head.

Fisher Price Cradle Swing
Cradle serves as vital baby equipment in the early period of baby's development, it swings from side to side with manual power, imitating the way that mothers hug infant in arms.
As we all know, swing motions of Fisher-Price baby swing include front to back and side to side. When in terms of Fisher-Price cradle swing, we refer to those swings mainly from side to side. Seats of which are set quite flat, suitable for a baby to have a short nap when you are busy doing your own business.
To better satisfy baby's need on a sound nap, we would highly suggest you on getting one with wide seat space, 5 point harness is of course included.
The followings are several best Fisher-Price cradle swings we would like to recommend:
Fisher Price 6 Speed Baby Swings
The temper of each baby can be quite different, some may like gentle swing, while others like a quick one. On that aspect, Fisher price adopts 6-speed options to most of their baby swings. Level 1 to level 6, from which you can choose and customize your baby's preference.
Followings are those having 6 speeds performance:
Fisher Price Portable Baby Swings
1. Fisher-Price Take-Along Swing and Seat- Rainforest Friends
This take-along baby swing is designed to be light and compact, and it can be easily thrown into the car and go everywhere you want. One shortage is that it is unable to fold, but the compact shape is still portable anyway.
2. Space Saver Swing and Seat- Luv U Zoo
Compared with rainforest one, this Luv U Zoo type is able to fold up with the leg, and you can easily carry it with one hand. Compact structure and leg ensure it to be sturdy enough, keeping baby safe constantly.
3. Deluxe Take Along Swing and Seat
This is another type of take-along baby swing, basic function and design are quite the same as rainforest friends one. The leg of which can be folded up and taken anywhere. The whole baby swing is designed extremely light, so you can carry it easily with one hand.
Fisher Price Musical Baby Swings
Music is a great way to soothe and interest baby, as the baby swing is used as a sleeper or a safe place for the infant to sleep, nearly all the baby swing have the capability to play music. Music of all fisher price baby swings is natural songs and melodies. Natural songs can make the baby feel relaxed quickly and sometimes soothe them to nap, while melodies are able to make them interest and have fun since all the babies love sounds.
If you want to pick a musical baby swing, single baby swing or baby swing and cradle or bouncer combo normally support music play. Single rocker especially toddler rocker is not a good choice for a musical.
Fisher Price Space Saver Baby Swing
1. Fisher-Price Take-Along Swing and Seat- Rainforest Friends
This series of baby swings are all compact and simple, satisfying the basic need of swinging and music playing. Leg of it is short and the whole height of it is relatively low, when you put it at home, it only costs little space on your floor. And it can be carried away when you go to another room for cleaning or napping.
2. Space Saver Swing and Seat- Luv U Zoo
This type of infant swing is originally designed as space saver one, just like its name. Structure and sculpture are light and compact, making it suitable to be put in any corner of your house. If you do not have enough space, then this will be your best bet.
The above two series are all compact and portable type, they can be space saver when the baby is lying inside, however, some of which can be folded up when you kept it unused for some time.
Fisher Price Plug In Baby Swings
Full size baby swing is normally used at home, its large structure and heavy body determine it be put steadily after assembling. Therefore, nearly all the full-size baby swing of fisher price is plug in types, they need to fix in one place and do not move anywhere.
On the contrary, portable baby swings or travel baby swings are battery type for most of the time, when used outdoors, it is hard to find a plug, therefore, portable battery operation one can save much energy and is more convenient for outdoor.
Followings are Fisher price baby swings with plug in types:
Travel Baby Swings Reviews
1. Fisher-Price Take-Along Swing and Seat- Rainforest Friends
When you are going out for traveling, but still want to take infant swing with you. Then this take-along baby swing will be on your bet. The battery option saves your time and trouble in finding an adapter outside. A small structure makes it easy to be put in the car and goes out anywhere you go.
2. Space Saver Swing and Seat- Luv U Zoo
Being a space saver swing, this one is excellent in a small shape. Folding up legs makes it more easy and convenient to put in the car and carry it out with one hand. A similar battery option keeps it easier to be used even in simple and crude situations.
3. Deluxe Take Along Swing and Seat
Same as rainforest friends type, this is also the best choice for travel baby swings. The legs can be folded up and then the whole baby swing machine is extremely easy to carry. It is powered by battery so that the baby is able to enjoy cozy and comfortable feel even in outside areas.
Different Types of Fisher Price Baby Products
Fisher Price is a globally recognized manufacturer of baby toys and accessories. It makes baby swings and a variety of other products for newborns, older babies, and toddlers.
Here are some examples of Fisher Price product lines:
Tummy Time Toys
Tummy time toys are so-called because they support babies as they progress towards the 'tummy time' phase of physical development. This is when a baby learns how to hold their head up independently while on lying their stomach.
Fisher Price's tummy time toys play an important role in development by giving babies a reason to move their necks and core muscles. These toys are floor-based and often feature plush fabric support for the infant's chest. The baby uses the support to lift their upper torso off the floor while they play with soft toys, reflective objects, and scrunchy fabrics.
Baby Gyms and Playmats
For many parents, floor-based baby gyms and playmats are the next steps after an infant grows too old for a swing. Though, it's worth noting Fisher Price offers baby gyms for both newborns and toddlers. Some of its models double up as both by including features only accessible to older children when they start crawling or standing.
Playmats tend to be better suited to younger babies who cannot roll over yet. Their colorful toys and hanging mobiles stimulate a baby's senses and keep them occupied without overwhelming them with objects they can't use or understand.
Baby gyms tend to be more dynamic with a broader variety of textures, colors, and noisy sensory objects. They're designed to keep an infant entertained while also encouraging them to explore and investigate. Some come with 'piano' keys the baby can press to create entrancing sounds. Others offer multifunctional arches that serve as both hanging mobiles and support frames when a child begins standing.
Cot Safe Toys
One of Fisher Price's most popular baby lines is its cot safe toys and plushies. They give parents of newborn babies peace of mind and assurance at a time when their child's developmental needs are paramount.
From soothing musical mobiles to glowing fabric plushies and starry ceiling projectors, the brand's cot safe toys are designed to relax. When a newborn baby's senses are burgeoning, they need the right combination of comfort and stimulation.
For parents who are worried about leaving their child alone, there are some Fisher Price cot toys with integrated cry sensors. When they detect noise, they automatically turn on and attempt to lull the baby to sleep with gentle colors and sounds.
Fisher Price also sells the following baby products. For more information, visit the manufacturer's website.
Crawling Toys
Ride-On Toys
Push Along Toys
Rattles and Teethers
Activity Centres
Electronic Learning Toys
Stuffed Animals and Plush Toys
Stacking and Sorting Toys
How Long Can a Baby Use the Fisher Price Swing?
The Fisher Price Baby Swing is suitable for use from birth to eight months. Don't forget, these ages are a guideline. Once a child develops rudimentary movement skills and can independently shift their weight in the seat, they are too mobile for the toy. Any child who actively tries to escape from or move the swing is too mobile to use it safely.
What is the Weight Limit for a Fisher Price Baby Swing?
Fisher Price baby swings have a maximum weight limit of 25lbs. This is fairly standard for products of this type. Some other products come with a slighter higher 30lb limit but few exceed this. You must always adhere to weight limits to keep a baby safe.
FAQ:
1. How long does the battery last?
According to our survey based on customers' feedback, the battery is usually lasting for about a month when you used a swing machine several times a day.
For full-size baby swing, the battery is used only for vibrating, so it drained slow, while for battery only swings such as portable ones, you may need to replace the battery frequently.
2. What is the weight limit of fisher price baby swing?
The average weight limit of baby swings are 20-30 pounds, but for each type, the recommended weight is different. Before buying infant swings, remember to read the recommendations and maximum weight to ensure your baby is able to use it safely.
3. Does the motor noise loud?
According to the feedback of customers, most of them can be heard clearly especially when they turned on suddenly. But the baby is actually paying no attention to the noise and there is no much need to paying too much attention to its motor noise.
What We Choose…
Among so many fisher price baby swings, we would like to strongly recommend Snugapuppy Series Cradle'n Swing to you. The pattern can be various and you can choose whatever you like. The whole seat pad is machine washable, which can be a great relief when in mess. 2 swing directions and 6 speeds suit your baby's preference.
Compared with another functional full-size baby swing, the price of which is rather affordable, if you are looking for a baby swing under $150, this is the best choice.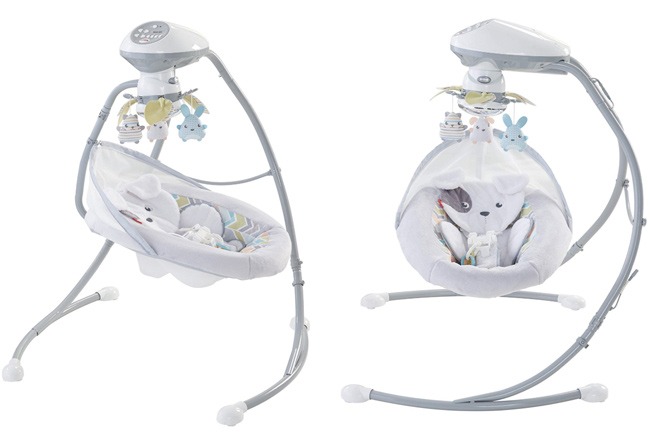 ---