Small babies are full of the curious about the world, everything moving and shining is able to attract them.
Therefore, many baby swings are designed with decorations such as toy tray, lights, plush toys, and canopy, etc.
Baby swing with decorations is able to entertain the baby when you are busy and has no time to play with the baby.
Quick Pick on The Best Baby Swing with Decorations
Types of Baby Swing with Decorations
1.Baby Swing with Tray
A toy tray is set on the baby swing, the baby is able to play toys on the tray or to get something to eat. The tray is normally removable, you can move it away when the baby is sleeping. Apart from the toy tray, there are also baby swings with a food tray or snack tray, they provide a small place for the baby to get some snacks to eat.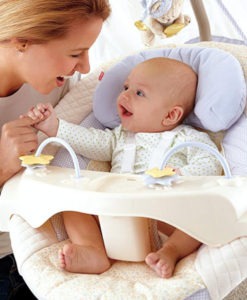 2.Baby Swing with Canopy
When babies are lying in the baby swing near the window, their delicate skins easily get burnt by the sunshine. Canopy around is able to protect them from sunshine especially when used outdoor. Besides, the net on the swing is able to give a baby a sense of security and relax. But if the net is set within the baby's reach, mom should be careful of a baby grabbing the net for safety.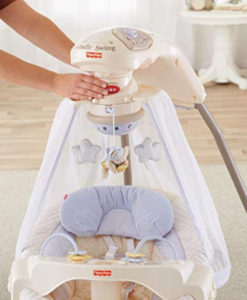 3.Baby Swing with Mirror
The mirror on the swing is normally set on the toy bar, the ahead mirror mobile makes babies curious and entertain them greatly, especially when the mirror is moving.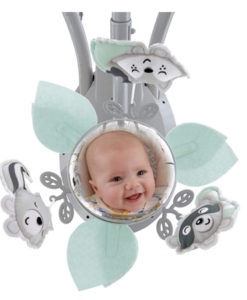 4.Baby Swing with Wheels
Baby swing especially full-size baby swings are heavy and uneasy to move around. When installed with wheels, you can pull them away to anywhere you want. The wheel is usually set on the support legs, but if the swing machine gets too heavy, it is still hard for one to roll easily. If you have interested in the item, we have made the best baby swing with wheels reviews for you to pick.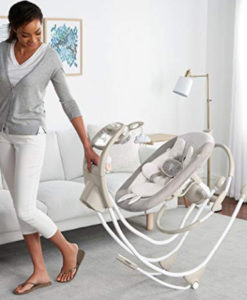 5.Baby Swing with Toys
One basic decoration on the electric baby swing is a toy, it can be plush or plastic. Toys are set on the toy bar, some within the baby's reach so baby can pad or play them with hand. The toys are said to be helpful for the baby's brain development. However, if the toy is made of plastic, mom should not let the baby eat or touch with the mouth.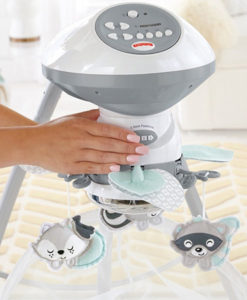 Best Baby Swing with Tray Reviews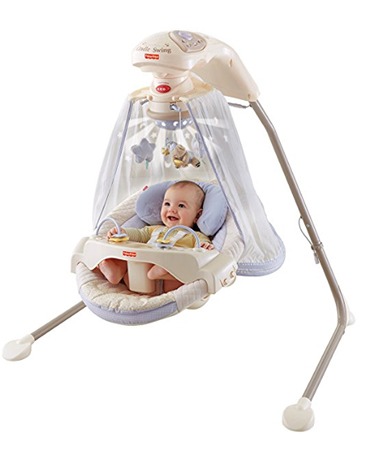 Features:
Removable toy tray
Overhead starlight show and soft hanging toys
Foldable leg
6 swing speed and 16 songs and natural music
Plug in and battery operation
2 swing motions


Best Baby Swing with Canopy Reviews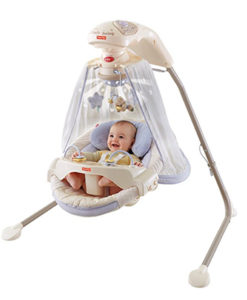 Still, this one is our only pick for the best baby swing with canopy. The star light on the net gives baby sense of secure and relax. When used for outdoor or near the window, it protects baby from being burnt by the strong sunshine. The beautiful color and delicate design style makes it perfect for baby girl use.

Best Baby Swings with Mirror Reviews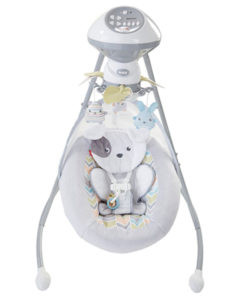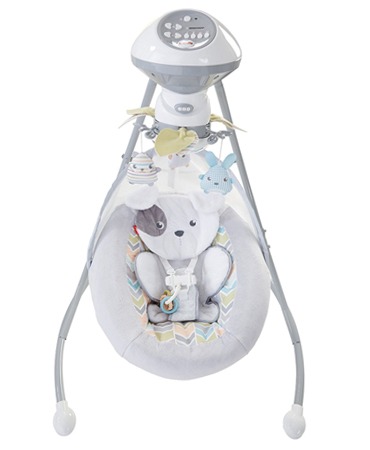 Features
Motorize mobile with hanging toys
6 swing speeds, 16 soothing songs, and sounds
Easy convert to different positions
Smart technology senses baby's weight
2 recline positions
Machine-washable seat pad
Plug in and battery operation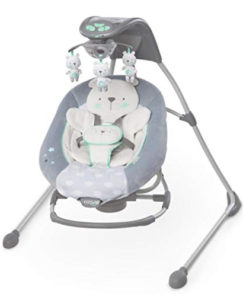 Features:
Inlighten beam mobile mirror
Mp3 and phone plug
Rocker and swing combo
Multiple swing directions
Plug in and battery operation
Wheels set on the support legs for moving

Safety Tips In Using Baby Swing with Decorations
Many baby swings are decorated with multiple things, such as toys, mirrors, and canopy together, these are relatively functional and are the major reasons for being most popular baby swings, plus, they are able to give baby great joys both visually or on sense.
But those decorations should be set safely and do no harm to babies. Apart from this, they should be placed somewhere suitable so you do not need to move it all the time in using the baby swing.
And when the baby is sitting in the baby swing for playing, mom should always keep an eye on your small baby, in case he or she gets some tiny stuff from the machine or decorations and puts them in the mouth.
How to Choose Baby Swing with Decorations
Decorations such as mirror, tray, and toys are only some kinds of things to entertain baby; when you are choosing, you should first concern about your budget, always choosing the swing within your budget.
And then compare the safety of the baby swing, whether a baby is able to sit safely or not. When all the above factors are met and satisfied, you can then decide by their appearances and their functions.
Baby swing with decorations is totally selected by your preference and your need, if it suits your aesthetic, then you can just choose the one.
Advantages of Baby Swing with Decorations
1. The toys or mirror on the baby swing can be a good helper for you to entertain baby. No matter how much you love baby, you are still unable to play with a baby all day long. Then these toys and decorations can be great companies to them.
2. Babies learn to know the world with hands and mouth of course(they like to put all the things into the mouth), so when they are playing with those toys or watching the mobile thing, it is actually helpful for the baby's brain development and understanding of the whole world.
3. When you are busy doing your own business, such as cooking or washing, these decorations can entertain the baby greatly and effectively.
Summary
Check for more price and performance of many other types of baby swings on Amazon if you have an interest.
---