A full-size baby swing is remarkable for its large size and heavyweight, it is difficult for one to move it around after assembling, therefore, baby swing with wheels can be a great help. With wheels set on a support leg, you can take it anywhere you want easily.
Here we offer you a top-rated baby swing with wheels reviews in 2023 on baby swing market. The recommended baby swing with wheels is all tested and proved to be the most reliable and trustworthy one.
Top 3 Best Baby Swing with Wheels
Baby Swings with Wheels Reviews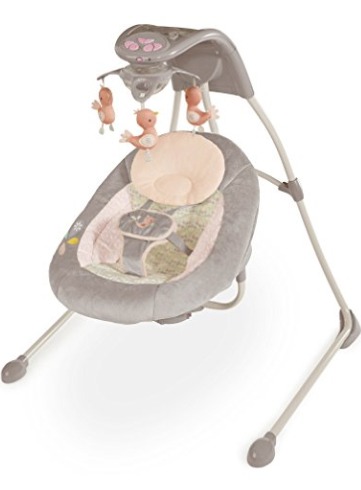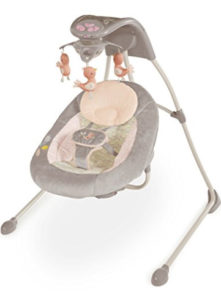 This baby swing is a full-size baby swing but is made quite simple and easy to operate. Two wheels on the back of support legs make it easier to move anywhere you want. But don't think it so easy, this is a heavy machine, so even with wheels, it still needs some power to roll around, just imagine a heavily loaded suitcase, but it is better than nothing after all.
It swings from head to toe, 2 recline positions can be adjusted. If you have trouble in finding favorable music with the machine, you can connect your phone with it and play whatever baby likes. Baby is fond of moving and lighting things, so it hangs three plush rotating toys with light beam electronic mobile. Each of the music, light, and swing motion is controlled by different buttons, so you need to turn it off separately.
It supports battery and ac adapter both, but we strongly suggest plugging in the wall directly when you use it indoor, though it is folded up, believe me, you won't want to carry it out for traveling. So just put it near the plug option and use it as the main power. The battery costs can be really high if you use it frequently. It has neck support but is too thin for newborn, you can put extra one inside.
The seat pad is breathable and cozy, making the baby feel relaxed and comfortable. It is easy to clean, just put it down and throw it into the washing machine. 5 point harness keeps baby safe all around. But the obvious cons? Just see its wide-open supporting leg, and you will know how large space it needs. But that is the cost of using a full-size baby swing.
Pros:
1. MP3 plug+play
2. Light beams electronic mobile
3. Plush rotating toys
4. Rotates 180 degrees swing or sway
5. 2 incline position
6. Easy to fold
7. Battery or adapter both
Cons:
1. Take up much space
2. The neck support is thin


---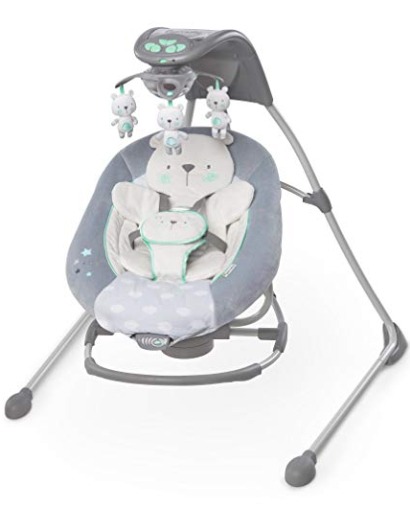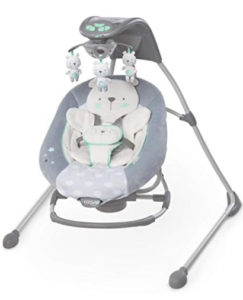 Well, the other full-size large baby swing type, also equipped with wheels on back legs. But compared with Inlighten Cradling Swing, it differs from the seat. It is a swing and rocker combo. And that is the key point of being on the list of top-rated baby swing with wheels. Because of its large size, you just can not put it anywhere you want, it needs to stay near the plug and stays there for the whole using time.
What if you need to go to other rooms to have a bath or cook? That is when the portable rocker playing its role. When you put the seat down, you can use it as a floor rocker and carry it everywhere you go. But of course, it needs to rock manually but not electrically.
It has music inserted and supports Mp3 plug also, you can just connect your phone with it and plays music on the phone. The inserted music lasts for a short time, which means you need to turn it on again and again.
Three toys rotate with inlighten mobile, appealing to the baby's interest greatly. But they are only useful as baby swing; when you take the seat down and use it as a rocker, there are no hanging toys around, then you need to adjust baby seat recline and make baby able to look around easily.
It swings not only from head to toe or from head to head, but in multiple directions. Kind of like semi-circle and basically facing to the front of the seat. It also supports both plug in and battery operation, and when used for home, you can just plug it in the wall. There is no head support, not suitable for newborn baby unless you put extra in. The cute bear design makes it super cute especially when baby gets in, the two bear ears still existed and look quite sweet with baby's head.
Pros:
1. Swing in multiple directions
2. Inlighten design
3. Mp3 and phone plug
4. Easy to move
5. Rocker and swing combo
6. Plug in and battery operated both
Cons:
1. Take up much space
2. Not portable
3. No head support
4. Music lasts a short time

---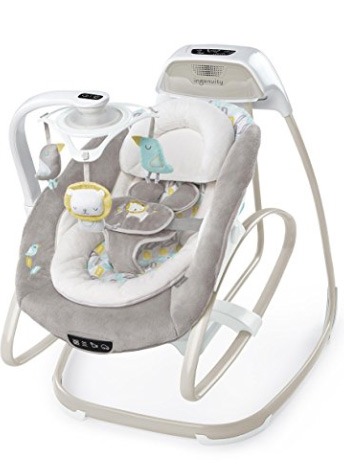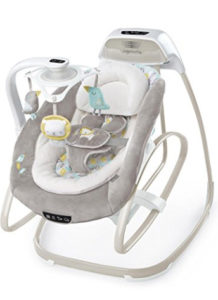 The remarkable difference between this one and the above two types, well, is the supporting base. Above two Ingenuity baby swings are supported by outstretched legs, and this is a closed structure. Avoiding you being stumbled by the legs, and of course, it occupies less floor space.
This one is said to take up 30% less space than normal full-size baby swings, but sure, it still takes up much and if you only have a small piece of land free, then you may need to get a portable and compact one. There are also two wheels on the legs that you can move and roll around.
It has inserted music and natural sounds but is also an Mp3 plug in available. You can play music, pictures, and videos on the phone easily, and there is a phone tab you can put in. Three plush and super cute toys hanging around and moves with light beams electronic mobile.
The seat is said to rotate 360 degrees to any position, but basically, we need only make it face to the center, left or right, and then it swings from side to side or from front to back. There are 3 automatic swing timer settings to stop machine smartly, in case you forget turning it off. 2 adjustable recline seats can be chosen for both napping and playing.
The machine is heavy and unable to move easily, so you can put it near the plug in use. And if you need to go to other rooms for washing or cooking, you can use it as a floor rocker. 5 point harness keeps baby safe in a rocker, and the rather flat footprint avoids you rocking it far too forward or backward. The seat pad is also comfortable and soft enough for baby use.
Pros:
1. Compact design takes up 30% less space
2. Two recline positions
3. Light Beams electronic mobile
4. Used as rocker
5. Seat easily rotates 360° to 4 different swing positions
6. 3 automatic swing timer settings and 2 adjustable recline positions
Cons:
1. Still take up much space
2. unfold
3. The wheel is not easy to roll
4. The machine is quite heavy

---
Functions of Baby Swing with Wheels
Easy to be carried away easily
Suitable to move around
Save much energy for parents
Tips on Buying Baby Swing with Wheels
1. Check the smoothness
When you buy baby swing with wheels, you may find it difficult to roll it away, maybe the smoothness of the wheel is not so good. So before buying, you should be aware that whether the wheel is smooth enough to save much energy for you if rolling it around.
2.Weight of baby swing
The weight of the baby swing can influence the swing greatly. If it is too heavy, one can still unable to roll the baby swing around easily.
Last Words on Baby Swing With Wheels…
Those three recommended baby swing with wheels are all excellent in safety and are perfectly used as a baby soother. With wheels on the legs, you can take it anywhere you want by rolling it. But still, the full-size baby swing is large, even with wheels, one still unable to roll it easily around, just as a suitcase with heavy stuff in it.
If you have interested in the price and performance, you can check more on Amazon.
Summary
---