The soft and cozy seat is important to a baby swing, making babies feel relaxed and then they would like to stay inside.
However, the baby swing with an adjustable seat can better meet the preference of the baby and offers different recline positions for both playing and napping.
Apart from the adjustable seat, there are also some baby swings with removable seats.
The seat can be removed and used on the floor as a baby chair conveniently.
Top 5 Best Baby Swing With Adjustable Seat
Best Baby Swings with Adjustable Seat Reviews
1. Reclining Baby Swing – 4moms 2015 mamaRoo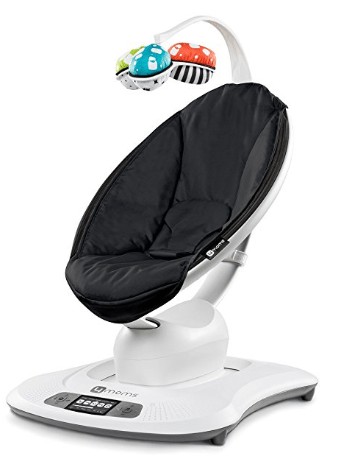 Adjustable Recline Positions
Maximum weight limit: 5.5-25 pounds
The recline positions of this 4moms baby swing can be adjusted to both flat one and a vertical one. Flat one is suitable for taking a nap, while a vertical one is excellent for the baby to look around and play.
Other features:
5 unique motions including car ride, kangaroo, tree swing, rock a bye and wave.
4 built in sounds and mp3 plug in
Bluetooth enabled remote control
AC adapter control
Machine washable seat fabric
Small footprint

2. Baby Swing With Removable Seat – Graco Dream Glider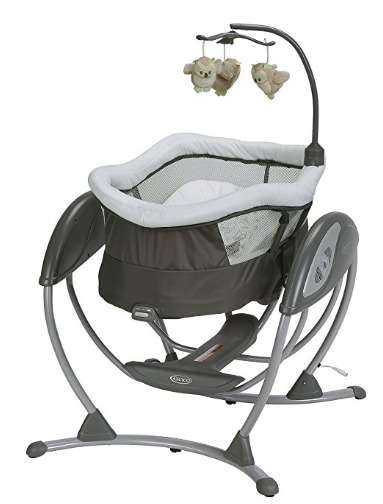 Adjustable Recline Positions
Maximum weight limit: 5.5-30 pounds
This baby swing is a sleeper and swing combo, the seat recline can be adjusted into two positions, the seat is quite deep and when baby falls asleep, you can change it into a flat position, making it perfect for baby to sleep.
Other features:
Sleeper and swing combo
10 songs and 5 natural sounds
6 gliding speeds
Plug in and battery operation
Timer setting inserted
Small footprint for space-saving

3. Adjustable Baby Chair – Fisher price Sweet Snugapuppy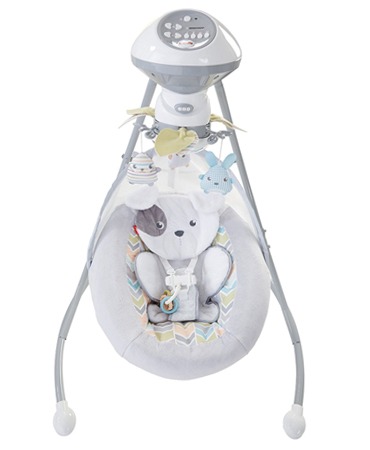 2 comfort recline positions
Maximum weight limit: 5.5-25 pounds
This baby swing has 2 ways of swings and 2 recline positions, which also means it is able to turn to the front or left both. When facing to the front, it swings from head to toe, and when you turn it to the left, it moves side to side like a cradle. 2 recline positions can be adjusted by pushing the button.
Other features:
6 swing speeds, 16 soothing songs and sounds
Machine-washable seat pad
Smart technology senses baby's weight automatically
Plug in and battery operation both
Motorized mobile with plush toys
5 point harness

4. Convertible Baby Swing – Graco  LX Gliding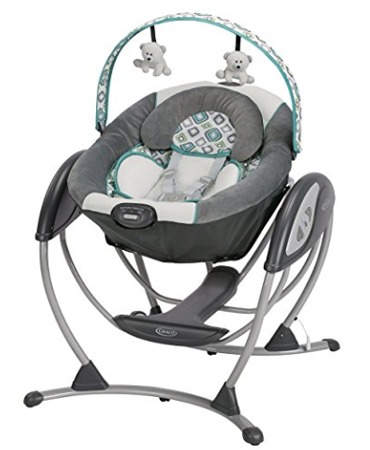 3 recline positions
Maximum weight limit: 5.5-30 pounds
This one also has 3 adjustable recline positions, two for playing and the other for taking a nap. It is easily transferred without waking the sleeping baby up.
Other features:
40% less space than other full size baby swings
6 swing speed and 2 vibration modes
Plug in and operation both
Light weight and small compact size
Timer inserted
10 classical music and 5 natural sounds
Easy to move around

5. Infant Swing Seat – Ingenuity Cozy Kingdom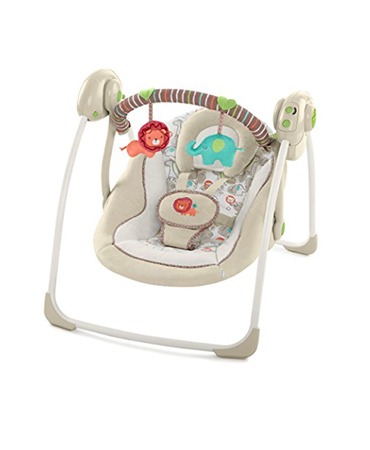 2 recline positions
Maximum weight limit: 5.5-19 pounds
Unlike other recommended baby swings, this is a portable type. Small and simple as it is, it still has 2 recline positions that adjustable, perfect for both playing and napping for the little baby.
Other features:
Foldable, easy to travel
6 songs and natural sounds
6 adjustable swing speeds
Soft and cozy seat pad
Quiet working condition, no working noise
Battery operation

Why Do You Need Baby Swing with Adjustable Seat?
1. For different usage, the baby swing should be adjusted to different angles and positions. If the baby is intended to look around or have fun with toys and music, you can adjust the seat angle to a relatively vertical one. And it needs to change into a flat position when the baby falls asleep and wants to have a little nap in the swing seat.
2. When you want to go to the other room for cooking or washing, you may need to bring a baby with you. For full size baby swing, it is nearly impossible to move it around, so a baby swing with a detachable seat or removable seat can be a good helper. You can take the seat down and take it anywhere you go.
Types of Baby Swing with Adjustable Seat
1. Recline Positions
Most of full size baby swing is designed to have two or three recline positions, you can choose perfect recline when a baby is playing or when the baby is taking a little nap. They can be adjusted easily by pulling the lever or pushing the button. A fixed recline position is adopted mostly by portable types, the angle is perfect either for playing or for napping. Compared with a fixed one, different and adjustable recline positions can be a better choice.
2. Facing positions
Facing positions are normally related with swing motions, when the baby swing is turned to the front, the swing moves from front to back, and when you turn it to the left or right, it swings from side to side like a cradle. There is no big difference and remarkable strength for which facing positions it should be.
3. Baby swing with detachable seat
To some baby swings, the seat can be detached from the machine and used as a floor seat. When you remove it down, it changes into a normal baby seat and can be carried anywhere you want. This kind of baby swings are normally rocker or bouncer combo, if you have interested in it, you can see our best baby swing rocker reviews or bouncer reviews to choose a suitable one for your baby.
Things to Attention on Choosing Baby Swing with Adjustable Seat
For adjustable baby swing, you need to know whether it can be moved easily and smoothly or is it easily stuck in transferring. Best baby swing with adjustable seat should be able to change easily and conveniently, the seat can be taken down and packed up without obstruction. The second thing needs to remind is its safety. When you adjust it to a specific position, it should be steady enough, making sure no unintentionally turning over occurs in using.
The 3 Best Baby Swing with Adjustable Seat
Check out for more price and deals on Amazon if you have an interest.
---