What would you do when the baby is in fussy? Swing him from front to back and catch his attention by toys? Well, it is a truth that the infant is easily attracted by small toys, for they seem strange but no harm to the little baby. Well, if your baby feels dull frequently, I would like to recommend you to get the best baby swing with tray.
The baby swing is a baby gear to help guard your baby in somewhere safe and cozy, then the tray set on the machine is for soothing baby down. Imagine your baby is crying harshly in the swing, then you put a soft toy on the tray, what would happen? He will, to large possibility, stop crying and playing the toy in a minute. So that is why you need to get one with a toy tray.
Apart from being a toy tray, it also serves as a safe place for feeding. Through this post, you can also get many other functions and hope our best baby swing with tray review & guide will help you find the best types on the market.
Best Baby Swing with Tray Reviews
1.
Baby Swing with Tray

– Fisher Price Papasan Starlight Cradle Swing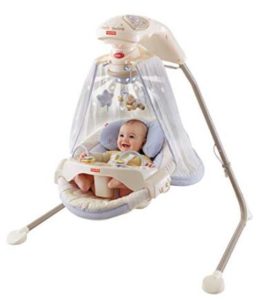 The detachable tray with brain exercising toys gives baby great fun, you can feed some supplement on it, tell the story with a book placed on the tray, or place some other toys on it for entertainment. The wide platform offers more space for the baby to put his hands on it. When the baby falls into asleep, move it away.
Overhead light show
16 songs and soothing sounds
6 adjustable swing speeds
soft hanging toys
Motorized mobile
Machine washable fabric

---
2.
Baby Swing for Baby Girl

– Fisher Price Mocha Butterfly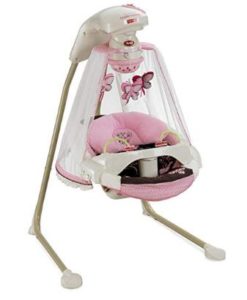 This is another model of Papasan cradle swing, quite the same as Starlight, but differs in colors design and toys. The pink soft cushion along with butterfly toys make it perfect for baby girl use. The tray is set stably on the unit, thanks to its thoughtful design, baby's legs feel freedom and nothing is there to block him.
2 swing motions
6 swing speeds from fast to slow
16 natural songs
2 incline positions
3 adjustable seat positions
mesh net blocks the sun in summer

---
3.
2 in 1 Baby Swing with Tray

– Primo Smart Voyager Infant Swing And High Chair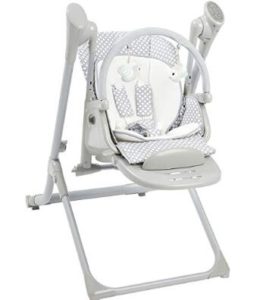 You may see many models combining rocker, bouncer or cradle, glider with a swing, but seldom is there a high chair and swing combo. Here it is! It changes into different functions with a slight moving of the chair, and the most worth-praising thing is, of course, its toy bar and two pieces of dishwasher safe feeding tray. You can pull it close to baby as needed, and detach it off for cleaning.
High chair and infant swing combo
Front to back swing motion
Bluetooth control available
Responsive cry activation mode
Perfect for both infant and toddler use
4 timer setting

---
4.
Toddler Outdoor Swing with Tray

– Searock Marine Grade Baby Seat & Swing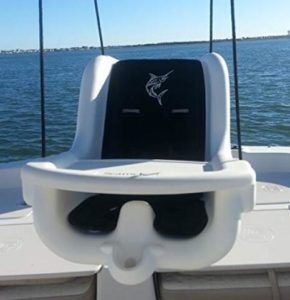 The last model of baby swing with tray I'd like to recommend, is this toddler outdoor swing. Unlike other types of toddler swings, it is designed to set on the boat top, gives the baby enjoyment of swinging along soft sea wind and bright sunlight. Becuase of its special usages, all the parts on the swing are durable and highly wear resistance, including the tray. Now, it changes into a place for baby to place his hands, and also serves as a seat belt, to prevent baby from being thrown out.
Durable and versatile
Marine grade
Long service life
A safe seat for kids on the boat
Comfortable seat
Simple but delicate design

---
Benefits of Baby Swing with Tray
It makes feeding an easy task.
Normally when the baby grows 4-6 months old, he or she can eat some baby food supplements. For the first few months, breastfeeding with a bassinet can provide all the necessary vitamins and minerals. When he grows larger, he needs more, like vitamin D and iron, which is unable to get from the milk. That is when he or she needs food supplements.
Feeding baby on your own is not as easy as you imagine, thus you need to put him in a swing, and place the bowl full of a food supplement on the tray, feed baby with great patience. A baby swing can be a great lifesaver, then infant swing with tray is definitely a "meal-saver", especially for a small baby under 6 months. After all, the high chair deserves the reward for larger babies and toddlers.
Baby's attention will soon be caught by the tray
Apart from being a platform for placing bowl or cup, it is also a great place for entertainment, either with a toy or with a book. There will always be infant toys listed on the "10 baby stuff you must get!" Some baby treats the toys as friends, some are curious of the shape, no matter for what reasons, toys are always the thing that soothes baby down in fussy.
It actually solves a big problem for those feeling annoying to comfort babies. When the baby is crying constantly, you may talk to him gently with emotion and place a toy near him, then it is time for him to play with the toy on the tray.
It's time for the baby to feel the world by touching.
For the first few months, a baby is fond of putting everything into the mouth; however, it is the special method of him to feel the world. With a tray set on the infant swing, you can finally get somewhere clean and safe for him to touch the world. No matter for the toys or any other things that attract his attention, put it on the tray and enjoy the fun of watching babies playing.
How to Choose the Best Baby Swing with Tray?
1. Materials
Concerning the convenience and weight, most manufacturers choose polycarbonate as the major material for the swing tray. And it comes with a vital tip you need to take care of buying. Baby loves to touch the world by tongues, if the tray is made of something toxic, then it brings great harm to baby's health. Therefore, you should always buy those with non-toxic design.
How to check whether it is toxic or not?
-Ask the manufacturer directly
-See the detailed introduction of the swing parts
-Check if there are bad smelling when you get it
2.  No sharp area
The moment you receive the swing, you should check if there are a crack or broken parts on the tray. The sharp area may easily get fingers of adult's bleeding, not to say a small infant. That is also the reason for the popularity of the protective sheet tied on the corner of chairs or tables.
Baby is too young to protect himself in dangerous situations, in order to provide a free and secure place to play, all the things need to check again and again.
3. Detachable
The five-point harness or a three-point harness guards baby against falling off, and the toy tray is set above the waist of the baby. It provides great entertainment, yet makes it more difficult to put the baby in and out. With a detachable toy tray, all the problem solved! You can take the toy tray away before putting the baby in and out.
Also, a toy tray can be a barrier to keep baby from falling asleep, in such conditions, you can take away the tray and coax him into sleep. However, there's still one thing worth mentioning: baby swing is set for taking a nap only, you may find those suitable for sleeping, such as a crib or a bassinet.
4. Stable and sturdy
You won't want a tray that inclines or breaks easily after few uses. As you take it home for using and install it on the swing, remember to put your hands on it gently, check whether it is stable or not.
5. Functional
Like baby center or baby walker, there are also some baby swings with multi-functional trays. They set some toys, or number cards on the tray, in the name of exercising the brain development of the brain. They do help to some extent, but if you find it not necessary, the basic one is functional for you enough.
Tips on Using
1. Clean it thoroughly every day.
2. Do not put something small on it, the baby may swallow it.
3. Make sure there are no cracks on the tray
4. Do not put heavy things on it, obey the recommended weight
5. Always watch the baby when he is using it.