With the rapid growth of living quality, the pursuit of simple life has become a popular trend. From indoor furniture to baby gears, all are designed with the principle of simplicity. Simple in appearance though, they are normally functional and wonderful in performance. Just as those who intend to get the best modern baby swing. It cooperates with modern home decor and meanwhile provides a comfortable environment for babies to have fun.
In the following parts of the article, you will get the 10 best modern baby swing reviews on the market, and things you need to know on choosing and buying.
Here we go.
The 10 Best Modern Baby Swing Reviews 2023
1.
Best Modern Baby Swing on the Market

– 4moms Mamaroo Baby swing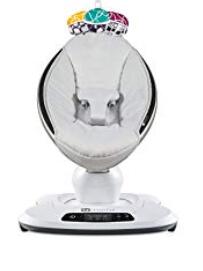 5 unique sway motion
Adjustable seat recline
Bluetooth & Mp3 plug in
Machine washable seat fabric
Space saver
Suitable for indoor use
If only judging from the appearance, you will soon discover how different it can be when compared with normal types of swing on the market. Yes, it is regarded as the future of baby swing: for the modern look, and for the brilliant technology.
You can even call this modern baby swing as a decoration, the simple white and light grey color enlightens your home immediately, which compatible with any of the decor and furniture around it.
Though it is a full size swing, the small footprint of it saves nearly half of the floor space, making it suitable for small apartment use. The woven nylon fabric is pretty smooth, cleaning it is also an easy task, throw it in the washing machine and then all the works are done.
It has only 4 built-in music, for it gives you the option to play the music on your phone by Bluetooth. What makes it modern, or say, advance, is for its unique sway motion. The classic front to back or side to side swing is abandoned, replaced by more authentic sway as most parents do.

---
2.
Best Indoor Baby Swing

– 4moms Rockaroo Baby Swing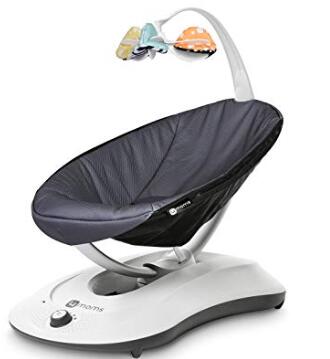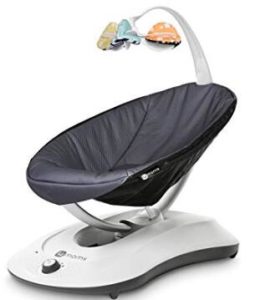 Breathable 3D air mesh
Compact size
Adjustable swing speeds
Removable toy balls
Front to back gliding motions
3 point harness
AC adapter only
If you find the Mamaroo series too expensive for you, then you may consider its cheaper version – RockaRoo. Owing the same paramount color design, this swing is also compatible with modern home decor.
When you put it with the other swing together, you will find how space-saving it can be. According to the test, the size of which is only 1/3 those of the traditional types. The sway motion, however, is a bit dull, only from front to back like a glider. If your babies are fond of the gliding sway, then this is yours.
The button on the control panel is used to adjust swing speeds, there are five available, from fast to speed. The swing seat is really large, making it capable for large babies use, but also brings trouble for newborn babies. You may need to buy extra infant support to make it cozier.
The toys hanging on the tray are detachable and removable, used to attract baby's attention when he or she gets bored. It requires no batteries, plugs it in the wall and you can use it without wasting unnecessary costs on batteries any longer.

---
3.
Best 2 in  1 Baby Swing

– Ingenuity Boutique Bella Teddy Swing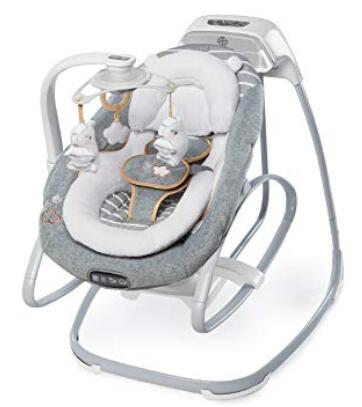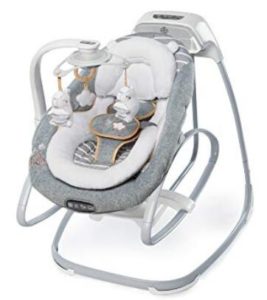 Space Saver
Plush fabric
2 recline positions
Rocker and swing combo
Head support and body support inserted
A bit expensive
This unit is a 2 in 1 swing and rocker combo. Similarly, it adopts light grey and white as the main color to highlight its modern design. However, what attracts most is far more than the appearance. It is highly functional.
The compact structure takes up around 30% less space when uses it as a swing. The portable rocker, needless to say, saves more space. It comes with a mobile that lights up when you turn the light on, and the toys hang around with the toy tray. The plush toys make the unit pretty adorable but also work well in attracting attention.
It differs, from the other swings, in its vibration modes; Most of which has two vibrating speeds and that's it. However, when you look carefully on the control panel, you will find its four modes, suitable for different weight and preference.
Now, let's get into the rocker part. Even when you use it as a single rocker, it comes with the toy tray. All the fabric on the machine is breathable and washable. With 5 point harness covered around, the baby will stay comfortably inside.

---
4.
Best Baby Rocker

– Ingenuity Boutique Bella Teddy Rocking Seat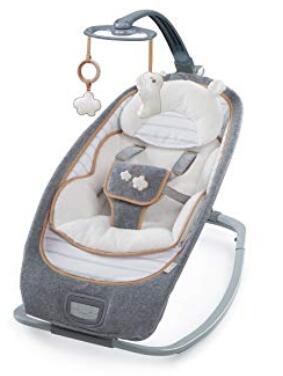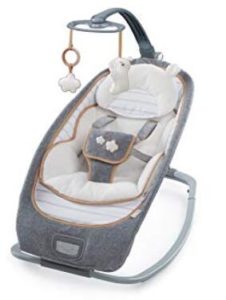 Washable seat and fabric
Volume control
Soothing vibration
Built-in music
Sleek design
Battery operated
It is technically, a rocking seat. But different from most of the rockers on the market, it is pretty functional, with vibrations modes, music inserted and toys attached to the tray. The frame of the units is super sturdy, with hard metal to keep its stableness and durability.
As for the seat recline, it is also adjustable. By adjusting the height of the back seat position, the baby is able to take a short nap, have a meal or have fun in different angles. The Attached toys are of soft fabric, they rotate with the movement of the toy tray.
Assembling it is a piece of cake, takes around 10 minutes to finish all that up. When you use it at home, you can also change it from the rocker to a stationary seat, by putting down the foothold. There is a button on the back to fold the unit up, then no matter you want to take it for travel or for other stuff, it is a perfect choice.

---
5.
Best Portable Baby Swing

– Ingenuity Braden Power Adapt Swing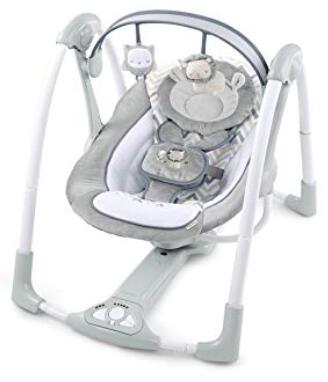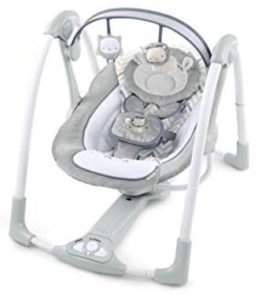 Quiet working condition
AC Adapter available
Foldable and compact shape
3 timers to prolong battery life
Cozy fabric
If you are looking for a modern swing that is the most noiseless type, then I would like to recommend this type for you. The quiet motor is what makes the brand, Ingenuity, famous on the baby market. However, it is more than that.
The gorgeous color design makes it perfect for both baby girl and baby boy use. Aside from this, when it comes to the portable swing with a compact shape, most concern about the battery life. Well, this is why we picked this on our list. It has the plug in option, which means you can use it by plugging it in the wall for residential use.
The toy tray is removable, so does the swing seat. You can take it off and throw it into the washing machine once it gets dirty. Under the intimate touch of cozy and breathable fabric especially on the harness, the baby will feel comfortable lying inside.

---
6.
Heavy Duty Baby Swing

– Graco Sense Soothe Swing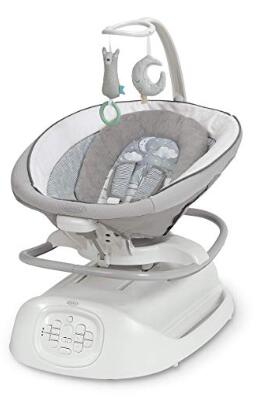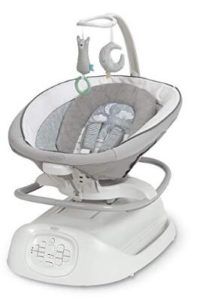 Multi-directional seat
3 swing speeds
2 speed vibrations
3 position recline
Advanced cry activation
Shapes like a bassinet, it is actually a rocker and swing combo. What's the advanced point of it? Well, it is equipped with cry activation technology. Once the baby starts crying, it begins to work automatically and to calm your baby down through playing music.
The gentle swing comes with 3 recline positions, adjusting it is not as difficult. By clicking the buttons set on the machine, you can adjust 8 soothing motions and 2 vibration modes. By the way, there are 15 songs and natural sounds available.
As the base of the machine is pretty compact, it takes no much floor space to place the unit. If plans to move it around, you may take the seat down and use it as a portable rocker. Breathable seat pad and infant head support will always take care of the baby in use.

---
7.
Best Light Up Baby Swing

– Ingenuity Inlighten Cradling Swing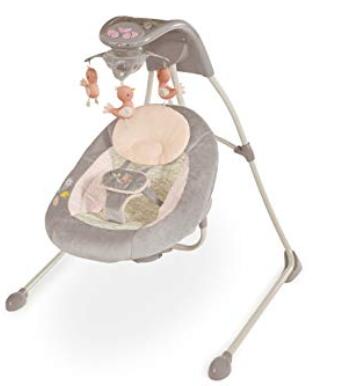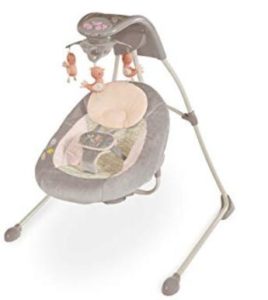 Multiple swing directions
6 swing speeds
8 melodies
Double swing position recline
Wheels for convenient carrying
Moving a large full size swing around is hard, but with the help of wheel, all the things become so easy. On both of the supporting legs, there are wheels. When you stop using it and intend to store it up, you can just wheel it to your garage or storeroom. Plus, it is foldable.
The swing seat is large, comfortable and cozy, all for the warm and soft fabric. There is head support inserted, but if you find it too thin, you can replace it with a thicker one. Three birds toys hanging around with the enlighten mobile. Light and moving thing is the most appealing one for babies; when they get fussy, just turn on the mobile and music.
It has 2 position recline and 8 melodies inserted. By adjusting the seat, babies are able to enjoy different fun under various situations. As for the swing speeds, you may adjust from the 6 types. It adapts to the growing weight of babies and thus prolongs the service life.

---
8.
Best Baby Bouncer

– Graco Duet Sway LX Swing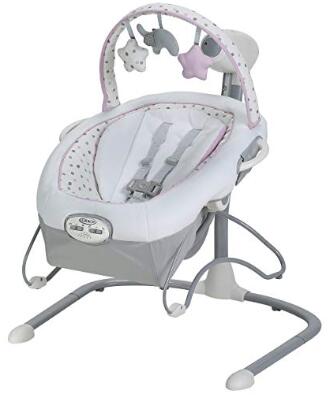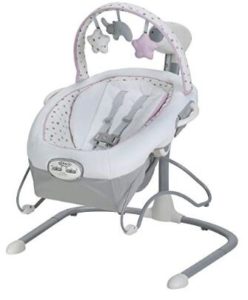 Multi-directional seat
2 soothing motions
Swing and bouncer combo
Adjustable swing speeds
3 position recline
By combining the function of the bouncer and swing, this unit gives your babies double enjoyments in use. The comfortable color design gives it a modern look; the strong structure makes it stable and sturdy.
The weight of the machine is only 17 lbs, easy to move around. But if you want to take it out for outdoor use, you may take the seat down and use it as a bouncer. The handles set on either side leave you much space for carrying. With 2 adjustable soothing motions, the baby falls into asleep quickly and soundly.
Once your baby gets tired of the front to back swing, switch the seat around and it turns into a unit by moving side to side.

---
9.
Best Newborn Baby Swing

– Fisher Price Snugapuppy Dreams Swing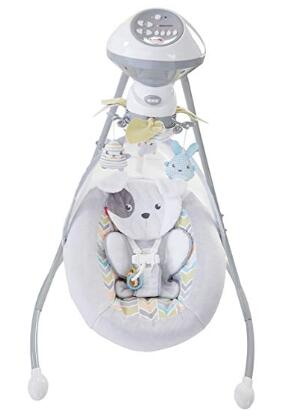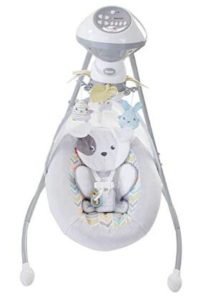 Side to side and front to back swing
16 songs and sounds
Grows with babies
Machine washable seat pad
6 swing speeds
The white appearance with the adorable dogs patterns, Fisher Price baby swing has always be the best to win baby's appealing by its brilliant design. But it outstands not only in modern looks, but more on other aspects.
There is nothing complex design or operation that will troubles you in use. By clicking the buttons on the panel, you can control the music, swing motions and also the vibration modes. In terms of the seat pad, it is detachable, thus cleaning it can be pretty easy.
On the safety harness, there is a toy attached. When the baby is lying inside, he can play the toys by hands and watch his inverted image on the mirror ahead.

---
10.
Best Cheap Baby Swing

– Graco Simple Sway Swing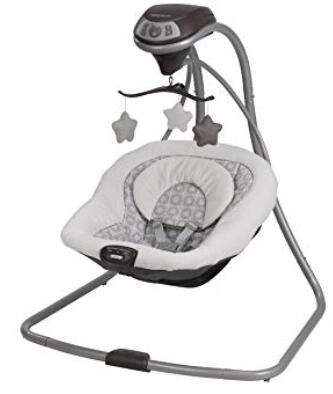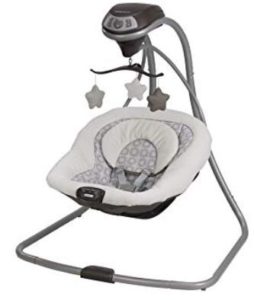 Plug in option
Small frame design
2 speed vibration
Gentle side to side sway motion
Deep plush seat
Suitable for indoor use
Graco simple sway is the cheapest full size baby swing on the market that keeps brilliant quality level. The functions of the unit are pretty simple but meet basic needs of baby entertainment. The classic color design improves its value to some extent, making it cooperate with any modern decor.
The AC adapter is the main power resource for the swing, but you still need batteries to start the vibration modes. Its small frame suits any small apartment and makes it possible to move around. The side to side sway motion soothes babies down by working as a bassinet. The slight vibration is proved to work brilliantly in coaxing babies into sleep.
The deep plush seat pad offers a warm environment for babies to stay, even in hot weathers, the breathable fabric will do no harm to baby's sensitive skin.

---
Features of Modern Baby Swing
1. Simple style
In modern decoration, the major principle is simplicity. It lays much emphasis on the natural, simple and practical way of life, in substitute of so-called popularity. The modern swings under such principle are characteristic with simple but elegant style. Using its easy, contracted, and less decorating style to explain extremely brief doctrine.
2. Paramount color
If you put several modern baby swings together, you will find the major colors they choose are basically white, black and dark gray. These three colors are regarded as the frequently used base colors that coordinate with any of decors. Even when you stop using it, you can still put them somewhere corner.
3. Advanced functions
In terms of simplicity, we refer only on the appearance, but for functions, they are highly advanced. Some of which may be equipped with cry activation technology for in-time soothing, some with Hybrid technology for prolonging battery life. Anyway, these advanced built-in technologies make you feel so valuable on getting those machines.