Babies mostly make much of movements that can be mistaken for seizure and may include having quivering chins, trembling in the hands and legs, and jerky movements of the arms. Fortunately, such types of movements are normal, but if you are experiencing movements from your baby that you think can be a seizure, then you have to get time to have a discussion with your pediatrician.
This is an uncommon benign disorder that occurs during the infancy period and early childhood. The attack seems to involve the baby to have a shiver movement that occurs for several seconds on a daily basis with no impairment with his conscious. This rapid shivering occurs in the head, shoulders, and sometimes on the trunk.
The frequency of the shiver can be over 100 per day with intra-individual variability, and it happens spontaneously and without neurological abnormality is found.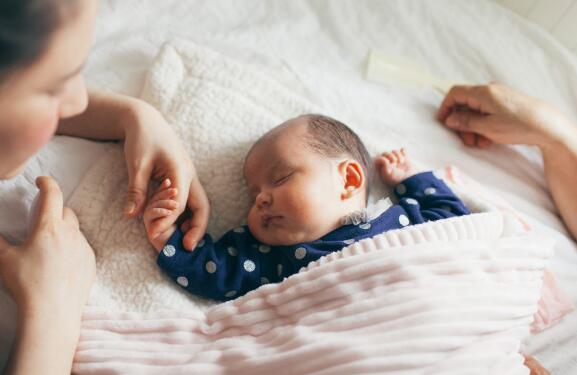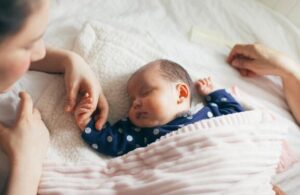 How to Tell If Baby Have Infant Shudder Syndrome?
There are general ways that one can tell if the movements from the infants are normal or seizure and include:
#1. Movements occur at a certain time like when changing diapers because you will not be expecting seizures to occur by then, and the movement can be as a result of not liking the diaper to be changed.
#2. The infantile spasm is more likely to occur when the baby is going to sleep or waking up from sleep as it is an exception for a normal movement and happens at the same time every day.
#3. If your baby is jerking his hand and you can stop it by simply holding it, then it is not a seizure. With the seizure, you are expecting the jerking to keep on even when holding its arm. When the baby is otherwise growing healthy and normal is an indication that he has no seizure. You have to keep in mind that babies with seizures may be fine for some time, but over time one will expect some other unique symptoms and problems, especially when he was experiencing frequent spasms or seizures.
#4. Lastly, movements are generally bilateral on any side of the body. Like symmetric, where you will experience both arms to do the same thing at a time, or rhythmic movements can be one sign of a baby with seizure.
How to Deal with Baby with Infant Shudder Syndrome?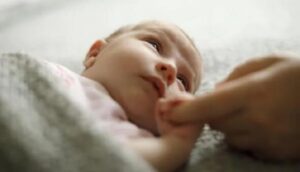 Initially, these shivering attacks were believed as focal seizures due to movements preceded by the right perioral jerks of myoclonic and the shuddering syndromes are not related to epileptic. The EEG is normally advocated in patients, and prolonged video EGG for monitoring is of importance to those with unusual clinical presentation. There are other syndromes that can mimic myoclonic seizures to your baby may be taken to consideration, mainly gratification disorders and benign myoclonus that happen in early infancy.
The infant shudder syndrome is generally not known but it is related to essential tremor as it was initially basing on the observations made. Successful treatment of shudder syndrome by the use of propranolol as the first step agent in treating essential tremors was recorded in 2018.
The EMG patterns during the attack were reported to be similar to essential tremor, but recent research has found that those babies with parents that had a history of shudder syndrome during infancy period or in the family have no relationship to the results. Although cases of shuddering attacks were being reported to be minimal and the conclusion was that incidents might have been underestimated.
Further investigations made are not indicated, and it is a reassurance to parents that it is very crucial due to relatives being frightening as a result of unexpected appearances and the frequency of attacks being high. However, in case of progression come to happen or increase of neurological abnormalities are encountered on examination, then further diagnostic evaluations and cerebral imaging should be included as there are reports of syndromes of shudder attacks.
There are other reasons for your baby to be fussy and can be not getting enough food when breastfed and can be a result of the mother drinking or eating food that disagrees with it like; some dairy products, caffeine, chocolate, certain vegetables and more. Of you are experiencing no changes from your baby after you have stopped taking such kinds of foods, then you can add them back slowly to ensure that the mother's diet is not being restricted.
Recommended Baby Gear to Calm Down Babies with Infant Shudder Syndrome
Swing seat doubles as a rocker giving you flexibility to provide your baby a safe, soothing spot to play
Easy one-hand recline lever allows you to lower the seat into a rocker without having to move your baby
Soothes with the same gentle motion you use when cuddling and comforting baby in your nursery glider
Vibration with two gentle speed settings keeps baby relaxed. 3-point harness with cover keeps your child secure
Option to plug in or use batteries for convenience
Gentle, side-to-side swaying motion soothes and comforts baby
6 swing speeds allow you to find the right pace for baby
Deep, plush seat and head support keep baby cozy and comfortable
Small frame design fits easily anywhere in your home
2-speed vibration further comforts your little one
Dual-motion, puppy-themed baby swing sways side-to-side or head-to-toe
Customize with 6 swing speeds, 16 songs and sounds, and adjustable seat recline
Overhead mobile with dome mirror and 3 soft toys help entertain baby
Machine-washable, plush seat pad with deluxe Sweet Snugapuppy body cushion insert and head support
Legs fold for storage and travel, plus AC plug option (Saves on batteries!)
5-IN-1 CONVERTIBLE CRIB: Converts from baby crib (mattress sold separately) to toddler bed [Graco Universal Toddler Safety Guardrail Kit (01340-60x Series) sold separately], daybed, and full-size bed (Graco Full-Size Bed Conversion Kit sold separately)
ADAPTS TO YOUR GROWING BABY: Adjustable mattress support base with 4 different height options; Fits any standard full-size crib mattress (sold separately); This baby crib may be used until your child can easily climb out or is taller than 35in (89cm)
GREENGUARD GOLD CERTIFIED, JPMA CERTIFIED: GREENGUARD Gold Certified products are screened for more than 10,000 chemicals and VOCs known to pollute indoor air; Expert tested to meet or exceed all applicable category voluntary and mandatory safety standards
QUALITY CRAFTSMANSHIP: Crafted with pine wood, TCSA compliant engineered wood, and wood composites; Packaging tested to reduce the risk of incidental damage that could occur during shipment; Backed 1-year limited manufacturer's warranty; Assembly required
AWARD-WINNING BRAND: Exclusively from Graco, proud recipient of the 2021-2023 Women's Choice Award for 9 out of 10 Customer Recommended Baby & Kids Furniture and Parent Tested Parent Approved (PTPA) Seal of Approval for nursery and children's furniture
GREENGUARD Gold Certified: This product has been tested for over 10,000 chemicals. It contributes to cleaner indoor air, creating a healthier environment for your baby to sleep, play and grow
GROWS WITH BABY: 4 adjustable mattress positions that can be lowered as your baby begins to sit and stand. Easily converts to toddler bed, daybed and full-size bed (toddler kit M3899 and full-size kit M4799 sold separately)
QUALITY MATERIAL: Made of solid sustainable New Zealand pine wood. Finished in a non-toxic multi-step painting process and lead and phthalate safe
FOR YOUR BABY'S SAFETY: Say goodbye to toxic chemicals. Finished in a non-toxic multi-step painting process and lead and phthalate safe
MATTRESS COMPATIBILITY: While this crib is a standard size regular crib, for a best fit we recommend DaVinci's line of non-toxic, GREENGUARD Gold, waterproof mattresses