Finding the right way to entertain and soothe a baby can be a frustrating process for any new or seasoned parent. Maybe you're a grandparent searching for something for your new grandbaby. Either way, Fisher-Price has the perfect solution. The new Fisher-Price Elephant Safari Cradle N Swing is just what you need for your baby.
Affordably priced and packed full of features both you and your baby can appreciate; the Elephant Safari Cradle N Swing is sure to bring a smile to your baby's face! Below is a breakdown of everything you need to know about this incredible new product.
Fisher-Price Elephant Safari Cradle N Swing Reviews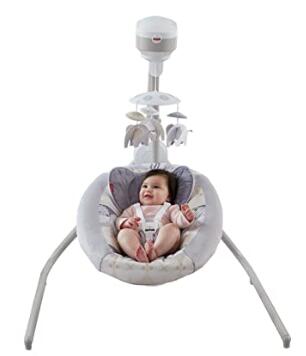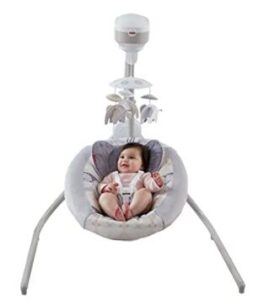 Check Latest Price on Amazon.com
Specifications
The product age range is from birth up to six months of age or once the baby is sitting up on his or her own. There is some assembly required. The model weighs a total of 20.5 lbs. It is unisex and offers a gender-neutral color scheme. The fabric of the seat is full machine washable as well as the insert. The swing's dimensions measure 37.8X37.8X47.24 inches. This model is electric and uses a wall outlet for the plug. There are no batteries. An Allen wrench is included with the package for easier assembly.
Swing into Fun
Almost every baby gets bored easily. This particular swing offers your baby a side-to-side or front-to-back option. It is only recommended for newborns up to six months of age. If the baby grows bored in one position, simply push a button and the product will change direction! Do not use anymore once your child can sit up. Injury can occur in infants if not supervised.
For the younger ones, the gentle swaying will lull them into a quiet slumber giving you some time to yourself. Just be sure not to leave the child unattended. Once the baby has fallen asleep, move him or her to their crib for safety purposes.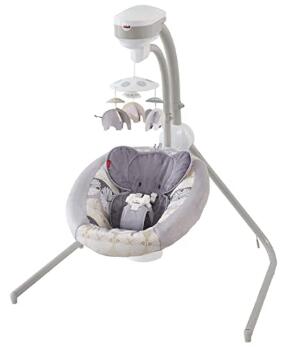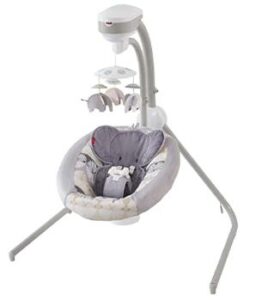 Check Latest Price on Amazon.com
Break into Song
Every baby loves music! Fisher-Price knows that too. That's why this model comes equipped with sixteen different music settings. From catchy tunes to the pure ambiance, there is something for every baby to love. The music is especially helpful if you have a particularly fussy baby that can't be consoled. Babies with colic may easily fall asleep with the swaying motion in combination with the calming music.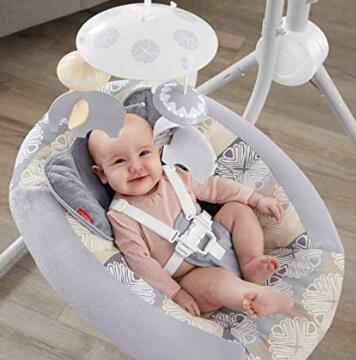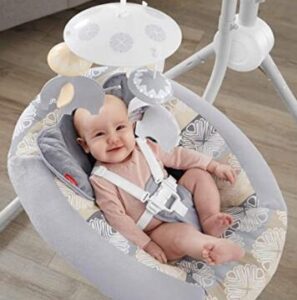 Check Latest Price on Amazon.com
Experience Cozy Security
With plenty of soft toys hanging over your baby's head, he or she will love reaching up and touching a variety of different plush toys. Playing with sensory toys will enhance your child's:
Visual Skills
Encourages tracking with the eyes
Aids in auditory development
Your baby will appreciate the thick, soft fabric of the swing as well. It offers the security of a mother's womb while at the same time allowing the baby to move freely within the safety of the swing. The 5 point harness keeps the baby from falling out. Warmth and security combined with the soothing music make this product a must-have for any parent.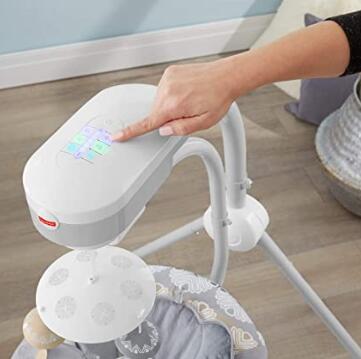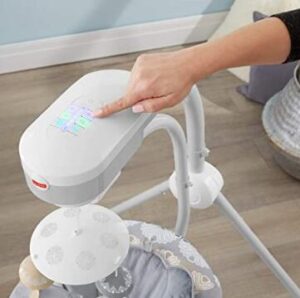 Check Latest Price on Amazon.com
Easy Parent Assembly
Every parent dreads having to put together new baby furniture (and even some toys). Fisher Price's Elephant Safari Cradle N Swing does have a large number of parts but isn't too difficult to put together. Simply open the box to get started. An Allen wrench is included for use with the screws for quicker and less painful setup. Just remember, the sooner you assemble it the sooner your baby can start enjoying all of the wonderful features this swing has to offer!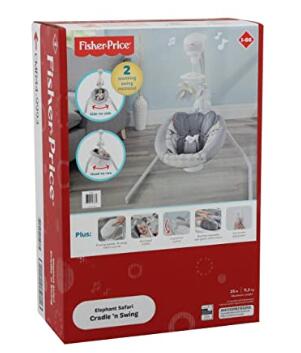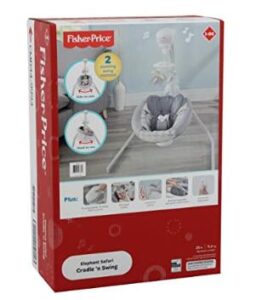 Check Latest Price on Amazon.com
Machine Washable Parts
This feature is a wonderful asset to any sleep-deprived parent. Babies will often drip formula onto their clothes and also wherever he or she is sitting. This can cause a messy situation for more than just clothes. Formula and breast milk can dribble onto furniture too. New parents are often washing baby clothing, bibs, carpet, etc. Having parts that are easy to clean means parents can relax and really get the most out of their investment.
Sit Back and Enjoy
This product offers two different positions for swinging. This means your baby can safely nap out in a comfortable recline or lay in a deep, pillow-like seat for maximum playtime! Each baby will discover what position he or she favors the most. And the best part is? The seat actually senses baby's weight so it won't slow down as your child grows! This means you get more for your money and your baby gets more playtime in this loveable swing.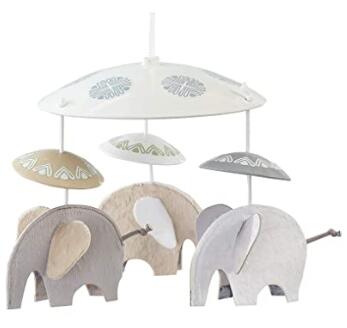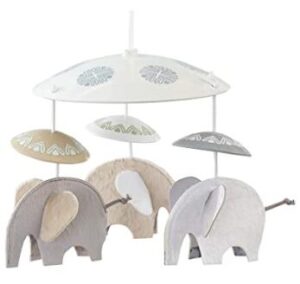 Check Latest Price on Amazon.com
Multiple Swing Speeds
Since each baby is different, Fisher-Price made sure to offer sixteen different swing speeds so your baby can play hard or rest well. This is a wonderful option for a baby's growing change in taste as he or she explores different sensory experiences (such as the difference between slow motion or faster speeds). If your child is attempting to nap, the slower speed in combination with the calming sounds and swaying from side-to-side will put the baby to sleep in no time giving you a much-needed break.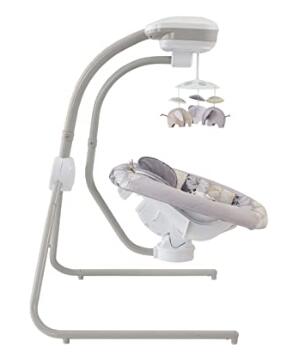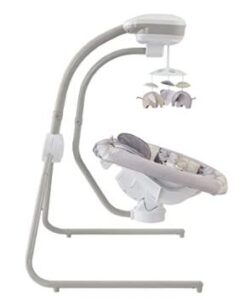 Check Latest Price on Amazon.com
Pros
Comes with head snuggler
Easy to Assemble
Machine-washable seat cover and pad
Overhead mobile with three super-soft elephant plushies
Two different swinging motions to help soothe baby
Fisher-Price offers replacement parts
Cons
Only for ages newborn through six months of age
No mirror is included in the design
Usages
This product is primarily for fussy babies but any child will love being swung gently from side-to-side. To stop the swaying motion, do not use your hands. Simply press the power button and the + or – buttons to adjust the speed. Forcing the swing to abruptly stop could do more than just break the product. It could pose injury to your child too.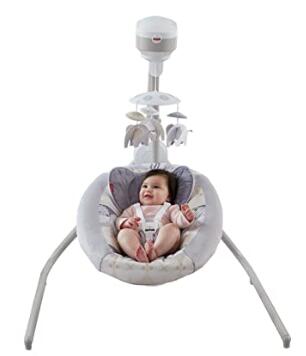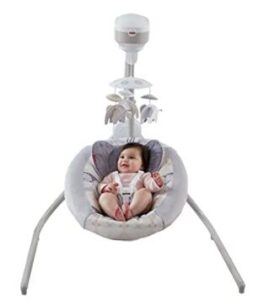 Check Latest Price on Amazon.com
Conclusion
If you are searching for a way to entertain your baby the Fisher-Price Elephant Safari Cradle N Swing is a great investment for every parent and child. This is especially important if your baby is colicky or just likes motion in general. Most all children will love toys and music.