What is 2 in 1 baby swing? Well, it refers to the unit that combines the functions of two machines together. For example, there are swing and rocker combo, swing and bouncer combo, bassinet and bouncer combo, and you will see the high chair and swing combo. The 2 in 1 gear is quite "cheaper" than normal types, for you have saved much money buying another one. Aside from this, getting the best 2 in 1 baby swing can be the perfect option for a small apartment.
Imagine your house is crowded with baby stuff, putting extra two baby gears makes it hard to place your feet. Then there comes an infant swing and rocker combo. When you are doing your own business, place the babies in the swing and let the music and toys be their friends; Once you have spare time playing with them, use the rocker seat and spend a relaxing parentage intimate time.
So, here, we offer you several top rated 2 in 1 baby swings on the market!
Best 2 in 1 Baby Swing Reviews
1.
Overall Best 2 in 1 Baby Swing

– Graco Duet Soothe Swing Rocker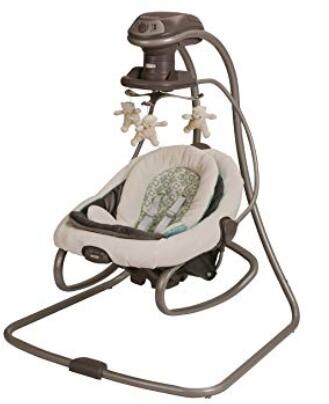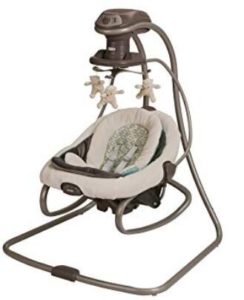 Combo type: Rocker and swing combo
The metal structure brings a stable and sturdy user experience. With its large seat design, it owns a longer service life and can be used for heavy babies or big babies. The vibration mode coaxes babies into sleep soundly and peacefully. All the seat pad is machine washable and breathable, making it super warm and cozy when lying inside.
With 5 point harness attached on the seat, the baby has a safe place to stay in when you need to do something of your own. The toys with mobile grasp babies' attention and calm them down effectively.

---
2.
Graco 2 in 1 Swing and Bouncer

– Manor Duet Connect LX Swing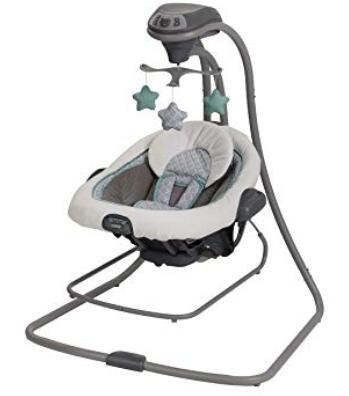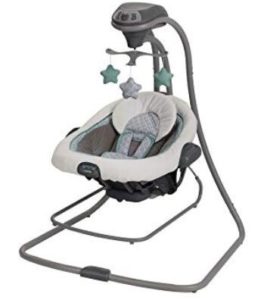 Combo type: Swing and bouncer combo
Graco never let parents down in the quality level and design, just as this type. The neutral color suits both baby boy and baby girl. The handles on the swing seat ease the way of taking the seat down and using it as a bouncer. With battery operated, vibration modes from fast to slow brings the sense of security to babies, as if they are lying in the arm of parents still.
The sturdy structure with compact shape saves much floor space, no matter for the swing or for the portable bouncer. Fabric covered seat belt with infant head support makes it suitable for newborn babies. If you get tired of bouncing it manually, just put the seat on and gives babies relaxing time while swinging front to back automatically, you can also change it to side to side swing, by the way.

---
3.
Fisher Price 2 in 1 Baby Swing and Rocker

– Deluxe Soothe 'n Play Glider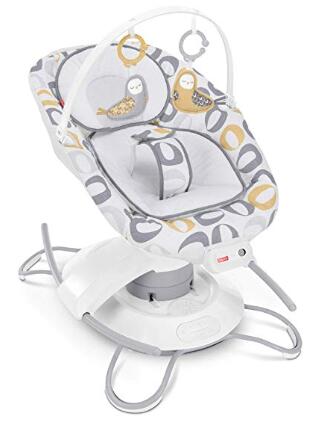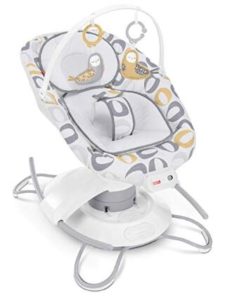 Combo type: Rocker and glider combo
Being a full size glider swing, this 2 in 1 unit is pretty compact in the base, which is why it is proper for the small apartment use. Four legs with anti-skid rubbers improve stability, and 3 point harness safeguards baby in use.
Transferring from the swing to the rocker is simple, the swing seat edge serves as a handle for carrying around. With detachable toy tray set on the seat, baby enjoys intimate touch with toys no matter for the swing or the rocker. There are 6 swing speeds available, and you can choose whichever baby loves the most.

---
4.
Infant Swing Bouncer Combo

– Fisher Price Woodsy Wonders Swing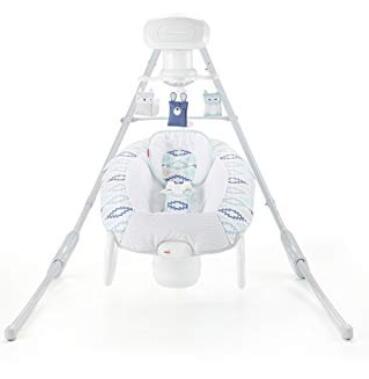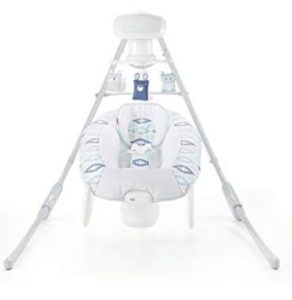 Combo type: Rocker and swing combo
Every newborn baby deserves the best soothing and care, and let the swing gear be the one for your babies. This unit inherits the habitual simple style of Fisher Price, making it adorable yet paramount, matching with different styles of home decor. Side to side or front to back swing? You can choose by adjusting the seat directions.
Three toys hang on the toy tray, with mobile rotating around. The five-point harness is always there to protect the baby's safety. The soft and breathable fabric takes care of baby's tender skin. For storage or take along use, you may fold it up.

---
5.
2 in 1 Baby Rocker

– Graco Maxton Duet Swing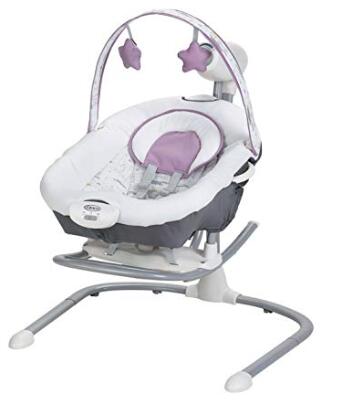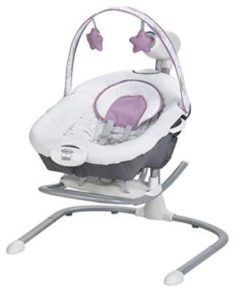 Combo type: Rocker and swing combo
This unit features a rocker and swing, which doubles the fun when baby lying inside. The maximum weight of the swing reaches 30 pounds, while for the rocker, the weight capacity is a bit smaller, but still carries babies no more than 27 pounds. The square steel structure helps balance the unit up.
Taking the seat down and using it as a rocker is an easy case. Plus, there are handles set on each side of the swing, making it easier to keep it right with you. The AC adapter enables to save more costs on batteries and is suitable for indoor use. You can not do anything with one position, the multi-directional seat allows babies to enjoy more soothing feelings.

---
6.
Bouncy Seat Swing Combo

– Fisher Price Deluxe Cradle Swing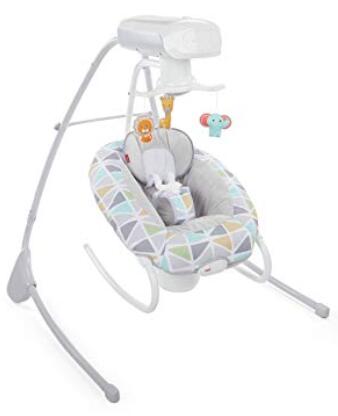 Combo type: Swing and rocker combo
Want a baby swing combo around $100? this unit probably meet all your demands on an indoor swing. The color combination of the unit is brilliant, lively but also modern. The cozy fabric along with three adorable toys has made it pretty appealing to babies under different ages. When they rotate with the mobile, the world comes into peace and all the attention of babies are attracted by it.
As for the power, plug it in the wall and you can use it immediately. Different vibration modes are changeable, based on your baby's weight and preference. The deep seat with the safety belt provides overall protection. Large in size though, you can fold it up for storage in the garage or storeroom.

---
7.
Swing Rocker Combo

– Graco Winfield Duet Gliding Swing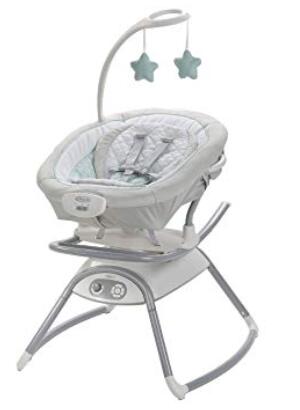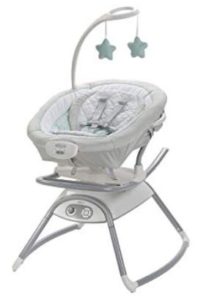 Combo type: Rocker and swing combo
Different from normal full size baby swings, this one is more compact in shape, thanks to its small but sturdy base. The control panel is set under swing seat, left for swing speeds, and right for the other functions such as music and volume control. It doubles as a rocker with a detachable toy tray.
The unique swing and gliding motions offer more options. With the growth of babies, you may adjust the swing speed faster. The harness with buckle design makes it easy to put it on and off. When you are free, place your baby into the seat and rock the swing front to back, then you can enjoy a sweet intimate time with babies.

---
8.
Ingenuity 2 in 1 Swing

– Rowan SmartSize 2 in 1 Soothing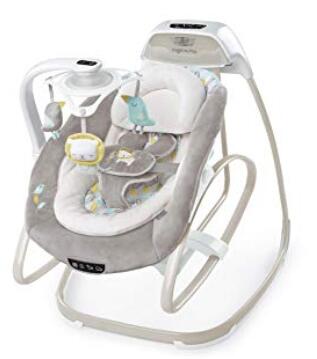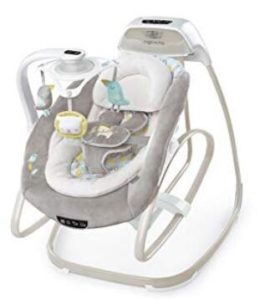 Combo type: Swing and rocker combo
Among all the 2 in 1 rocker swing, this is the most advanced and surely the most expensive one. However, when you know all its functions, you will know how valuable it can be. Though owning many functions, it is small in size, which saves around 30% floor space. The light up mobile with three toys enlightens the room when you use it at night, but the light is soft enough for protecting baby's eyes.
Two reclining positions meet the demand for sleeping and eating. The oversized seat with easy clean fabric offers cozy space, and 5 point harness along with infant head support are given for comfort. It features most on the Bluetooth control, which helps customize music, pictures, and videos.

---
9.
Joie Serina 2 in 1 Swing

– Baby Petite Tress Swing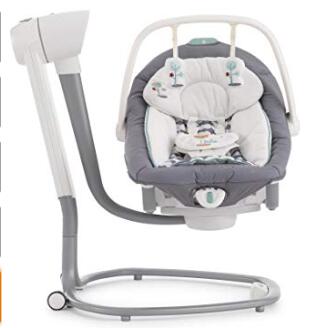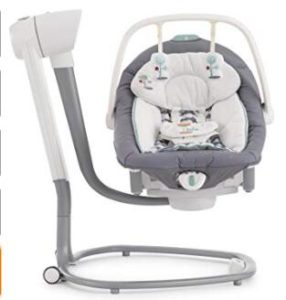 Combo type: Swing and rocking seat combo
Fitting through European doorways standard, the quality level of it is what you needn't worry much. The open-top design eases the way of putting babies in and out. The toy tray serves not only as a place for hanging cute toys, but also as a handle for moving the seat around.
The soft glow light offers multiple lightness, with 5 natural sounds and songs playing. For moving it around, the wheels set on the unit are quite helpful. For napping, eating or playing, you can adjust from the given three-position reclining. By rocking it from front to back or from side to side, babies calm down easily and rapidly.

---
10.
2 in 1 Baby Swing with Bluetooth Control

– Primo Smart Voyager Convertible Swing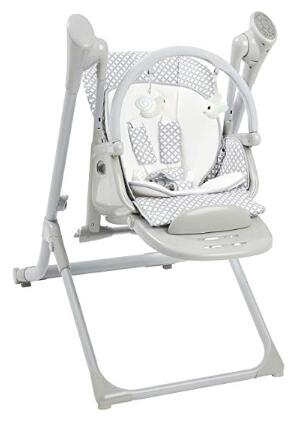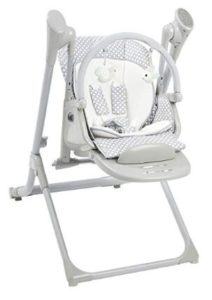 Combo type: Swing and high chair combo
The service life of a baby swing is relatively short, it is a temporary soothing machine for babies under 1-year-old, especially under 6 months old. However, this high chair and swing combo is perfect for large babies to use as a safe place to eat. In order to carry the large weight, the structures it owns are super sturdy and stable.
Featuring an activation mode, it turns to the lowest speed once baby starts crying. The upright seat design relieves the pain of babies with reflux and colics. By connecting it with Bluetooth, you can control the music and speeds remotely. When it comes to the high chair, assemble the feeding tray up and even toddlers can use it as somewhere safe for eating. Anyway, it is a machine that accompanies a long time with kids.

---
Is a 2 in 1 Swing Really Worth Buying?
Well, I'd say, you will hardly regret buying a combo type unless you choose the one with bad performance.
Why?
Let's calculate the price first. Getting a baby swing costs around $150, and when you buy an extra bouncer or a rocker, it needs an extra $50. On the other hand, if you have a tight budget, you can get a 2 in 1 swing with only around $120 or $130, which is far cheaper. That is why buying a combo unit is a wise choice. But what else?
Raising a baby up is hard, you need more than feeding him up, but takes enough patience caring for them mentally and physically. To achieve the goal, the milk powder, diapers, feeding bottles, baby clothes, and toys are all in urgent needs. But that's not all they need. After being given birth from the hospital, they need a bassinet or a crib to sleep in; For the daytime, a soother is helpful in comforting babies; When it is time for feeding, you need a scooter to have them sit; As they grow older, you will also need a stroller, walker and other necessary baby gears. For a small apartment, stuffing all the necessities is nearly impossible. Therefore, you should make it as simple as possible.
Plus, full size baby swing is hard to move, and portable swing being less functional. Only the 2 in 1 swing makes up the cons of both types. The portable rocker or a bouncer seat enables you to take it right close with you, while the full size swing saves money on batteries costs and also provides multiple fun.
Best 2 in 1 Swing Brands on the Market
Are there any top brands on the market that produce 2 in 1 baby swings? What are the differences between each brand? If you are one of those having such problems, please go on reading and we will list several brands that outstand among the lines.
1. Fisher Price 2 in 1 Swing and Seat
Fisher Price baby swings are famous for its adorable design. The major colors it uses are normally light types, such as white, pink, blue and gray. You can always find the ideal type suits your modern home decor.
The prices of Fisher Price 2 in 1 swing and bouncer combo basically equal to a single swing, ranging around $150. The wide-open legs add up stability and also sturdiness. The seat is quite soft, which is suitable for newborn babies to use with newborn head support.
2. Graco 2 in 1 Swing
Graco is another top rated brands on producing all sorts of baby gear and baby stuff. Unlike Fisher Price, you will find them pretty neutrel on the color options, which means both baby girl and baby boy can use it.
The price of Graco 2 in 1 portable swing varies according to the types, the functional one is a bit more expensive than those with simple designs. The seat of the swing is normally large, suitable for large babies or heavy babies use.
Not only does it have rocker swing combo, but you can also find glider combo as well as bouncer combo with the swing. Here are top-rated types under each category: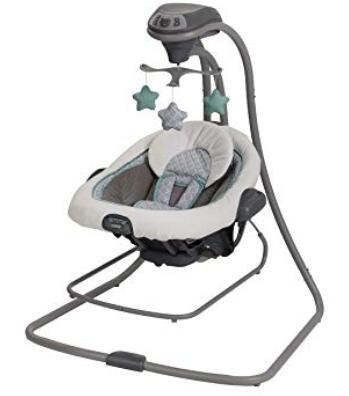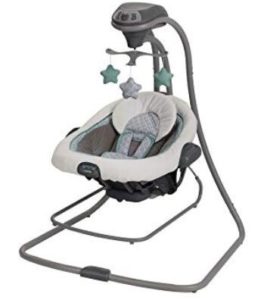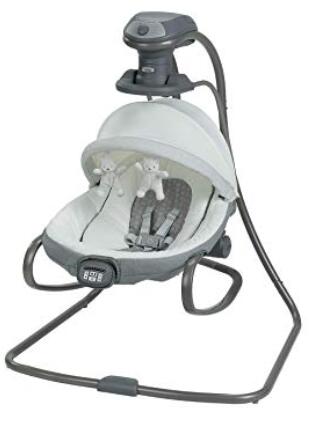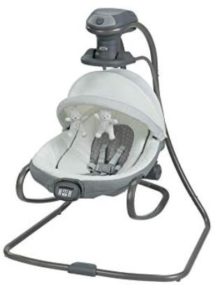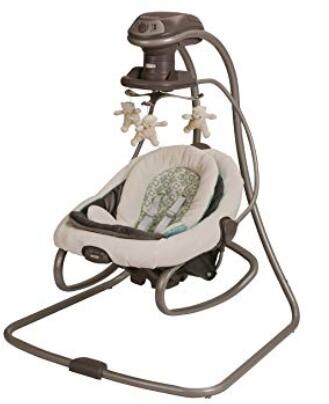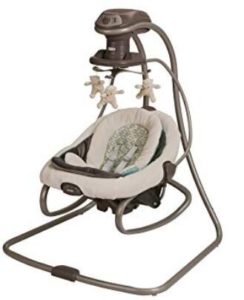 Buying Tips On Best 2 in 1 Baby Swing
Getting a best swing rocker combo or a swing bouncer combo isn't like picking a clothes to wear. It is a baby gear that your infant will spend several hours in for several months, therefore, you need to make all the things clear before buying one.
For the following part, we will give you some expert guidance on how to choose the best 2 in 1 baby swing, based on your budgets and demands.
1. Safety
On any of the baby issues, safety is always the primary and the vital thing you should never ignore. On the baby swing, the safety belt, or say, the harness, no matter for 3 point or for 5 point harness, is used to protect babies. By buckling it tightly, it safeguards babies during the whole use time.
Apart from checking the quality of harness, comfort in use is also important. Some of the harness belts are covered with a thick cloth, they are pretty useful in caring infant's tender skin especially in summer.
2. Weight capacity
The maximum weight limit on a normal baby swing is around 30 pounds, suitable for babies under 6 months. However, to 2 in 1 swing, the weight capacity varies according to the usages. The bouncer or rocker seat carries lighter weight than the swing seat, some are suitable for babies under 17 pounds when you use it as a portable gear.
For each baby machine, there will always be recommended weight written in the instructions, please read it carefully before using for safety.
3. Quality level
It is needless to say how important it is on getting the best quality product, for it relates to the use costs; But more importantly, it directly results in potential dangerous in use.
A bad quality product means you need to purchase a brand new product pretty soon, or take much money on repairing and maintaining.
4. Size and space
The 2 in 1 swing is normally full size type, occupying much floor space with its wide-open legs and large base. If using in a small apartment, finding an area for it to place can be a headache thing. Even if you can use the seat as a portable rocker, you still need much floor for a large swing. Under such considerations, we suggest the one living in a small house get a portable swing.
5. Price
Before buying anything, you should make a budget and find the thing under your expected price level, so that you can always be reasonable in purchasing.
The cheap baby swings that combine rocker or bouncer cost around $150. It owns less function than expensive types and lacks advanced technology, meeting the basic demands on a soothing machine and a portable gear. Cheaper price refers to bad quality, it seems true on some occasions, thus reading the reviews before purchasing avoid you from falling into the traps. For more baby swings under $150, we have detailed reviews for you to choose.
The higher price 2 in 1 baby swing combo tends to be more valuable, either for its brilliant quality levels or for its multiple entertainments brought by advanced functions. Some are equipped with Bluetooth control, some do well in soothing babies with different sway motions. Anyway, if you have a rich budget, then you may consider a swing around $200 or even $300.
6. Usage
Where do you intend to use your baby swing? Are you the people always on the go? Unlike a baby bassinet or a crib, a baby swing is not a necessity that each family needs. However, it does a lifesaver to rescue you from hugging and soothing babies all day long. But the problem is, you need to consider where you use it for most of the time.
The outdoor use requires batteries as power, for you do not have much chance to find a suitable adapter anywhere you go, especially when you are hanging out in the garden or in the park. Then the portable or some compact baby swings with batteries are proper. The lightweight units also make it easier to take along with you, even for a long trip.
Well, if you just want to use it at home, then you can get a full size type. (Assuming your house is large and has enough floor for a full size type.) By plugging it in the wall, you can save much energy. The multiple functions also do well in comforting babies when they are in fussy.
In a word, the most needed one is the most suitable.
7. Easy transfer
Here we refer to the difficulty in changing the swing to a portable rocker or bouncer. The method of changing from swing seat to rocker seat to each machine is different. Some stuck tightly while some are convenient to take it down and take it with you. The one with handles is pretty thoughtful. Plus, make sure the portable seat is safe enough to use. You can check whether it is stable and sturdy, the steel structure is far better than the plastic one, by the way.
8. Assembly
All the 2 in 1 baby swings require assembling, but they diverse in assembling time. There are many buyers reviews on each shopping platforms and you can read how long does it take to put it together. Of course, reading the instructions before doing can save much time. There are also installation videos you can find on Youtube. After all is done, check whether it is safe enough for babies to sit in.
Safety in Using
Apart from the quality levels and other designs on the machine, it is also important to use it correctly. Then how to use it safely? Just obey the following tips:
#1. Tighten up the 5 point harness in use
#2. Fixate the seat tightly in transferring from rocker to the swing
#3. Never leave your infant in the swing alone
#4. Do not sleep in it for a long time
#5. Follow the recommended weight
#6. Put it somewhere flat
#7. Stop using it when a strange noise occurs
After getting much knowledge on the buying guides and using tips, now let's review briefly the top-rated types among each type. To save your time, you can choose the ideal type through the category we have given to you as follow:
2 in 1 Bouncer Swing
#1. Graco Cozy Duet Swing – Around $100
#2. Graco Abbington Baby Glider – Around $200
#3. Graco Manor LX Swing – Around $100
Swing and Rocker Combo
#1. Fisher Price Deluxe Soothe Swing – Around $100
#2. Fisher Price Woodsy Wonders Swing – Around $130
#3. Ingenuity Smartsize Rowan Swing – Around $200
#4. Graco Duet Glide Winfield Swing – Around $150
#5. Graco Davis Duet Oasis Swing – Around $180
Swing and Bassinet Combo
Here we would like to introduce two top-rated bassinet swing combo units. As the name suggests, they combined the functions of the swing and bassinet together. To be more specific, it comforts babies more effectively. The gentle sway motions along with beautiful songs coax them into sleep soundly and peacefully.
We all know a baby swing is a safe place for babies to take a short nap, the seat design is not suitable for long time sleeping. That is why there is a bassinet swing combo. Its flat and hard sleeping pad does help for baby's bone in sleeping.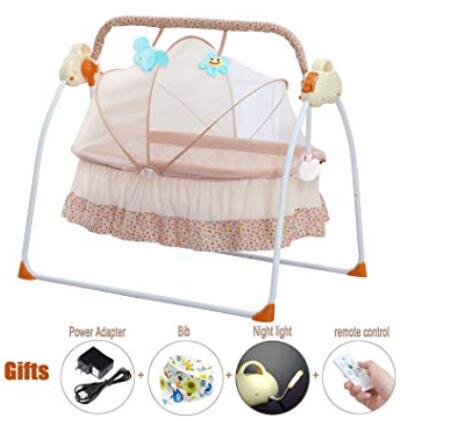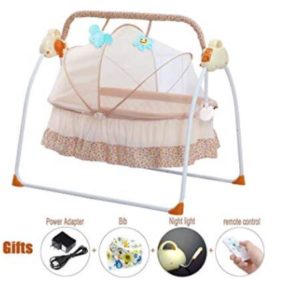 The mesh canopy prevents mosquito in hot summer, and also block bright sunlight for outdoor use. Soft sway motions with 3 swing speed better coax babies into sleep. The night light gives babies a sense of warmth and security. Multiple power supply modes make it easier to use.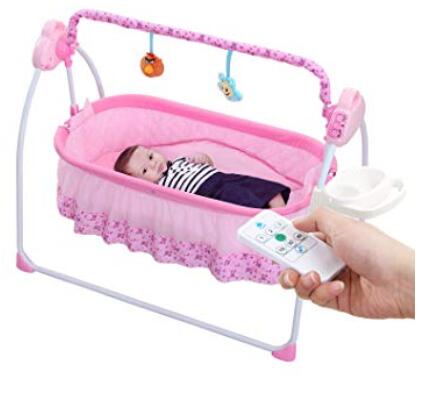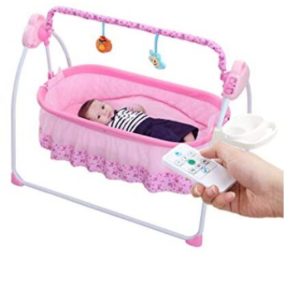 Adjustable swing angle meets diverse activities. The three timers prolong batteries life, while the 12 soothing sounds make babies sleep soundly and cozily. Foldable design suits outdoor use; Thicker steel pipes add up durability and sturdiness.

2 in 1 Outdoor Swing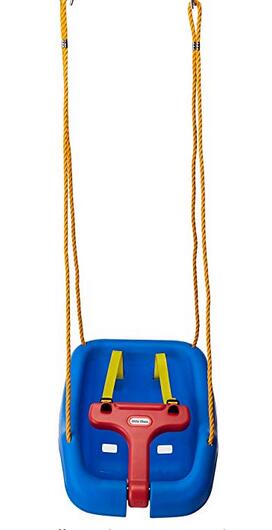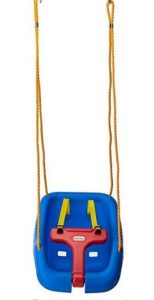 This Little Tikes 2 in 1 swing seat is a perfect one for outdoor entertainment. The large seat enables both small babies and toddler to use it, in other words, it grows with babies. The easy-in T-bar harness keeps baby safe during the using time. Hanging it on the tree, and it is time for babies to have fun.