Do you feel so exhausting when kneeling down to turn the machine on and off frequently?
Do you want one that controls easily and conveniently?
Then you may consider the Bluetooth baby swing, with smart design, it can better free your hands and save more time for you to do something of your own.
Of course, the Bluetooth baby swing price can be much higher than other baby swings types, so you need to consider your budget before choosing.
What Is the Best Bluetooth Baby Swing on the Market?
Picking the Best Bluetooth Baby Swings From Comparison Chart
What Is Bluetooth Baby Swing?
Bluetooth baby swing refers to the baby swing that is able to control by Bluetooth, some of which connect with Bluetooth plug, and some of which are used once you download the app on the smartphone. It is able to save much energy and time for you and is a good helper especially when you are in hustle and bustle.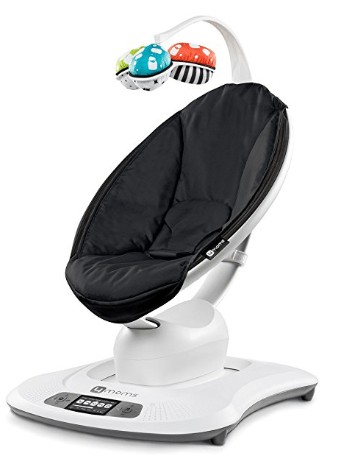 Features:
5 unique motions
Bluetooth enabled
4 built in natural sounds
AC adapter operation
Adjustable seat recline
Small footprint and compact design
2 ways of swing, from head to toe and from side to side


Features of Bluetooth Baby Swing
1. Bluetooth baby swing enables you to control the sound, swing motion, or vibration on and off remotely. The principle of the design is to make you able to control the machine even when you are busying doing your own business, you can turn it on and off, switch music anywhere you are.
2. For many baby swings, the control panel is set quite high but still, moms need to bend down to control them. With Bluetooth plug, mom is able to control it in any position and making it more convenient and easily operated.
3. Even for the quiet baby swing, the knob sound is still audible. When the baby is sleeping, the knob sound may wake an infant up. So controlling with Bluetooth can be quiet and easy.
4. The vibration mode, music control, sound volume as well as swing motion and directions are mostly controlled by different buttons. When you intend to turn them off, you may find it so troublesome to turn each button off. For such a situation, Bluetooth baby swings can be a good help.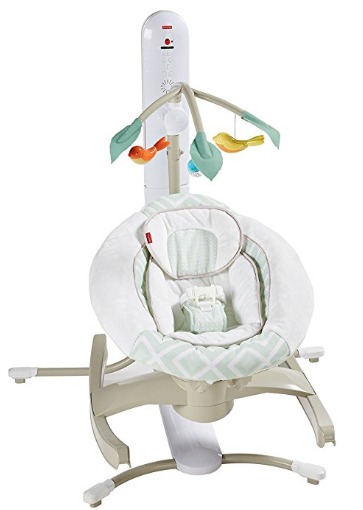 Features:
Smartphone app control
Rocker and swing combo
16 songs and sounds
Leg folded for storage
Inlighten design

How to Use Bluetooth Baby Swing
The connection and operation of each baby swing are different, some are connected through the app, which means you need to download from smartphone, some are connected straightly through the plug. Therefore, before you use, you should read the instructions carefully and master the right way to use Bluetooth operation.
Is Bluetooth Baby Swing Worth Buying?
A baby swing might not sound like a crucial thing to consider buying for your baby, but on the other hand, baby swings play a significant role in helping mothers. All mothers love holding and swinging their babies as it is one source of motherly love, and indeed, it is a good thing. Generally, mothers have a lot of duties to attend to at home and not even considering her job. Therefore, it is crucial to consider having a baby swing for your young toddler. A baby swing does the work of the mother when the mother is busy attending other duties or even relaxing. Also, versatile Bluetooth baby swings feature many features that create a soothing and enjoying playground for your baby, just next to you.
Making it more friendly in use
One of the versatile features of an ergonomic baby swing is the Bluetooth function. A Bluetooth enabled baby swing is a baby swing with Bluetooth enabled controls. Different baby swing models come with varying controls of Bluetooth, either via a Bluetooth plug connection or via a smartphone app that is downloaded from the internet. The Bluetooth function in a baby swing makes it easy and friendly to use compared to other baby swings, hence worth buying. The basic working principle of Bluetooth baby swings is to allow you to control the swing remotely.
Multiple functions to use
Bluetooth baby swings feature many features, including multiple speed and motion settings, MP3 port for playing your favorite tone, in-built sounds, and lullabies, among others. Due to modern technology, manufacturers now produce baby swings with Bluetooth function that allow easy and convenient control.
The Bluetooth feature allows you to control most of the features in your baby swing conveniently from your smartphone. The smart design allows you to switch on and off the swing from the comfort of your couch or while attending other duties as well, with just a touch of your smartphone or using the Bluetooth plug. This helps in avoiding the hassle of bending down or kneeling to switch on and off your baby swing, hence making it worth buying and even better than other baby swing models.
Smart design to ease your use
The Bluetooth baby swing ergonomic and smart design allows you to control the baby swing without using your hands and effort, hence saving time for you to attend or do other things. Another function of the Bluetooth feature is to allow remote control of the swing motion, sound, or vibration, hence versatile. The Bluetooth feature allows you to operate the swing regardless of your body position and location. Also, it allows easy and quiet control hence no chances of waking up your baby.
Bluetooth Baby Swing Prices
Yes, Bluetooth baby swings are very versatile and worth buying; however, due to the smart design, these models are more expensive than other baby swings without Bluetooth function. However, just like any other commodities, there are many Bluetooth baby swings in the market today from different manufacturers, hence different prices. Generally, most of the Bluetooth baby swings prices range between 150 dollars and 250 dollars. Despite the prices being quite high, Bluetooth baby swings are indeed worth buying.
Things to Attention on Buying Bluetooth Baby Swing
1.Suitability
To some Bluetooth baby swings, it is not suitable for each phone or each device. In such a condition, the Bluetooth operation is unable to use. Thus you need to make sure the suitability with your device before buying.
2.Connection
Not all the Bluetooth operation is as convenient and simple as it says officially, some of which are really difficult to use. If in bad connection, it means your Bluetooth needs connected and reconnected again and again, which is pretty annoying.
Attention:
Bluetooth baby swings are able to help you control the swing machine remotely, but it does not mean you can let the baby lying in the machine alone without anyone watching. The baby swing is made sturdy and has 5 points or 3 point harness, but there are still potential dangers in using. Baby especially newborn baby has no ability to protect itself in dangerous situations. Therefore, for the safety of the baby, parents must always keep their eye on the swing when the baby is lying in it.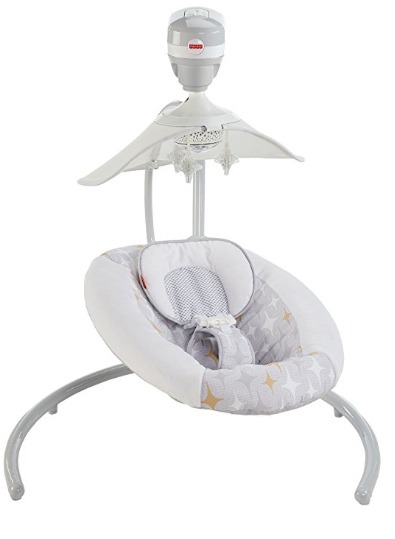 Features:
16 songs and sounds inserted
6 adjustable swing speeds
Motorized mobile with engaging starlight projection
Smart device remote control
Plug in operation

What We Pick…
From the Bluetooth baby swing review, we would like to pick 4moms 2015 mamaRoo Infant Seat with Bluetooth Classic Black. This one is famous for its modern design and technical functions. It enables Bluetooth remote control, you can control the 5 unique motions on your phone or on your pad easily, 4 built-in music can also be transferred with Bluetooth. If your baby dislikes the music inserted, you can play music on your phone.
The small footprint and small compact design make it a space saver, occupying half of the size of full size baby swing. The price of it is of course much higher. So if you have enough budget and you want a baby swing full of sense of technique, then this one is sure to be your first and best choice.




---