Baby swing, as a baby comfort machine, has been more and more popular around the world. With music and various shaking movements, baby gets easily calm down, which is why it is also called mom's great helper.
For most of the time, a baby swing is placed at home for baby entertainment for several minutes if moms and dads are busy washing clothes or doing other own businesses. However, have you ever get trouble in difficulty in comforting baby when you go out for traveling? If so, we would like to introduce foldable baby swing for you.
Foldable baby swing is quite small and compact; when folding it up, it occupies little space. With the best foldable baby swing, you can take the machine anywhere you want, and meanwhile, the baby is able to enjoy music and relaxing time for outdoor life.
Thus what should you know about a foldable baby swing? And what factors you should consider buying them? Here, we will give you detailed best foldable baby swing reviews and also expert suggestion on buying guides. Keeps reading, and you will get what you need most.
7 Best Foldable Baby Swings on the Market
Best Foldable Baby Swing Reviews
In terms of a foldable baby swing, actually it does not only refer to those with small shape, for some large size or full size baby swings, they are also foldable for better storage.
Therefore, we divided them into two types, one is portable types for traveling or outdoor use, while the other is full size types for occupying as little space as possible in storing.
-Folding Portable Baby Swing
1. Best Foldable Baby Swing – Fisher-Price Take-Along Swing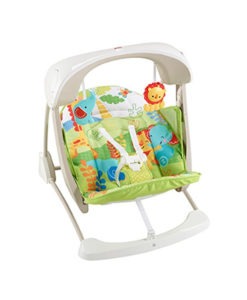 It is a compact baby swing, the small shape of it occupies little space when placed at home, and for outdoor use, you can easily fold it up as small as your suitcase or backpack.
6 swing speeds can be adjusted based on the preference of your kids, from fast to slow, you can choose the most suitable one. 10 tunes and music soothes baby down when he or she is in fussy.
For outdoor use, it adopts battery as main electric power, so you do not need to find a plug anywhere in traveling. All the pads are washable and can be taken down easily. Seat belt is quite helpful in changing it into a stable condition.
It swings from head to toe only, quite basic but totally is totally worth its price.
Pros:
Easy to convert
Soft and comfy seat design
Perfect for taking out or storage
Much smaller
Suitable for outdoor travel use

Cons:
It swings from head to toe only
Runs on battery only

---
2. Best Portable Baby Swing – Graco Portable Cozy Kingdom Baby Swing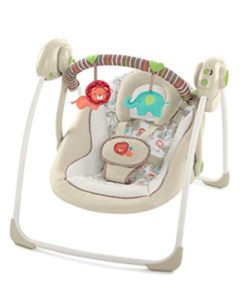 This one is a compact type of Graco, simple but good looking shape suits both baby girl and baby boy. When you fold its leg together, it changes into a small portable machine that can be packed into your suitcase or backpack for storage or traveling.
5 point harness keeps baby safe all the time in using, the comfy cloth is set around the seat belt to protect the baby from getting hurt unintentionally.
If your baby is easily getting fussy, try the 6 sounds that inserted, they help to soothe baby down effectively. There are 6 swing speeds can be adjusted.
The cloth is soft and can be put apart for washing. Two soft toys hang on the toy tray to attract baby's attention. But they also get in the way of putting baby inside.
It adopts battery as main power, thus is pretty suitable for travel use.

Pros:
Easy to fold up
Small and portable
Different speeds
Washable pad
Suitable for travel use

Cons:
1. Toy bar makes it hard to put the baby in

---
3. Best Baby Swing For Reflux – Graco Slim Spaces Compact Baby Swing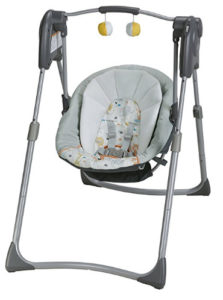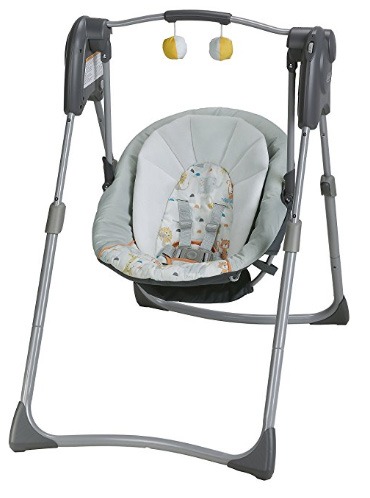 As we know, one common problem on the compact baby swing is a low seat, making it quite hard to get baby in and out. This baby swing is designed differently and solves the problem successfully. Both of its legs are adjustable, from low to high, you can choose a suitable height that meets your demand most.
It is also foldable, by pulling two legs together, you can take it anywhere you want. 5 point harness is inserted to protect the baby in using. To soothe baby down, it swings from head to toe.
It is a pretty basic type with fewer functions. No music and no vibration set, but still has adjustable swing speeds. Two toys are hanging on the toy bar to attract the attention of the baby.
The seat of it is quite vertical, which makes it a perfect type for baby with reflux or colic.

Pros:
Adjustable height leg
Occupy little space
Easy to fold away
Different swing speeds
Suitable for reflux baby use

Cons:
Quite basic
No music inserted

---
4. Best Outdoor Baby Swing – Ingenuity Convert Me Swing-2-Seat Portable Swing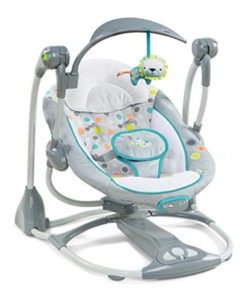 If you want a functional but compact baby swing, this Ingenuity type is on your preference. Of course, like other recommended baby swings, this one can also fold up for both storing and traveling use.
It has vibration mode set on the seat, powered by battery, it gives either fast or slow vibration in use. There are five swing speeds can be chosen, but according to users, the average swing speed is quite low.
One small toy hangs on the toy tray, when putting the baby in, the toy tray can be moved around and out of your way. 3 point harness is adopted. All the fabrics are soft and comfy, they can also be taken apart for machine washing.

Pros:
Space saver
Light and easy to take around
Easy to fold it up
Multiple swing speeds

Cons:
1. Control panel is set too low

---
-Full Size Foldable Baby Swing
1. Best Baby Girl Swing – Fisher Price Papasan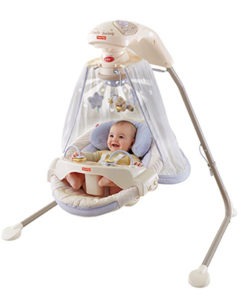 This is a full size baby swing, because of its wide open legs, it occupies much space when placing it at home. However, with its foldable legs, you can easily store it up.
What features most is overhead starlight show and net around the seat. Baby is quite fragile mentally, the net is able to give him or her sense of secure especially at night. It has a removable toy or snack tray, take it away if you find it useless.
Infant head support is inserted, you can also get an extra one for infant baby. 16 sounds and songs, including white music, sooth baby down effectively and easily coax him or her into sleep. Either plug in or battery can be chosen.

Pros:
Net helps relax baby
Foldable leg for storage
Removable tray
Multiple music and sounds
6 swing speeds

Cons:
Light shuts off 15 minutes later
Seat is not deep enough

---
2. Best 2 In 1 Baby Swing – Fisher Price 4 Motion Cradle'n Swing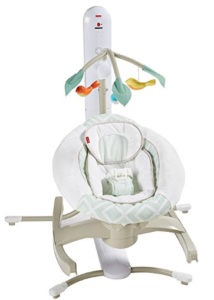 This one can be regarded as a modern baby swing, for it can be controlled with a smart phone, by downloading the app, you can operate it far away. Being a best folding baby swing, its legs can also be folded up for storage.
Actually, it is a swing and rocker combo. Taking the seat away and it turns into a rocker immediately, its small shape enables you to bring it with you when you are washing or taking a bath.
Place the seat onto its original position, it changes back into a swing again. 16 sounds and songs can be chosen for relaxing. Toy bars with lightening toy birds can be removed away. But the toy light is complained to be too light for baby.
Putting it together is not an easy task, which means you should read the instructions before carefully.

Pros:
Remote control
Rocker and swing combo
2 recline positions
Removable mobile and toy tray
Plug in and battery

Cons:
Hard to assemble
Toy light is a bit bright

---
3. Best Baby Swing With Mobile – Ingenuity Inlighten Cradling Swing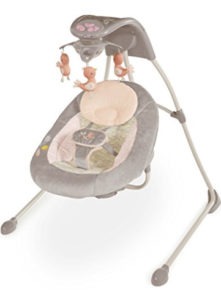 As a full size baby swing, this one is complained to take up much space when placing it at home. But thanks to its foldable leg, you can easily fold it up for storage. If your baby is fond of light, then this can be a perfect choice. Electric mobile emits light with movable toys.
There are two incline positions can be chosen. Unlike other baby swings that rotate from side to side or from front to toe, it rotates 180 degree. 5 point harness protects baby from falling down in using.
Fabrics are washable and can be taken down. For infant baby use, you need to add extra infant head support. The whole structure is sturdy and stable enough. If you dislike the music inserted, you can also connect with your phone and play your own music.

Pros:
Pretty sturdy
Battery or adapter both
Easy to fold up
2 incline positions can be chosen
Rotates 180 degree
Mp3 plug

Cons:
1. Not suitable for small space use

---
Why Do You Need a Foldable Baby Swing?
1. Portable and can be used anywhere you want
Fold up baby swings are normally small in shape, they can be folded small enough to be put into your suitcase or back seat of your car. In such conditions, you are able to use it when you are traveling or playing outside.
2. Occupying less space in storage
For some compact baby swings, place them in your room and it occupies an only small piece of land. But what about full size types? They are really quite large and uneasy to move around. That is why you need a folding baby swing, legs of it can be folded up for better storage. But still, compared with compact baby swings, it is more functional and more stable in normal using.
Buying Guides on Getting a Best Foldable Baby Swing
1. Frequent using places
Before choosing, you should determine where you frequently use it, whether at home or outdoor. If you are fond of traveling with babies, then you can get the best compact baby swing, it is designed small enough to be carried anywhere you want.
On the other hand, if using it frequently at home, then you can get a full size infant swing that folded up, it is more functional in using but also occupies little space when you folding it away for storage.
2. Stability
Secure is always the primary concern on getting all sorts of baby stuff, baby swing uses a protective harness and is normally sturdy enough. However, there are still potential dangers in using, that is why parents should always keep an eye on baby in using.
Folding baby swing brings convenient in taking it away and using it outdoor, however, if it folds up unintentionally in using, the baby easily gets hurt. Therefore, on choosing fold away baby swing, you should make sure that machine is designed carefully on stability.
3. Battery types
For most occasions, a foldable baby swing is used for traveling or outdoor life, then you will find it quite hard to get it plugged. Thus if you intend to use it frequently when you are traveling, then we would like to suggest battery operated baby swings for you.
Attention:
Read the instructions carefully before folding it up
Always stay with the baby when using in case dangerous situations occur
Check machine and accessories frequently before using
Stop using it if there is something wrong
Stop using it once the baby is out of maximum weight limit. (If you attempt to use it for toddler baby, then you may consider a toddler swing for both outdoor and indoor use)
Last Words on Foldable Baby Swing…
A foldable baby swing is quite helpful in taking it around especially when you use it for traveling or outdoor activities. Small compact types are able to save much floor space when placing them at home, while the full size types are more functional and sturdy.
On getting a best foldable baby swing, what you should care most is using safety, whether for full size types or for compact types, they should be sturdy enough. You should check whether they are easily folded up or not.
Summary
Choosing a suitable baby swing is not as easy as you image, therefore, if you have any problems, please contact us or check on Amazon for more detailed information.
---