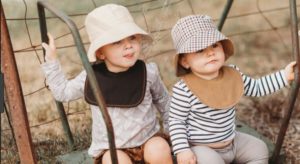 One of the most enjoyable activities for a toddler during those rapidly growing days is playing on a swing. It is also a great option in the age of electronic devices for encouraging your kid to go out and play.
What is a better way to spend an evening with your dear one happily playing outdoors than sitting in front of a computer or making them watch kids programs on television?
We also know that it could be extremely confusing when it comes to selecting the perfect swing for your child. When you were a kid, you probably knew just one kid of it.
Nowadays, they come in a whole lot of types and designs. We have put together a complete guide for you that makes it easy to choose the right swing along with some useful tips. Let's dive in.
Our Top Pick:
#1. Best Swing And Slide Set – Little Tikes Clubhouse Swing Set
"Double swing with side slide design meets multiple kids entertainment the same time."
#2. Best Pink Toddler Swing – Little Tikes 2 in 1 Snug'n Secure Swing
"Pink color makes it perfect for baby girl use, adjustable shoulder belt keeps kids safe."
#3. Best Folding – SportsPower My First Todder Swing
"Fond of outdoor play? Take this foldable type to meet kids need whenever he or she likes."
#4. Best With Stand – Aleko BSW02 Child Baby Toddler
"Swing with stand frees you from getting sturdy trees to hang on, enjoy the fun anytime possible."
#5. Best Double Swing – Movement God Metal A-Frame 
"Double swing seats set to bear two kids playing the same time, double the fun in single money paid."
What Is a Toddler Swing?
A swing is essentially a seat that is hung with the help of chains or ropes. They are an essential part of any kids play area like a playground, children's park or even playschools. The seat that suspended from a frame with the support of chains has used a chair to sit and swing in oscillatory motion.
When it comes to toddlers swings specifically, they are usually to be suspended with the help of ropes instead of chains as a safety measure. The seat often comes in a bucket shape, which is easy to hold a toddler and add extra protection from falling, and it may also have leg holes.
Toddler swings are an excellent choice to give your kid a chance to have fun and relax at the same time. The toddler swings can be used either indoors or outdoors.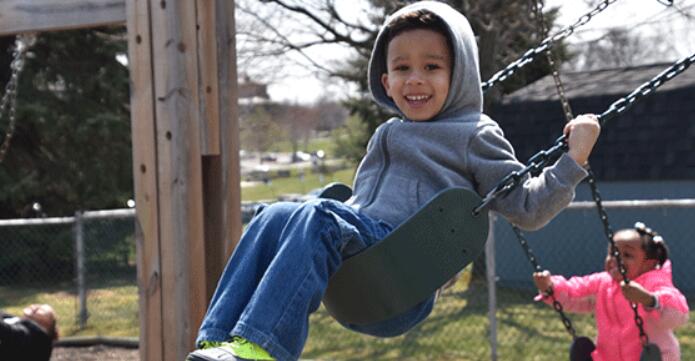 How Much Are Toddler Swings?
The toddler sings come at different prices depending on the design and the material used. Typically, decent swings may cost anywhere in the range of $10 to $100. A lot is dependent on the material used and its durability. A swing made of high-quality material may cost higher than the one made out of plastic. Also, the more versatile, the higher cost it is.
That does not mean that a good swing will always be costly. Set aside a budget, and still do adequate research while buying a swing that falls in your budget. When you are selecting one, along with the price, check if the swing meets all the safety guidelines prescribed for a kid's swing.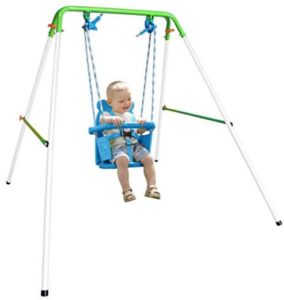 Benefits of Toddler Swings
Physical activities in general play a huge role in a child's development – both physical and mental. Swinging, in particular, has a tremendous positive impact on your child's overall development.
Physical Benefits
Swinging is an activity which creates the swift motion of the body through the air in oscillatory direction. This helps with balancing the body. Also, since they are required to hold the ropes while swinging, this aids in improving their excellent motor skills. Pumping the legs to go higher up enhances gross motor skills. It involves physical activity, abdominal and trunk control, and timing. Putting both all the acts together- Jumping on to the swing, holding the ropes and pumping the legs – improves coordination skills and balance. Balancing on the swing chair will strengthen the core.
This activity also develops overall muscle strength by working on legs, arms and core of the kids.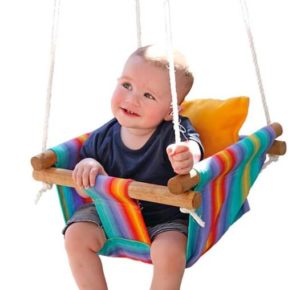 Mental Benefits
As swinging involves rapid movement in the space around them, it improves spatial awareness, and the whole act of balancing, pumping air and holding the body using ropes improves complex learning skills. Swinging can have calmer effects on children by boosting their mood. This is because of the rise in the endorphin levels during swinging.
Acts like swinging bring alertness which stimulates the brain by an increases blood flow. This helps in improving focus and attention. Swinging also makes one mentally active.
Since this is also an activity that is mostly done outdoors, it improves social interactions and the development of the kids.
Clearly swinging has excellent benefits that cannot be ignored. In fact, kids of all ages thrive when they have a balanced set of physical and mental activities. They will make the kids better individuals with a great sense of their bodies, surroundings and better social perceptions.
Indoor vs Outdoor Toddler Swing
As mentioned earlier, swings come in both indoor and outdoor variants. Parents may have lots of confusion about whether to pick an indoor or outdoor swing.
Indoor Swings are those that can be fixed right in your home. (Of course, for an indoor baby swing, it means a swing motion moves like a glider.) They are designed to hang in doorways or setup completed inside your home. Indoor swings have an advantage of overseeing your kid all the time even while you are going about your regular chores. They are convenient as it is not restricted by outdoor weather condition.
However, they have lower weight limits and may not be suitable for toddlers. While the mentioned advantages are right to an extent, they are not as versatile and durable as outdoor swings. While space is another disadvantage of setting an indoor swing, kids might like swinging outside than inside. They are usually portable and can be used in the comforts of home. But outdoor swings outweigh them when it comes to durability and fun.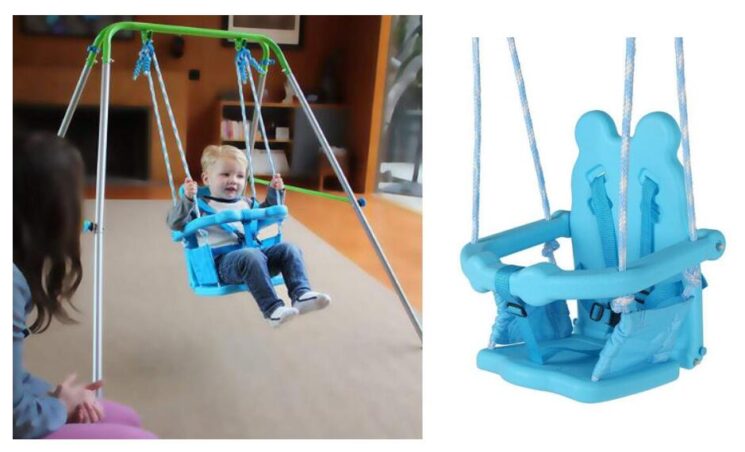 Outdoor swings, on the other hand, are those that are set outside, as the name suggests. They require a larger space to set up and are usually bigger than the indoor swings. They come in various materials such as plastic, metal and wood. They can be suspended from a height such as a swing frame, ceiling frame, porch or even a tree. They are very versatile, durable and kids usually love them. Outdoor swings also encourage kids to go out and play with other kids. They require adult supervision but will offer lots of fun to the kids along with some crucial developmental advantages. If you can, it is highly recommended to get an outdoor swing.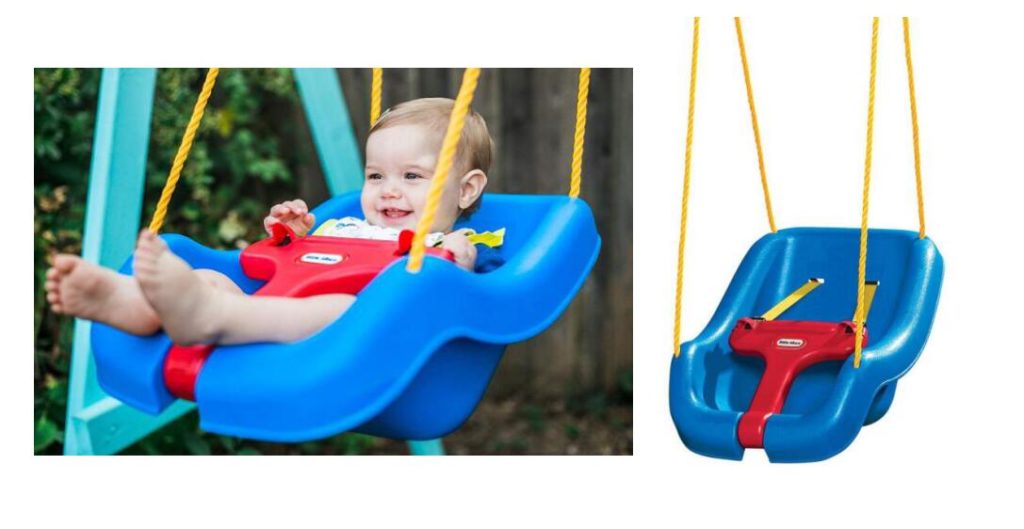 Common Features of Toddler Swings
The 3 main components of a swing are swing chair, swing structure and the hanging hardware. Each of these plays a vital role in their own in making a great swing for your toddler. You should be very careful in selecting the most appropriate one of each of these to have a safer and durable swing for your kid.
Swing Chair
The main component of the swing depends on where your kid sits. The swing chair or seat you select should be the most appropriate one for your kid. A bigger swing chair for your toddler may make him topple. Always select age-specific swing chairs.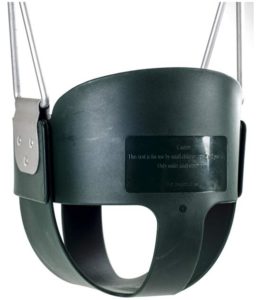 Next comes the material. Select something very comfortable for your kid. A padded seat may be extra comfy for your child. If you want to buy a plastic one, make sure that it is of good quality. The last thing you want is your kid getting hurt because of a lousy quality chair. Check that the finishes of the chair are smooth without any rough edges.
The seat should give enough back support so that it doesn't put a strain. Don't compromise on safety by opting cheaper swing chairs. Cheaper seats may be made of bad quality plastic that leads to early wear and tear. We don't suggest you buy the costlier one.
n fact, first, make a list of the features you want to have in the swing chair, and then buy one which meets most of those. Check the safety measures such as the weight it can withhold and the material it is made of.
Swing Structure
Swing structures are the frames to which the swings are attached. The most common material that is used these days is metal. Metal is used in a lot of swing sets because of the durability and ease of maintenance. However, other materials like wood and plastic are also used. A typical design of swing set involves two posts on either side holding swing chairs.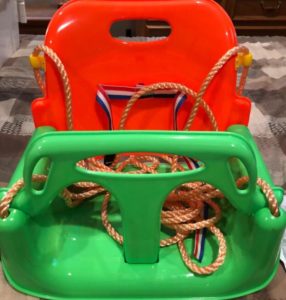 Wooden swing sets, on the other hand, are rare because of the risk of termites and decay over a while. A wooden frame is still great for your lawn or backyard, but need to have regular checks. Plastic frames are used mostly for indoor purpose and babies.
When you are selecting a swing structure for your home, make sure that it is strong enough to hold the weigh, the swing chair sits properly in that, and is of good quality. Have regular inspections for any signs of rust and cracks.
So in simple terms, a swing structure is a frame or anything that holds a swing. In playground swing sets, they are typically the metal bars on either side; they could be metal frames around the swing chairs in the backyard, or the tree branch that holds a tree swing.
Hanging Hardware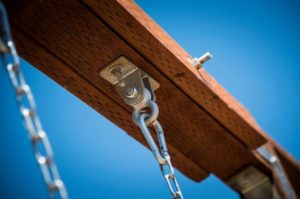 This is a set of all the hardware that goes into fixing a swing or swing set.
Once you have a seat frame, the back support can be attached with glue and screws. The nail gun is used to fix all the pieces of the swing chair and the bag.
For the swing chain, that holds the swing chair and the frame, chains are typically used with quick links and eye bolts to create a rigid structure.
Screw lock carabiner swivels especially available for swings, ceiling beam swing suspensions, height adjusters, swing suspension kits, doorway swing support bar, and single point ceiling suspension are some of the commonly used hardware in swing sets. The set if hardware also depends on the type of swing.
Readymade swing frames are also available for purchase which just requires the swing chair be suspended by ropes or chains. While you need not be concerned about every hardware that is used, an awareness will help you in purchasing any replacement for your swing, Saying that, unless you have a prior experience in fixing the spring yourself, always take the help of a professional to ensure a strong swing is made that is safe and secure for your toddler.
Best Toddler Swing
Choosing the best toddler swing can never be an easy task, for there are so many brands and specifications that you can choose. Thus here I decide to highlight top rated one among each type of toddler swing on the market. But, knowing exactly how and where to use it is the primary concern that you will face, after figuring it out, let's start our tour on best toddler swing reviews.
Best Toddler Swing And Slide Set
Little Tikes Clubhouse Swing Set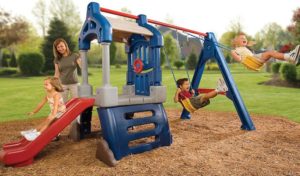 Features:
Built-in playhouse with swing and slide
Clubhouse included
Two ways of climbing add up fun
Durable and sturdy to ensure outdoor playtime
2 cosy swings included, meet multiple kids use

Best Pink Toddler Swing
Little Tikes 2-in-1 Snug 'n Secure Swing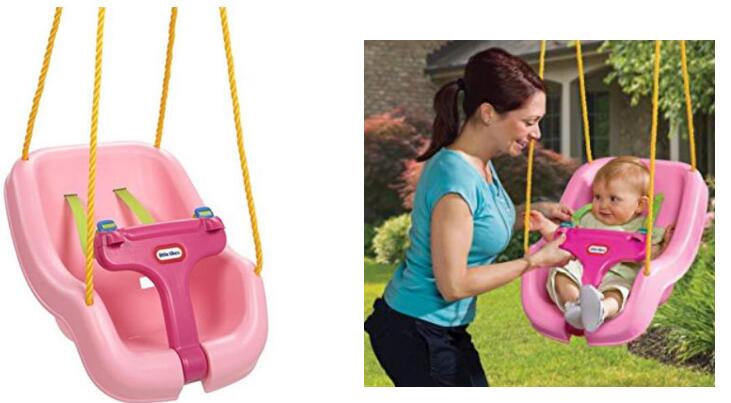 Features:
T-bar seat design, easy to put in
Shoulder straps keep baby safe
Durable enough for both indoor and outdoor use
Weight limit up to 50 lbs

Best Folding Toddler Swing Sets
Sportspower My First Toddler Swing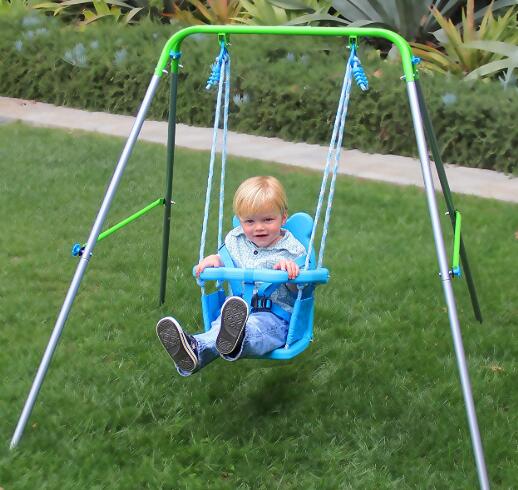 Features:
Suitable for baby from 6 to 36 months old
Sturdy powder coated steel construction
ASTM safety standard
Easy to fold up
10 minutes easy assembling

Best Toddler Swing With Stand
ALEKO BSW02 Child Baby Toddler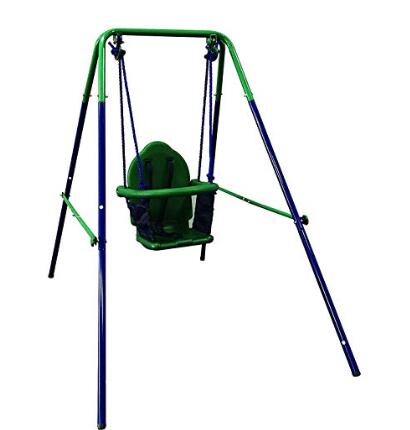 Features:
Age limit: 6-36 months
Compact design for both indoor and outdoor use
Adjustable ropes
Full straps in the seat keep baby safe

Best Double Baby Swing
Movement God Metal A-Frame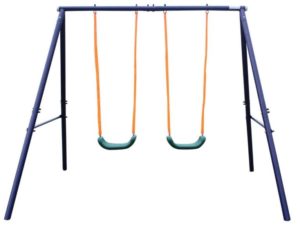 Features:
Durable and long-lasting steel pole construction
Free standing, no cement needed
Effortless swing brackets
Suitable for kids from 3-8 years old

Best 2 In 1 Toddler Swing
Little Tikes 2 -in- 1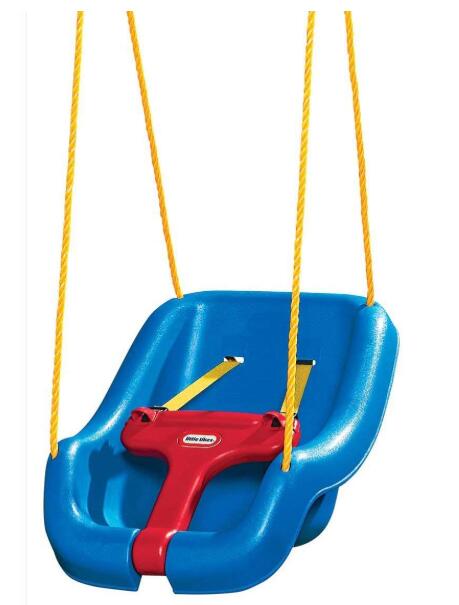 Features:
Easy-in T-hinged bar
Adjustable shoulder straps
Affordable price with a brilliant quality level
Weight limit up to 50 lbs

How to Choose a Perfect Swing For My Toddler?
We have seen various types of swings when a toddler can use a swing, the benefits of playing on a swing and also the models. Now comes the most important question of every parent who wants to set up a swing for their kids – how to choose the right swing?
There are a lot, but crucial things to consider while buying or setting up a swing for your toddler. You need to choose something that ensures the safety of your child while engaging him to play acts that are so much fun. Let's see what they are: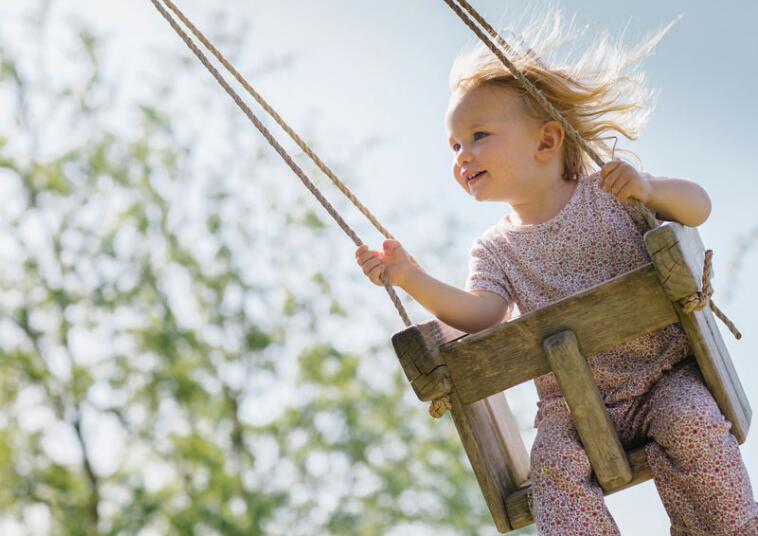 Age Range
The swing you select for your toddler should be for the appropriate age group. Most of the indoor swings are designed for babies, and your toddler may not fit into it. Check with the manufacturer for the proper age group swings. Once your baby turns into a toddler, stop using the one you already have.
Even for the outdoor swings, select something that is specifically designed for toddlers. A swing made for kids will be bigger for your child, and there is always a risk of falling and accidents. Bucket styled swings will give enough support for toddlers, and some even come with leg holes for extra safety. They are safer to use, and chances of falling will be less.
Weight
Just like age, the other vital factor to consider is your child's weight. If you select a swing that supports higher weights than your kid's, typically for next age level, the swing might be too giant for him, which is not safe. Weight limit has a direct impact on the swing operation and safety.
If you are using a swing that has a lower weight limit, it may not withstand your kid's weight. This could lead to breakage. So, just like age range, stick to the weight limits mentioned by the manufacturer. Exceeding the weight limit is always risky and not advised.
Comfort
The next important thing to consider after the age and weight limit is the comfort of the swing seat. The material should be suitable for your child without causing any discomfort. Seats with padding and cushions may be comfortable for your chair. If you are using a plastic seat, too much time outside in the sun may make it hot. If you are swinging it to a tree or fixing it in your porch, this wouldn't be a big problem. A wooden seat which is nicely polished and smoothened will be comfortable even outside.
Since kids spend a lot of time on the swing, select a seat that offers comfort without compromising on the safety.
Material
The material of the swing seat may be directly related to comfort again. So along with being comfortable, the material of the swing chair should be durable too. Buy a swing chair that is easy to clean. If you are buying a metal one, the material should be good enough that it doesn't get rust. The plastic swing chairs should be of good quality so that they don't break soon after you start using. If you are using wood, it should be made of good quality wood that is durable for a long time. Choose a swing chair with an excellent build quality that will last for a long time.
Price
The next important thing is the price of the swing chair. They come in all kinds of types, design and prices. If you haven't already set a budget aside, you might be overwhelmed with the choices available in the market. You will get good and safe swings at a different price range. So decide how much you want to spend and stick to that.
Check various websites that are selling swing chairs and make a note of the different options that fall in your budget. Based on the specifications, material and safety standards, select the most appropriate one that you can buy.
Review And Ratings Of Customers
Companies may make any number of claims about the products they are selling. You don't have to take the face value. Some may be selling at higher prices than what the swing chairs are worthy of. Some may be cheaper, and so is the quality of the product. The smart thing to do is first read what people are saying about the product you want to purchase.
This gives you an idea of what to expect if you buy that particular swing chair. If you see a product has many reviews and many people have nice words for it, it may be worth considering. On the other hand, if there are products with nothing but bad reviews, take that as a warning and stay away from those. Your kid's safety should be one of the essential things to consider while purchasing a swing chair.
Space Required
Consider the space that is required to hang a chair. Some might be very fancy to use. But if they have high swing degrees and you do not have enough space, it may go waste, or your kid might be in danger of collisions. Swings made for outdoors require more space. If you do not have a backyard and plan to put in a porch, it might cause accidents.
Similarly, if you want to attach a swing to a tree, make sure that there is at least 3 feet space from the tree trunk to avoid a clash. If you are planning to put it in your porch, again there should be considerable space between the wall, windows and the swing. There shouldn't be another object around the porch that may come in the way of swing trajectory.
Safety Specs
This is something we have discussed in detail, but shouldn't be ignored at any cost. The swing you are going to buy should be sturdy. Always tie the swing with a rope that is strong enough and is not prone to cuts. Ensure the swing chair falls under proper age and weight limits. The material of the swing should meet all the safety guidelines. The hardware parts that are used in the making of the swing chair should be of good quality. Buy the swing chair from a dealer who is authorised to sell the products. Use the bucket-style seats that will keep your kid safe.
Versatility
While buying a swing chair that is safe and durable, also look for something versatile. Swing chairs come in so many designs and shape that you will be spoilt for choice. Buy something that comes in a bright colour, has good artwork or even shaped as an animal. Kids love something that is unique and will have a lot of fun with it.
You may also get swing chairs that can use both for hanging to a tree or a swing set.
Swings for toddlers are an excellent way of providing fun as well as significant physical and mental development. Some of the things to keep in mind while getting a swing chair for your toddler is the age and weight limits, safety, a material, place where you want to set it up and safety standards of the product. Always stick to manufacturer instructions and provide a secure environment to your kids while they play on swings.
Basic Knowledge On Kids Development

The United Nations has ranked the importance of early learning as the Second Target in the Sustainable Development Goals which itself states the importance of environmental learning for the society as a whole. The objective of this particular Sustainable Development Goal is to ensure quality pre-primary education so that the children are fully equipped to begin their learning journey with Primary Education. The main mode of learning during the pre-primary phase is through play.
Studied conducted in the past 30 years have revealed that the most crucial stage of development is from birth to 8 years. A solid foundation is laid in terms of cognitive skills, emotional well-being, social competence and sound physical and mental health during this period which sets the genetic code for the entire personality of the individual.
In the current context of education, children are at daycare centres and preschools by the time they are 18 months. Working mothers who do not have their parental generation to watch after their children, especially in the western countries, must admit the child to a daycare center at 4 months to get back to work after the maternity period.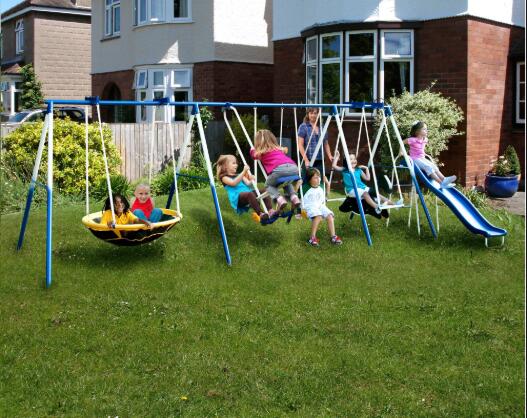 However, it does not mean that the parent can close their eyes on the essential development tools that are due from them to their children. For instance, children develop insecurities when they are not made to feel safe through their senses. Children relate physical contact with security and hence, if the parent does not spend more time with the child, then the child is bound to develop insecurities and a clingy personality. Similarly, a parent cannot hand over the entire pre-primary learning process over to the daycare center or the preschool. Learning at home is essential to build confidence and a strong sense of "self", and therefore it is imperative to have at least one hour of playtime at home.
With the competition of the corporate world increasing day by day, many parents are forced to spend more time on work than they used to. Even while at home, most parents are trying to deal with the work overload to meet deadlines. Hence, many parents resort to purchasing equipment that can occupy as well as provide a sound playtime for the children when they cannot provide personal attention. But purchasing "something" to please the child is both useless and irresponsible. When purchasing such equipment, a parent must pay close attention to the functions, dangers, risks as well as learning opportunities provided by the machine.
One of the most common equipments that the parents give their children for this purpose, apart from their mobile phones and tablets, is a swing set. In western countries, most families have a swing set whether it be outdoor or indoor. However, the function of a swing set, even though healthy for the mentality, is quite dangerous. Hence special attention should be paid to the different types of swings that are available in the market to ascertain the best fit for your child.
Types of Toddler Swings
What must be remembered here is that as the conditions, needs and schedules of each household are different, the most suitable as per the situation must be selected by each parent without relying on the choices and rationale of the others.
Detailed below are different types of swing sets and their specifications.
Toddler Bucket Swing
The Toddler Bucket Swing is a bucket with a set of four strings holding it from its structure. It looks like a nappy where two openings are cut at either side of the bucket for the little one's legs to swing fee. At a glance, it is evident that this type of swings is suitable for younger children. These are made either with rubber, metal or plastic. The most comfortable build for a Toddler Bucket Swing set is rubber.
However, the design can be quite uncomfortable for many reasons. For one, it has limited space and hence can make the child feel claustrophobic and restricted. Also, if the build is either plastic or metal, then the openings for the legs can cause cuts and bruises. Furthermore, the structure might not be able to withstand high-velocity swings if the baby is past a specific weight limit.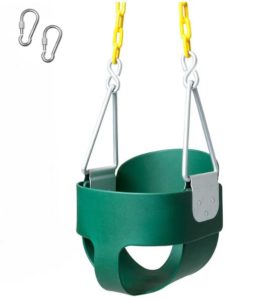 250 lbs weight capacity
Heavy duty materials
Two carabiners and simple instructions
Suitable for kids age from 6 months to 4 years old
Nursery Seat Swing
A Nursery Seat Swing has a four poster structure supporting one single seat. The seat has a belt mechanism which can be used to fasten the child to the seat. Some Nursery Seat swings have an armrest circling the front of the seat. This contraction is ideal for outdoors for an only child.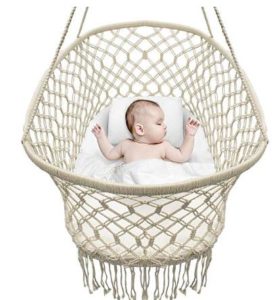 Cotton material
Portable cabinet and crib
An ideal travel cot
Versatile and well designed
Hammock or Pod Swing
As the name suggests, the seat of this type of swing is a hammock. This is the second least secured type of swing as it cannot have any fastening contraptions. Hence, even though small hammock swings might be good for children above age 8 – 10, it is not suitable for children of pre-primary age.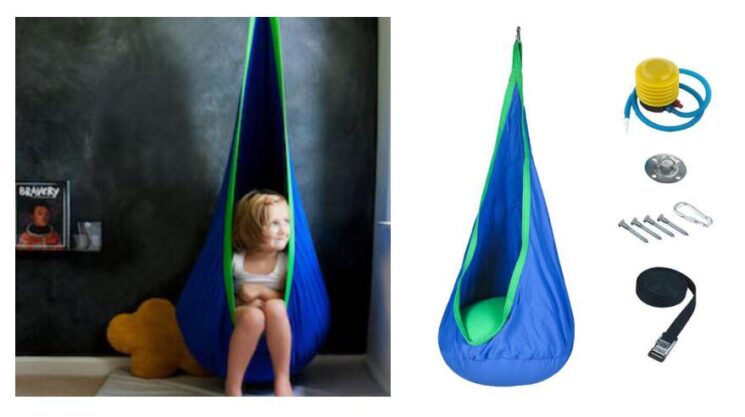 Mesh sensory swing
Hold up to 150 lbs
All hardware included
Suitable for both indoor and outdoor use
Tire/Tree Swing
Tire / Tree swings are prevalent among groups of children who prefer playing outdoors. However, the structure of it is a tire tied to a tree with a rope. Even though this is good for the development of physical coordination, it is not suitable for children below age 5. This is the most insecure swing set for pre-primary children.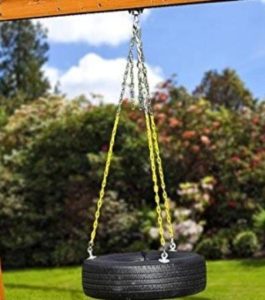 Plastisol coated chains
360 degree swivel
Heavy duty and durable
Horse Glider Swing
This is perhaps the most complicated swing set discussed so far. It is a twin swing set where the two ends of the seat face the swinging directions. Two chains hold up each side of the twin set which is supported by a four-poster bar. This is one type of Horse Glider Swing. Another kind of Horse Glider Swing is a single seat swing structure where the seat represents a horse. The child can ride the swing as if he or she is riding a horse.
As this swing set lacks back support, it is not suitable for children who cannot walk and run firmly. Self-balance is needed to play on this type of swing. Hence this is not suitable for children under 2 years of age.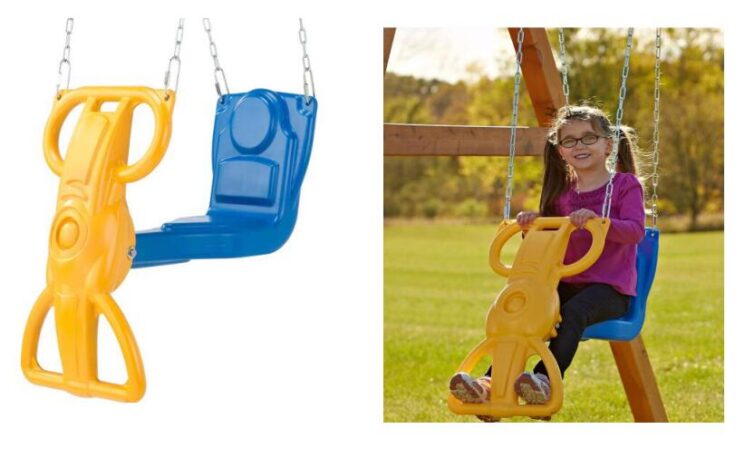 Durable construction, withstand outdoor elements
ASTM safety standard
Hold up to 115 pounds
Easy to assemble
Saucer Swing
The Saucer Swing set is essentially a dish-shaped seat hanging on four sets of strings or rope to support its structure. As there is no protective support around the child to prevent the child from falling, it is only suitable to have outdoors on grass or soft earth. Also, this is not suitable for children under 5 years of age.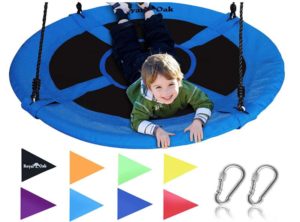 Removable decorated flags
Handle multiple children
Simple to install
All weather resistant
Sling Swing
This is the most diverse type of swing set. It comes in hammock-like structures as well as bucket-like structures. There are many porch swing seats are also Sling Swings. The name "sling" is derived by its support structure where the seat slings by a maximum of two supportive ropes. This is not suitable for children under 5 years of age as it could cause the child to lose balance and fall over.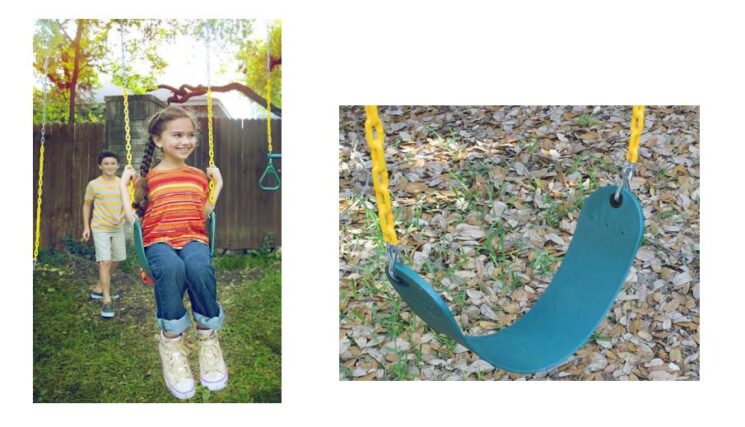 Perfect for outdoor joys
Comfortable swing seat
Durable and long lasting
Quality build
Toddler Swing Frame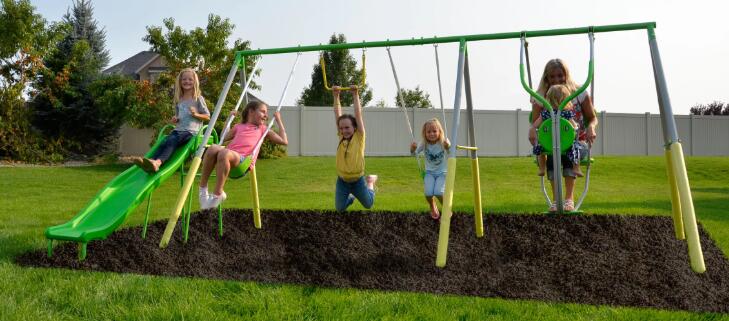 Many countries and states have regulated the swing set and swing frame quality to minimise playground injuries. Even though it was believed for many decades that the steadier and denser the material is, the better the frame would be. Further studies revealed that also though such structures could provide steadiness, it could create other complications as time passes by. For instance, if the metal is unanimously used in all frames, then poor maintenance could rust away from the surface. As children bite their fingers and nails a lot, a substantial amount of copper ends up in the child's digestive system. Also, if the child cuts him or herself on a metal bar, then the child could get tetanus.
Hence, the best frame is one that is steady and does not rust away. This has become such a concern that a separate industry which specialises in swing frames has even been created. Entities such as Landscape Structures and Wayfair specialise in this area.
The most common frame design for swings is the A-frame. The high bar is supported by two A-shaped bars on the two sides. This provides a balanced and straightforward setting which is easy to clean and maintain. However, there are many other sophisticated frames in the shapes of tree-houses and small forts.
Outdoor frames must be able to withstand heavy winds, changes in the air concentration, snow as well as hails. If not, the durability and the strength, as well as balance, will change each season, endangering the child. Also, indoor and portable swings must be regularly tested, especially the hanging apparatus.
Different Materials of Toddler Swing
Plastic Toddler Swing
Scientifically modified plastic types can provide increased flexibility and strength. It is also easy to store and clean. The maintenance required for plastic swings is lesser than any other material. Damage from splinters or other debris is negligible in the case of plastic and cuts and scrapes from a damaged swing will not inflict anything worse than a scar. Plastic structures are also much cheaper than structures finished with other material.
However, plastic swing sets are less popular among children than wooden structures. Moreover, there is limited creativity surrounding synthetic swing cells as it cannot be shaped and detailed like wood. Also, the paint job on plastic fades soon, and the constituent of the pain can end up in the child's digestive system. However, a single swing unit is more convenient to carry and store if it is made of plastic.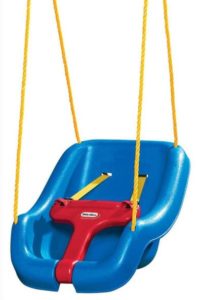 Wooden Toddler Swing
Wooden toddler swings can either be fully wooden or partially wooden. Many of these seats are single seated like the bucket swings. The main advantage of this swing set is the temperature, feel and the elegant look it provides. However, as wood is stiff, it could be very inconvenient and uncomfortable for the soft flesh of children. Also, if the hanging apparatus and the frame are also made of wood, high speeds and dense masses can break it down completely. A small break of the structure while the child is in the seat can throw splinters in the child's eye. Moreover, if the wooden swing set is outdoors, then the wood decays with the changes in rain and humidity patterns.
A wooden set can be customised, designed, carved and manufactured as per the requirement of the customer. Moreover, when a wooden bar or a part of the swing is broken or damaged, then the wooden board can simply be replaced rather than the entire structure being repaired. However, many environmentally friendly people might prefer wooden structures over plastic structures. Ironically, tree lovers are at a problem as wooden structures require trees to be cut down.
Moreover, the maintenance of a wooden structure is more stringent than any other. Wood can also attract wasps which is dangerous.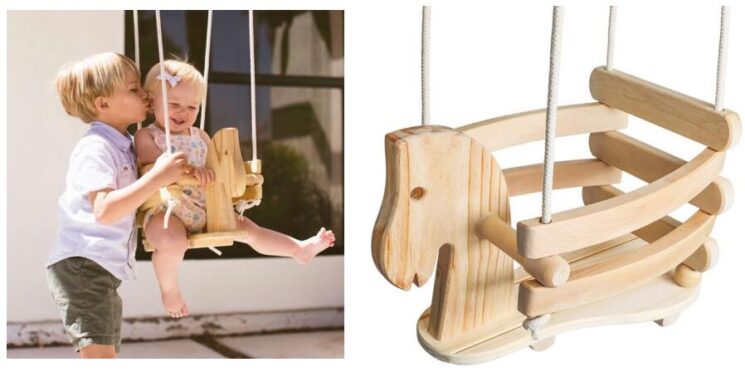 Frequent Asked Question & Problem Solve
Do I Need an Infant to Toddler Swing For My Baby?
A child's Sensory System is regulated by many early childhood activities such as Swinging, Jumping, Spinning and Rocking. Vestibular input is known to one of the main elements which integrate the whole sensory system. Vestibular input is the sense of movement which is perceived and controlled by parts of the inner ear which is connected to the brain. As the Vestibular system is the chief director of movement, balance, spatial awareness and positioning it is known to derive the posture, balance and vision of an individual. Vestibular Sensory Dysfunction can cause conditions such as Autism.
Vestibular inputs give us much different information for the brain to process and direct out movement in retaliation to it. These inputs contribute to the development of many functional aspects such as Muscle tone, reaction speed and accuracy, system balance, posture accuracy, movements of the eyes and sharpness of instinct. In another world, a healthy simulation of vestibular inputs can create an individual who is "best fitted" for the environment.
Swinging provides the most extreme vestibular input for a child. When a child is subjected to such sensory input at an early stage, the brain becomes accustomed to different speeds and types of sensory information. Hence, the brain becomes able to process information appropriately.
Do They Make Tree Swings For Toddlers?
With the development of technology, many swing types were invested to suit many needs and purposes. One of these developments was expandable swings which can be expanded to suit the growth of the child. Another type is portable swing sets which can be fixed into a frame both indoors and outdoors.
One such swing is the Benlet 3 in one Swing Seat. Made by either plastic or nylon, the swing set has 3 stages. During the first stage, the child has a backrest as well as a fastening mechanism where the child can be safely locked in while on the swing. This is suitable for children below the age of 3. During the second stage, part of the fastening mechanism can be removed to give the child more space to wriggle while still been fastened with a belt. This is suitable for ages 3 – 6. During the third stage, the backrest and the belt can be removed to give the child free space to swing nicely. This is suitable for ages above 6.

The ropes can be fastened to any bar or structure whether it be indoors or outdoors. Hence, if there is a tree with strong birches, this swing can be attached to it. Such a Tree Swing is safe and suitable for all toddlers alike.
What's the Safest Toddler Swing?
The best outdoor Toddler swing is known to be Little Tikes 2-in-1 Snug Secure Swing. Even though it is known to be the best outdoor swing, it can also be used indoors. It works as a blanket solution for both infants and older toddlers. It is known to have a durable and robust structure which affirms the safety of the child. It is similar to the swing type detailed in the preceding section.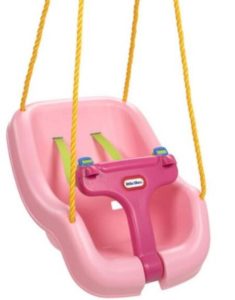 This wing set has a removable T-bar which acts as an age-separator. Once the child turns 2-3, the T-bar separator can be removed to function as a toddler seat. The material of the seat is easy to wipe clean with a wet tissue rather than having to soak and wash by hand. It can even be plugged to another swing set which makes it portable and compatible.
However, the flexibility of this solution doesn't allow the company to provided hanging materials. Hence many parents tie up a rope which can be quite dangerous. For one, if the contraption is not strong enough or not tied strongly, then the entire seat could fall. Also, if the seat is not balanced well, it can affect the posture and the balance of the child.
Are Toddler Swings Expensive?
The price of a Toddler Swing Set depends on the brand and quality that the user is looking for. The price floor is circa $20, and depending on the brand it can even go up to a ceiling of $200. Majority of the Toddler Swing Sets on eBay range from $15 to $40. The average price on eBay seems to be $36. Toddler Swing Sets of Amazon range from $10 to $60 averaging at $48. There also seem to be highly complex, detailed or branded swing sets which are sold at a price as high as $600.
However, we must ensure that we are not swayed by psychological pricing strategies. It is the common misconception of first-time parents that branded goods ensure the best quality. Even though this might be the case, overspending on branded products when the income level is not sufficient to spend that much of money of essentials is merely idiotic. This deprives the child of many other essentials. Furthermore, parents should deviate from the myth that goods sold at higher prices guarantee the best quality and that the lower the price, the lower the quality. This is not always true. It is the trick of the trade to manipulate the children's goods market as new parents are gullible.
Can I Buy a Used Toddler Swing?
As many families in the modern era rarely have more than 2 children, they end up not needing a toddler swing set after a couple of years. As a child's growth and development change the requirements of equipment, furniture and fittings around the house, some of the older furniture needs to be cleared out. For instance, when the child enters elementary school, he or she needs a desk to work on a cupboard for books. This requires more space, and hence, parents tend to sell out the child's used furniture.
However, as some parents would try to scrape any amount of money for the goods that they are giving away, despite the condition, it is not always safe to buy used furniture for a child. A paint job can cover any damage caused to the structure. Hence, if you leave a toddler in a used and damaged swing set, the child could either fall or be cut or bruised.
What must be ascertained before considering the purchase of a particular used set is the age of the contraption and the present quality. The usage could be very misleading in matters like this. For instance, there are many advertisements for swing sets which have hardly been used. However, if this is a metal-based swing structure which has been outdoors for a long time without proper maintenance or attention, then the structure could have been derailed over time. Also, if the metal has waned, even a small cut could cause the child to get tetanus. Hence, it is of paramount importance to assess the quality of the structure against its age and maintenance to ensure structural soundness.
However, the used goods market is full of swing sets. For instance, Gumtree has 417 used toddler swings for sale as of today. Similarly, many E-commerce sites and yard sales have used toddler swings for sale.
For How Long Can My Child Use a Toddler Swing?
Most of the toddler swing could be used until your baby is 4 years old. Saying that a lot depends on the baby's height and weight too. An excellent approach to take is following the manufacturer instructions.
When you go out to buy a toddler swing for your baby, you will notice that each swing has its own age and weight specification. As long as your kid falls within these specs, your child can continue to use the toddler swing. However, once they are past those numbers, it is highly recommended that they graduate to kid swings. A toddler swinging in one that does not support his height or weight can be dangerous. It is vital that you discard or giveaway the swings once they grow past the age of using a toddler swing. Swinging plays need not be stopped though. Swinging is a high physical and mental engagement activity, and kids move on to the next bigger swing size as they grow.
Where to Hang Toddler Swing?
The toddler swings come in both indoor and outdoor variants. Whichever place you chose to hang the swing, ensure that there is enough space to ensure safety. Saying that, indoor swings are usually the smaller ones designed for infants. For toddlers, the swings come in a relatively bigger size, and they are always better.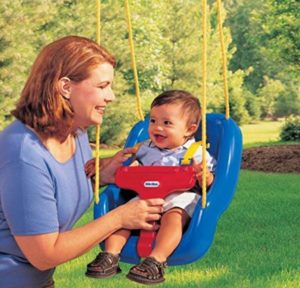 Toddlers are love playing outside, and it can be a great activity for them. Playing outdoors can be beneficial for proper development – both physical and mental. Hence placing a swing outdoors is an excellent thing for your kid.
You can use a tree in your backyard to hang the swing. It's an enjoyable place to have the swing and would be great in summers and hot afternoons. If you do not want to do that, or does not have enough space, you can fix a full swing set on an open place in your backyard.
If you have good space, hanging the swing on your porch isn't a bad idea either. Just ensure that there are no obstacles in the swing path when your kid is on it. The swing trajectory should be away from walls and windows.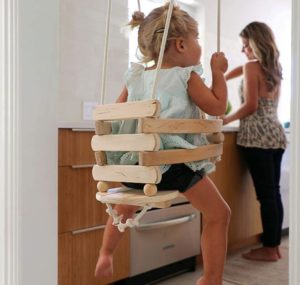 The other thing which is as important as space is the surface beneath the swing area. No matter how careful you or your kid is while playing on a swing, necessary measures to be taken for the eventuality of falling. So having a surface that has enough shock absorbing will be safer than a hard surface in the event of a fall.
Say, for example, the surface beneath a swing is made of concrete, then the fall will result in more injuries than on sand or wooden surface. Some of the suitable surfaces for a swing are sand, pea gravel, and engineered wood. Even rubber surfaces, rubber poured surfaces and surfaces with wood chips have excellent shock absorbency. Grass surfaces can be suitable for toddlers and small swing sets, but not an ideal for bigger swings as they do not have good shock absorbency.
So whether it is indoor or outdoor, take necessary measures while hanging a swing for your toddler.
When Can Toddler Swing?
Babies can start swinging right from the age of six months. However, they should start with baby swings before they proceed to the toddler swings. Once babies' start supporting themselves while sitting, they can use bucket-style infant swing. In fact, these bucket swings should be used till 3 years and can be continued till your kid is 4. When they are still babies, they will not have enough strength to push forward themselves. Parents should give gentle pushes while they get used to enjoying the swing. You could also help them get used to swinging by first making them sit in your lap and swing. Once they grow old enough to be called toddlers, you may still need to push them, but you can slowly teach them how to grab the ropes and pump their legs. This is also a great physical exercise and helps them build confidence.
Till they are 4 years old, it is recommended your kid continue using the toddler bucket swings. Once they are past that age, your kids would have got used to the swings and also their playtime on it. They can be then graduated to kids' swings.
Can I Hang a Toddler Swing On a Tree Branch?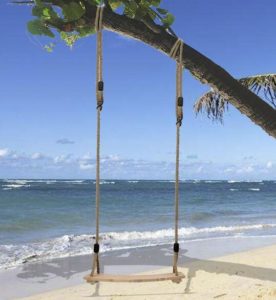 Having a swing in the backyard tied to a tree is an excellent way of giving some fun time to your child. However, certain precautions need to be taken before you hang a swing on a tree branch for your kid. Many toddler swings in the market are suitable to be attached to a tree branch. Just ensure that your manufacturer says they are fit to be used that way. The next thing to find out is if you have trees with branches sturdy enough to hang the swing.
The other thing to consider is space. There should be enough space between the swing chair and the tree trunk so that there are no collisions.
So, as long as your swing manufacturer says it is safe to use on trees, you have a tree strong enough to hold a swing, and you are using a swing explicitly made for toddlers that ensures enough safety while they are in it, you can set up a nice play area for your toddler right in your backyard.
How Do I Hang Toddler Swing From Tree?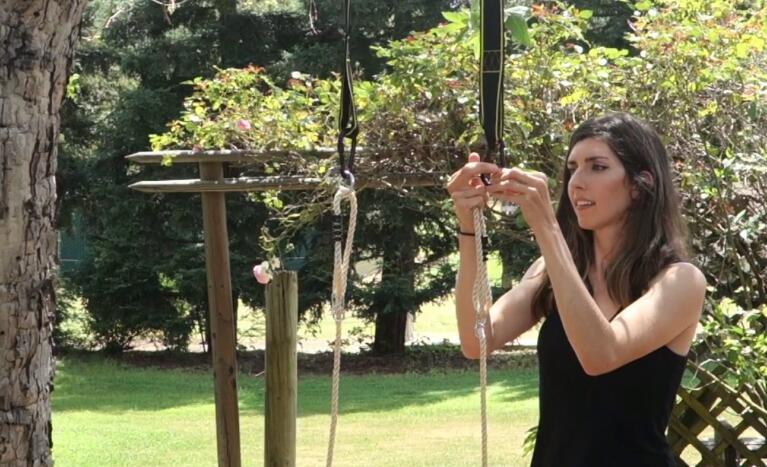 First and foremost identify the strongest tree in your backyard to set up a swing. Once you do that, find the sturdiest branch of the tree to tie the swing. The ideal diameter of the tree branch should be 8 inches for a proper and stronghold. Ensure there is at least 3 feet distance from the tree trunk to have enough space for the swing to prevent any crashes. While chains can be solid in holding the swing, a rope will be a better choice if a toddler uses the swing. A strong rope made out of polyester will be ideal. It will have a stronghold with a little stretch. Last, but the essential point, use a swing that is suitable for a toddler which gives enough support. A bucket swing would be the right choice.
Next comes the part of fixing the swing. It is always to use bolts drilled the tree instead of just hanging the rope. The rope may, in the long run, cut and cause damage. Drill a stainless lock right through the limb of the tree and secure it by nuts. There need to be at least two eyebolts, and a swing for a toddler can even have 3.
Since the tree is not a permanent fixture and it grows around the eyebolts, attach a carabiner and then tie the rope to it. While tying the rope, use a knot like a double running bowline that wouldn't come loose.
Other Accessories to Buy
After getting all the knowledge on toddler swing, here you can get all the essential accessories in installing or repairing. Some of which are included in toddler swing, but needs to be checked carefully in purchasing.
Zerodis Climbing Swing offers your kids a great joy in outdoor climbing, improving both physical and mental development of kids. Installing it with your swing, it becomes a full swing set. The adjustable setting makes it easy to change from short to long, strong and sturdy materials keep it long lasting and durable.
Summary
There is no hard and fast rule when determining the best swing set, as many components must be taken into consideration. The child's age is a crucial factor as well as the location (outdoor/indoor) and the mobility of the child and the parents (Portable / immobile). Furthermore, the activity level and the sensory functions of the child must be ascertained to ensure that the swinging experience does not have severe repercussions for the child.
Another factor that must be considered is the level of maintenance the parents can provide for the swing set. There is no point in blaming the manufacturer if the maintenance is not done correctly. Especially when it comes to wooden and metal sets, regular attention must be paid to the swing set.
The best swing sets in the market so far are Little Tikes 2-in-1 Snug Secure Swing and Benlet 3 in one Swing Seat. The average cost of a Toddler Swing set is $40, but the price can go up to $600 depending on the brand.
However, many used swing sets are available in the market as well. Even though this might be a cheaper option, close attention must be paid to the quality, structure and the build to ascertain whether it is safe for the child or not.
In conclusion, it is always prudent to assess the personal needs against the affordability and the physical characteristics of the child before making the purchase decision.