The very first spoonful of solid food for your tot is a fantastic experience for both you and your child, thus the portable high chairs are probably one of the best inventions related to baby gear essential.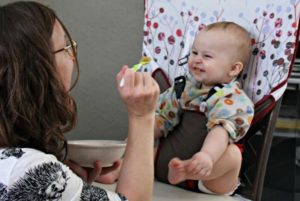 When well chosen, a portable high chair provides both the baby and parents the comfort they need to enjoy their time together.  But first, you need to make sure that a safe and clean environment is created for you and your child.
When buying a high chair, you need to consider a lot of things especially since your child is going to use it till the age of 2-3 years. You need to provide a safe place for your child to experiment with different tastes and textures.
Here we offer you professional reviews on the best portable high chair on the market and important things to know before buying.
Let's get started…
What Is a Portable High Chair?
A portable high chair has been helping moms through additional support and convenience at handling their babies.
A high chair by definition is a long-legged chair, for a baby or a toddler.
It usually serves its purpose during feeding or child sitting safety. It is suspended from the ground higher than a standard chair to align a child to an adult's level during sitting and provide ease during feeding even when an adult is standing. The chair is attached with a tray, usually removable, for food placement either for a child to pick-up or to be spoon-fed. It also usually has a restraint and crotch post to keep the child in place.
A portable high chair is just a high chair that's capable of being carried around for leisure or social activities.
Types of Portable High Chairs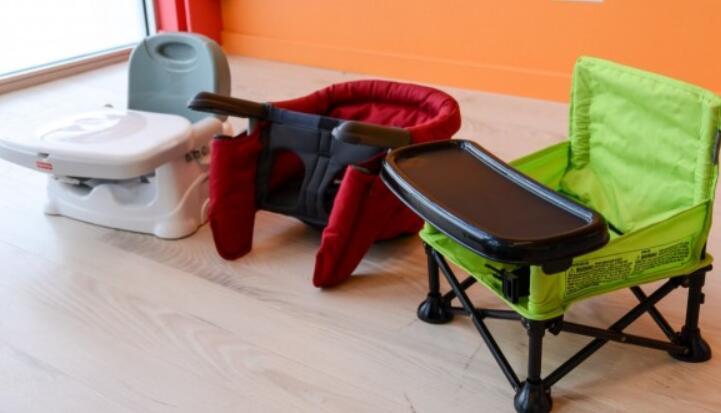 Portable high chairs are a great option for small living spaces and, of course, for travel. There are many different types of the portable high chair and also the names for them like a portable feeding chair or child travel chair.
1. Wraps Portable High Chair
This type of portable high chair is usually a padded fabric harness. This attaches easily to almost all standard sized chairs. For this, sometimes they are referred to as a high chair harness.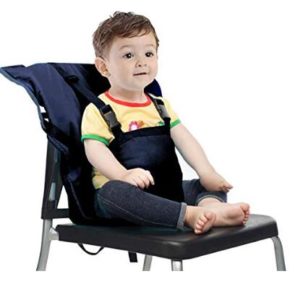 The wraps portable high chair may be taken anywhere because it is lightweight, easily folds and can perfectly fit in your handbag, purse or even into your diaper bag. Also, wraps portable high chair are quick and easy to install and have adjustable straps that secure the baby and accommodate his growing needs. They are machine washable, so there are very easy to clean.
By using one, you can always assure for your baby a comfortable, clean seat at any table.
The wraps portable high chair is perfect for kids from 6 to 36 months or with a maximum weight of 35 pounds, who can sit on their own.
Be aware that your baby should have adequate body control before you put them in a fabric type of portable high chair.
2. Hook-on Portable High Chair
For the hook-on portable high chairs, their light weight and ability to hook onto many table tops are the features that make them incredibly convenient.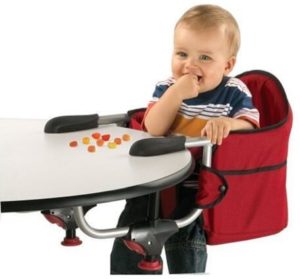 Thanks to adjustable arms that are usually screwed to tighten hook-on can be clipped upon the table. Often, the seat is firm and offers good support for your baby's back. The hook-on portable high chairs can be folded and transported in a carry bag, and their chair seat is machine washable. Also, they easily and quickly attach and detach, and clasps are protected so that wouldn't leave any mark on the furniture.
For safety reasons make sure to always use a hook on a hook on high chair on tables that have a solid tabletop. Also, they are not intended for use on tables with a glass top or with a single pedestal table, neither on folding tables, nor camping tables.
The hook-on portable high chairs are perfect for kids above 6 months, with a weight limit that is generally up to 37 lbs.
1.3. Surface Compatibility
When looking for a portable high chair hook-on type, always check on specifications to see the table thickness that the portable high chair can be installed on. The chair must be compatible with the counter or table where you are going to use it. They are not universally sized, and you cannot adjust the thickness.
Also, check on specifications to see if the portable high chair can also be installed on a table with a curved edge or it should be used only on tables with a straight edge. It is a big difference in how the chair fits with the table.
Some clamp-like mechanism of the portable high chairs does not allow the use of seats on surfaces sporting skirts or lips. Check this detail to make sure that the hook-on chairs do not become unusable in certain situations.
For safety reasons, always make sure to use the portable high chair on appropriate surfaces. Install and secure it on supports with sturdy bases and durable materials.
1.4. Portable Booster High Chairs
Portable booster high chairs are easy to use and most important that it can be used anywhere.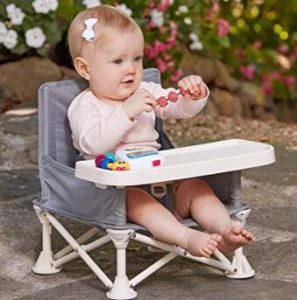 Can be a bit much to carry regularly even when folded, but the portable booster high chair is the perfect gear that allows your child to eat at the table.
It will elevate the babies, so they feel more comfortable at the table, by eating from a comfortable height. Some portable booster high chairs can even convert to a booster chair, and one of their essential features is adjustable height.
Also, some models, by having extendable legs to sit independently, can provide many advantages regarding comfortable use even while traveling. The seat is secured from slipping by straps. It doesn't slip off.
Also, the child is safely restrained in the seat with straps. Portable booster high chairs are suited for children from around 9-12 months of age.
1.5. Portable Travel High Chairs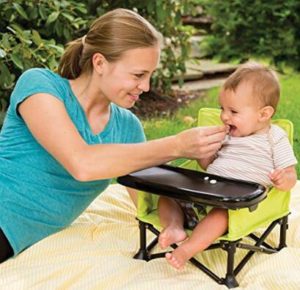 Portable travel high chairs are generally lightweight less bulky high chairs. They are specifically designed to be used outside the house and for travel convenience. Besides the dimensions, make sure to check the weight to assure better portability.
1.6. Portable Fold Up High Chair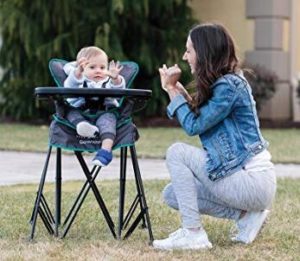 For any portable fold up high chair, flexible design and lightweight are defining features. Also, the materials that they are made of, which need to be durables and easy to clean so that ensure comfortable journeys are also critical factors.
1.7. Folding Portable High Chair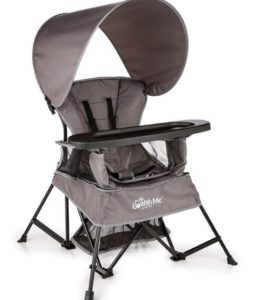 Unfolds quickly, locks into place, and folds back up in seconds. This features for a portable fold up high chair are an innovative and practical solution. A folding portable high chair looks like a regular high chair but it can fold down, thus take up a lot less space. They generally come with a tray and are easy to clean. A folding portable high chair is perfect.
1.8. Portable Clip-on High Chair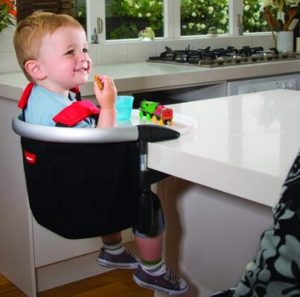 The clip-on chair has clamps that are adjustable to the width of the table top size. Also, another critical detail to be checked is the clamp length for the depth of the table top. Usually, a folding portable high chair can be installed in different positions always to ensure your baby a comfortable seat.
Do You Need a Portable High Chair?
When you're starting giving your baby solid foods, a high chair gives you ample chance and ease in introducing different tastes and food textures. Through a handy high chair, you'll be able to supervise your child's eating habits well and open your baby up to a new perspective.
With a portable high chair, you will be able to attend the social gatherings you'd rather miss when your baby was still at a very, very young age. Even with your child beside you, with a high chair, you can now eat with your two hands. How relieving is that? ( And freeing).
If you're in doubt because you suspect that restos already have highchairs in them, think of the possible contamination of the mode of cleaning that's kind of different from yours. You don't want to expose your child to such an unnecessary hazard.
An excellent portable highchair can transform your mealtimes, for a change. Citing the benefits of getting your baby a high chair suitable for him or her, your life will get less hectic, and you can now actually enjoy a sumptuous meal without your hands full.
When Do You Need a Portable High Chair?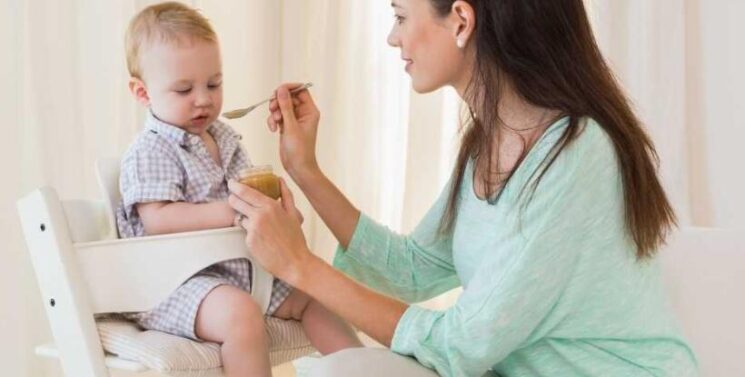 At delivery and early infancy, a high chair may not be on your top priorities. But as your child can sit up with little support, he or she is ready for a high chair. This is usually at ages 4 months to 6 months. Below these ages, a reclining wheelchair is best as a resting place for your baby, with the baby, well, of course, is in a reclining position. This high chair will then be used until around 3 to 4 years old, by then your child will graduate into a booster seat.
For a portable high chair is for outdoor use, when you're planning on a picnic or going on a dine out, and you do not want your baby to miss out on the world. These are portable and easy to store away, very ideal for traveling due to its lightweight material and storage, incredibly compact.
What Are the Benefits of Using a Portable High Chair for Your Baby?
1. Comfort.
Your baby can be challenging to keep in a comfy seated position sometimes, and this can be a hassle especially when you're on a travel situation. With a portable high chair, comfort is both allowed for you and your baby.
2. Safety and security.
Not all establishments provide high chairs, and maybe if they do, you may not be able to be very reliant on it. It really helps minimize stress.
3. Convenience.
During feeding, when you don't have a high chair to place your baby, you may be eating less than you should be due to divided attention towards carrying and feeding your baby. Unless you, as a parent, want to eat only finger foods and sandwiches until your child grow towards independent spoon feeding, a high chair will benefit you.
4. Social development.
This will befit your baby's social upbringing by being able to participate or just be present during meal conversations with family and friends. They can grow mentally from what they are now able to see from a higher point of view
5. Efficiency.
With a portable high chair, strapping your baby in the chair, you can now carry out other simultaneous chores without much worries for your child's safety (provided that your chosen high chair creates security with its quality)
Important Factors on Buying the Best Portable High Chair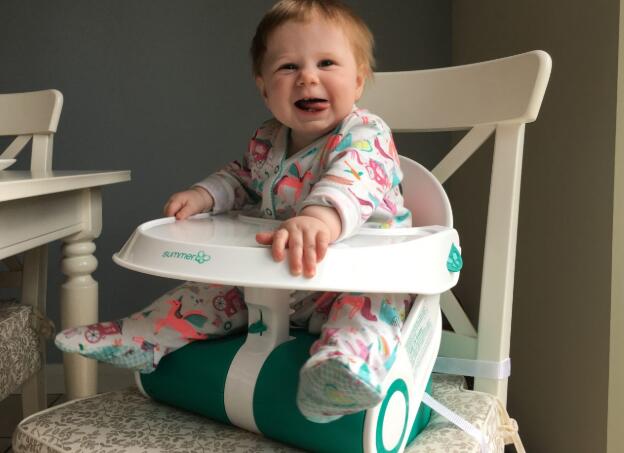 This is something which should be one of the top-most priority for you. Your baby is going to use it for quite some time to come, and it's going to be used frequently so make sure that the handling on the high chair is not too complicated. You would not want to be stuck with a high chair which has got too many overcomplicated steps to install or de-install.
You have invested your mind, soul, and money into making your home décor just to suit your personality and style. You would not want to spend in a high chair which does not go with that. There are several options in the market today right from country kitchen to sleek and minimalist to classic black. Most of the chairs today meet the modern safety standards, so you won't have to compromise style for safety anymore.
This is all the more important because your baby is going to have their meals on it and you wouldn't want something which does not meet the safety standards for them.
Firstly, make sure that the high chair meets the safety standards prescribed by the government.
Secondly, look for safe, BPA free materials and make sure there are no rough edges due to paint or sharp cutting. Thirdly, since your baby is going to use it for some time to come make sure the footprint is sturdy for not only now but also for the future baby weight.
Lastly, make sure that the height and weight guidelines are being followed.
You would not stop traveling or going to picnics or hanging around with friends just because you had a baby, will you! That means you need to find a chair which is not only safe and sturdy but also which can be easily folded and carried around. There are several such options available today, which can be stashed in the trunk, wrapped in your baby bag or even in the stroller, and all you are left to do is just to pick the right one for you.
Babies are messy, and it's a given, and it's your responsibility to keep the high chair clean in spite of that. Check the tray, harness, seat and frame for hard-to-wipe areas if you see too many of those you need to find yourself another model. Also, check the seat cover and the tray for whether they are machine-washable and dish-washer/sink washable respectively.
Make sure you are clear on what kind of purpose you are looking for in the high chair. Are you looking for something which needs to go with your décor? Are you looking for space-friendly high chairs in which only a chair can strap onto a table? Are you interested in a wooden or a metal high chair? Do you have a dishwasher and want the tray to be dishwasher safe? If you list down your purpose, it will take a lot easier to find out the right high chair for you.
There are several styles available in the market today each with its unique followers. While buying a chair pick one which you are going to appreciate not only at the moment but also when you are keeping it with all your household items. This will give you a better idea as to which chair style to go for.
A standard high chair starts at around $40 and can go up to around $200. The high-end models can reach up to as high as $400. A strap-on chair or a portable chair starts at approximately $25 and can run up to around $100.
There are primarily five types of high chairs available in the market today. So once you have made sure the safety requirements are being met, and it's portable and easy to clean it's all about choosing a chair which matches your style, budget, and function. Here is a breakdown of the five types:
1. Wooden High Chairs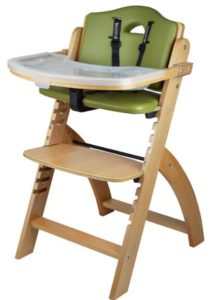 It's classic, and it's back in fashion! They give an old rustic look to your home and will fit right in with your wooden flooring and classy interiors. Additionally, many of them come with modern adjustable seats and wheels to make your life easier as well.
2. Plastic or Metal Frame High Chairs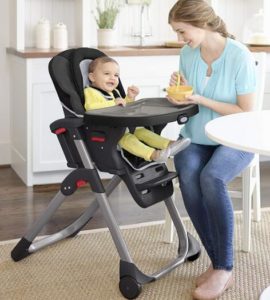 Are you looking for a budget-friendly option? Then go no further! These sturdy, light-weight modern frame high chairs come with easy clean-up, easily foldable structure and wheels for portability.
3. Full-featured High Chairs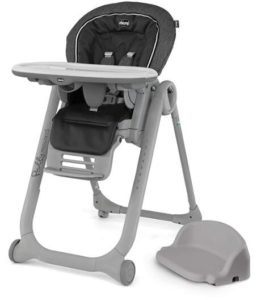 As the name suggests these chairs have multiple functionalities including being used as high chairs and cradles and sometimes can also double as a swing-chair! They come with all the bell and whistles like adjustable seats with recliner, stashable table and casters for mobility and are in most cases a little expensive option.
4. Portable Clip-On High Chair
These are the most common of the portable high chairs and can be used on almost all kinds of tables anywhere to strap on and make a seat for your baby.
5. Booster Feeding Chair
Don't want a high chair to take up any extra space and at the same time make sure your baby learns to eat at the table quickly? These booster chairs can be easily fitted onto one of your existing dining chairs. They usually also come with a removable tray so that when your toddler is ready, they can start having their food, with you on the table.
You need to understand the fact of life that your baby is going to grow fast and you would not want your baby's tummy to not fit in after a few months. The flexibility of the seats, tray, and the safety harness are going to be very important, and you need to make sure that each of these positions locks in firmly for your child to have a peaceful experience.
Make sure the chair has wide bases to ensure that it does not tip over very easily. Make sure to give the chair a couple of shakes to make sure the stability is not compromised. The chair legs should be sturdy and strong to withstand the growing weight of your child. The chair is going to be used by your child till they are ready to sit on a booster and that is still some time away. Ensure the high chair can be used safely and without any hazards till that time.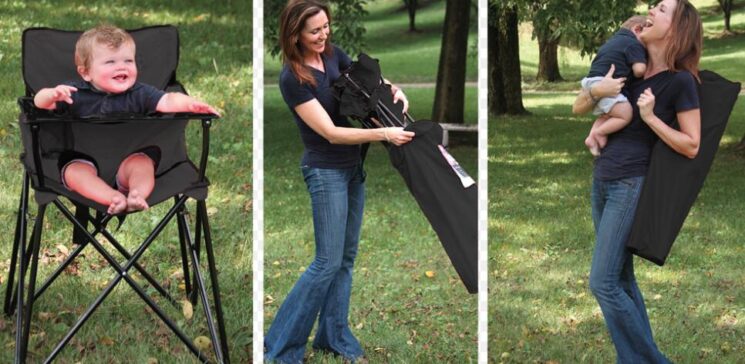 What Are the Best Portable High Chair?
1. Seat Adjustments.
A high chair should be considered first for its adjustability to age, height or weight before its bought. Probably you're buying for a first child, later on, this baby grows, later on, he'll have brothers or sisters, and you want a high chair seat that can fit any of your child's needs for comfort and suitability.
You'll want one with seat heights that grow with your child. The versatility of a high chair is one of the most considered features of a high chair, allowing the high chair to serve its purpose even at prolonged periods. One with a booster seat or a built-in toddler chair would be a smart move.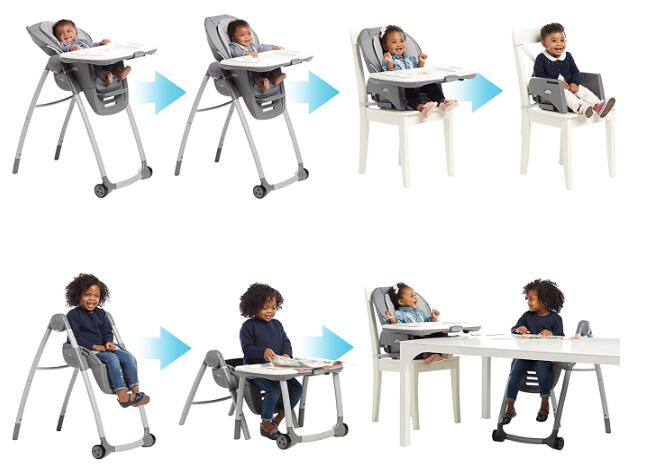 2. Tray.
For ease, a tray must be removable, best when considering the cleaning part of feeding your baby.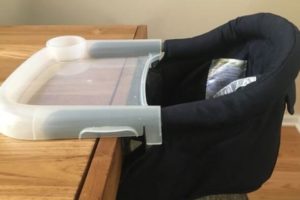 Consider if it's wide enough to prevent mess to reach the floor or be dropped onto the baby. It must also be measured to fit into your sink for cleanups.
Also, look into the sturdiness of the tray by actually providing a little external force to see how well it is supported at its attachments. Plus a detachable tray gives instant space when your child has almost outgrown his or her high chair.
A vinyl tray that has a built-in cup holder is ideal. And also, use a tray that does not dip down when your child sits on the chair.
3. Crotch Post.
With a crotch post or crotch harness, your child won't easily fall off through slipping or jump out of the high chair unattended. Make sure that the material of the crotch post allows for easy fastening with materials being hypoallergenic.
4. Safety Harness.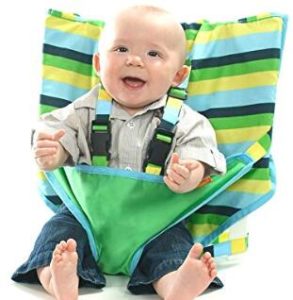 Make sure that you but not your child easily operate the buckle of the harness. You might be discouraged on attaching the belt when it's just to difficult to manage, which is a no-no. A 5-point harness is best for your baby – one that has straps for the waist, crotch and shoulders. Especially on an early age, with less safety awareness, your child is prevented from standing or leaning over too much.
Types of the harness will be described in the next section of this article.
5. Foldability.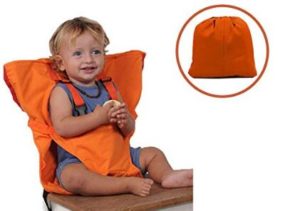 If you intend to store a highchair when not in use, choose one that has uncomplicated locking, folding and unfolding features. It must be lightweight and compact for better portability. If it's easier to store, there is less chance of leaving it behind during your travels. As for space dimensions and compactness, for car storage, rectangular shapes are best. Make sure the dimensions, as it folds, fits your luggage as you travel in a car or your carry-on baggage in a plane.
Make sure there is a latching system of the high chair so as not to accidentally fold the high chair with your child still sitting in it. There should be a lock to keep it folded and a lock to keep it open for use.
6. Comfort.
A good amount of padding will make your baby really happy. From the seat to the surrounding chair parts, the support material of the highchair should also provide comfort for your baby to maximize enjoyment in eating.
7. Aesthetics.
Although this is not the main priority, as you may know, your baby's high chair will be on display not only in your home but also in public places. It might as well be as presentable as you want your baby to be.
8. Attached Toys.
Play will always be part of childhood. For easy access to a child's toy, probably to distract or to water down a bad temper. If you want this feature added, toys will most likely be kept in place and consequently, lessen work for you as you opt for safekeeping of toys.
9. Wheels.
The wheels must be locked in place as accidental pushes might move your baby's high chair in an undesired position. Or speed!
10. Durability.
As safety becomes the main priority of a parent, the grip and stability of the highchair are of utmost scrutiny. Put some weight on the seat and backrest and listen and observe for squeaks, deformations, sags, or worse, collapses
11. Seat Cover.
The seat pad must be easily cleaned or removable for a more thorough cleanup. The material, Vinyl, is easier to wipe clean than cloth, but time and wear can cause it to crack and detach into tiny parts, leading to an increased hazard for accidental choking to your child. The crack may also cause skin irritation to your baby. Newer versions have rubber or foam materials, which is not hard to clean underneath as it comes in one continuous piece.
12. Size.
Ask yourself: How much space do you need for your child? How much space is spare in your house for a high chair?
13. Price.
Portable high chairs can cost you $40 to $400, not considering your budget, depending on the style, modern features and materials used. Just keep in mind: Not all the pricey ones are of good quality and not all the cheap ones are of bad quality.
A plus for good design and brightly colored high chairs is tour child's attraction and interest to it for your child to sit and eat.
Other Considerations in Choosing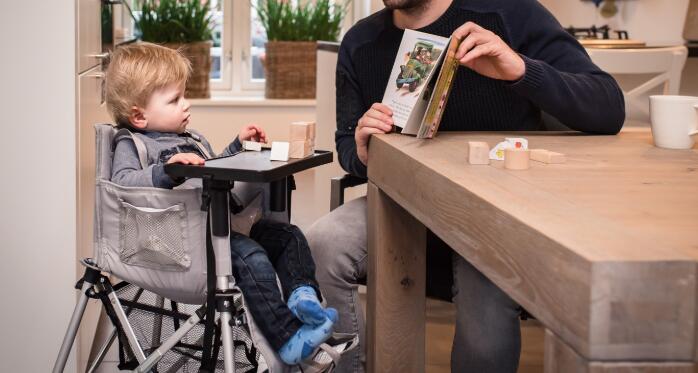 Look for safety stickers – As mentioned above there are several safety standards that should be taken care of while buying the high chair. Do not just go with what the storekeeper or the salesperson is saying. Make sure to check for the own safety stickers on the high chair. If you do not find them, you need to move on to other options. As an example, you need to look for the Juvenile Products Manufacturers Association (JPMA) certification seal on the packaging.
Easy to buckle and adjust – While looking for the perfect high chair for your baby, make sure you give utmost importance to the safety of the baby. Check the safety harness to ensure that it can be easily buckled and unbuckled. The safety harness should not rest at an awkward position for the baby as well. It should be adjustable so that the high chair can be used even while the baby is growing and you don't need to buy a new high chair simply because the safety harness would not adjust.
Lighten the Load – Avoid investing in heavy-load high chairs until and unless you are sure about it. If you are going to be using it during traveling, then it does not make sense to go for a large unit. Also if it can be avoided then do not choose a high chair which has many functionalities. You are probably not going to use them, and they are only going to bulk up the high chair.
Easy Clean Up – This point cannot be overstressed enough. Do make sure that the high chair can easily be cleaned up so that your baby can have a clean environment to sit an eat their food and you don't have to worry every time they spill something over. Check whether the material used is being used in a single file or multiple units. A single file will ensure there are no nooks and crannies for spilled food to be lodged. The seat and the harness should be easy to wipe clean or to be put in a washing machine. To ensure they have the maximum fun while having their food as do you.
What Are Tips in Looking for a Cheap Portable High Chair?
In looking for a fair price for a high chair your baby is not going to need forever, you must take into consideration the following:
• You're going to have to use it at a lot of gatherings, dinners, and social activities. Try not to be too thrifty.
• Your child won't use it anymore when he or she becomes more independent.
• More than aesthetics, the portable high chair you'll be buying must be able to serve its function in child safety and usability.
A cheap yet very usable portable high chair may be priced around $50 to $80. Your portable high chair may not be very much to look at, but you can at least make sure it has enough space for play and movements, sturdy frame, allows for proper balance and something that your child won't outgrow soon.
Best Cheap Portable High Chair –
Around $30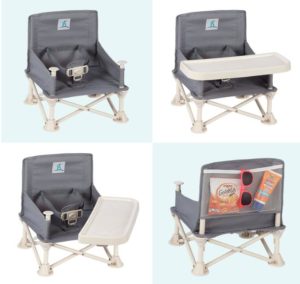 What Are the Features of the Best Portable High Chair?
With the mess and the fun of feeding a baby, you're going to need a portable high chair that is easy to clean. Besides, you have to check the frame, tray, and hardness of the high chair, if again, some parts are hard to clean.
An excellent portable high chair will have a comfortable padded seat. It must also include a good harness system that will keep your child in place even with those occasional tantrums. The crotch post being well-placed, a feeding tray that prevents food spillage, wide base for excellent stability and appropriate footrest – you and your baby will have good feeding quality time.
The ones that offer great value for your money are ones that are versatile, easy to maintain, safe and durable and best to carry during your trips.
You can take your time and weigh your prioritized features well. Just assure that your child is comfortable sitting on it because they're the ones who'll spend their times sitting on it.
Why Is a Portable High Chair Essential?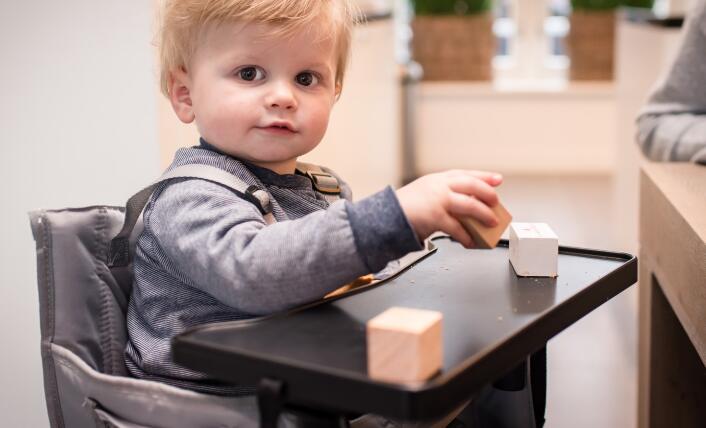 As a parent, you for one, know quite well how much your baby loves to eat at a frequent dose. With a portable high chair, your child is prepped up for a favorable eating posture. Not only does feeding take place in this piece of furniture, so does playing and napping and many memories you'll be fond of.
Through this gear essential, your child may be engaged in feeding activities, increasing the likelihood of developing other excellent hand controls early. This way, too, your growing infant learns to get encouraged to eat the food being provided.
Not only does your baby learn eating habits, he or she is also prompted to participate in socials during meals. It's convenient when you want to continue eating and other side chores, while you are feeding your baby. Your baby can join everyone else in the table during the interaction, promoting healthy habits later on.
Studies have shown that putting a baby up in a highchair speeds up a baby's development – their motor skills improve environmental processing due to a new exposure.
If your child has recently been disinterested in food or distracted during mealtimes, a reclining highchair can get your child engaged in food again.
Best Portable High Chair Brands Comparison
There are many brands of the portable high chair and, of course, everyone claims that it owns the best product. There is a list that may help you choose the one that is perfect for your baby.
1. Chicco Portable High Chair
360 Hook on Highchair Scarlet.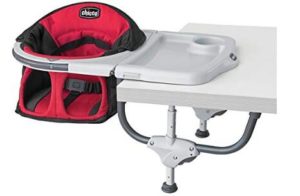 It is a model that is easy to pack, unpack and store.
Description: This hook-on chair offer an interactive am happy mealtimes by its innovative seat that may lock in 6 positions. The baby may be faced out to allow others to socialize with him or maybe faced toward mom for feeding. For regular mealtimes with snap-on tray, face the baby toward the table.
The seat pad is a washable fabric, and the tray is dishwasher-safe. This hook-on chair has rubber grips that clamp to table quickly and securely. It can be folded compactly and come with a carry bag.
Chicco 360 is great for using at home, at the restaurants or picnics.
Notable features: the snap-on serving tray, the innovative 6 positions seat, the dishwasher-safe tray, and the fabric seat pad is hand-washable, the quick and secure attachment with rubber table clamps.
2. Fisher Price Portable High Chair
Healthy Care Booster Seat.
It provides the perfect place to eat from newborn babies to older kids.
Description: You can take it wherever you go since this booster seat folds compactly. Has a snap-on lid so that the tray clean until the next use of it. It allows for a custom fit to any table with its three height adjustments. Also, the seat straps can be adjusted so that this portable high chair will fit any adult chair. Furthermore, the three-point harness is adjustable. The seat won't trap crumbs. With a carry strap, you can take it anywhere since the booster folds compactly.
Essential features: Booster folds for easy portability, a snap-on lid protects the feeding surface, has an easy-clean seat and tray can be removed for an older child, has an adjustable three-point harness and also three height adjustments, it can fit any chair and has adjustable shoulder straps that make it easy to carry.
3. Phil and Teds Portable High Chair
Lobster Portable High Chair.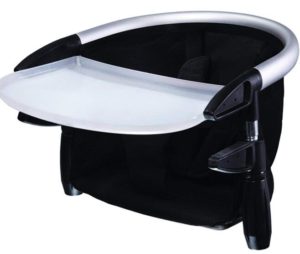 This one is super lightweight.
Description: It attaches super easy and fast to the table. The clamps have rubber grips. Of course, there's a safety harness. It's light and packs up nice, and flat so easily it travels with.
Important features: It attaches totally safe and secure to table with two clamps that have rubber grips. It is quick and easy to clean up. It's light and packs up nice and flat.
4. Summer Infant Portable High Chair
Deluxe Comfort Folding Booster Seat.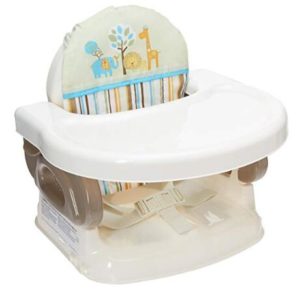 A convenient, comfortable solution for eating at home or on-the-go.
Description: Can be used as a highchair and also to get the baby to eat at an adult table. It is perfect for travel for its compact folding, and the cover is machine washable. This definitely provides comfort.
Important features: This baby feeding seat with tray can be transformed into a booster seat for a toddler. The height can be adjusted for a growing child. The seat pad is removable and machine-washable. It has an ultra-compact folding design for storage and portability.
5. Inglesina Portable High Chair
Fast Table Chair
Right With You Side By Side.
Description: Comfortable and convenient for use at home, at the restaurant or while traveling. It is compatible with most types of tables, and it leaves them scratch free because of its simple, twist-tight couplings. Easy to carry because it collapsible and come with a carry bag. The tubes of the frame are covered with a wider fabric.
Important features: compatible with most types of tables for its twist-tight coupling.
It's simple, twist-tight coupling and its compatibility with most types of tables and the extra padded seat and its high backrest are making it very comfortable.
6. Easy Seat Portable High Chair
Cosy Cover Easy Seat.
Portable travel high chair and safety seat for infants and toddlers.
Description: It allows the baby to sit at the table while at home or the restaurant.
Important features: Five-point harness, flexible back with adjustable straps, quickly folds up and fits into the included carry bag.
Different Portable Seating Options:
Having your baby sit at the table is very important because the baby gets used to the habits, feels a part of the family and gets reassured by his parents. A portable high chair is a must-have accessory.
1. Portable High Chair
Babies can use high chairs when they can sit unassisted by themselves, and that's when they are around six months old. A baby who gets used to a table chair at home can adjust easier as well at a restaurant.
A portable high chair provides a safe place for baby to eat and is great for travel, for small living spaces or for taking out to restaurants.
Is it easy to set up? Easy to clean? Is the tray large enough? This is what you should be looking for at a portable high chair.
Best Overall Portable High Chair – Cosco Simple Fold High Chair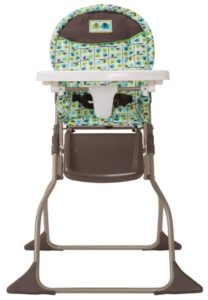 Features:
Easy cleanup
Compact shape with foldable design
Sturdy 3 point harness
Weight limit reaches up to 50 pounds
Sturdy, reinforced legs

2. High Chair And Booster Seat Combo
A booster seat high chair is a child seat that sits on top of your regular dining room chair. It offers many benefits over traditional high chairs.
It functions much like a high chair in that it provides a safe and secure seat for your child to sit in and also raises their height to table level.
A convertible unit that you can use it as a booster seat when your child is almost ready to join the adults at the big table, you'll get an extra couple years' worth of use.
Best High Chair And Booster Seat Combo – Evenflo Convertible High Chair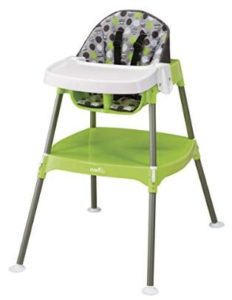 Features:
Perfect height for interactive feeding
Features three unique seating positions
Right size table and chair
Wonderful optimal seating environment

3. Hook-on High Chair
Hook on high chairs offer a lot of great features like saves space; they are easy to clean and, very important, they are portables. It comes with a carrying bag so that you can fold it up nicely between uses. Also, have a removable seat cushion take it off the high chair whenever your baby makes a mess.
Best Hook On High Chair – Inglesina Fast Table Chair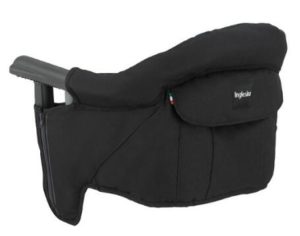 Features:
Perfect for both home and travel use
integrated travel-friendly carrying bag
Durable and washable materials
Convenient storage pocket

4. Portable Booster Seat
Booster seat high chairs offer many benefits over traditional high chairs. The purchase of a full-sized high chair can become unnecessary if the portable booster seat is designed for use with small babies. It allows your child to sit at the table during snack and meal times securely. Also, they are portable and take up less space, and not, at last, generally cheaper are than high chairs.
Best Portable Booster Seat – Summer Infant Pop and Sit Portable Booster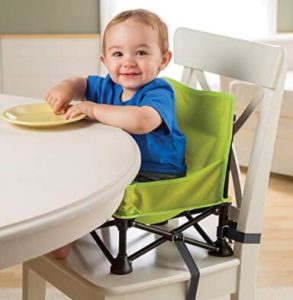 Features:
Lightweight and foldable for convenient use
Detachable and machine washable
3 point safety harness
Perfect for feeding or playtime
Maximum weight limit: 37 pounds

5. Chair Harness
When a high chair is not available, a portable chair harness is a perfect solution. You can take it with you anywhere because they are lightweight and conveniently fits in your handbag, purse or right into your diaper bag. Are quick and easy to install and have adjustable straps that secure the baby and accommodate his growing needs.
Best Chair Harness – My Little Seat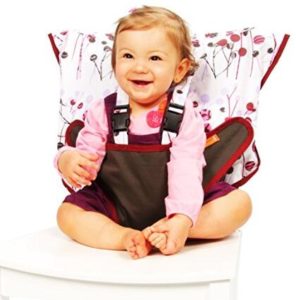 Features:
5 point harness
Modern and fashionable design
Detachable and machine washable
Easy to use for outdoor life

6. Foldable Booster
A foldable booster is like a mini camping chair that can fold flat and fold up to open. It the baby gives additional height because it can be installed on top of an adult chair.
Comes with a carry bag, folds flat and compact and it is made with light metal rods and fabric. It just pops out to open so is very convenient.
Best Foldable Booster – Brica GoBoost Travel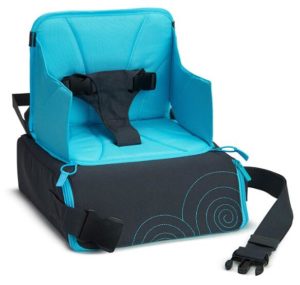 Features:
Sturdy and strong internal frame
Convenient storage for other baby stuff
Durable and easy-cleaning cloth
Fold up neatly

Portable High Chair vs Traditional High Chair
A traditional high chair used to be the only kind of high chair available in the market; they are made of metal, plastic or wood and doesn't have the features of a modern high chair. They are designed old-style and therefore doesn't have foldability and adjustability add-ons. They can't be transported and carried around, unlike portable highchairs nowadays. The seat height, tray height, seat recline, footrest height may not be variable.
However, their simple features make them cheaper than most modern highchairs.
Portable High Chair vs Travel High Chair
A portable high chair looks like an ordinary or traditional high chair, except that it has no legs but is strapped to a table or clipped on. While a travel high chair is a high chair with legs, but is more compact and is more transportable. It is excellent for travel, for small space living and an extra chair at a family event.
They are technically close to each other but differs minimally in weight, size, and ability to be collapsed.
Portable High Chair vs Fixed High Chair
The main difference between the two high chairs is their adjustability or portability. A fixed high chair may be mounted and not able to be moved around for position change. It may not also be adjusted as to the baby's height and the table's height. Meanwhile, for a portable high chair, this can be modified to fit a child's comfort needs.
Should High Chair Durability Be Considered?
Approximately, your child is seated in the air with a highchair by 3 feet. That is a considerable high place to fall from, and injuries may get serious for a young body. Saying so, we mean serious business when it comes to the high chair's durability.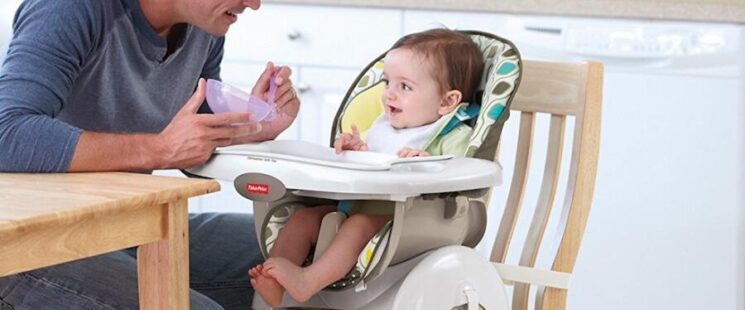 For highchair durability, the base of support must be broad enough, and several points touching the ground must be high enough, for a high chair to be prevented from being easily tipped over. Depending on the high chair material, the weight of the chair must also be fairly high, for it to add stability to it.
A top-notch model but with spindly legs may still be subject to the wear and tear of daily use; frothy plastic parts may eventually be given in on the forces by a high-spirited child. Choose a robust high chair for quality and long-last use.
Make sure you spot a solid high chair, that looks very sturdy and with materials not easily broken or detached. It is also a good move if you check reviews from other moms or dads, on which ones provided the best durable high chair. As they say, experience is the best teacher.
Should High Chair Safety Be Considered?
For moms and dads to be at ease when leaving a baby seated on a high chair, here are some guidelines in choosing the nest high chairs: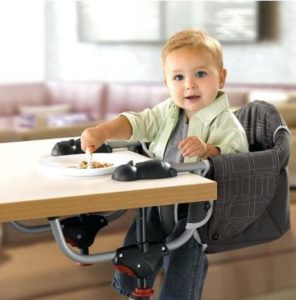 – Make sure your high chair meets safety standards, approved by a recognized quality assurance body.
– Legs should be wide enough to provide a good base of support and prevent easy knockouts but not too wide to avoid anyone tripping over it.
– If your high chair is made of plastic materials, make sure it's BPA -free materials and that it is safe. If it'd made of wood, check for a smooth finish and check on rigged edges.
– Some babies can be too exploring, and these excess movements can be dangerous when they're not strapped well. Make sure that at least, the baby is held by a safety strap across legs and lap and snugged at the middle. That is the least safety requirement.
– Make sure that the wheels of the highchair lock well. You don't want your baby suddenly disappearing.
– Hundreds of high chairs have been recalled in the past. Make sure you check product recalls.
– In addition, safety problems may include, safety harness that loosens on its own, trays that too easily detaches, pegs that stick out and causes cuts, wheels that don't have durable brake systems
What Are the Materials You Should Watch Out For?
As a parent, you must not expose your baby early into toxic materials. What they are exposed to is something they are not in control of yet. Try to avoid high chairs made of materials with BPA, PVC, phthalates, polyurethane foam, and VOCs.
Rather look for high chairs with silicone covers which are food-safe.
Try to look for highchairs with water-based paint or a block of less-toxic beech wood. Suitable materials also come in the form of low-VOC plant-based lacquer, cadmium-, lead-, bromine-free metals, and plastics.
Features And Advantages of the Small Portable High Chair
High chairs are baby gear essential to a baby growing needs and if they are small and compact, even better. With a small portable high chair, it is easier to participate in social life, to go out, to eat.
Usually, they are designed to be easy to clean. Even safety restraints are easily cleaned. Furthermore, the trays are stain resistant and removable and dishwasher safe.
Some models include reclining seats for infants under 6 months and other a 5 point harness system to keep your child safe.
Usually, the portable high chair is adjustable heights to grow with your child.
Best Small Portable High Chair – Fisher-Price SpaceSaver High Chair

Features:
Only half the size of a normal high chair
Compact for small space use
Removable seat back&tray
5 point harness

Benefits of Portable Table High Chair
The moment a baby can sit up on his or her own and starts to eat solid foods. It's also a perfect moment to engage the baby in social feeding activities. The portable table high chairs are designed such that the child can comfortably sit at the table to enjoy eating. While it is best for traveling, it can also be used as an everyday solution.
Clamp the portable table high chair onto the table and allow the baby to eat off the table with adults. Usually, a portable table high chair folds down into a super compact form, and this is allowing you to take it with you whenever, wherever.
Additionally, the portable table high chair has grips that can be securely fastened with ease and these grips are made of materials that don't mark the table. The covers are washable and, for most of the models, the seat pad can be removed for easy cleaning. Safety is of the utmost importance when it comes to all baby products so you'll have to look for the harness that your seat comes with. The portable table high chair usually come with a 3 to 5 point system which provides optimal safety levels.
The portable table high chair has been designed to fold up and install , and some even come with their own handy travel bag.
Best Portable Table High Chair – Toogle Hook On Chair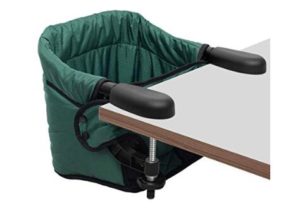 Features:
5 point harness structure
Storage pocket and foldable design
Non-slip plastic arms
Easy to install
Environmental friendly fabric

Features of Hook on Portable High Chair
This type of a high chair can be clipped on a table, otherwise known as table chairs. These are very lightweight (easily kept on a bag), and foldable. The adjustable arms that are usually screwed to tighten are what is clipped into a table or an extra tray, allowing your child to sit immediately next to you. They are less costly than standard high chairs and also free up space if in eight quarters. One thing that may be its downside is that it may not well-adapt to all kinds of chairs if the chair attachments are either too thick or thin.
It may not have a tray, but the table where it is attached serves as its tray. But it may not be very recommended for traveling because you don't know what type of table you'll come across. If by some misfortune, the table is not compatible with your hook on a high chair, you'll end up carrying your baby in your arms for the rest of your travel meals. The same ones are not very good for glass or veneer wood tables due to scratching.
With a hook on the high chair, your baby dangles in mid-air with dangling feet. This might well be used in the early infancy of your baby when he or she is not yet too heavy to be suspended with only a clip to your dining table.
Hook-on Portable High Chair – Chicco QuickSeat


Features of Booster High Chair
These are very usable for ages 18 to 24 months and is usually attached to a chair. They too are very easy to carry around. The times your baby has to sit with you in the dining table but is unable to do so because of height, this will boost your baby up to level with you. It's essential for it to be anti-slip rubberized at the bottom to increase safety features. It is a quick setup that is also handy during a family holiday or a dine-out.
This is best for the young ones who have grown out of a high chair but still needs support for reaching and some additional stability help.
A Booster High Chair is suitable for travel, because other than being strapped into a chair, it can also be used on the ground – that would be very great if you miss camping out. And you don't need a regular chair to make it possible. With a multi-purpose tray, it can be made into a play table, having your child steadied even when playing. It doesn't take up too much space, so it's easily carried around in a bag.
Just remember to assess your child thoroughly if he or she is already in possession of good body control before being seated in a booster high chair.
Foldable Booster High Chair – Ingenuity SmartClean ChairMate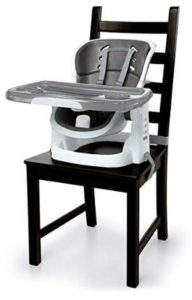 Safety Tips on Using Portable High Chairs
A high chair can be, but you should inspect it to make sure it is really safe.
Every time you put the child in the high chair make sure the safety harness is fastened correctly and the straps are secure when buckled
Check for stability, and that locks work properly, so the chair doesn't move around while being used.
Check for any sharp edges or protrusions and make sure the child's fingers do not get caught when you adjust the tray.
Supervise a child in the high chair at all times and make sure that can't slip out of the chair.
Use the high chair in a safe place where the child is at least 50 cm away from hazards such as the stove.
Should I Choose a Portable High Chair With a Tray?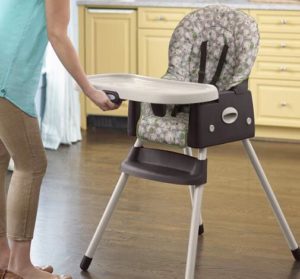 A removable tray that can be adjusted is very useful. Besides eating, the tray can also be used as a play table. For this reason, many parents recommend a portable highchair with tray not only for family trips but also for everyday use.
Some portable highchair will come with a tray, or the dining tray can be bought as an optional extra.
Usually, if the portable highchair comes with a tray, this can be easily removed and can be inserted into the dishwasher for easy cleaning. Also, on some models, the removable tray can adjust to different positions.
If the tray is removable, the highchair should have a bar to prevent the child from falling forward when it is removed.
Which Restraint Type Is the Best?
A high chair harness is one of the essential add-ons on a high chair. Even without another external support or barrier, with a safety harness or restraints, your baby will sit just fine. These come in two varieties: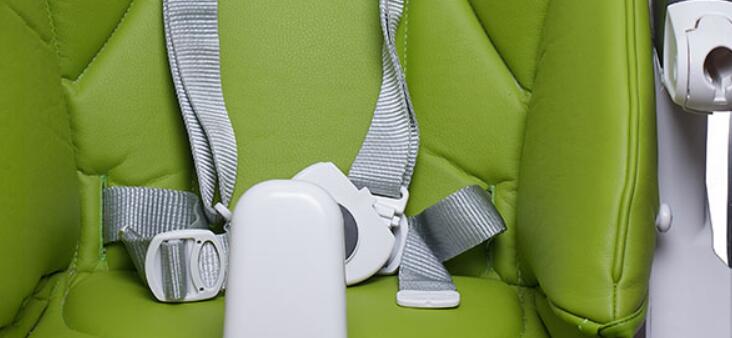 FIVE POINT HARNESS
This is the most recommended type of harness because it provides the most security to a child's placement. Two straps go down from both shoulders, two came around the waist, and one is from between the legs – all straps meeting at the center to be buckled into a safety
THREE-POINT HARNESS
This type of harness only gives stability to the lower part of the baby's body. Unlike the five-point harness, which has straps coming down from the shoulders, it only has 2 straps from the waist and another one from between the legs, summing up to three. If your child has a history of overactivity, better choose the five-point harness system.
This restraint measures should come with the guideline that the straps must be adjustable to fit your baby as they grow and allow for longer highchair usability.
What Ages Are Appropriate For Portable High Chair?
A high chair is ideally used by an infant from ages 6 months up to 4 years of age. That would be a 37-pound limit.
How to Choose a Portable High Chair For Restaurants
A portable high chair is designed to be used outside the house as something you would bring to a restaurant. Usually, the restaurants have high chairs that are suitable for infants, and booster seats are great for toddlers.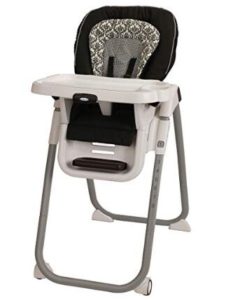 Whether it is a wrap, hook-on chair or booster seat, a portable high chair suited for restaurants should be lightweight, compactly folding and easy to install or fold, and also should have at least 3 points safety harness.
Each design has its own advantages. But you should know that any travel seat you choose, it won't fit absolutely everywhere.
A wrap design portable high chair attach to almost any chairs and is very simple to use. Only depend on a solidly backed chair being available. The problem can be that the child is not boosted up at all, so they may have issues reaching the table if they feed themselves.
A Hook-on Chair attaches to a table with rubber handles that tighten and cling to the table. It only depends on a hard and stable surface to be connected to.
Booster seats are also very easy to use, are foldable and only depend on a solidly backed chair is available to be attached to. Some models have retractable legs, and this is important due to different table heights.
How to Introduce a Child Into Sitting in a High Chair?
For starters, you must expect some drama. As for most new things introduced to a child's experience, they get a little uncomfortable at first and cause some hysteria.
There are points you have to tick off first before knowing that your child is ready for a high chair:
– Is your baby able to sit unsupported?
– Is head control mastered?
– Does he or she express interest in food and in what you're eating?
– What type of grips are done well by your baby? Pincer? Three chucks? Or still, hook?
Generally, 6 months is when your child is ready for solid foods, in a slow manner intro, when their digestive systems are also prepared for it.
One good tip in early high chair training is to give your baby child his or her favorite food or treat when seated on the chair to enforce positive reactions even with a harness on. Avoid toys in the dining table so as not to distract your child from the food that needs to be consumed.
How to Dine Out With Your Little One?
With a portable high chair, dining out on your favorite restaurants is made possible even when your baby is not yet able to sit or eat on one's own. A highchair specifically for your baby may be transported easily in and out of the restaurant, and it may also decrease stress and disorder during your eat out.
The following are additional bits of help on how to dine out with a child (especially younger ones):
Survey the restaurant beforehand. Check with your friendly neighborhood families where they frequent or if food for your kiddo is up on the menu. Fancy restaurants must be avoided if possible, rather choose one that is used to some noise and mess.
Check to see if the restaurant has enough space and accommodation for a stroller and your baby. Some restos have staff that caters to you and your baby's needs, being a regular at one would increase your familiarity with the waiters, so they know how to assist you.
Get a head start by going in ahead of most resto goers. This way, you'll avoid the crowd that may set a bad mood if your baby goes out-of-ordinary wild. Being early makes more staff available to assist you also.
Expect little bouts of chaos. Although this isn't what happens all the time, you just have to prepare, just in case. Babies may sleep for long periods, but if your child is a toddler, it gets a messier. One thing to keep in mind is: if things get out of control, be prepared to leave.
You may bring with you a leak-proof sip cup, a bib that's easy to clean, a cloth cover (swaddle) for breastfeeding or other emergency use, changing pads and nappies and extra snacks for some unexpected service delays.
Sit on an area with a good view; usually, that would be near a window. Children tend to prefer going near pretty sights, sometimes without their parents' consent. To avoid this and get one step ahead, locate a good spot and keep your children intact and occupied with the smart seat choice.
A child's impulse control may not have been at its peak yet. This means they could get a little fussy after 30 minutes of seating. To hit the refresh button on them, being behaved, take them out for a walk or a comfort room break to get those energies out and then take them back to the table.