Baby swing rocker mimics the way mom soothes a fussy baby, it also serves as an entertainment device to delight the little one. Instead of a baby rocker, a baby swing and rocker combo has long use time. And that is one of the reasons why large majority moms choose it.
Apart from basic using items such as weight capacity and safety. Price, function, smoothness, and power source are also vital considerations.
But, what else?
Well, go on reading and you will get experts guides on choosing.
Also, there are 7 best baby swing rockers we have picked out for you.
NOW, let's start.
What Is Baby Swing Rocker?
Baby swing rocker is a combo of swing and rocker. A rocker is a baby machine used for soothing babies. It moves manually by parents, two arch sticks are set below to support whole baby rocker.
From front to back, it moves as if you are sitting on a wooden horse. With such gentle motion, the baby will feel great joy, and it also helps to tighten the relationship between parents and babies, while both of them have fun during the whole time.
Normally the full size baby swing is designed to be swing and rocker combo, the swing seat is hanging with sturdy structure. Because of their large sizes, they can hardly be moved from room to room.
Then you can remove the rocker part down, and the compact and lightweight rocker enables you to bring it any room you want, which is super convenient for you to do your own business while still keep an eye on baby's safety.
7 Best Baby Swing And Rockers Combo of 2020
Best Baby Swing Rockers Reviews
1. Swing And Rocker Combo – Fisher price 4-In-1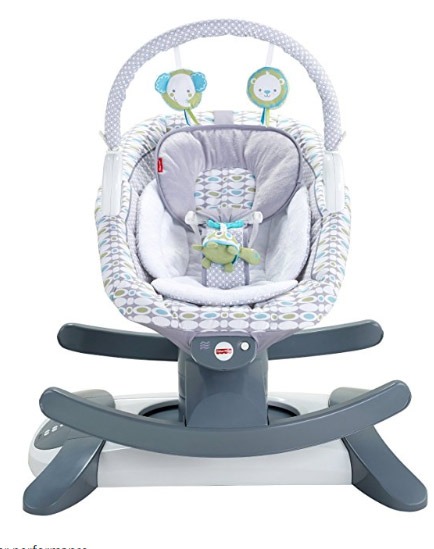 This machine is a rocker and swing combo, there are two types of swing motions, both from side to side like a cradle and from head to toe like a glider. Therefore, it is a 4 in 1 rock'n glide soother. The swing seat is easy to be removed, you can just pull the lever below the seat and then it changes into a rocker.
No matter what you are doing or which room you are in, you can carry it conveniently with you. 6 speeds from low to high motions can be adjusted for fitting your baby's preference.
When it changes into a rocker, it is unable to swing automatically, you need to swing it from head to toe manually. But there is a vibration set, two modes of vibrations can be chosen, there is no big difference between the two modes though. With such a removable rocker, you can easily play with your baby or coax him or her into a sound nap without feeling exhausting.
Once it serves as a swing, it is unmovable and unfolds, so it takes up much space in your house, but the plug-in option does save a large sum of money on battery. Ahead toy bar can be removed away. If the baby is feeling tired and wants to sleep, you can play the natural music and coax them into a sound sleep with a gentle swing.
Pros:
2 gliding motions
Easy start/stop
Portable rocker seat, rocks 2 ways
Optional calming vibrations
2 position recline
Soft fabric
The seat is deep and no issue with head support
Easy to assemble
12 tunes and 3 soothing nature sound
Cons:
Require 1D battery for calming vibrations
Adapter for most of the times

---
2. Best Baby Rocker – Fisher Price Infant-to -Toddler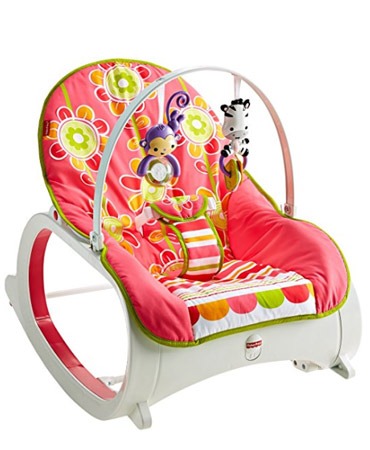 This cannot be classified into a baby swing rocker strictly but is a single rocker. From the name of such a series, we can see the using time of the rocker machine is extremely long, from infant to toddler. The maximum weight limit of normal baby swing rocker or a baby swing is only 30 pounds, once the baby tries to climb out, the machine needs to stop using.
The toy bar is set for a small baby like a newborn or infant, they are able to touch the hanging toy with hands, which gives them great joy. When they grow large enough, you can remove the toy bar away and even a large baby can enjoy the rocker themselves.
There is no need to worry about the safety, a kickstand is set on the back of the rocker, so it gets into a stable position easily with the kickstand. The seat pad is machine washable and is easily removed.
3 point harness keeps baby secure. It weights light, so you can move it anywhere you want. The compact design of it saves much floor space and is perfect for small space using. But as a portable pure rocker, it lacks music options, and one needs to rock it manually to make it move from head to toe.
The calming vibration setting gives the baby a gentle and smooth feeling but is powered only by the battery. So you may need to change battery constantly.
Pros:
Adjust to a stable position with kickstand
Calming vibration
Bat-at toys stimulate baby
Removable toy bar grows with baby
Machine washable seat pad
Use from infant to toddler
Not lead to a flat head syndrome, the baby is able to wiggle and move the head from side to side
Cons:
C battery only
Manually rock only
unfold
No music

---
3. Baby Girl Rocker – Graco Duet Oasis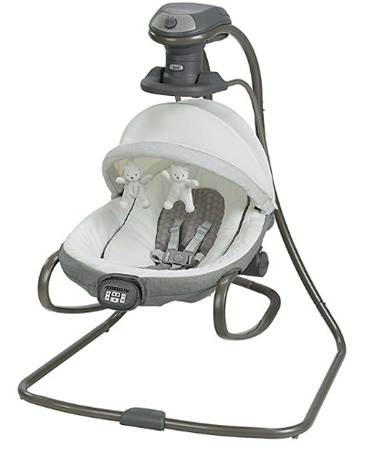 This baby swing rocker makes the baby feel more secure and warm with the decorated canopy. The full size baby swing takes up much space with its strong supporting legs, therefore, once assembling, it is hard to move around easily. The rocker seat is movable and portable, it can be moved away easily and conveniently. The canopy and toy bar is linked with swing seat, so they can still entertain baby when used as a rocker. There are two modes of vibrations, you need to choose one according to your baby's preference.
The seat is set not far from the ground, so it may be tough for parents to put the baby down. When it serves as a rocker, it moves only from head to toe but not from side to side. But as a full size baby swing, it has ten soothing settings, including Car Ride, Heart Beat, Lullaby, Stroller Ride, Playful, Twinkle, Waves, Raindrops, Wind and Bells. So you can choose the most suitable one to soothe your baby.
Plug in setting saves much money on buying the battery, battery operation is set for controlling vibration. All the seating pads can be removed and are machine washable. There is an infant insert inside the baby swing, but we still suggest you put another body and head support if you think it so thin.
Pros:
Plugin/battery
10 soothing setting
Removable rocker seat
Easy carry
2 incline position, 3 sitting position
6 swing speed
Side to side, head to toe
Cons:
Vibration use battery only
Take up much space
Short use period (maximum weight: 18 pounds)

---
4. 2 In 1 Swing And Rocker – Graco Duet Soothe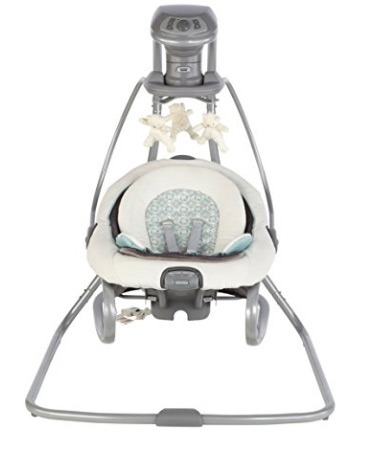 This is another baby swing and rocker combo, the baby swing seat is hanging and is able to move both from side to side and from head to toe. There are two recline positions, you can adjust them based on actual use and situations. The full size design makes it unable to move around and take up much floor space. If you need to carry it away, just put the seat down and it turns into a rocker. The battery is used to control the vibration on the rocker, but it can not rock automatically, one needs to move it manually.
It only rocks from head to toe, 5 point harness keeps baby safe all the time. It has three seat positions, you can turn it right, left and to the center. If the baby is tired of playing with the toy ahead, you can play insert music for him or her. All together 15 songs and sounds can be chosen.
Plug in option can be used for indoor, when plugging it into the wall, you can save much money on batteries. But the battery is still used for controlling the vibration, two vibration modes can be set in suiting the baby's preference.
Pros:
3 sitting positions
2-speed vibrations
6 swing speeds
15 songs and sounds
Plugin /battery
Cons:
Toy ahead not rotate
Heavy, not easy for carrying

---
5. Portable Baby Rocker – Graco Cozy Duet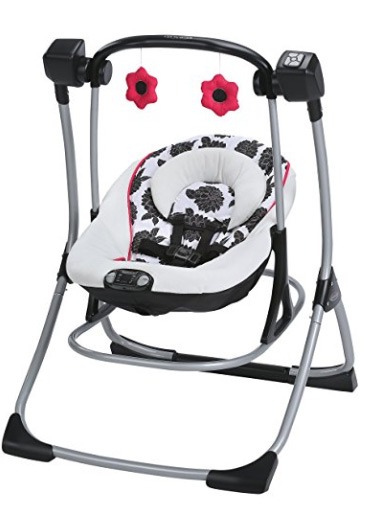 The small footprint of the swing machine is able to save much space for you. Unlike full size type, this is portable and is easy to carry around. It swings from head to toe gently.
The seat inclination cannot be adjusted, it holds baby upright, therefore is suitable for an infant with reflux. The seat is designed deep, 5 point harness keeps baby secure. Plug in option is perfectly used for indoor and helps save money.
If you need to carry it around to another room or to keep it close with you, you can get the swing seat down and use it as a rocker. Two hanging toys interest baby visually while you rock it from front to back. There are five songs including natural sounds to soothe them down quickly.
Compared with other types of infant swings, this is super easy to assemble, it only takes us about 15 minutes to put it together by oneself. It is a rather simple operation baby swing rocker with basic swing function. So it can be a good one for you if you lack enough space and budget.
Pros:
Plug in or battery
Used as rocker
Space-saving, small footprint
Easy to carry
5 songs and sounds
2 vibration
Easy to assemble

---
6. Best Rocker For Baby – Ingenuity Twinkle Teddy Bear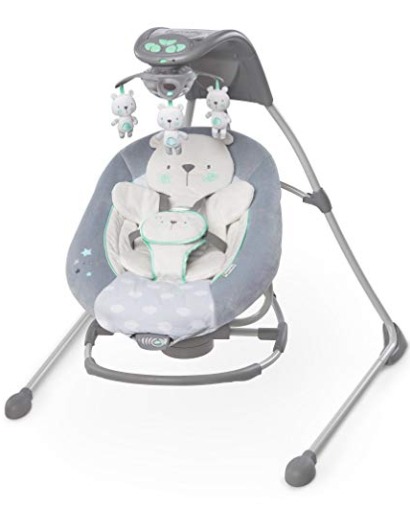 This baby swing and rocker combo are quite the same as the Snugapuppy series of Fisher price. The overhead toys hanging around to attract the baby's attention. Lightning design of the control panel gives baby great joy. You can move the seat down to use it as a rocker, rocking it from head to toe.
Because of the lightweight and compact design of the rocker, you can carry it close with you no matter what you are doing. Sturdy base and 5 points harness to keep baby safe all the time.
As the whole baby swing is designed into full-size type, it does occupy much floor space and is not suitable for small space family. But the portable rocker can be a good helper, you can even use it outdoor with battery.
There are songs and sounds insert but are also able to connect with a phone with Mp3 plug in, if your baby has a song of his or her preference, you can play with your smart device to calm the baby down.
All the seat pads can be removed and are machine washable, you can just throw them all into the washing machine, and take your time to relax with your baby. For newborn babies, you had better put extra head support inside.
Pros:
Swing in multiple directions
Inlighten design
Mp3 and phone plug
Easy to move
Rocker and swing combo
Plug in and battery operated both
Cons:
Take up much space
Not portable
No head support
Music lasts a short time

---
7. Best Modern Baby Swing – Ingenuity SmartSize 2-in-1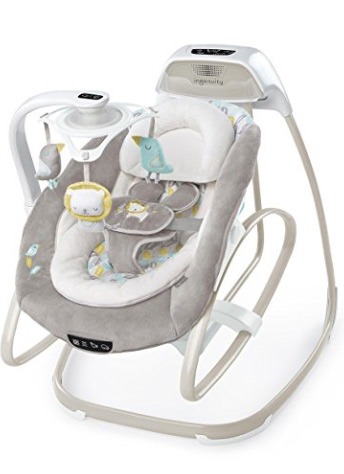 Compared with other full size baby swing rocker, this one adopts the compact design to save about 30% space. But surely it is still not as small and compact as the portable one. It has a plug-in option only, which means it can be used mainly for indoor swing. If you want to take it out, just turn it into a rocker by putting the seat down. The portable rocker enables you to carry from room to room and stay close with you, so you can always keep an eye on baby while doing chores or eating.
It has Mp3 plug in to connect your phone with swing machine, you can play music or even video with your phone easily. 2 recline positions can be adjusted for different needs. The seat rotates 360 degrees so it can swing from side to side and from head to toe. 3 rotating cute toys and a light beam attract the baby's interest while using.
3 automatic timer settings control the machine on and off automatically. The machine is quite heavy, it is equipped with two wheels for moving. But because of the heavyweight, the wheel cannot be rolled easily. So once assembling, it needs to stay where it is for most of the time except the rocker part.
Pros:
Compact design takes up 30% less space
Two recline positions
Connectome for customizable music, pictures and videos
Light Beams electronic mobile
Plug in
Seat easily rotates 360° to 4 different swing positions
3 automatic swing timer settings and 2 adjustable recline positions
Pad washable
Cons:
Still take up much space
unfold
The wheel is not easy to roll
The machine is quite heavy

---
Why Use a Baby Swing Rocker?
The same as baby swing, a baby rocker is also not a necessity for each mom and each baby, so why use a baby rocker?
As a mom, you must have the time when you are busy coaxing your baby into sleeping and have no hands and space for eating, your house is crowded with mountains of baby's dirty stuff but you have to carry your baby all the time and have no time to wash them. When you want to take a bath, you place your baby on the bed but he or she is constantly crying.
So that is the reason why you need a baby rocker, it is a lifesaver, a relief and a great helper. It frees your hands and makes you have more time to do your own business. With a baby swing rocker, you can put the baby in and carry it close with you. Even when you are taking a bath, you can put it in the bathroom.
When the baby is still in mom's belly, it moves around with the flow of amniotic fluid, so the swing and rocking motion give the infant feeling of secure. Therefore, using a baby swing rocker is actually a good thing to make them better adapt to the new surrounding environment.
Difference Between Baby Swing And Rocker
The baby swing moves from head to toe and from side to side automatically with an electronic machine. It is normally powered by a plug in or battery. For full-size baby swing, it can be powered by a plug in and battery both, for portable infant swing, it is mostly powered by a battery.
On the contrary, a baby rocker is basically powered manually, one must rock it with hand or foot and it moves from head to toe. Some of the rockers are equipped with music and vibration settings, so they need to use the battery as power.
The main difference between baby swing and rocker is their moving motion and moving power. The other thing needs to mention is the size, a baby swing can be large especially for full-size type, it is hard to move once assembling. While a rocker is normally portable and easy to carry. Its compact shape and small design save much floor space and are perfect for small space.
Advantages of Baby Swing Rocker over Rocker
2 in 1 type, using less money to buy multiple functional baby machine
More functional with a baby swing, more portable with compact baby rocker
Plug in setting saves much money on buying battery
Give baby different joys the same time
More music option to soothe baby down
Which One to Choose, Swing Or Rocker Or Both?
Baby swing uses electronic power, while baby rocker uses manual power. On choosing, you can determine by your own preference. If you want something more convenient, then you can choose baby swing or baby swing rocker combo, both of them powered by adapter or battery, so you will have more extra time to do your own business, no matter you want to eat, have a bath or just sit down and watch a TV program.
If you do not have enough budget and are willing to get more intimate joy time with your baby, you may choose a baby rocker, it is more space-saving and portable, and is, of course, a lot cheaper than a baby swing or a baby swing rocker.
2 in 1 type is sure to be more cost-effective because you can buy two products simultaneously with low price, and it gives multiple choice on you and baby, making it not only a place to have a nap, but also a place to have fun.
In conclusion, three of them have their strengths and shortcomings, one should choose one's budget and actually using.
Our Choice on Baby Swing Rocker…
Actually, each of them functions well and owns their special strengths and features, but we like the Graco Duet Soothe Swing and Rocker-Winslet mostly.
This machine is designed to easy to operate and provides a basic function of both baby swing and rocker. The unisex design makes it perfect to be used for both baby girl and baby boy. And it is super easy to put rocker up and down, just pull the lever and it transfers from swing to rocker. Plug in and battery operation enables us to use both indoor and outdoor. Seating pads are removable and machine washable, which can be a great relief to moms and dads.
If you intend to get more knowledge on the price or other information, please feel free to check on Amazon by clicking the button below.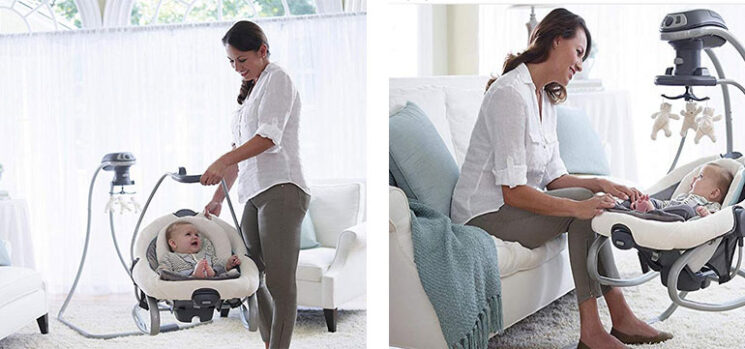 ---