Most the portable and full-size baby swings have vibration mode to soothe baby, it intimates the way that parents coaxing and soothing baby in real life.
However, most full size vibrating swings are powered only by battery even if you plug the machine into the wall. It can be divided into single vibrating baby swing, vibrating rocker, and vibration bouncer.
Here we will give you detailed reviews of the best vibrating baby swing in 2020 during the whole baby swing market.
What Are the Best Vibrating Baby Swings of 2020?
Best with Vibration Mode – Graco Simple Sway Baby Swing  — Rating: 5.0
Best with Glider – Graco Dream Glider Gliding Swing — Rating:4.8
Best Portable For Travel – Fisher-Price Take-Along Swing  — Rating: 4.8
The Function of Vibrating Baby Swing
When parents are soothing baby in real life, they slightly vibrate and swing in different directions, thus the motion of vibrating makes baby feel cozy and relaxed, just as lying in the arm of mom all the time.
Apart from soothing baby, vibrating baby swing is also an important tool to free mom's hand, you can have more time doing something of your own, such as cooking, washing or even taking a short shower with it.
Do a Vibrating Baby Swing a Necessity?
As I said before, the baby enjoys the motion of vibrating greatly especially when they are fussy. It is not a necessity of course, but with a vibrating baby swing, you will have more time and energy to better take care of your baby.
Hugging baby for a long time can really be a tiring thing, apart from hugging, you still need to swing and vibrating. Therefore, owning a baby swing with a vibrating seat can be a good helper for you.
Best Baby Swing With Vibrating Reviews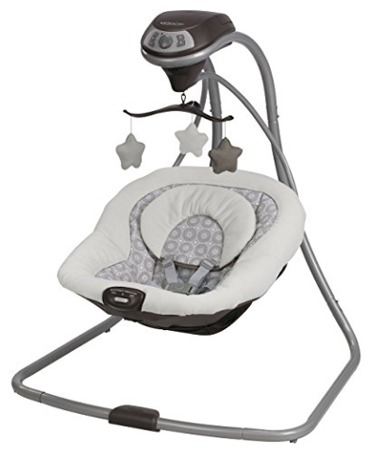 Weight limit: 5.5-30 pounds
Recommendation Rate:

This one is a simple type of baby swing that also vibrates, 2 vibration modes can be adjusted, and are powered only by battery. It has 6 swing speeds, 15 songs and sounds inserted. The head support can be removed and the seat pad is made soft and breathable.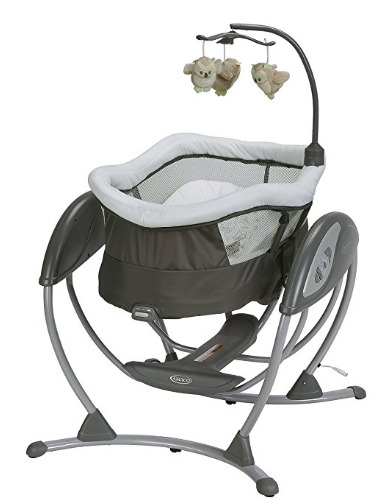 Weight limit: 5.5-30 pounds
Recommendation Rate:

It also has 2 modes of vibrations, 2 recline positions can be adjusted. It has 10 songs and 5 natural sounds, when used for indoor, you can just plug it in the wall to save the battery cost. It glides from front to back, and has 6 gliding speeds, 3 hanging toys give baby great joy visually.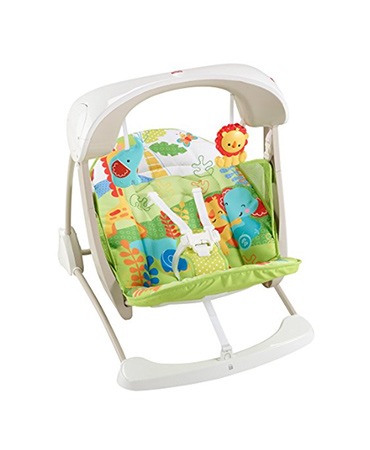 Weight limit: 5.5-30 pounds
Recommendation Rate:

This baby swing is a portable type, but also has vibration modes, it vibrates slightly to calm the baby down. The whole swing machine runs on battery only, making it suitable for outdoor or travel use. It has 6 swing speeds and 10 tunes with natural music. The seat pad is made super cozy and soft. Its small and compact size really saves much space at home and is a brilliant one for small space family.

---
All the above three recommended baby swings are single vibrating baby swings, which means they can be used for infant swing only. But if you want one with multiple functions, there are also 2 in 1 or 3 in 1 one you can choose. Here we offer the best baby swing vibrating bouncer or rocker reviews:
Best Baby Swing Vibrating Bouncer Reviews in 2020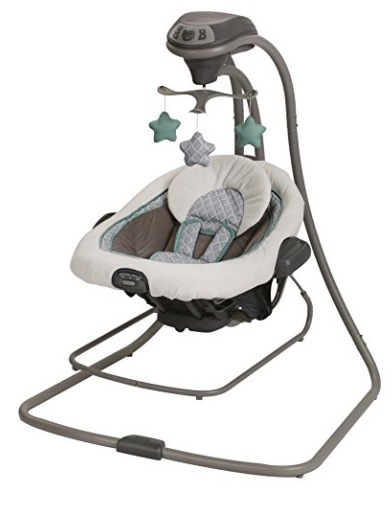 Weight limit: 5.5-25 pounds
Recommendation Rate:

It is a baby swing and bouncer combo. The vibration setting is set on the swing seat, 2 modes can be chosen on the baby's preference. It has 15 songs and sounds inserted, and 6 swing speeds you can adjust. The seat is quite deep and comfortable, 5 point harness keeps baby safe in using. The seat pad is quite soft and easily clean. Plug in operation saves a lot of money on battery costs. If you are finding the best baby swing vibrating bouncer, this is the perfect one.

Best Baby Swings Or Vibrating Rockers Reviews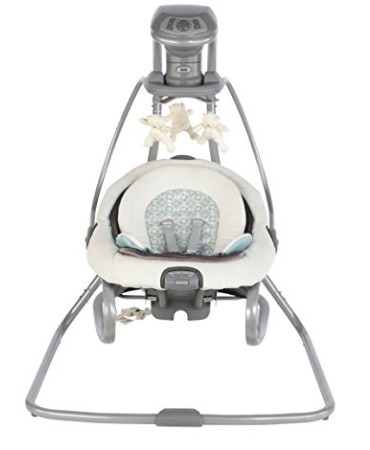 Weight limit: 5.5-25 pounds
Recommendation Rate:

This baby swing combines swing and rocker as one, 2 vibration speeds can be adjusted. It has 15 songs and sounds, and you can also adjust swing speeds from six modes, portable rocker enables you to move it around. The seat pad is really cozy and is machine washable.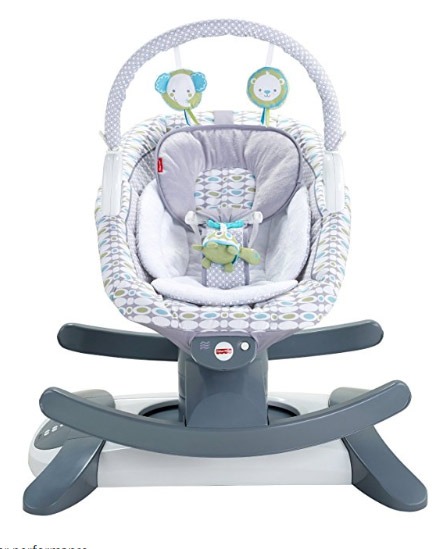 Weight limit: 5.5-40 pounds
Recommendation Rate:

It combines the function of rocker, glider, soother, and swing together, known as 4 in 1. There are 12 melodies and 3 natural sounds you can choose. Cozy and soft fabric makes it a comfortable place that baby would like to stay. The seat pad is machine washable by the way. The rocker part is portable and removable, it rocks with manual power, from front to back. As a full size baby vibrating swing, the battery is needed still to control the vibration mode, but it can be used for a long time.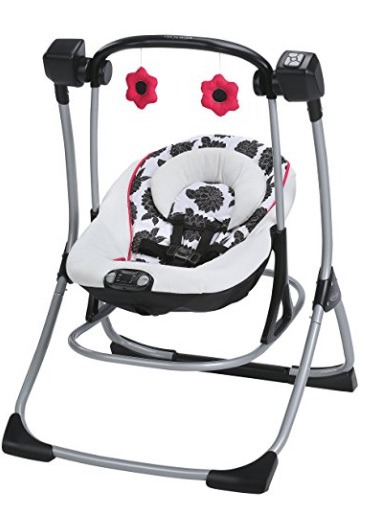 Weight limit: 5.5-30 pounds
Recommendation Rate:

It is a baby swing and rocker combo. 2 vibration modes can be adjusted. 5 songs and sounds inserted, plug in and battery operation are both available. Lightweight and sturdy structure. Small footprint saves floor space.

Tips on Choosing Best Vibrating Baby Swing
1.Vibrating frequency and speed
For a newborn baby, the brain is a fast-developing part. Hard shaking can do lots of harm to infants and may greatly affect brain development. Therefore, vibrating speed and frequency should be not so fast. But too slow vibration is unable to soothe baby effectively. Therefore, choosing a suitable vibrating speed is quite important.
2.Multiple Vibration Modes
Multiple vibration modes are sure to give you more choice to choose one baby enjoys most. Normally there are two vibration modes set on baby swings. One is slow while the other is faster, with different vibration choice, mom is able to get the most suitable speed.
3.Detachable
Most baby swings combine rocker and bouncer together, known as 2 in 1 or 3 in 1 baby swing. Before choosing, parents should know whether the vibration modes can be used on both types. When it is used as a floor rocker, can the vibration mode still available? A floor rocker or bouncer is normally moved manually, it is still rocked or bounced by the motion of mom or baby. Therefore, if vibration mode is also available on it, it can be a good helper.
Benefits of Using a Vibrant Baby Swing
The baby swing is one of the best alternatives you can go for as a parent, as they come in various types for calming a baby as it provides a comfortable and safer place that you can place your fussy baby whenever you are needed to get a few things around done.
The use of a vibrant baby swing is advantageous, unlike laying the baby in the bed or using a chair as it has straps that prevent your baby from slipping and is also essential in keeping the baby comfortable as he grows.
Most baby swings deliver a relaxing condition that is important in soothing the baby. Moreover, there are add on toys that come along with the swings, for example, plush animals that are hanging, motorized mobiles and spinning light projectors for further entertainment. Lastly, this machine is very easy to operate and is top alternatives that can guarantee the best service to your baby.
How to Choose Suitable Levels of Vibration
Before buying any given kit for the baby, always consider the prime purpose of this product is to calmer the baby with ease and then ponder the presented space you are having at home and the cost of the product.
You may be seeing equipment that can be moved easily from one place to another, fit into the available small space or a product that features many types of whistles and bells or some product that entail limited features. As well for you, it is vital that you look at structures that are essential and other features that are elective to your choice.
Safety
You have to check the level of vibration and should not fold up or able to tip over easily; hence you should consider products that have a wider base as it will help in reducing any chances of risks of it tipping over. Every baby swing has a certain weight limit, and it is important that you get to know that the weight of your baby does not exceed the maximum weight limit of the vibrant baby swing and also you should keep in mind that there are other types of vibrations that have a minimum weight limit as well.
Comfort
You should always consider a type of vibration that has removable layers of padding in it that can be taken off as the baby grows. Go for a reasonable padding seat that will deliver comfort to your baby, and seats that have room for declination tend to give more comfort as very young babies have difficulty in holding head up hence require more reclined feature in the swing.
Portability
Most portable swings have short-range motions or vibrations and are generally light and smaller for it to be moved easily, so when making a choice, it is important, you should look at its mobility feature.
Why Do Baby Love Vibrating Motion?
Vibration motion always tends to match with the baby's moods, and it is a great bet of relaxing it one in every time hence delivering the expected entertainment. The vibrating motion delivers comfortable conditions as the babies generally will be experiencing multiple speeds when in the vibrating motion hence tends to enjoy multiple speeds provided depending on the mood.
Be sure that your baby will love to spend the most time is in your hands or in the swing as to be entertained, which can be a huge help to you too.
Is Vibrating Baby Swing Safe for the Baby to Use?
Baby swings are generally very safe for your baby, but there are safety measures that come along with it, especially to see you through when using it. These are mostly safety tips when using it and include;
Do not over-stay a bay in the swing, mostly your baby shall be sitting upright and should not stay for a long time, for it will find it hard to breathe.
Letting the baby fall asleep in the swing is risky and is not comfortable for sleeping surface, it is difficult for it to get improved sleep when in the cribs as the baby should be getting comfortable, appropriate and safe lace of resting than on the swing.
Attention:
1. Nearly all the vibration modes on baby swings are controlled by the battery, even if you plug it in the wall, you still need to put the battery in to control the vibration on and off.
2. Different babies have different preferences on vibration speeds and frequencies, multiple vibration modes can do good help so you can choose whichever one they like best.
Summary
For more information and the latest price, you can check more on Amazon if you have an interest.
---