The average weight limit of the baby swing is normally 0-20 pounds. Therefore, they are designed for newborn baby use. Some of the baby swings are also used in hospitals for nursery.
If the swing speed and all the other factors are suitable, a baby swing can be a perfect machine to help soothe newborn babies when you are busy. But you need to make sure the baby is always under your attention during whole using time for safety.
What Is the Best Newborn Baby Swing on Market
Best For Newborn – Graco Simple Sway Baby Swing  — Rating: 5.0
Best with Mobile and Light – Fisher Price Papasan Cradle Swing  — Rating: 4.8
Best Portable – Ingenuity Cozy Kingdom Portable Swing  — Rating: 5.0
Best For Small Space – Graco LX Gliding Swing  — Rating: 4.8
Top 4 Best Baby Swings for Newborn Baby Reviews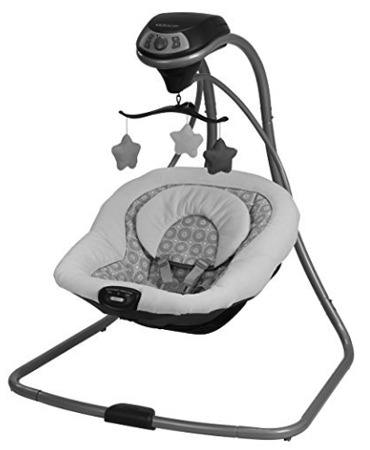 This baby swing has removable head support, and its deep seat protects newborn babies effectively. 5 point harness keeps the baby away from danger both on the upper part and lower part of the baby body. The sturdy structure makes it safe during the whole using process.
Other features:
6 adjustable swing speeds
15 songs and natural sounds inserted
Small but sturdy frame
The seat pad is machine washable
Plug in and battery operation both
Gentle vibration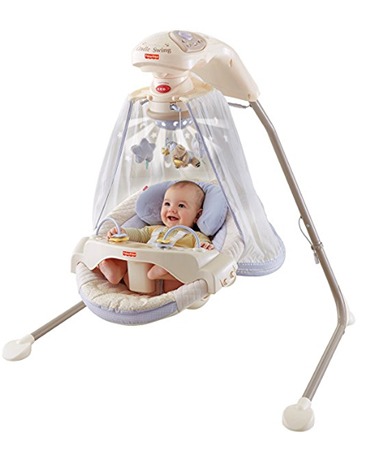 This baby swing has head and body inserted, and they are removable. The seat pad is soft and machine washable. Net around gives a baby a sense of security and protects the baby from getting burnt by sunshine. Wide-open legs ensure its sturdy and 5 points harness protects the baby all the time.
Other features
Overhead starlight show and soft hanging toys
2 swing motions
6 swing speeds
16 songs and natural sounds
Plug in and battery operation
Foldable leg for storage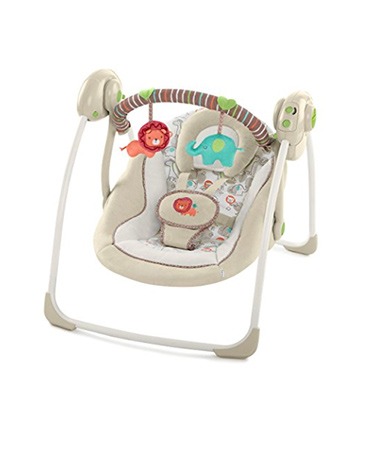 This compact and portable baby swing is also suitable for newborn use. There is head support inserted. 5 point harness keeps baby safe, the soft fabric covered on the seat belt makes the baby comfortable in using.
Other features:
Folded up, easy to carry and for outdoor travel use
6 songs and natural sounds inserted
The seat pad is removable and machine washable
No working noise
5 point harness
Gentle swing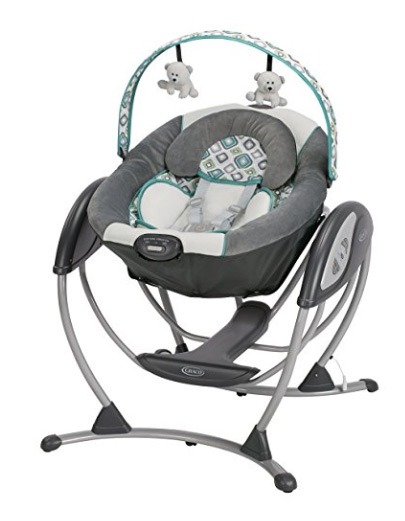 This Graco baby swing is like a small cradle, the soft and cozy fabric set around the infant, making it feel relaxed and comfortable. Head support and body support inserted. The open design makes it easy to put the baby in and out.
Other features:
Easy to move around
Compact design, saving 40% space than other types
Plug in and battery operated
6 swing speeds and 2 vibration modes
3 incline positions
Strong vibration and swing power
3 timer inserted

Best Baby Swing for Reflux Or Colic
For most newborn babies, they easily get reflux or colic, so they get grumpy and cry often. When you put them in somewhere flat, it will worsen the condition and baby will feel so sick.
Therefore, for the baby with reflux or colic, the swing machine should be set vertical and soft enough. Most of the baby swings have multiple seat positions, and you can adjust the seat to a relatively flat position.
According to mom's feedback, the baby swing with a suitable seat position can really help lessen the suffers, and the baby is easily cured of them.
Slim Spaces Compact Baby Swing-Linus/Etcher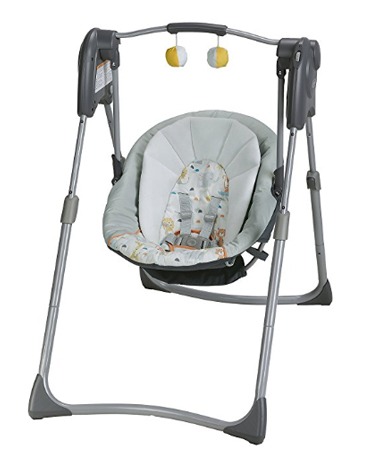 This baby swing is a perfect one for baby with colic or reflux, the seat position is quite vertical and makes a baby with reflux feel comfortable. But for lacking head support and body support, parents need to put extra ones when used for newborn babies.
Other features:
The height of swing can be adjusted through the leg
Compact and small size, making it a perfect space saver
Easy to fold up for storage and outdoor use
Battery operation
Adjustable swing speed

Apart from this, there are still many other best baby swings for reflux that you can choose, and we have made a detailed review for you if you have an interest.
How to Choose Best Newborn Baby Swing?
1. Swing speed
The swing speed of the newborn baby swing must be gentle and smooth. Baby's brain is in fast development in the first few months after born, too hard shaking will do harm to their brains. Adjustable baby swing speeds can be a good choice, you can choose the most suitable one according to its swing frequency and baby's preference.
2. Seat pad
The seat pad must be cozy and breathable. For newborn babies, it has no ability to control its own neck and head, therefore, a baby swing with neck support and body support inserted is extremely important. Even when there are infant inserts, you can still put an extra thick one if you think it too thin. The machine-washable seat pad can really save a lot of time and energy for you.
3. Swing angle
Make sure the swing angle is safe and suitable, not large or too small. A large swing angle will easily get machine turned over and the baby is also freaked out by it. A small swing angle makes no effects on the soothing baby.
4. Stability
The swing machine must be stable and sturdy enough, uneasy to turn over. And if it is foldable, make sure it will not unintentionally fold in the using process. The metal material of the support leg is much stronger and more reliable than the plastic one.
5. Safety
The baby swing should be equipped with 3 points or 5 points harness, 5 point harness is better for it protects baby both from the upper part and lower part. The seat belt should be closely connected with the machine. And the length of the seat belt should be adjusted suitably.
How To Use Newborn Baby Swing Safely?
1. Never leave the baby alone in the swing.
Infants have no ability to protect themselves in danger. Though protected by seat belt of swing machine, there are still many potential dangers in daily life, so parents should always keep an eye on baby when using baby swing and react to dangerous situations fast and rapidly.
2. Clean the seat pad frequently
When seat pad is used for a long time, it can grow bacteria, the poor resistance of infants are easily get them sick. Therefore, the seat pad must be cleaned each day no matter it is dirty or not. Putting the clean pad under sunshine is also a good way to protect infants from getting sick.
3.Organic materials
The plastic baby swing is not so sturdy and does harm to an infant's health when the baby touches them frequently. Especially for newborn babies, they would like to put everything into the mouth, and an organic baby swing is a good one for them to experience the world.
4.Tie the seat belt all the time
Seat belt is an excellent protection to newborn babies, and there are normally 3 points and 5 points harness. You should always remember to tie the seat belt, but do not make it too tight or too loose. It is better if there are protection fabric on the seat belt, so the baby will not feel uncomfortable for long time use.
Summary
Check out more information and price on Amazon if you have an interest in such an item.
---