Babies enjoy sitting on a baby swing bouncer, when they move their legs or arms, it bounces slightly. Normally, the best baby swing bouncer is lightweight, set for placing on the floor when you do something of your own. Sometimes, buying a separate bouncer can be costly, then you can choose a bouncer and swing combo.
In this article, we will tell you how cost-effective it is on getting a swing bouncer combo. And there are also buying guides and top 3 best types reviews for you.
Just keep diving in!
Which Baby Bouncer Is Best For A Newborn? – Quick Pick
Graco Duet Connect LX Swing and Bouncer  — Rating: 5.0
Graco DuetConnect Finley LX Swing  — Rating: 4.8
Graco Duet Sway LX Swing  — Rating: 4.5
What Is A Baby Swing Bouncer?
A baby swing bouncer means baby swing and bouncer combo, different from single baby swing, the bouncer seat can be taken down and lightweight of it enables you to move from room to room.
When the baby sits on a bouncer, it moves and swings with your baby's motions. Some of infant swing bouncers have the option of vibration, helping to soothe baby quickly.
Picking the Best Baby Swing Bouncer
Is a Swing or Bouncer Better for a Baby?
Choosing between swings and bouncers for your baby could be a taxing task, but you will need to do it nevertheless. In this pursuit, it will always be vital to understand what each option provides you with, as this will guide you on what to select. Ideally, there is no better option. The choice depends on your needs and goals. Here are the things that create the difference.
• Sleep or play?
If you intend to lull your baby to sleep, a swing will be the best option. On the other hand, you could rely on bouncers to keep the baby busy or playful for a relatively long time.
• Space
Bouncers seem to take up lesser space compared to swings, thanks to their compact design.
• Portable?
For enhanced portability, it will be more valuable to consider a bouncer. It will be easier for you to move around with a bouncer, whether indoors or outdoors.
With the three elements above, bouncers seem to have the edge over swings.
Do You Need a Bouncer or Swing?
You can hardly ignore the role of bouncers and swings in your life. From lulling babies to sleep to providing them with enhanced comfort, these are devices you will always need. One of the biggest concerns you will always need to face when selecting either of the two is safety.
Swings and bouncers offer different levels of safety. Unless you are sure of what you need, you could end up disappointed. For instance, if your baby can sit upright, you should not consider a bouncer. That is because heavy children easily contribute to the bouncer tipping over. Instead, get a swing. On the other hand, if yours is a toddler that is yet to sit, a bouncer comes in handy.
When Do You Need a Bouncer or Swing?
The design of both baby bouncers and swings usually comes in handy for children who are in the pre-sitting age. As such, they will be ideal for children between 0 and six months. If your child takes longer than six months to sit, these devices will come in handy for you too.
Further, you will need these devices whenever you want your baby to get to sleep or when you need to indulge in other activities. As long as you keep supervising them, you will have no reason to worry.
Benefits of Using Baby Swing Bouncer
Did you know that baby swing bouncers will always assure you of multiple benefits? Here are a few of them.
• Portability
You will be free to carry these devices around. Whether you are indoors or outdoors, they will often come in handy for you.
• Multi-functionality
With these devices, you will find it easier to lull your baby to sleep or even keep rocking them as they play. This way, you will be free to engage in other meaningful activities in the house.
• Comfort
As long as you need your child to be comfortable, this will be the way to go. The devices are not only ergonomic but also able to rock the baby to a peaceful sleep. The baby will also have access to toys, which means that they could remain playful for a relatively long time.
Types of Baby Swing Bouncers
Some of the types of swing bouncers you will get in the market will include the following.
• Full-size
These are baby swing bouncers that come loaded with multiple features. With this, you will be sure of enhanced comfort, speed, motion, and longevity.
• Portable
These are those that you will find comfortable to carry around, thanks to their compact design and lightweight.
• Combination
These swing bouncers have the potential to offer different functionalities. From gliding and rocking to bouncing and cradling, their reliability is matchless.
Best Baby Swing Bouncers on the Market Reviews
1. Best Baby Swing Bouncer Combo – Graco Duet Connect LX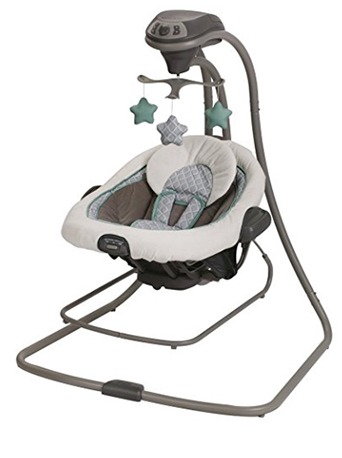 This is a full-size baby swing, but is also a 2 in 1 baby swing bouncer combo type. When you need to grab something to eat or wash baby stuff, you can take the baby seat down and changes it into a light weighted portable bouncer, staying close with you all the time. Vibration set is powered by battery, and all together two vibration speeds can be chosen.
The swing seat of a bouncer is quite deep, 5 point harness keeps baby secure. As toy bar is fixed, when it changes into a bouncer, nothing left for entertaining baby. So you may need to play with an infant in the bouncer in case he or she gets bored.
When using for a baby swing, you can plug it in the wall, saving much $$ for buying a battery. 15 songs and sounds calm baby down quickly.
Pros:
2-speed vibration
6 swing speeds
15 songs and sounds
Removable swing seat doubles as a bouncer
Plug or battery
Removable head support
The seat is the biggest
Cons:
Side to side only
Take up much space
Toy bar not rotate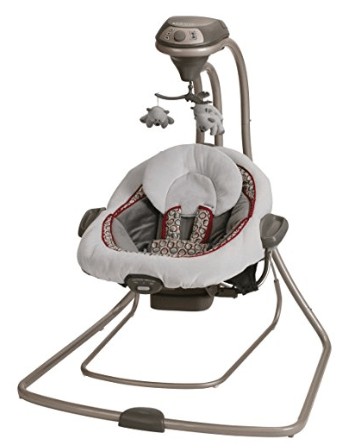 Take two handles on both sides of seat and pull slightly, then the swing is easily detached into a bouncer. Two vibration speeds can be adjusted according to your baby's preference. There are two recline positions, one is for nap and the other for playing.
The swing seat is quite large for relatively large baby within the maximum weight range. 5 point harness secures baby in using, but its complicated harness design makes it hard to put a fussy baby in it. Motor noise can hardly be heard, which is the quietest one among other Graco baby swings series.
When used as a swing, 15 melodies and white noise soothes baby quickly and efficiently. Toy bar with three toy bears entertain your little baby, but it is unable to rotate by itself.
You can plug it in the wall to save battery, but still, the 1D battery is required for vibration. Sturdy and easy operation of the baby swing makes it a good helper and lifesaver to new moms. Infant insert and body support is offered and can be removed easily.
Unisex design makes it perfectly for both baby girl and baby boy.
Pros:
Unisex design
6 swing speeds
15 songs and sounds
Swing and bouncer combo
5 point harness
2 speed vibration
Plug & battery
Cons:
Take up much space
Side to side only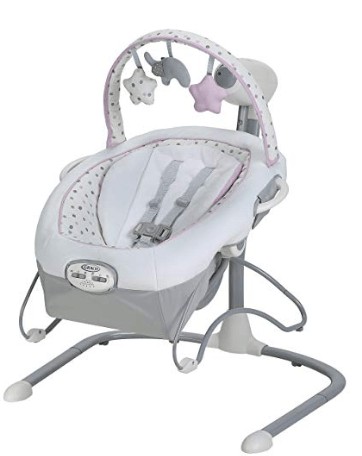 This portable bouncer looks like a small cradle, you can easily put it down by pulling the lever and change it into a portable bouncer. When you are washing or cooking in the other room, just take the bouncer with you, the toy bar will entertain baby, 6 songs and sounds help to calm fussy baby down. 2-speed vibrations allow you to choose according to the baby's preference.
5 point harness keeps secure, you can easily move the newborn insert away when they grow large enough. When an infant is taking a nap, you can remove the toy bar away easily.
Two swing directions including side to side and front to back that can be adjusted for a baby swing. You can plug in the wall instead of using a battery.
Fabric is soft and cozy, you can wash it through the machine. Assembling it takes about half an hour, compact structure save much floor space.
Pros:
2-speed vibration
5 point harness
Soft fabric, machine-washable seat pad
Swing and bouncer combo
Head to toe and side to side
Plug in
Easy to assemble
Cons:
Take up much space
No head support
Seat is deep

Advantages of Baby Swing Bouncer
You can spend less money on buying a full-size baby swing and a portable type one time. One for fixed use, while the other can be brought anywhere even for travel.
Give baby different enjoyment, one is swing automatically, while the other swing by his or her own motions.
Moms can always keep an eye on the baby whatever they are doing.
Baby Bouncer or Baby Swing Bouncer Combo?
Baby swing bouncer is actually linking baby swing and bouncer together, of course, the price of a single baby bouncer is cheaper. But if you enjoy the one with multiple functions, then baby swing and bouncer combo will be your best choice.
When you have less budget, and your home is crowded with baby stuff and have no place for a full-size swing, then you can choose a single baby bouncer.
One thing worth mentioning is the single bouncer carries up to 20/25 pounds, while the maximum weight of bouncer in a combo is only 18 pounds. So a single bouncer has longer using life if your baby likes bouncer better.
On choosing, you should take all the factors into considerations, such as weight limit, price, and function, and finally choose the most suitable one.
What to Look for in a Baby Swing Bouncer
Various elements go into the right choice of your baby swing or bouncer. Unless you are careful during this selection process, you will end up disappointed. Some of the top aspects you will need to consider in this pursuit will include the following.
• Does it offer you multi-function abilities?
Most modern devices will assure you of multi-functionality, which means they offer both swing and bounce capabilities. That should be your aim.
• Check portability
Mostly, you will need products that are foldable and easier to carry around. Such will be the time to focus on getting swings that come with a compact design at all times.
• How big are they?
Always aim at a product that will comfortably accommodate the weight of your baby. It is through this that you will be confident of their safety in the long run. While at it, will they fit in your space?
• Safety
These devices should have enough sturdy safety straps, which will ensure that the baby does not tip over.
Can I Use a Baby Swing Bouncer Outside?
Indeed, using a baby swing bouncer is a possibility we can never evade. As long as you get a portable one, you will be good to go. Usually, it would be valuable to aim at swing bouncers with compact designs, as they are vital in enhancing portability. By using this baby swing bouncer outside, you will be exposing your child to fresh air and a touch of nature.
How to Find the Best Baby Swing Bouncer
Taking the time to identify which swing bouncer works best for your child will always need to be a priority. It is only through this that you will be confident of the comfort, convenience, and safety that the child needs. Here is how to find the best.
• Quality of the swing bouncer
Nothing matters as much as the material used in making any baby swing, as this determines durability. This material needs to be sturdy enough to accommodate the weight of your baby. While at it, topnotch material will assure you of enhanced longevity.
• Warranty
Did you know that the warranty for the baby swing will always matter? Most often, a product with a more extended warranty period will be all that you can ever need.
• Safety
Does it assure you that the baby will hardly tip over? The swing bouncer should come with robust construction, which is less vulnerable to sudden toppling. While at it, its safety straps need to be reliable.
• Cost-effectiveness
Your budget will always matter. We take the time to identify which baby swing is within your budget before settling on it. This way, you will avoid financial constraints in the long run.
Attention:
The weight limits of baby swing and bouncer are different. The average weight limit of the baby swing is 0-25 pounds, and the maximum weight of bouncer is up to 18 pounds. If your baby is overweight, it may cause danger to them. So before buying, parents should make clear of the maximum weight of both swing and bouncer.
What We Pick Is…
Manor and Finley are both belongs to the series of Graco DuetConnect LX Swing and Bouncer, but only different from color. In comparison with Camila, the DuetConnect series is more cost-effective. With a baby swing around $100, it does worth the value.
Simple and easy operation design makes it so convenient to use by new moms. A portable bouncer allows moms to take it easily anywhere, so you have time to grab something to eat, take a nap, or take a bath.
The plug-in design saves more money and energy in constantly buying and changing expensive batteries. In conclusion, this series can be a good one if your baby would like to enjoy swing and bouncer at the same time.
If you have an interest in the swing, just feel free to click the button below and check the latest price or more information on Amazon.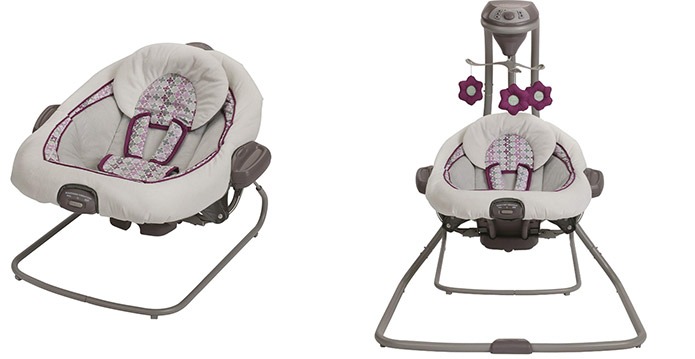 ---