The hardest thing is to get baby into sleep during the daytime, that is why the best baby cradle swings are needed by a large majority of parents. Babies are fond of its side to side swing motion, they feel relaxed and comfortable when lying inside.
The cradle we attempt to recommend is not a single piece of gear, but a combo of cradle and swing, which means it owns the function of both.
Why should you get a baby cradle swing?
Well, they are cheaper, more cost-effective, and more relaxing.
But what else?
Go on reading and you will find the answer.
Plus, there are 7 best cradle swings on the market rating ahead in 2020we have made for you.
What Are Baby Cradle Swings?
A baby cradle is a gear for a baby to sleep, it serves as a small bed, some is able to move from side to side, the other moves from head to toe.
The swing motion makes baby sleepy just like a baby is lying in the arms of parents.
Baby cradle swing combines swing and cradle together, in other words, it is a swing that can be used as a cradle. Most baby cradle swings are full size type.
In this post, we picked out 7 best baby cradle swings on the market for you:
7 Best Baby Cradle Swings 2020 On The Market
Best Baby Cradle Swings Reviews
1. Baby Cradle Swing – Fisher Price Sweet Snugapuppy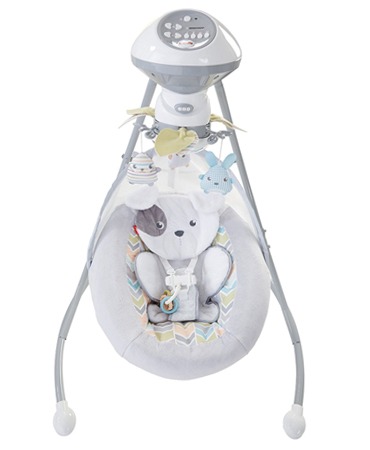 This Snugapuppy Dreams Cradle'n Swing machine is the classical and most popular one of Fisher Price. The whole design is simple but good looking, animal seat pad including puppy, bunny and bear, etc are super cute.
Three toys ahead move when the machine is on, entertains baby when you are busy. There are two-seat recline positions, you can adjust according to baby's preference. When the seat is set to the front, it swings from head to toe, if the baby is tired of the swing direction or feels it uncomfortable, you can turn the seat to left, then it swings from side to side just like a cradle.
The seat pad is soft and easy to clean, it can be removed easily and is machine washable, therefore, you need just take it off and throw it into the washing machine when it gets dirty. 5 point harness gives the baby the best protection. The puppy head is a small pillow but is really thin, mom needs to put extra head insert to support it for newborn baby.
The full size design makes it hard to move and is not portable, therefore it is a perfect thing to use indoor but not for traveling. Plug-in option saves money on battery.
Pros:
2 ways to swing
2 comfy recline positions
6 swing speeds, 16 soothing songs & nature sounds
Easy to convert to different positions
Machine-washable seat pad
Smart technology senses baby's weight and it starts without a push
AC adapter/batteries
Cons:
Take up much space
Uneasy to move
Lack of vibration

2. Cradle Swing –  Fisher Price Papasan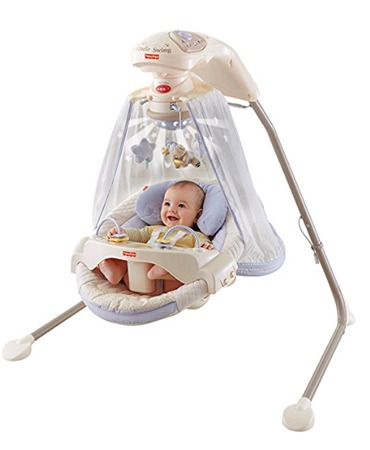 Baby cradle swing of this type is designed beautiful, especially suitable for baby girl. The canopy around gives a baby a sense of secure, little star is designed on the canopy and shining in the dark when you turn it on. The toy tray is set on the seat, you can feed or get some toys on it for baby to play, it can be removed easily when you put the baby in and out. It swings both from side to side and from head to toe, 6 swing speeds and 16 songs and natural sounds can be chosen on your infant's preference.
The support leg can be folded up, when you decide not using it any longer, you can fold it up and put it somewhere in the corner. But when you are using it, it still takes up much space and it is hard to move anywhere.
The seat is not so deep, but 5 point harness will keep them safe. When you are using it, you need to keep an eye on baby all the time, for infants, the canopy can be something that interests them, so they like to grab it with hands.
Plug in option and battery power can all be chosen, when used at home, just plug it in the wall, so it helps save much $$ on battery.
Pros:
Overhead starlight show, and soft hanging toys
Net around gives them a sense of security and relaxing
The tray is removable
Foldable leg
2 swing motion
6 swing speed, 16 songs, and music
Plug in or battery
Cons:
The lights shut off after about 15 minutes if the sound isn't on the volume control
The seat not deep enough

3. Best Baby Cradle – Fisher Price 4 Motion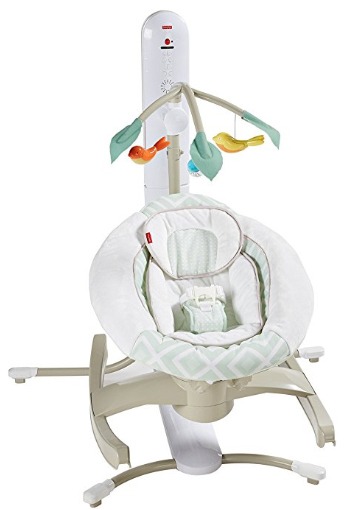 This one is not only a combo of cradle and swing but can also be used as a floor rocker. The brilliant feature of it is smart control, you can download its app and control it on and off with your phone. The ahead toy bar has three birds, and they can be bright with internal lights. It can also be removed. It has two swing motions and 2 recline positions. The leg of it can be folded up for storage. It is hard to move around like a swing machine because of its heavyweight. But as a rocker seat, it can be carried anywhere you want.
There are very thin head and body support, one needs to put extra baby insert to make him or her feel comfortable. 3 point harness keeps baby secure. For a mom, it may be a bit difficult to assemble, cost about 1 hour to put it together.
It can also be controlled with Bluetooth but is not as seamless as a car, you need to connect and reconnect it once and once again. There is plug in and battery operation both, and 16 songs and sounds offer you most choices on infant's preference. The swing speed can be much quicker than other series, may be suitable for a fussy baby.
Pros:
Use the phone to control(connect app)
Portable rocker seat, 2 recline position
Leg fold for storage
Plug in or battery
Can be used as a swing and floor rocking seat
Mobile can be removed
16 songs and sounds
Cons:
Toy light is bright
Hard to assemble
Bluetooth is not seamless like a car: have to disconnect and reconnect every time

4. Baby Cradle Machine – Fisher Price Deluxe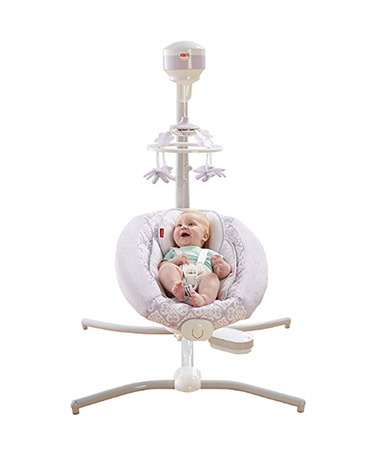 As the name suggests, it is designed beautiful and feels as in the fairy tale with the flying toys and soft fabric. It is easy to operate, and the function is quite simple and basic. Two swing motions include from side to side and from head to toe can be chosen.
You can adjust recline positions for different needs, together with calming vibration, the machine can be a perfect soother for a little baby. As a full size swing, it is inevitably occupying much floor space, therefore, once assembling, it needs to stay where it is.
Plug in option makes you able to plug it in the wall, which can be a great design of money saver.
There are 16 soothing sounds and songs, including natural songs to coax baby into a sound sleep. The seat pad can be removed and is machine washable. 5 point harness keeps baby safe all the time. Battery operation is set for vibration.
Pros:
2 swing motions
Super soft, machine washable seat pad
16 soothing sounds and nature sounds
2 comfy incline position
Calming vibration
Plug in and battery both

5. Baby Girl Swings – Ingenuity Simple Comfort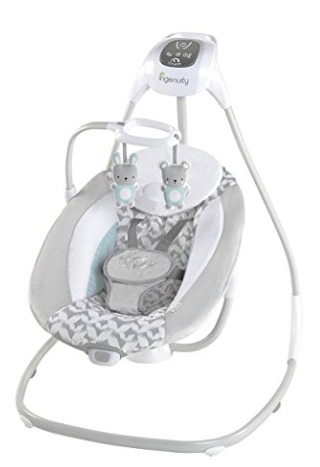 This cradling swing of Ingenuity is designed simple. The control panel is set above the swing seat, so you do not need to bend down and turn it on and off. Two hanging toys are within the baby's reach. Seat belt is easy to operate, 5 point harness keeps infants secure all the time. It mainly swings from head to toe. It has two adjustable recline positions, one supports the baby to be vertical, the other is suitable for an infant to have a nap.
Plug in option is set, the full size shape determines it to occupy much floor space, therefore it is not suitable for small space house. It is easy to assemble, takes up about 30 minutes to put it together. Different melodies and natural sounds soothe baby quickly and effectively.
As it weighs heavy, one finds it hard to move around. The seat pad can be removed easily with one hand and is machine washable. The unisex color makes it suitable for both girl and boy using.
Pros:
180-degree swing
Plugin or battery
6-speed swing
Adjustable Recline
Easy to operate
Easy to assemble

6. Baby Boy Cradle – Ingenuity Inlighten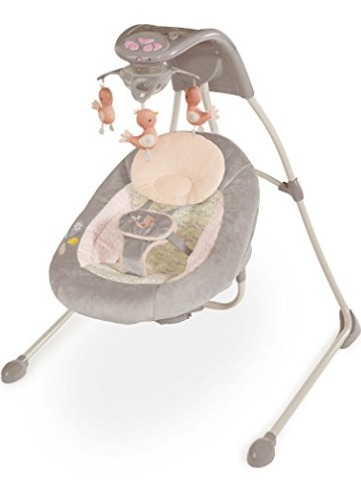 Ingenuity baby cradle swing of this series is functional and easy to operate, the seat is comfortable and the fabric is soft, the baby is able to move inside freely. Head support is offered but is too thin for newborn ones. Three mobile little birds hanging on the toy bar, light beam interests baby greatly. The size of it is quite large, making it unable to move easily. Two wheels set on the support leg is said to help you move easily, but with a heavyweight of the machine, it can still be hard to roll and is easily stuck in the corner.
5 point harness keeps baby secure, soft and wide fabric on the seat belt makes baby feel cozy but not tight. Inserted music including white noise soothes baby down, if your infant has a song of his or her preference, you can connect your phone with Mp3 plug in and play it.
It swings 180 degrees mainly from head to toe, 2 recline positions can be adjusted. The head and body support can be removed easily. The soft and cozy seat pad is machine washable, you can take it off easily with one hand and throw it into the washing machine straightly for washing.
The leg can be folded up for storage. 6 swing speeds are chosen according to your infant's likes.
Pros:
MP3 plug+play
Light beams electronic mobile
Plush rotating toys
Rotates 180 degree swing or sway
2 incline position
Easy to fold
Battery or adapter both
Cons:
Take up much space
Lack of neck support

7. Best Baby Swing Bouncer – Ingenuity Twinkle Teddy Bear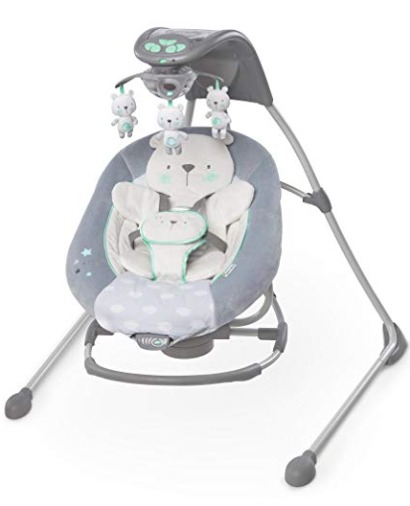 This cradling machine is quite the same as enlightening one. The cute teddy bear pad and 3 hanging bear toys make it suitable for a little baby. 5 point harness keeps baby safe. Apart from cradle and swing, it is also a floor rocker, one can easily put it down and up, portable shape and size make it easy to stay close with moms. Lighten mobile interests baby greatly. There are also two wheels set on the supporting legs but it is still hard to roll it around.
Plug in setting makes it a money saver. Unlike other swing and cradle machines, it moves in multiple directions, but not only from side to side or head to toe. No head support set inside, so you need to put extra one especially for newborn baby.
It supports Mp3 plug in, you can play the music baby like in your phone. The internal music lasts not long enough, which means you need to turn it on and off constantly manually. The seat pad is soft and cozy, so does the seat belt. They can be removed easily and are machine washable. Motor sound is hardly audible, making no disturbing on the baby's sound nap.
Pros:
Swing in multiple directions
Inlighten design
Mp3 and phone plug
Easy to move
Rocker and swing combo
Plug in and battery operated both
Cons:
Take up much space
Not portable
No head support
Music lasts a short time

Difference Between Baby Cradle And Baby Swing
A baby cradle is normally used for sleeping, the recline degrees can be zero and is perfect for baby to sleep at night. It is designed wide and long, so the baby has more space to move around. If a baby has trouble sleeping, you can rock it manually from side to side to coax them asleep soundly. They are set normally beside the bed of parents.
A baby swing is just a place for a baby to have a nap or play. When parents have no time to eat or take a bath, you can just put a baby into a baby swing, the music and swing motion will calm them down, they are more willing to stay inside baby swing rather than baby cradle in such occasion.
Therefore, if you need somewhere to put the baby for a short period of time, we suggest a baby swing for you. On the contrary, if you want a baby to have a sound and long sleep, the baby cradle will be the best choice.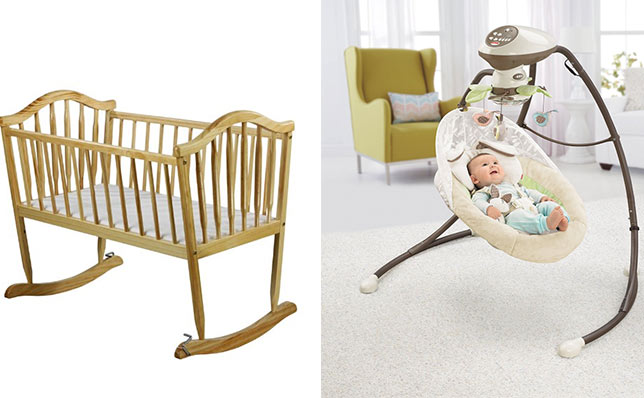 FAQ:
1. Can a baby sleep in the cradling swing for a long time?
Baby cradling swing is not a bed but somewhere you can put baby safely for a short period of time. Even though there are normally two recline positions, but none of them can be flat enough as the bed, therefore, the curly shape of the seat pad is not suitable for baby's skeletal development.
When the baby is addicted to sleeping in the cradle swing for a long time, they may think it is a perfect place for sleeping, which is a bad thing, for they may not be able to sleep soundly in bed without the automatic swing. Therefore, we suggest moms and dads use it as a transitory soother, so you can do your own business during the time, but not use it as a sleeping bed.
2. Can the cradle swing be used for baby with colic or reflux?
A baby swing can be used for baby with colic and reflux, most moms reflect it soothes baby effectively. But a baby with colic or reflux needs something to hold them vertically, and the vibration and swing motion will make the infant feel much more comfortable when they are sick. Therefore, we suggest parents choose some kind of swing machine that designed vertical on the seat.
3. Can the baby swing be used for a long time?
Each cradling baby swing has its maximum weight, once over the weight limit, it is not suitable to be used any longer for safety. The average weight limit is from 0 to 25 pounds, therefore the using time is not too long. But to many new moms and dads, it is really a lifesaver. So even if it is not a necessity for each family, many still choose to buy one and it can really be a good helper.
What We Choose Is…
We would like to suggest Fisher Price Sweet Snugapuppy Dreams Cradle'n Swing to you if you want a simple operation baby swing machine. Many other patterns such as bunny and teddy bear can be chosen, each of them are super cute and you can choose one suitable color for your baby girl or baby boy.
The machine is easy to operate and meets the basic demands of moms. It swings in two motions and 6 swing speeds can be adjusted. Plug in option saves money and sturdy structure protects the baby's secure.
Smart technology senses baby's weight, so the swing speed won't slow as baby grow. The recommended weight limit it is 25 pounds. Put in extra head support, then it can be a perfect baby swing for an infant.
If you have interested in the item and want to get more information, please feel free to check on Amazon.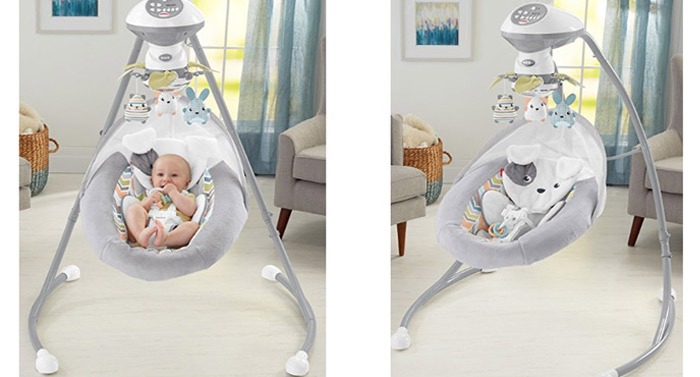 ---