A baby swing is a perfect soother and mother helper, the price of which varies according to types and functions.
The cheap baby swing is normally the portable and compact type, while the full size baby swing with multiple functions are charged high.
If you do not have enough budget and intend to buy a cheap baby swing.
Here is the top rated best baby swing under $50 review on the market in 2020.
Top 2 Best Cheap Baby Swing of 2020
Best Baby Swing under $50 Reviews
Cheapest Baby Swing – Fisher Price Infant-to-Toddler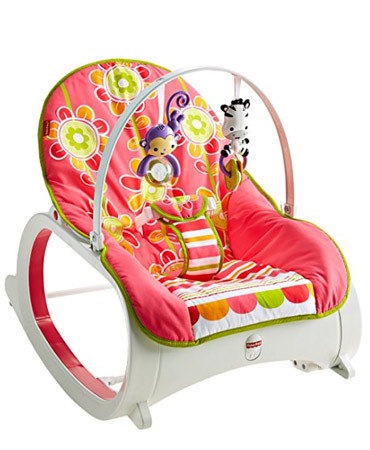 This swing machine cannot be defined as a baby swing, but strictly speaking, it is a baby rocker. And the price of it is really cheap, costs no more than $50, and can be much cheaper when it is on budget. What makes it valuable is its wide range of weight limits, the recommended weight of this rocker is 0-40 pounds, the using life is far longer than expensive baby swings.
But as a baby rocker, one of the reasons for its cheap price is that you need to rock it manually, the electronic parts including vibration mode only, powered by the battery and has a button to control it on and off. No music inserted, no automatic swing, and of course no Bluetooth remote control. But remember, it is the cheapest swing rocker chair, what else are you desiring?!
However, it can be listed on the top-rated baby swings on the market for other brilliant design and cost-effective functions. It has small protrusions on rocking legs, in case of being rocked far forward or back. 3 point harness keeps baby safe. And what the most brilliant part? it even has 2 recline positions. You can put it down for taking a nap, turn it straight as a chair to make the baby able to look around.
It can be adjusted to a stable position with a kickstand, and bat at toys stimulate baby greatly. The seat pad is soft, cozy and breathable, you can remove it for machine washing. Isn't great? And what're the falls?
Well, it unfolds, so you may need to put it in the car in the original seat and take it around if you want to go travel with it. No head support inserted, and costly battery operation. But thanks to its simple design, the battery is only used to control vibration, thus it is able to be used for more than 3 months. In conclusion, not a bad baby soother, but do not expect it to do more, after all, the price is the lowest already.

Best Baby Swings Around $50 Reviews
Best Cheap Baby Swing – Ingenuity Cozy Kingdom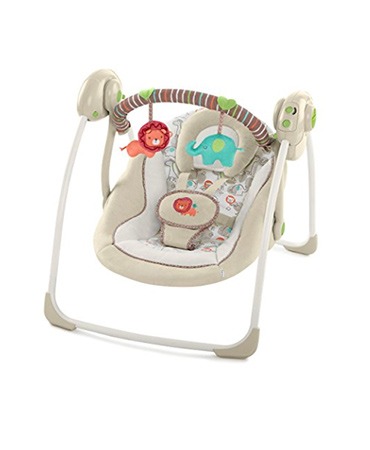 This baby swing is quite the simple one, the price of which reaches around $50; but don't be fooled by its low price, it meets all the basic needs of a baby swing soother, and also has the functions full size infant swing lacks. It has 6 swing speeds, and swings from head to toe, there are 6 sounds and songs inserted, including natural music, to soothe baby down.
The seat pad is cozy and breathable, you can clean it easily by throwing into a washing machine. Head inserted makes it suitable to be used for newborn babies.
There is a timer you can set, it helps you to control the machine on and off automatically, so the battery won't get drained out immediately when you forget to turn it off. For daily use, the battery lasts for a month.
Many moms say the setting is pretty quiet, the working noise is not audible even when you transfer the swing speed from medium to high, just the knob sound itself gets a bit loudly, and minor cracking noise can be heard slightly when it attains a new speed setting.
One great design of is its compact and foldable size, whenever you go out for traveling, you can pack it into your backpack or suitcase, and give baby the best soothing enjoyment outside. 5 point harness keeps baby safe.
The cons? Well, one of the remarkable cons is its short-lasting battery operation setting, without a plug in option, the using cost can be much higher even than full-size type. The other is the low seat, you need to kneel down and put the baby in and out, but that is the common problem of the portable baby swing. Apart from this, this baby machine is wonderful, and just think you can buy it around $50, the quality and its function are far beyond the price. So this can be a top-rated baby swing in low budget.

Features of Baby Swing under $50
1. Single function
The function of baby swing under $50 is quite simple, only meeting the basic needs in soothing baby. If for other high tech functions, you may need a more expensive one.
2. Small compact size
The size of it is rather small and compact, when used at home, it occupies only a small part of floor space, and if you intend to take it out, you can fold it up and pack it into a suitcase or big bags. For unfold type, you can still put it into the back seat of the car, for it weights like a normal chair.
3. Battery operated
As a portable baby swing, it is normally battery-operated type, making it perfect to be used for outdoor, you don't need to find a plug anywhere in traveling. And the disadvantage is the high cost of buying and changing batteries monthly. The battery life is normally short, thus you need to buy expensive batteries constantly, the using costs of which can be much higher than full-size type.
FAQ:
Do the low price of baby swings mean they are in bad quality?
Definitely not, low baby swing price does not mean the quality level is the lowest, it just represents the single function. It meets the basic need for soothing babies only. But as a baby-use product, safety is always regarded as the primary thing especially the above two products we recommended, the quality level is far beyond its price.
Last Words of Baby Swing under $50…
The kind of baby swing under $50 is far too few, most of which are single rocker or bouncer. For a baby swing, the price normally ranges from $50-100, therefore, Ingenuity Cozy Kingdom Portable Swing is really a valuable baby swing. But if you want to get more choice on baby entertainment, you may as well buy a higher priced one.
Check the price and more information if you have an interest in the product.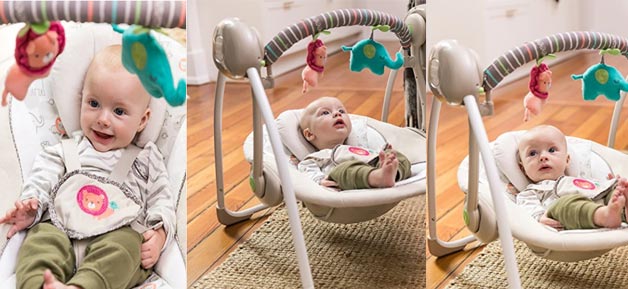 ---