It is no wonder that baby swings with a high weight limit have a longer service life – you won't want to get one with around $100 and can only be used for about 2 or 3 weeks!
The maximum weight limit of some baby swings reach 30 pounds, therefore, a big baby within the limit range can still be able to use it.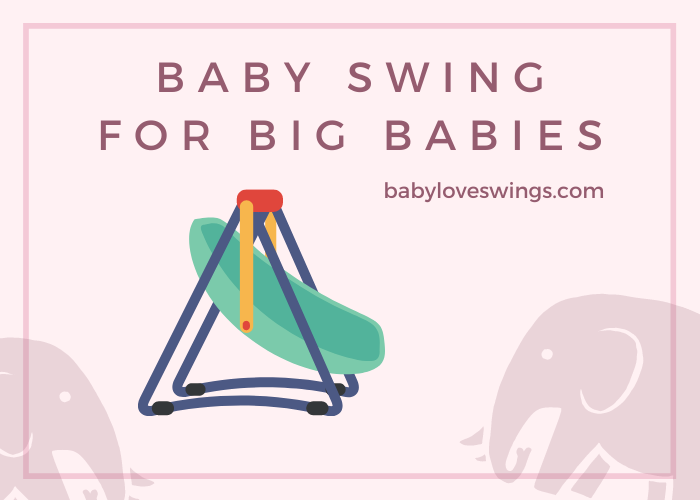 Unlike a newborn baby swing, the best baby swing for big babies or for tall babies is quite different.
You need to pay more attention to its seat size and lots of other factors.
Here we picked out 10+ best baby swing for big babies reviews and sorted some important tips on choosing and using them.
Now, let's get started…
But first – if you're looking for a convenient registry tool, check out Amazon's Baby Registry. Amazon has millions of products to fill your house with all the right baby things. You'll also get a free welcome box when you create a registry today.
Our Top Picks:
The 11 Best Baby Swings For Big Babies Reviews
1. Tall Baby Swing – Fisher-Price Cradle 'N Swing Sweet Snugapuppy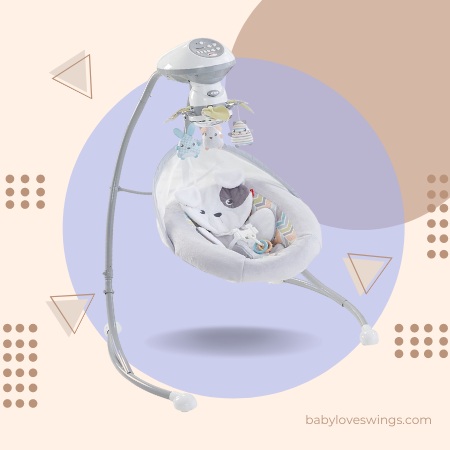 Maximum weight limit: 25 pounds
This swing seat is large and has 5 point harness on the seat. Metal materials on the supporting leg make it sturdy enough. The maximum weight limit is 25 pounds, can be used for quite a long time.
And there is smart technology inserted to sense the baby's weight automatically so that the swing speed won't get slow as the baby grow. For fussy babies, there are also five nature sounds set in.
Other features:
2 swing motions, side to side and head to toe
6 adjustable swing speeds
16 soothing songs and sounds
2 recline positions
Machine washable and plush seat pad
Smart technology senses baby's weight
Plug in and battery operation
2. Big Baby Swing – 4moms 2015 mamaRoo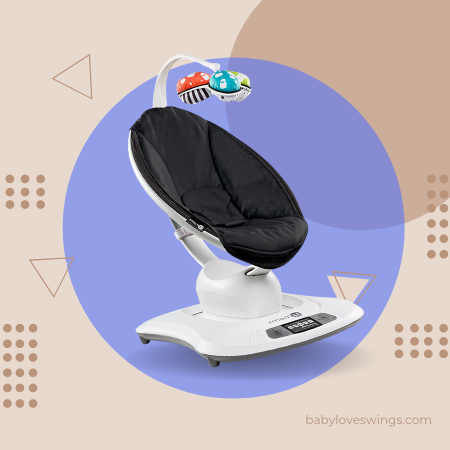 Maximum weight limit: 25 pounds
This baby swing has 5 unique motions to soothe baby effectively. The small and sturdy structure holds the baby steadily. Adjustable seat recline meets the different needs of the baby both for playing and taking a nap.
Other features:
5 unique motions
Bluetooth enabled remote control
4 built-in nature sounds and mp3 plugin
Machine washable seat fabric
Adjustable seat recline
AC Adapter operation
Easy to get baby in and out
3. Swing For Babies Over 25 Pounds – Graco Cozy Duet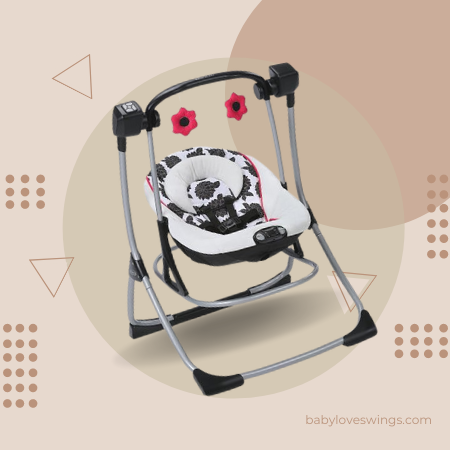 Maximum weight limit: 30 pounds
This baby swing is a rocker and swing combo, the seat is detachable as a floor rocker. It swings from head to toe to soothe the baby. The maximum weight limit is 30 pounds, much longer than other types in using life.
Other features:
Rocker and swing combo
2 vibration modes
5 songs and natural sounds inserted
Small footprint makes it a perfect space saver
Easy to carry
4. Swings For Bigger Babies – Graco Dream Glider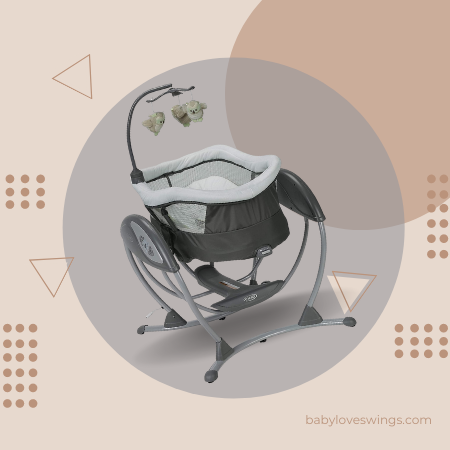 Maximum weight limit: 30 pounds
Like the Cozy Duet Swing series, this Graco baby swing is also able to carry a maximum weight for 30 pounds. 2 recline positions can be adjusted for different needs.
Other features:
Plug in and battery operation
Timer inserted
6 gliding speeds
2 speed of vibrations
10 songs and 5 natural sounds inserted
Easy to assemble and clean
5. Swing For Big Baby – Graco Simple Sway Baby Swing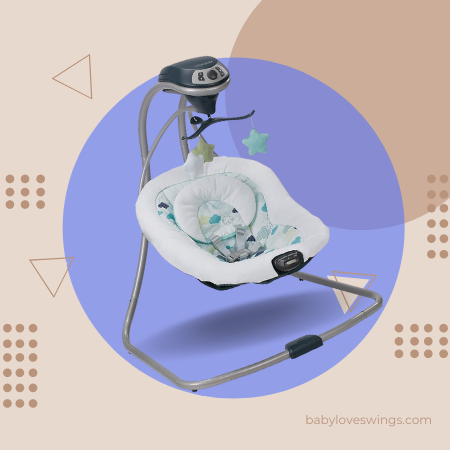 Maximum Weight Limit: 30 pounds
Being a star product of Graco baby swing, this Simple Sway type meets all your basic needs with affordable price but cost-effective overall performance. Its unique sturdy supporting leg ensures larger baby use.
The soft padded seat keeps the baby warm and cozy all the using time. Tighten the five-point harness in using and you can have a great time your baby all day long!
Other Features:
2-speed vibration
Gentle and side to side swing motion
Normal plug-in option saves a lot of energy
Deep plush cozy seat
Washable materials
6. Swings For Bigger Babies – Ingenuity Comfort 2 Go Portable Swing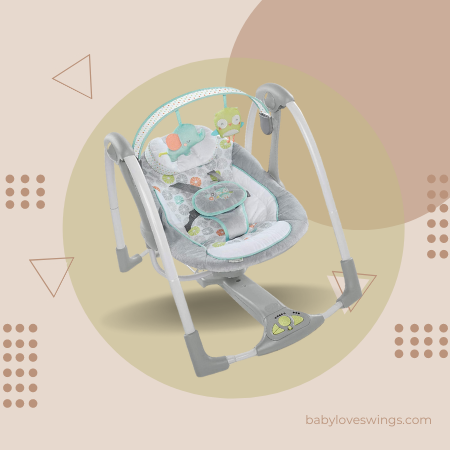 Maximum Weight Limit: 20 pounds
For this baby swing, the seat is set not far from the floor, adding great convenience for the baby to stretch out his or her legs when he grows up, its simple but durable structure carry on babies under 20 pounds.
Though there is a five-point harness to keep baby safe, we still suggest you use it with recommending weight limit.
Other Features:
Hyperdrive technology to prolong battery life
Easy folding for travel use
5 swing speeds meet the baby's preference
Little noise in using
Soft padded seat and machine washable materials
8 melodies and nature sounds
7. Best Rocker For Heavy Baby – Fisher-Price Floral Confetti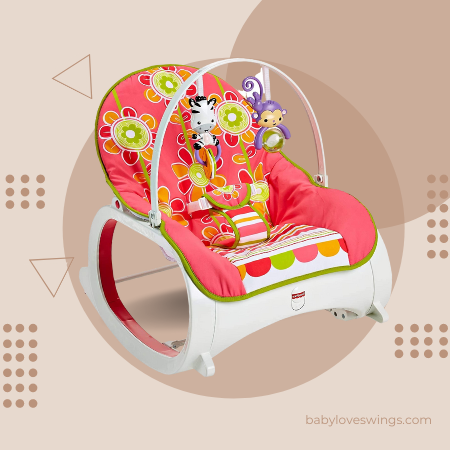 Maximum weight limit: 40 pounds
If your baby is big enough, then this rocker probably can better replace your swing. For tall babies' use, you can directly take away the toy tray so that his or her legs stretch out to the floor for rocking manually.
The foldable kickstand is quite helpful in transforming it from rocker to swing.
Other Features:
3 point harness
Detachable toy trays with colors attractive toys tied on it
Use perfectly from infant to toddler
Calming vibrations
Convenient feeding and entertain time for baby
8.  Swings for Babies Over 25 Pounds – Fisher-Price Snugapuppy Bouncer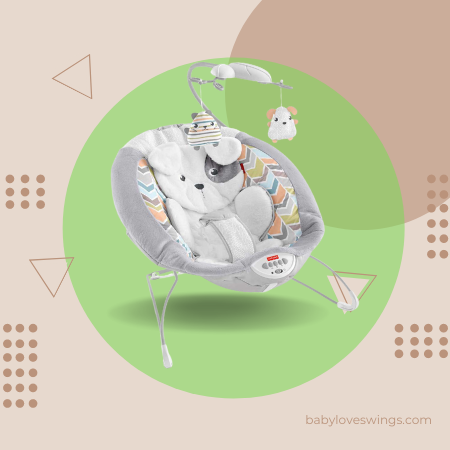 Maximum weight limit: 25 pounds
Does it look familiar? Right, this is the bouncer type of Fisher-Price Snugapuppy, the main design is also quite the same as that one. Two legs serve as supporting parts in replacement with swing type and thus carry around 25 pounds easily.
Other Features:
Customized music time for enjoyment
2 soft hanging toys
Easily washable fabric
Calming vibration for effective soothing
The lightweight design makes it convenient to move around
9. Baby Swing For Over 20 Pounds – Fisher Price Papasan Cradle Swing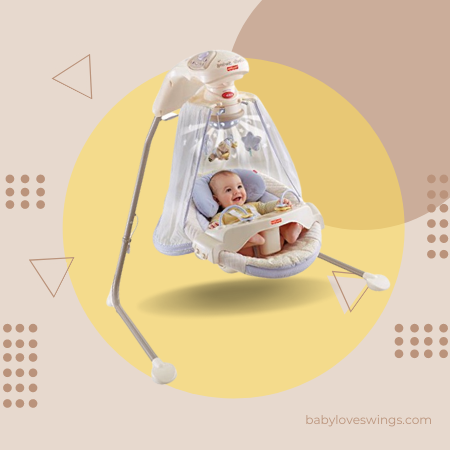 Maximum weight limit: 25 pounds
From the appearance of it, you can directly judge it is a full-size baby swing. Its wide-open legs make it possible to carry the baby over 25 pounds. The toy tray is detachable so you can move it away as the baby grows large enough.
Other Features:
A beautiful net gives baby a sense of security and privacy
Detachable toy trays
Soft and machine washable fabric
The delicate color design makes it perfect for baby girl use
Six swing speeds
16 soothing nature sounds
Comfortable head support inserted
10. Baby Swings For 6 Months And Older – Fisher Price Blush Safari Cradle 'n Swing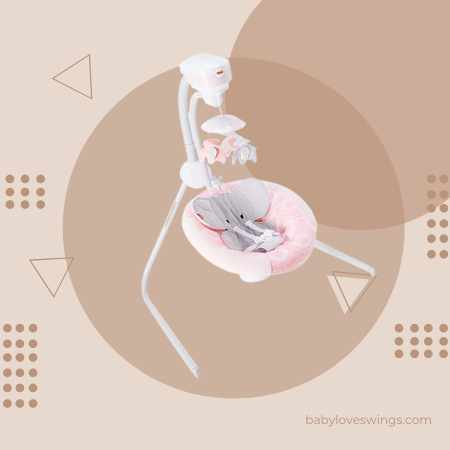 Maximum weight limit: 25 pounds
This is another series of Fisher Price baby swing, with whole metal structure, it is able to carry the maximum weight of 25 pounds. Thanks to its SmartSwing technology, the swing senses the baby's weight smartly and changes swing speed automatically.
Other Features:
Both side to side or front to toe swing motion available
Machine washable flush seat
Cute pad pattern and toys design to attract baby
Six swing speeds
16 songs and soothing melodies
Two positions
11. Best Baby Swing For Small Spaces – Graco Glider Lite Baby Swing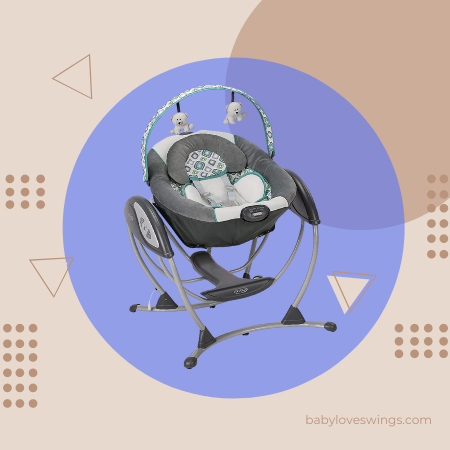 Maximum weight limit: 25 pounds
With a small compact shape and light-weighted design, you can finally get a perfect type for outdoor travel use, also, it fits well in small homes. Sturdy structure, with an anti-slippery protection cap on legs, guards your baby's safe all the time.
Other Features:
Five-point harness
6 gliding speeds
10 classic melodies and 5 natural songs
Comfortable seat with machine-washable fabric
Movable toy trays with two hanging toys
What Is The Weight Limit On A Baby Swing?
The baby swing is not a machine that can be an intimate friend with your infant for years; its weight limit determines it to accompany the baby for a short period, perhaps for several weeks, months, or even years. However, if you strictly follow the recommended maximum weight of the manufacturer, it can be a WONDERFUL helper for you.
So how much weight does a baby swing hold? And when do babies outgrow swings?
Well, it depends.
For different brands and different series under the same brands, the weight limit for baby swings varies. Thus making clear of the maximum weight of each type before purchasing is a vital thing.
In the following part, we picked out several models based on your different needs.
Swings For Babies Over 25 Pounds
Baby Swing For Over 30 Pounds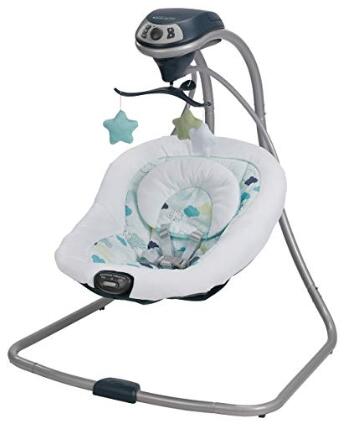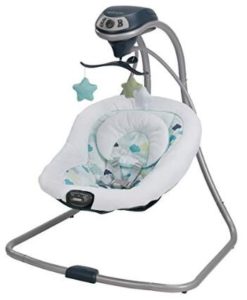 Baby Swings That Hold Up To 40 Pounds
To be honest, baby swings for 40 or 50 pounds can be so rare; usually the maximum weight limit they carry reach up to 30 pounds. However, if you still need one for your outgrew baby, we would recommend you rocker as the following type:
Big Baby Swing Review
Big baby swing here refers to the size of baby swings. If you get much about baby swings, you will know that all together two types of swing machines used frequently on the market. The small types, known as portable baby swing or compact baby swing, is suitable for those who travel a lot; The other type, is what we called big baby swing or full-size baby swing.
Compared with compact types, a big baby swing is more stable for its delicate structure and is accordingly safer. What's attracts most is multi-functional features and design, most of the large baby swings are designed with music and vibration modes. Mobile light, toy tray, swing net, and removable toys are also set.
Here we would like to suggest the top 3 big baby swing or large baby swing reviews for you to choose:
1. Fisher-Price Sweet Snugapuppy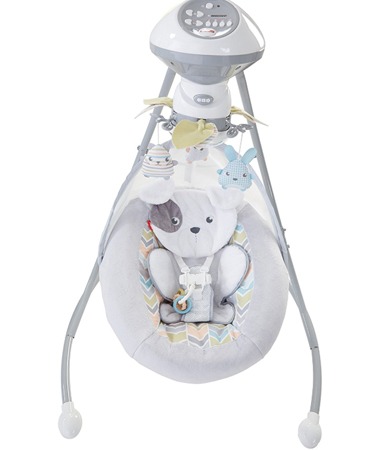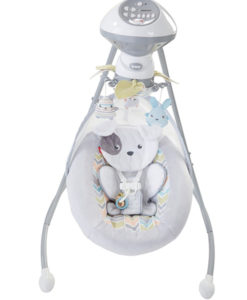 Equipped with stable legs, it can be pretty stable in use. However, it is not as occupying as other large baby swings on the market. Plug in design determines it to be used in certain areas.
Together with its five-point harness, the baby is always under great care throughout the whole using time. Its soft and satisfying fabric also gives a baby a strong sense of comfort and enjoyment.
2. Graco Simple Sway Baby Swing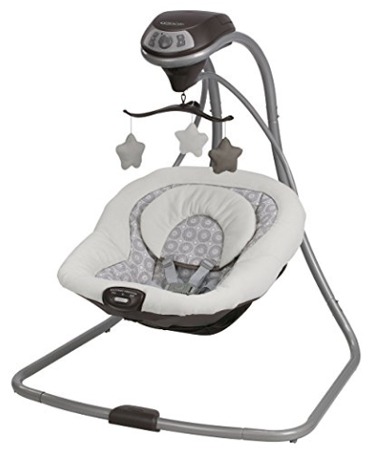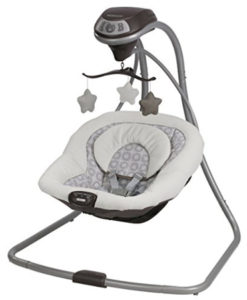 Quite the same as the Fisher-price Snugapuppy type, this Graco baby swing is also a simple but cost-effective type. It also has wide open legs to support the baby weight in using. Swinging from side to side, it soothes the baby down quickly and effectively.
Three hanging toys attract the baby's interest when you are busy doing your business. However, you might get easily trapped by its legs, so please be careful in using it.
3. Graco Dream Glider Gliding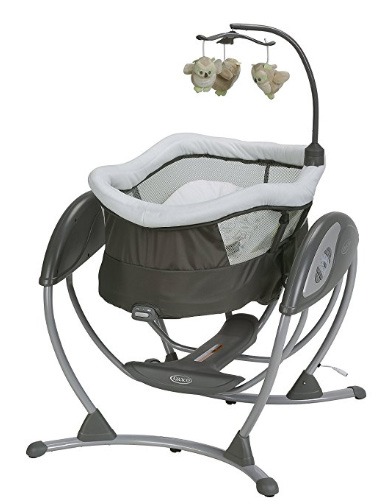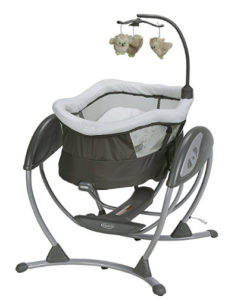 Served as 2 in 1 baby swing, this large baby swing is able to meet demands on both playing and napping. Compared with the other two recommended big baby swings, you will find its structure totally different. This unique design on its support system saves around 30% space, thus making it suitable for more people.
Swinging from front to back, it moves like a glider.
Tall Baby Swing Reviews
Tall baby swing refers to the height of the seat on the swing machine. Owning a compact or outdoor baby swing, you will find it extremely hard to put the baby in. Its low seat forces you to kneel down and put the baby in. Once the baby grows large enough, his or her leg even reaches out near the floor.
On the contrary, a tall baby swing perfectly solves the problem, it puts the seat onto a suitable position to reduce unnecessary trouble on putting the baby in and also keep the baby safe. But a baby swing with far too tall seat may also cause some troubles because of the unbalanced force.
To such considerations, the following one is regarded as the best tall baby swings on the market for big babies:
Best Tall Baby Swing For Reflux Baby – Graco Slim Spaces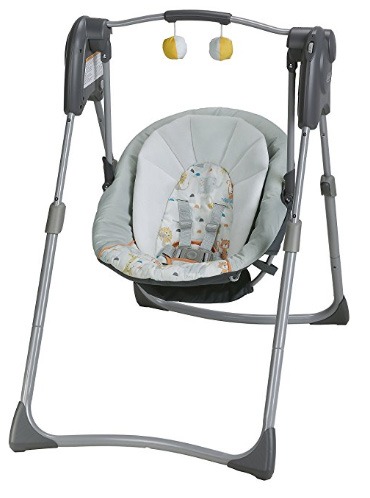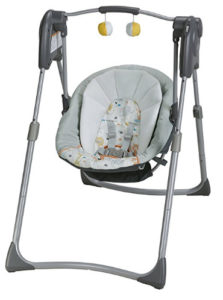 Equipped with height adjustable legs, you are able to change its height from high to low, meeting needs on various using conditions. Its vertical seat also makes it ideal for a colicky baby.
Designed with simple and basic functions, it is easily carried around and used for outdoor or travel baby swing.
What Is a Big Baby?
Don't get fooled by the title, here the "big baby" only refers to the large weight for baby swing using. Usually, a baby swing is the best tool for entertaining infant babies between 2 to 6 months old. Thus, if your baby is over 25 pounds or even 40 pounds, then he or she is on the edge of using the baby swing.
As a baby cannot protect himself or herself in dangerous situations, thus the top brands on baby swings regard safety as the primary concern. They will especially note the maximum weight limit on each product.
If a baby outgrows the recommended weight, then there is a large potential in safety issues. That's why you need always to follow what the label on baby swing tells you.
At What Age Can a Baby Use Baby Swinger?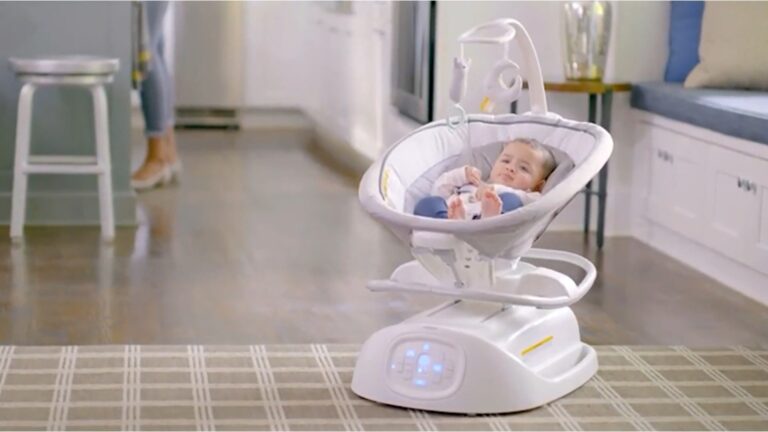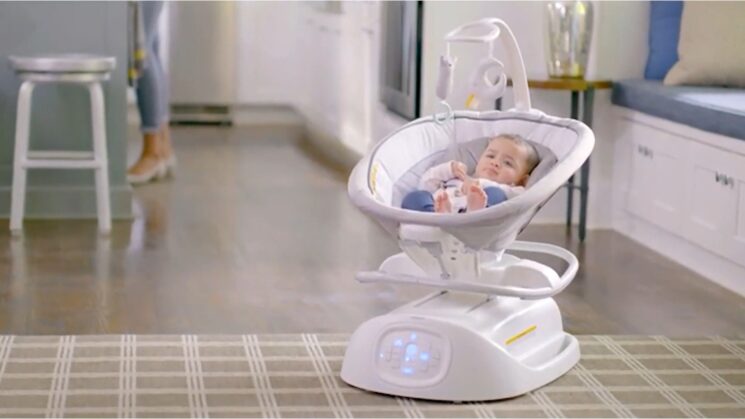 According to the research on baby's development, experts claim that a newborn baby within one month is not suitable for using a baby swing expect for some nursery types such as Mamaroo.
Therefore, the ideal period in using a swing is between 2 months and 6 months.
And one thing you need to know is that age serves as little consideration in choosing, what values most is the weight of the baby. If your baby outgrows the weight capacity, be sure to stop using it immediately for safety.
Tips on Choosing Best Baby Swing For Big Babies
1. Weight limit
Before buying a baby swing, parents must make clear of the weight limit and age limit of each baby swings. The using life of baby swing is actually short, only suitable for those under 30 or 20 pounds. And if the baby outweighs the limit, the machine must be stopped using immediately.
2. Seat size
For tall babies and large babies, their bodies are longer than newborn ones, therefore, you should get a baby swing with a long and wide seat. Or babies' feet easily outgrow the swing machine after a few days, making them uncomfortable and unsafe. The seat should not be too deep, or the using life of baby swing is shortened.
3. Stability
The baby swing should be designed sturdy and strong enough to carry the heavy body of babies. Metal material is more reliable than the plastic one. It should be uneasy to turn over.
Safety Using on Baby Swing For Big Babies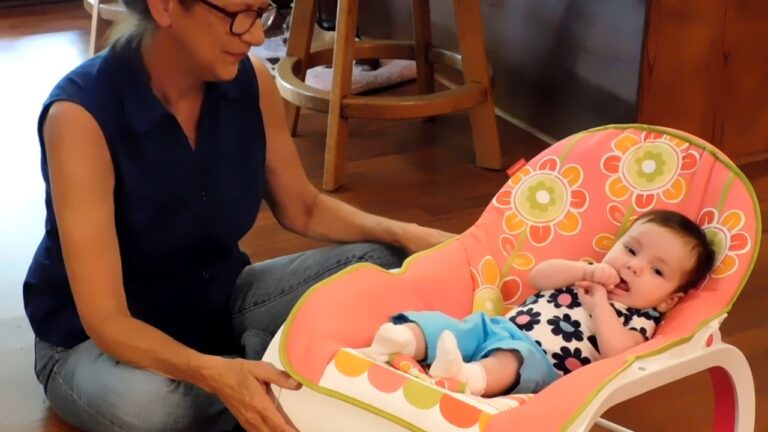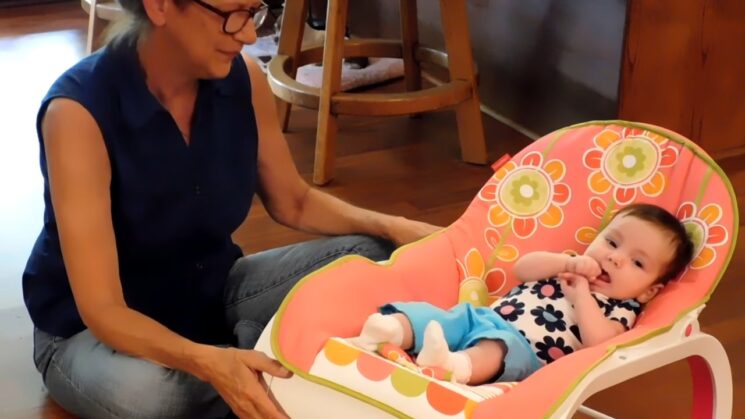 1. Obey the weight limit
The weight limit is a maximum range that is able to protect babies, if your babies outweigh the range and are still using it, something dangerous may happen. Therefore, be sure to read the weight limit and obey it strictly.
2. Never leave the baby alone
For big babies, you still need to pay attention to their safety when they are using baby swings, do not leave them alone.
3. Put baby swing somewhere safe and flat
Be sure to put a baby swing in a safe place, if you have pets at home, make sure the pets won't able to turn the machine over.
4. Watch out the decoration
The decorations on the baby swings are made to entertain babies, but you need to make sure there are no little parts, or the baby may swallow them. And if the toys or the nets are set within their reach, do not let them grab for safety.
5. Stop using when strange noise heard
The maximum weight normally means the safe range, but there is also potential danger. Therefore, if the baby is growing large and you find the machine is hard to carry it safely even though your baby's weight is still in the weight range, stop using it immediately for safety. And you hear any strange noise of the machine in use, you should stop it immediately and ask the seller for help.
Summary
Apart from the above-listed baby swings, there are still many other types on Amazon you can choose.
If you have any interest, please feel free to get more information on Amazon.
Check out some other picks:
Sale
Nova Baby Swing for Infants - Motorized Bluetooth Swing, Music Speaker with 10 Preset Lullabies,...
The Nova Swing features 10 preset lullabies, Bluetooth and USB connectivity options, an auto-off timer, and a soft and cozy seat that will soothe and...
Includes 3 hanging stuffed toys that will keep your kiddo entertained and happy. Plus, the advanced 5 point harness and protective mosquito net will...
The advanced IMD touch panel and remote control make operating the Nova Swing easy.
The Nova's modern and trendy design, incredibly simple assembly, and soft washable seat cover for easy cleaning make this swing a mom's favorite....
As with all Jool Baby Products, the Nova Swing includes a full manufacturer's warranty.
Munchkin® Bluetooth Enabled Lightweight Baby Swing with Natural Sway in 5 Ranges of Motion,...
Emulates parents' natural side-to-side sway with 5 levels of range of motion
Bluetooth enabled to play your child's favorite music from your phone
Winner of the Best of Baby Awards, The Bump, for Best Swing/Bouncer/Rocker, 2021
Touchscreen display is smart, intuitive and easy to use
Lightweight and portable – Easy to put together and pack down in seconds for simple storage or transport