Getting a baby swing is essential for most new families. Baby swings provide an easy way to entertain your newborn and give you some respite. The ideal using time, according to experts, is 2-6 months. As we know, there is always a limitation on each machine – and with baby swings, there is also a weight limit. So what are the best baby swings for heavy babies?
Can my baby over 30 pounds still use an infant swing?
The answer is yes! There are plenty of swings that are designed for heavy babies and carry a large weight limit that is suitable for heavy babies. For the following part of this article, we will introduce the best baby swings for heavy babies as well as some basic knowledge you should never miss on buying and using them.
But first – if you're looking for a convenient registry tool, check out Amazon's Baby Registry. Amazon has millions of products to fill your house with all the right baby things. You'll also get a free welcome box when you create a registry today.
10 Best Baby Swing for Heavy Babies Reviews
1.
Top-Rated Swing for Heavy Baby

– Graco Duet Soothe Swing Rocker Winslet

Weight Limit:
Swing: 5.5-30 lbs
Rocker: 5.5-25 lbs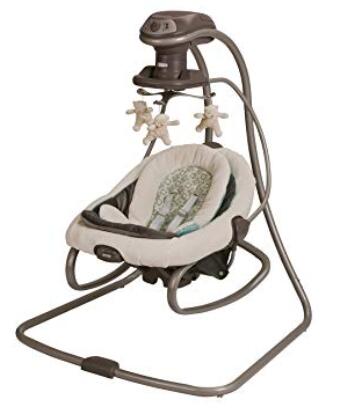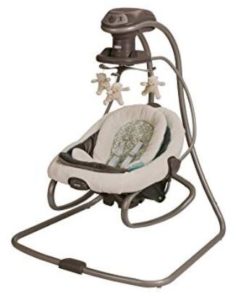 This is a 2 in 1 baby swing, combines the function of a rocker and a swing together. However, you should take care that the weight limit of the two gear is totally different, one is 30 pounds, while the other being 25 pounds.
Sturdy metal structure
Plug in and battery operated available
2 in 1
3 seating positions
Easy carry handle
2-speed vibration
Safe 5 point harness

---
2.
Swing and Bouncer Combo

– Graco Cozy Duet Swing

Weight Limit: 5.5-25 lbs
Children up to 27 inches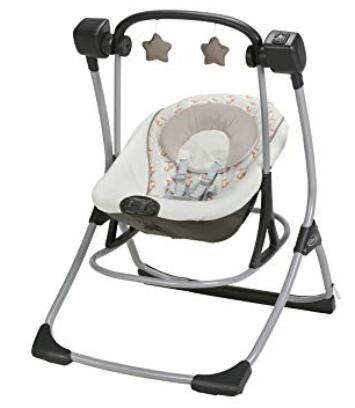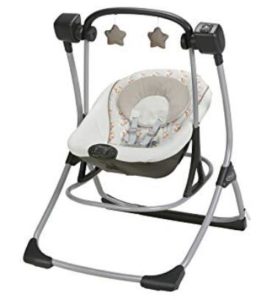 Well, if your kids are fond of a bouncer, this baby swing bouncer combo best suits your needs. The maximum weight limit of 25 pounds enables baby under 5 months to use it safely and comfortably.
Bouncer & swing combo
2-speed vibration
Plush seat and head support
Small footprint to save floor space
Perfect for small apartment
5 soothing sounds and songs
Adjustable swing speed

---
3.
Best Heavy Baby Swing

– Graco Duet Sway LX Swing

Weight Limit:
Swing: 5.5-25 lbs
Up to 30 inch
Bouncer: 5.5-18 lbs
Up to 27 inch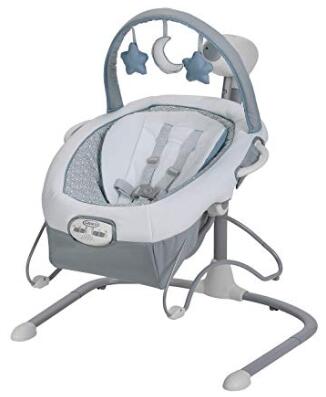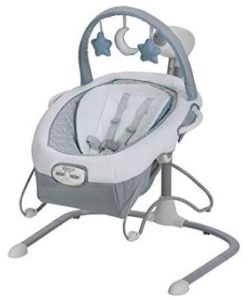 Different from other baby swing bouncer, it shapes like a robot. Small footprint saves much floor space, but hard material makes it pretty sturdy and stable. Using life of bouncer is a bit shorter, reaching 18 pounds, and the maximum weight limit of swing reaches up to 25 pounds.
Multi-directional seat
Bouncer and swing combo
3 recline positions
Adjustable swing speeds
2 soothing motions
Detachable toy bars

---
4.
Best Nursery Baby Swing

– 4moms mamaRoo Baby swing

Weight limit: from birth to 25 pounds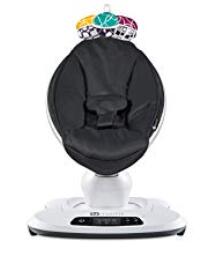 This infant swing sometimes serves as a nursery baby gear, it can be used since the baby is born. The maximum weight limit reaches the average level – 25 pounds. The unique motions of it bring the feeling of familiarity to babies in use.
5 unique adjustable motions and speeds
Bluetooth enables
Small footprint
Plug in design
Adjustable seat incline
Perfect for nursery

---
5.
Best 25 Pounds Baby Swing

– Fisher Price Cradle 'n Swing

Weight limit: 4-25 lbs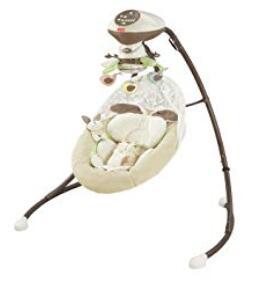 From newborn to baby up to 25 pounds, this infant swing brings comfy feelings. It features advanced technology to adjust swing speeds automatically according to baby's weight, in other words, it grows with baby.
2 swing motions
6 speeds
16 soothing sounds and songs
Cozy and machine washable fabric
Gentle vibration

---
6.
Swing and Rocker Combo

– Fisher Price 4 in 1

Weight limit: 0-25 lbs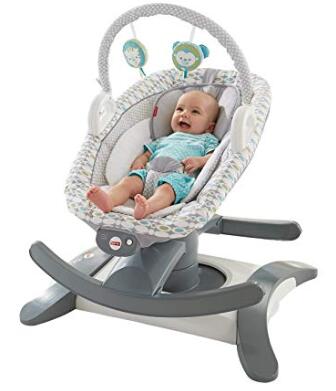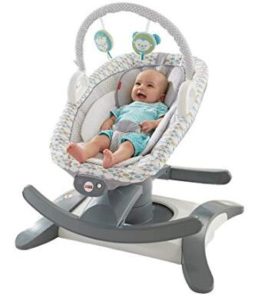 Here comes another 2 in 1 infant swing, also a combo of swing and rocker. Like all the other types we have recommended before, the rocker carries lowered weight limit than swing, the maximum weight it bears reach 25 pounds. But the portable rocker does help a lot in carrying baby along with you anytime.
4 different gliding motion
12 tunes and 3 nature sounds
Removable toy bar
Calming vibration
Plug in & battery

---
7.
Swing and Glider Combo

– Graco DreamGlider Gliding Swing

Maximum weight limit: 5.5-30 lbs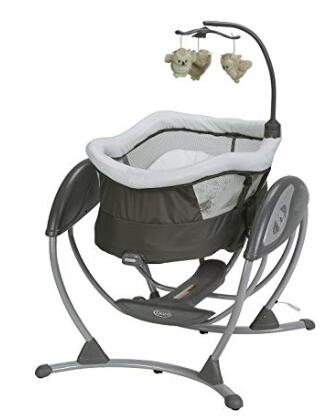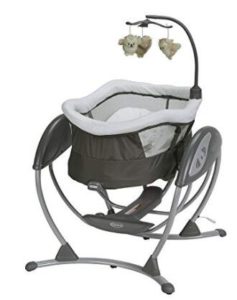 It is a baby swing with a 30 lb weight limit, you can also call it a glider; for the whole moving motion of it is gliding from front to toe. Looks like a robot, it is pretty space-saving, thanks to the small footprint and compact structure. With smooth vibration, your baby falls into asleep in a minute lying inside.
10 soothing songs and 5 nature sounds
Timer set to extend battery life
Detachable toy bars
6 gliding speeds
Plug in & battery available

---
8.
Big Baby Swing

– Graco Simple Sway Baby Swing

Maximum weight limit: 5.5-25 pounds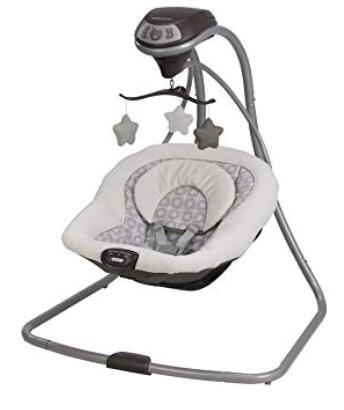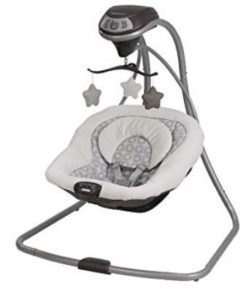 "Simple is everything", the principle also works for a baby swing. This unit is a pretty simple design, meets the basic needs of daily use. Gentle smooth swing, multiple musics inserted, and also 25 pounds weight limit that supports babies under 6 months.
Plug in option
Side to side swaying motion
2-speed vibration
Small frame
10 songs and 5 nature sounds
3 plush hanging toys
5 point harness

---
9.
Cradle Swing for Big Babies

– Graco Glider LX Gliding Swing

Maximum weight limit: 5.5-30 lbs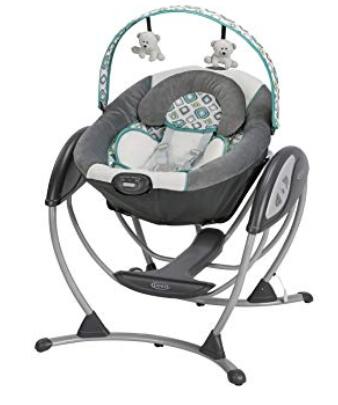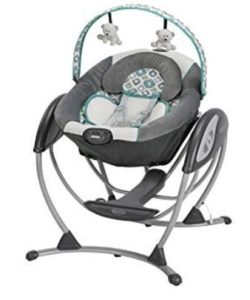 This is also a glider swing, swaying from front to toe. The small frame saves 40% floor space, but the sturdiness is never narrowed by its compact footprint. High weight capacity of 30 lbs enables heavy baby use.
Plug in & battery option
Compact structure design
Gentle smooth motion
2-speed vibration
3 reclined positions
Plush body support

---
Buying Guides on Baby Swing for Heavy Baby
Buying baby gear is not the same as purchasing clothes, that you can buy it once it feels great in appearance. There are far more things you should consider, like safety, quality, price, etc. But apart from this, several tips you need always bear in mind if you attempt to use it for a heavy or a large baby.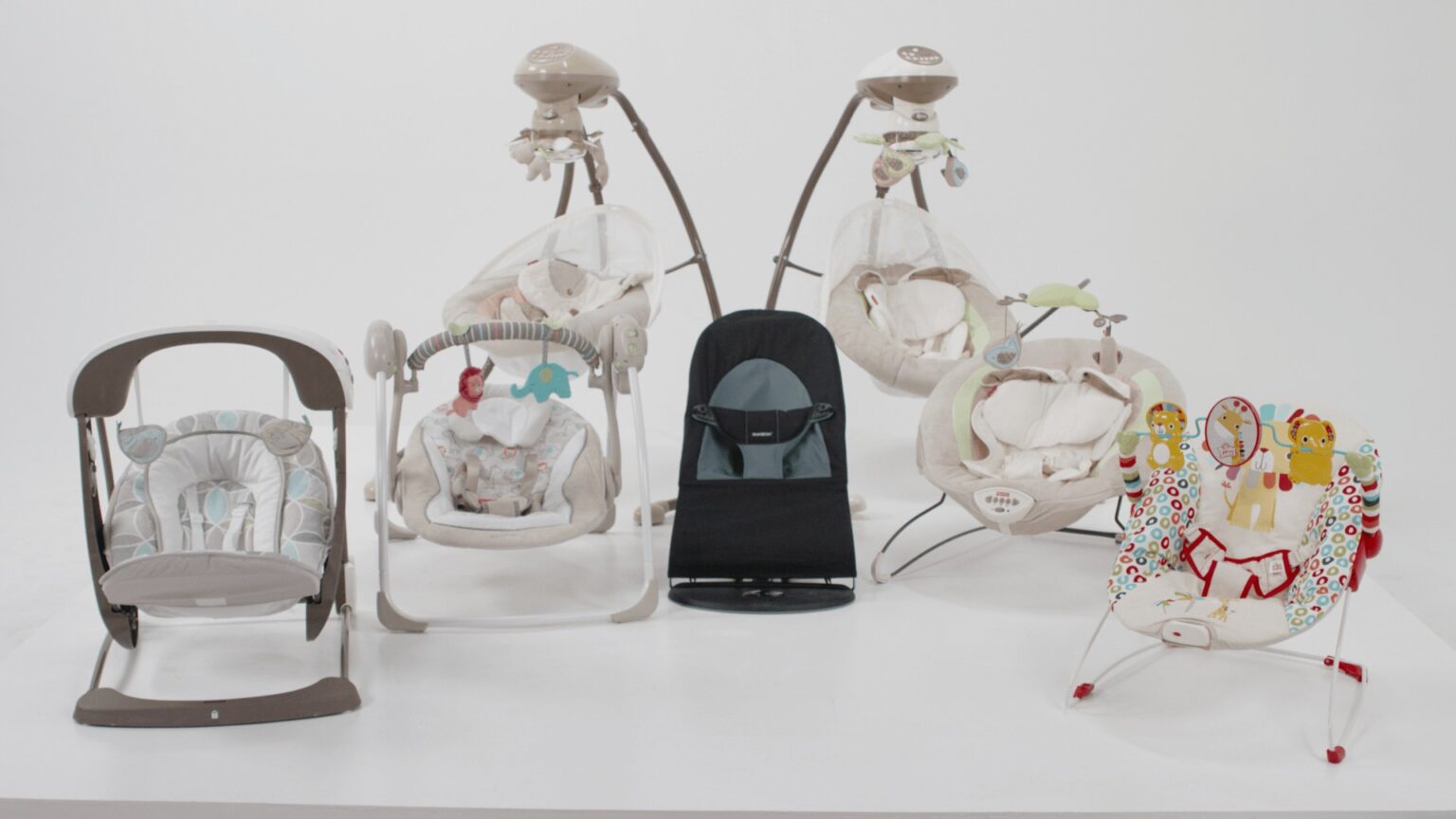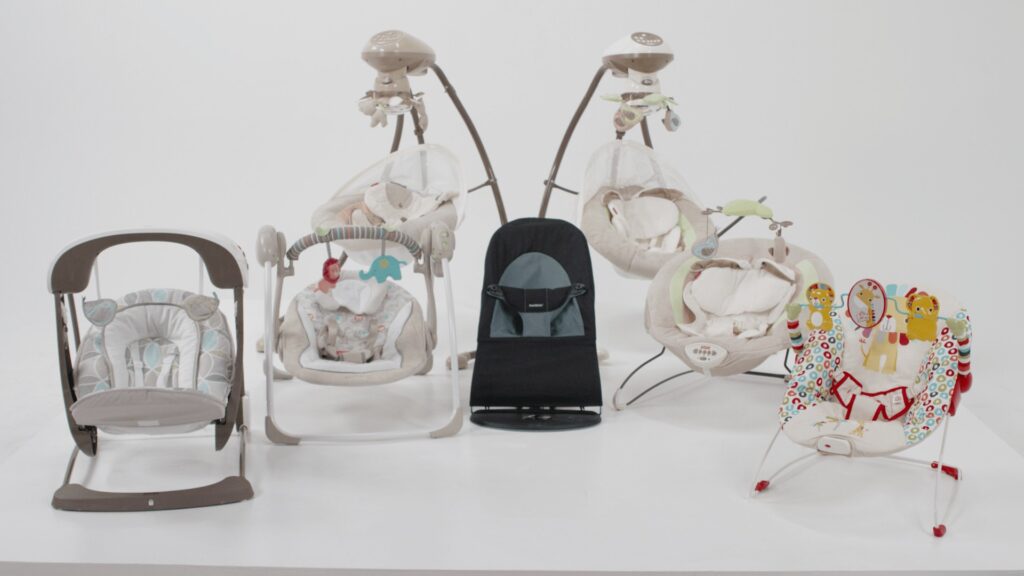 The weight limit is everything!
When you look up the slogan given by the brand, you will find their weight capacity may just within your baby's weight. But, according to the feedback of parents, 13% claim that the maximum weight limit is not correct.
"My baby is just 14 pounds, but it gets wobble and some weird sounds come out, I soon put my baby out and stop using it right away. "One customer complains as he bought the swing for 2 months.
The recommended weight limit is actually an estimated capacity that the swing can bear, which may change for various reasons, such as the quality level of the product, the wrong use, or some other reasons.
Anyway, it is important to read other people's review before you buy one for your large baby. The instruction is a reference, however, the maximum weight is what you need to obey strictly. In other words, once your baby overweighs the maximum number, stop using it immediately. For example, if 25 pounds is the largest weight that the unit can bear, then you should never carry on using it when the baby grows 6 months.
The reviews are what helps you a lot in buying.
We have told the importance of reading customer's reviews, here we mainly discuss the reviews of the brands and products. By getting more knowledge on the brand, you will be aware of the producing line, design principle, after-sale service, qualifications, and developing history.
You may think spending time on these things is a waste of time, however, it is not true. The brand qualification and producing line actually determine the quality and durability of its products. And getting more knowledge of the brands' technology, you will know whether it is reasonable to buy its products or not.
Another kind of review is not what shows on the internet but in reality. If there are familiars that once own a baby gear? How do they feel about their products? What's the most recommended one that worth buying for a big or heavy baby? Ask your friends and perhaps you will surprisingly get your answers.
Feeling so trouble in searching for those recommendations and reviews by yourself? Here are what we working on – we will pick out the best products based on your various needs, of course, each of them is selected through the strict test. We have read all the reviews, including all your concerns, and stand on the view of yours, all for exerting to save your time and offer you the best choice.
Safety is still the priority.
No matter for a newborn baby or for toddlers, safety is always the primary concern. When it comes to the infant swing, safety refers to the quality level, protect system, materials, structure or so.
Most of the well-known brands such as Fisher-Price, Graco, Ingenuity, are all well praised for the brilliant quality level. And the leading brand sometimes equals to complete after-sale service (There are also exceptions, though). You should check whether they passed the universal standard of the baby swing and if it is qualified enough. Still, the reviews, instead of the brand slogan, is always the thing you can totally rely on.
The full-size type is normally supported by two open legs, some in square and some in the round. No matter for the shape, the swing needs to be stable and there should be no wobble in using.
For portable baby swing, balancing is also a vital thing; Especially when they can fold up, you need to check if it is convenient and stable in transferring of folding and unfolding.
5 point harness is also a must, especially the swings for heavy babies use, for it protects the baby thoroughly in dangerous situations.
Apart from these, if a product is once recalled back, or being sued for safety issues, you may as well consider the other types.
The more durable it is, the less money you spend.
The service life of a heavy baby swing is not that long, lasting around 6 or 7 months if you start using it the moment baby is born. Thus, in such short terms of time, I am sure you won't pay more money on repairs, or even worse, buying a totally brand new swing. In case this happens, you should stick to a durable one in selecting.
Normally, an expensive one is better in quality, and accordingly the long-lasting than cheaper type. However, it still depends on the material and using it. Plastic works brilliant in wear resistance but is not as sturdy as steel. Thus if you need to use it mostly at home, the full-size type is the best choice.
Like I said before, the use can greatly affect the service of the unit. For example, if you put a toddler into the swing, no matter how wonderful the quality is, it goes broken quickly. What I want to say is, stick to use under instructions, and never exceed the maximum weight limit.
Maintenance is also important, do not be frightened by the word. It is not as complicated as other gears such as cars or furniture. It needs only clean, wipe the legs and wash the fabric on the swing.
5 point harness gives overall protection to the baby's safety.
With the help of straps surrounding around shoulders, hips, and crotch, the 5 point harness is, compared with 3 points one, far safer. The key to choosing the best 5 point one, is to check whether the strap is wide and sturdy enough. It needs also to be adjustable so that it grows with your baby.
>>Here are differences between 3 point and 5 point harness that you can check in detail.
Full size is always the best option for heavy babies.
No matter for the structure or for the weight limit, portable baby swing never exceeds the full-size type (That is also why it always charges less than full-size swing.) After all, the large baby swing with a wide structure is designed for residential use rather than for travel use.
Aside from functions, you need to check if it fits your baby's size.
>>Here are the reviews for full size baby swings that you can check in detail.
FAQ:


1. Do manufacturers make a swing for an older baby?
Well, no. They normally make a swing in a universal size that radiate as many babies as possible. However, you should always remember, the baby swing is not designed for toddlers. When the baby grows large enough, he or she must step into the next stage, and all the body developments are not as weak as they are in the first month or his life.
That is also why there are a baby rocker, bouncer, swing sets, and other kinds of baby gears. They help to exercise both mental and physical skills. For taking an overnight sleep, they have a crib; for getting an afternoon nap, a bassinet is a better option.
But "does it mean I should abandon baby swing when the baby grows a bit larger?" No, actually, you can choose some heavy duty types. They have a larger capacity and are more sturdy, just as those products we have shown in our reviews.
2. Is there a baby swing with a maximum weight limit out of there?
Till now, the highest weight limit you can find on the baby swing is 30 pounds, which means, if your baby is over 30 pounds, he or she is no longer suitable for using baby swing any longer. You can always find some substitutions, such as rockers and bouncers.
Here are the ideal using time for each stage of baby gears:
Infant swing:
Age range: 0-6 months; Maximum Weight: Average 25 pounds
Use the swing until the baby becomes active and can climb out of the swing
High chair:
Age range: 6-24 months; Maximum weight: 50 pounds
Use the high chair only with a child that has enough upper body control to sit up unassisted
Click here to check the best high chair on the market
Newborn seat:
Perfect gear for feeding or napping
Age range: 0-6 months Maximum weight: 25 pounds
Use the newborn seat from the birth until he can sit up unassisted
Toddler seat:
Hold toddlers up to 50 pounds
Age range: 18 months & up; Maximum weight: 50 pounds
Use toddler seat only when kids are able to get in and out of the products unassisted
3. Are there swings for babies over 20 pounds?
Yes, baby swings for over 20 pounds are commonly found on the market, for it is the average weight limit that nearly all infant gears are able to hold. Thus if you attempt to get one for the baby under 5 months, those over 20 lbs can be a good choice.
Best Baby Swing Over 20 Pounds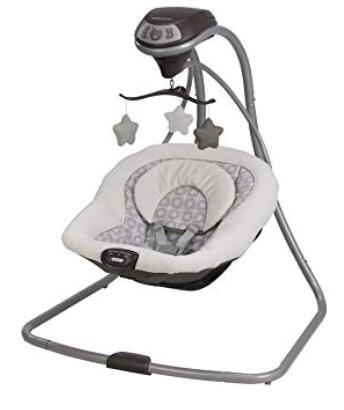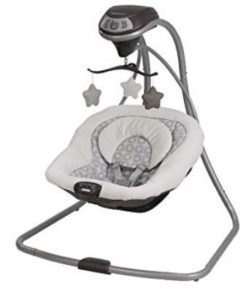 4. Is there baby swing with 30 lbs weight limit?
Most infants reach around 30 pounds when they are 5 or 6 months, and it is the time that they should change into another type of baby gears, for they are growing the strength on their muscles.
And that is exactly why for the majority of swings on the market, the maximum weight limit is 30 pounds, especially for those full-size types, as seen in Graco.
The sturdy steel structure enables to hold a bigger or heavier baby, wide open legs rather than a space-saving footprint, as portable type, keep the gear stable and reliable during the whole using time.
5. Are there baby swings that hold up to 40 pounds?
If you want to get a baby gear for heavy baby use, of course, you need to get one with a high weight limit, for example, those hold up to 40 lbs. There are! But you can only find one or two pieces of them with such large weight capacity. However, even with that, you can never expect it to be as stronger.
Normally when the baby grows into 40 pounds, it is time to exercise their leg or arm muscle. Lying on somewhere swing automatically for a long time is no longer suitable. You may consider an outdoor swing or a rocker.
6. Is there a baby swing that holds up to 50 lbs?
For this question, I can tell you: no, there aren't. As we have talked before, the average weight limit reaches 25-30 pounds, while few of which reach 40 pounds. It is the top of the tower, in other words, you do not need to waste your time searching for one with 50 pounds limit.
A baby overweighs the recommended weight limit will break the unit down, and he or she may even climb out of the swing by oneself, no matter which of the two cases happens, it gets baby prone to a serious accident.
Thus for the safety issue, most manufacturers won't risk producing such a large weight limit baby swing.
7. Is there a baby swing for a 6-month-old?
When the baby grows to 6 months old, he or she begins to learn to sit up and is likely rolls from the stomach to back. Therefore, placing him in a swing is no longer safe. When the wall of the swing is not high enough, he or she is easily climbing out and gets hurt.
Therefore, you can not get swings for babies over 6 months.
8. Is it possible to find a swing for a 1-year-old baby?
No, absolutely no.
What can a baby with 1 year old do? Well, they can feed themselves, walk downstairs, express themselves fluently and get excellent cognition. No matter for staying in a swing, or sit on a baby chair, their curiosity pushes them to climb out and explore the world by feet and eyes.
Then you will definitely need an outdoor swing, which is safe for toddlers and meantime bring great joys to babies.
Safety Tips on Using Baby Swing for Heavy Babies
The safety of baby swing determines not only the quality level of the product, but it is also tightly associated with using conditions and using times. Here we listed some of the tips you need to obey for the safety of your baby in using:
#1. Read the weight limit before purchasing, and make sure your baby is within the capacity.
#2. Stop using it the moment your baby overweighs
#3. Stop using it once you hear strange noise
#4. Stop using it when it gets wobble and calls the manufacturer for help
#5. Never use it as an overnight sleeper, it is just a safe place for a nap!
#6. Never leave your kids alone in the swing. Always be with them while they're using it!
---