Plug-in baby swings are frequently used on full-size swing machines; they need to stay right near the plug. This makes them perfect for indoor use.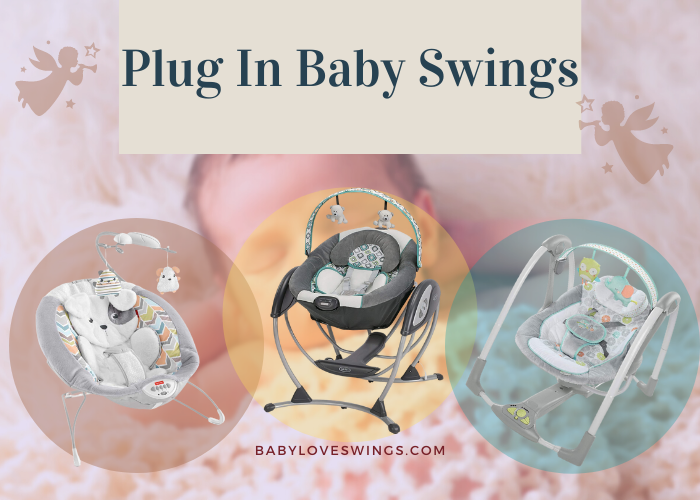 Compared with battery-operated baby gears, the plug-in type is the most cost effective. You'll end up saving a lot of money from not buying and changing batteries constantly. There are tons of different plug-in baby swings, but you're in luck! We've reviewed the top plug in baby swings so you can make an informed decision.
Here are the best plugin baby swings reviews on the market in 2023.
But first – if you're looking for a convenient registry tool, check out Amazon's Baby Registry. Amazon has millions of products to fill your house with all the right baby things. You'll also get a free welcome box when you create a registry today.
Top 5 Best Plug in Baby Swings in 2023
Best Plug-in Baby Swing – Graco Simple Sway Baby Swing  — Rating: 5.0
Best Functional – Graco Duet Connect LX Swing  — Rating: 4.8
Most Cost-effective – Fisher-Price Sweet Snugapuppy   — Rating: 4.7
Best Quite – Ingenuity Twinkle Teddy Bear  — Rating: 4.8
Best For Newborn Babies – 4moms 2015 mamaRoo Infant Seat  — Rating: 4.9
16 Best Plug-in Baby Swing on the Market Reviews
1. Best Plug In Baby Swing

– Graco Simple Sway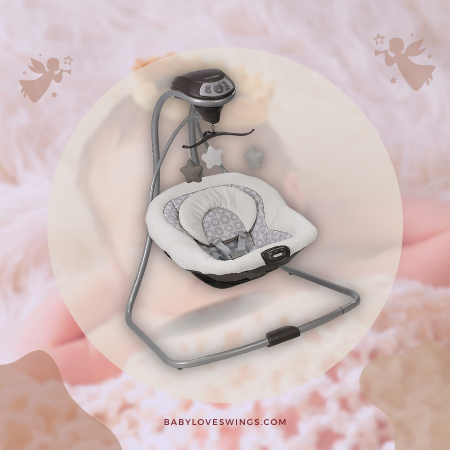 Plug in & Battery
Comfort Level:


Working Noise:


Function:


Portable:

This unit is a plug in and battery-operated type. Plug-in controls swing motion and music. The battery is used to control the vibration.
The full-size shape of the baby gear determines it to be used mainly for indoor, thus you can plug it in the wall to save battery. The seat is quite deep but cozy, the seat fabric is soft and easy to remove, when it gets dirty, you can just throw it in the washing machine.
Head support is thin but removable, for newborn baby, you can put extra pillow for support in it. It has 6 speeds you can adjust. The gentle vibration controlled by battery can be adjusted, two modes are chosen.
It swings from side to side only like a cradle. The small frame saves much space than other full-size baby entertained machines but also occupies much floor space. But it unfolds, so it can be used only for home. And we do not suggest you move it around because of its heavyweight.
15 songs and sounds soothe baby, especially with natural music. 5 point harness keeps baby secure all the time. Three stars hanging ahead rotate together with the machine. The whole design style of it is unisex, perfect for both baby girl and baby boy use.
Pros:
6 swing speeds
15 sound and songs
Gentle vibration
Small frame, save space
The removable infant support pillow
Five-point harness
Cons:
Side to side swing only
Unfold
2. 2 In 1 Baby Swing That Plug In

– Graco Duet Connect LX Swing

Plug in & Battery
Comfort Level:


Working Noise:


Function:


Portable:

Combines infant swing and baby bouncer together, this unit adopts both plug in and battery operation. The swing seat is the biggest among Graco full-size baby swings. You can plug it in the wall to control swing motions and music playing, the battery is used to control vibration mode.
When you use it as a floor bouncer, you can take it anywhere you like, keeping it staying with you all the time. And the battery is adopted instead of plugging in to control the baby rocker. But it still not able to move automatically, it moves according to baby's motions.
It has 6 moving speeds and 2-speed vibration modes, you can adjust the most suitable one for your baby. 15 songs and sounds are inserted to soothe the infant down. Natural music is an effective method to coax them to sleep.
Like the above product, this also occupies much floor space and is perfect for indoor use. It swings only from side to side. You can adjust the seat position to a vertical one or a flat one. The head support is too thin to carry a newborn baby's head. But it can be removed away easily.
The toy bar ahead does not rotate, they move with swing motion. Soft and cozy baby seat fabric can be removed easily for machine washing.
Pros:
2-speed vibration
6 swing speeds
15 songs and sounds
Removable swing seat doubles as a bouncer
Plug or battery
Removable infant support
Cons:
Side to side only
Take up much space
Toy bar not rotate
3. Fisher-Price Plug In Baby Swing

– Sweet Snugapuppy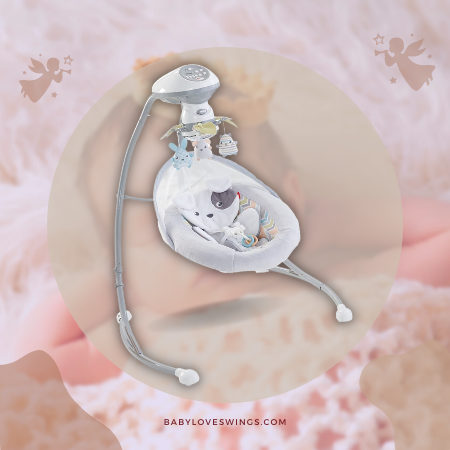 Plug in & Battery
Comfort Level:


Working Noise:


Function:


Portable:

This infant swing is a simple operated one. It owns all the basic needs of infant swings. It can be powered by plug in and battery. When used at home, you can plug it in the wall to save battery, if you use it outdoor, though we highly not suggest, you can use the battery to control the machine instead.
It weighs heavy, so it is not suitable to move around anywhere. And it is not portable and able to fold up, so carry it outside or for traveling may be a bad idea.
It swings both ways, and you can turn the seat to the front or the left easily. 2 recline positions satisfy different needs for both playing and napping. It has 6 moving speeds, and 16 songs and natural sounds. One of which will be on your baby's preference.
The smart technology can sense the baby's weight, the swing speed is adjusted smartly according to different speeds, even when the baby is growing older, the swing speed won't get low.
The seat pad is soft and cozy, cute puppy pattern and other multiple colors give you more choices. It has no infant support; thus it is not suitable for newborn babies unless you put an extra one inside.
Pros:
2 ways to swing
2 comfy recline positions
16 soothing songs & nature sounds
Easy to convert
Machine-washable, plush seat pad
Smart technology senses baby's weight and it starts without a push
Cons:
Take up much space
Uneasy to move
Lack of vibration
4. Baby Rocker Swings

– Ingenuity Twinkle Teddy Bear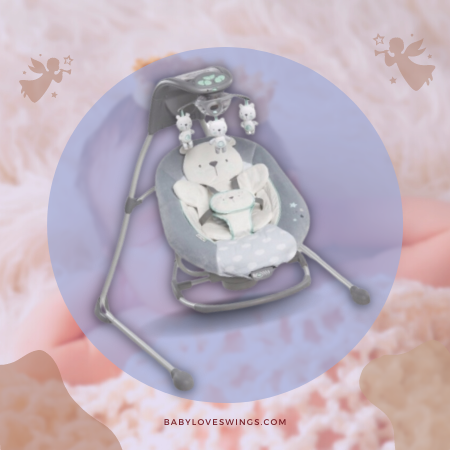 Plug in & Battery
Comfort Level:


Working Noise:


Function:


Portable:

This Ingenuity swing and rocker combo infant swing is also powered by plug in and battery both. For home use, we suggest you plug it in the wall to save more costs on battery.
The large and wide open legs take up much space, thus if your home is crowded with baby stuff, this is not suitable enough. But the portable floor rocker solves the problem. When you need to grab something to eat or need to do chores, just take the rocker with you.
Two wheels are set on the legs for moving, but you will not move it any longer once you assemble it, for it is too heavy and the wheel is really not working. It swings in multiple directions, kinds of like making an oval. If your baby does not like the insert music, connect your phone with Mp3 plug, and then play whatever baby likes.
Three plush toys hang on the toy bar and rotate once the machine is on, there is a light beam mobile, able to attract baby greatly. 5 point harness is able to keep the baby safe all the time. But for newborn babies, it lacks a support pillow.
The seat is big enough to make baby wiggle around, the fabric is super soft and cozy, you can get it cleaned by washing machine. Music inserted lasts for a short time, may wake the baby up once it stops.
Pros:
Swing in multiple directions
Inlighten design
Mp3 and phone plug
Easy to move
Rocker and swing combo
Plug in and battery operated both
Cons:
Take up much space
Not portable
Music lasts a short time
No head support
5. Baby Swing With Power Cord

– 4moms 2015 mamaRoo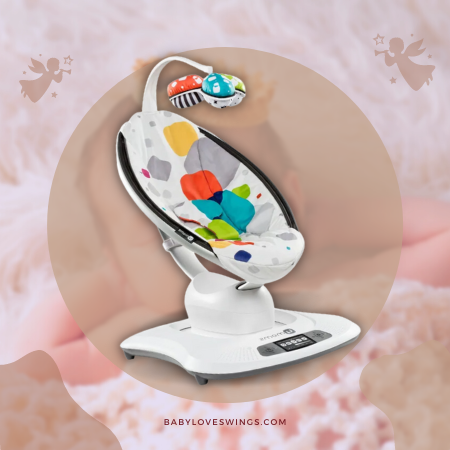 Plug in Only
Comfort Level:


Working Noise:


Function:


Portable:

This 4mom swing machine is powered only by plug in, which saves a great amount of money in buying and replacing batteries monthly.
As a baby swing of the future, it represents the most modern design. On swing motion, it imitates the motions of parents when they soothe baby in arm. Thus instead of swinging side to side or front to back, it swings uniquely. There are five motions, including car ride, kangaroo, tree swing, rock a bye and wave, any of them will get your baby's favor.
It enables Bluetooth to control your swing machine smartly, you can change the music or change the swing remotely on your smart device. 4 built-in music which includes natural sounds only is able to calm the baby down effectively.
The soft and cozy fabric is machine washable, you can just take it off and throw it into the washing machine. But for a newborn infant, it lacks any support pillow for the head and body. The swing speed is a bit slow. 3 point harness keeps baby secure all the time.
The compact shape makes it a space saver at home, the size of it is 1/3 less than normal full-size type. It weights light, able to move around. But the plug in option determines it to be used only for indoor. It has no vibration set.
Pros:
5 unique motions
4 built-in sounds & MP3 plug-in
Adjustable seat recline
Not heavy but sturdy
Easy to set up, adjust and use
Space saver
Cons:
Only natural sounds
No vibration
Have no newborn insert
6. Baby Swing With Plug-in Option

– Graco Glider LX Gliding Swing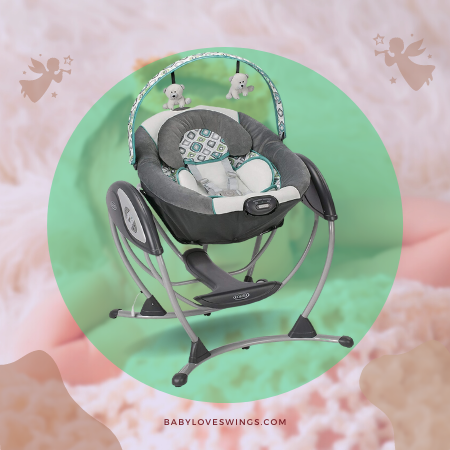 Plug in & Battery
Function:


Comfort:


Portable:


Working Noise:

It looks quite like a robot, right? Well, don't get frightened by this big thing. It is pretty functional and you won't believe how much space it saves in your home. Unlike other full-size types, this special structure design on legs enable it to save, officially claim, 40% of your space. Surely, it may exaggerate a bit, but through testing, it does save a lot compared with other similar types.
We give a five-star rating on its function, for it suits basically all needs of yours on qualified baby gear. 10 melodies and 5 nature sounds, 6 gliding speeds, two detachable toy bars with two hanging toys. In a word, all functions where you can find on other normal types exist here.
What else? You want a plug in baby swing, yes, it is an ideal option. But the whole plug-in design controls nearly all the functions except for vibration, which is operated by the battery.
Do not worry about the battery life, there is timer mode. Set the timer on when to stop vibration and it helps save a large amount of energy.
Pros:
6 gliding speed
5 point harness to keep safe
Fairly easy to put together
1D battery for vibration
Saves much space
Perfect incline
Cons:
Music is a bit screechy
Not portable
7. Portable Swing With AC Adapter

– Ingenuity Power Adapt Portable Swing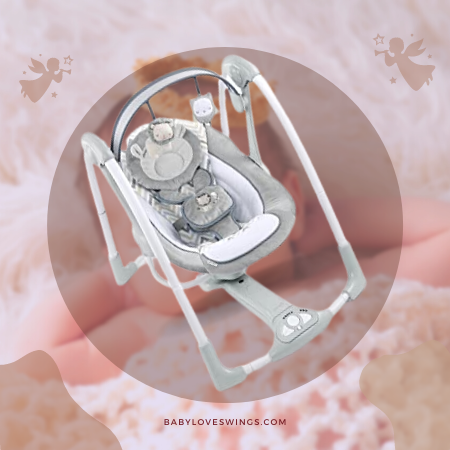 Plug in & Battery
Function: 


Comfort:


Portable:


Working Noise:

Ingenuity baby swing changes the common sense that all plug-in swings are full-size types. Yes, this is a portable swing. The foldable legs design makes it an ideal entertainment tool for traveling use. Once you fold it up, no matter for the suitcase or back of a car, you can always find somewhere suits it.
It comes with a standard two-prong adapter plug so that you can plug it into the base and the wall. Of course, for traveling or outdoor use, equip it with a 4D battery and you are free from finding an adapter any longer.
According to our investigation, 74.5% of parents are sick of the loud noise sound that may trouble a lot in use. Well, if you are one of them, click the button below and order it right away, cause it is superior in smooth working; no loud mechanical noise in working.
The button is set at the bottom of the structure, all the buttons are large enough that can be controlled easily even by your feet. But what comes with it, is the difficulty in putting baby inside. Because of its low seat, you will need to bend down and put a baby in and out gently.
At last, I must praise on its appearance. Unisex colors design with light gray suits both baby girl and baby boy use. For fear of cleaning?  Do not worry! All you need to do is to detach the fabric and throw it in the washing machine.
Pros:
Can be folded up nicely
5 options on swing motions
No mechanical noise
Lightweight
Stylish and comfy
Serves well for travel or portable swing
Cons:
Swing from head to toe only
The seat is not deep enough
A bit of trouble in putting baby in and out
8. Baby Swing With Wall Plug

– Graco Duetsoothe Swing And Rocker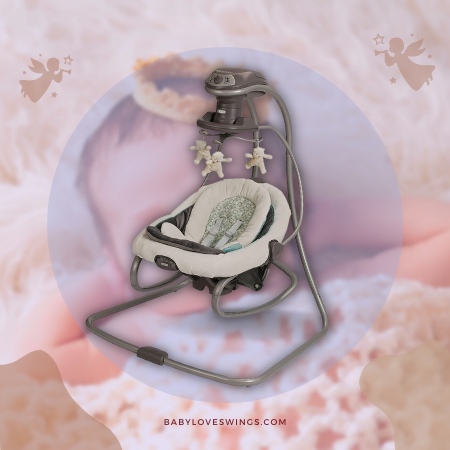 Plug in & Battery
Function:


Comfort:


Portable:


Working Noise:

If you are hesitating on buying a swing or a rocker, then this one will meet your needs. It combines swing and rocker, removing the seat down, and then you can change it into a rocker. The whole-body metal structure ensures it to be pretty sturdy and durable.
The maximum weight limits for swing and rocker are different, for the rocker, it carries up to 18 lb, while the swing carries as large as 30 lb babies.
Three different seating positions meet the different preferences for babies. 5 point harness keeps baby safe during the whole using time. Soft and easy clean fabric makes baby feel comfy.
Both battery and ac adapter helps power the machine. If you are sick of changing batteries frequently, then plug it on the wall. And according to test and experts calculation, plug-in option helps save up to $130 for its using time. The battery also serves as a controller on operating vibrating functions.
It is not a compact swing, but for a small apartment, you can still find some small ground to place it, thanks to its unique structure. However, it is not a silent machine, small creek sound can be heard in use. (The only swing brand that works perfectly in this area is Ingenuity.)
Pros:
Pretty cost-effective
Easy to put together
Cute pattern and excellent design
3 seating options
10 melodies and 5 nature sounds inserted
6 swing speeds
9. Full  Size Baby Swing With Plug-In

– Fisher-Price Elephant Safari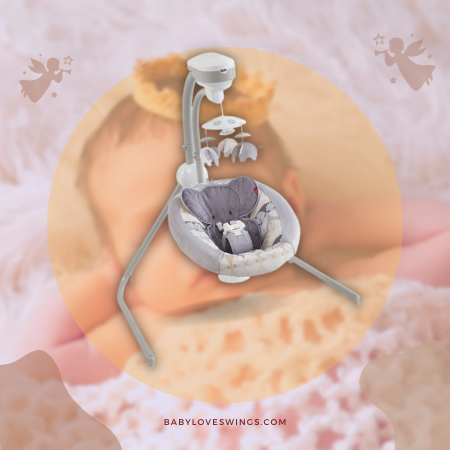 Plug in
Function: 


Comfort:


Portable:


Working Noise:

This is a quite simple, easy operated yet highly sturdy swing for your baby that comes only around $100. What makes it super sturdy is its metal frame design, with wide-open legs stretching forward. There is no need to worry that it wobbles in use, only if you use it under the recommended weight limit.
The simplicity of the Fisher-Price Safari Baby Swing shows on structure design but not on its function. There are 16 songs and soothing sounds that you can choose according to the baby's preference.
It has two inclined positions. What makes it attractive is the super cute pad design, elephant ears serve as a cozy head snuggler.
The elephant design shows also on its hanging toys, three soft elephant pals fixed on the mobile grasp the baby's attention effectively.
Being a top rated baby-related machine brand on the market, Fisher-Price is also brilliant in its speed control system, known as "SmartSwing Technology". It is a smart system to sensor the baby's weight and then change the swing speed automatically.
There is no battery option, which means when placing at some corner of the home near an adapter, it becomes an "eternity home" for the swing. But let's see it, on the other hand, it saves a significant amount of money on changing batteries. So there's nothing too much lost.
Pros:
Battery-free design
Advanced SmartSwing Technology to adjust swing speed smartly
Super soft plush insert
Soothing sounds to relax baby effectively
Six swing speeds
Two swing motions
Cons:
Not suitable for small apartment
10. Best 2 in 1 Baby Swing

– Primo Smart Voyager Convertible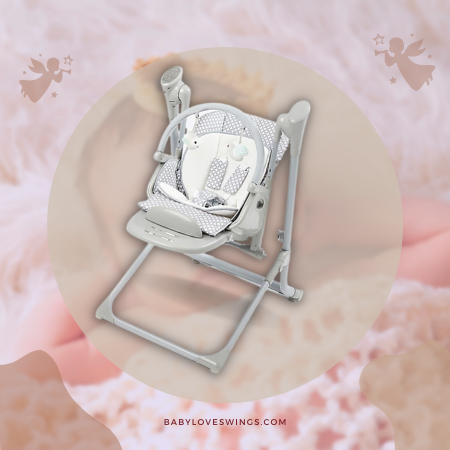 Plug in & Battery
Function:


Comfort:


Portable:


Working Noise:

Getting much knowledge on rocker combo, glider combo, and bouncer combo, now it's time to introduce you a high chair combo. It serves as both swing and high chair. And its relatively high seat helps relieve the pain of reflux or colic meanwhile.
For most families, a baby high chair is a must-have device; it provides a safe and comfortable place for the baby to have its meal. The maximum weight limit of it reaches up to 40 lbs, suitable for baby from 6 to 36 months old, which carries far more weight than standard baby swing. As your baby grows large enough, they can be a pure high chair.
The infant swing without plug-in option chew up batteries and burn money up accordingly. It has power options on either battery or plug-in when used as a swing. Compared with other full-size baby swings, this one is quite simple in normal function but advanced in providing customized service.
Through the companion app, you can control the swing speed, music, and volume conveniently from your phone. What I like most is the Responsive Cry Activation Mode. It detects when the baby wakes up, then the system turns on and swings gently while playing soft music to go on soothing them back to sleep.
However, no matter how smart the machine is, never leave your baby alone with no one taking care, the device can never replace humans, but indeed, it can be a wonderful lifesaver.
Pros:
Easy to assemble
Simple to convert it to a high chair
Super cost-effective
Multiple seat options
Lots of choices in the speed of swing
Well-cushioned seat
Advanced technology
Cons:
Weak swing motion
A bit noisy in working
Baby Swing With Plug-In Option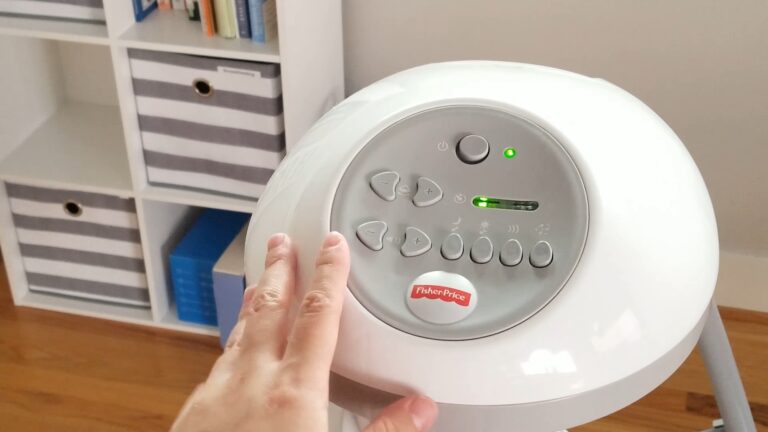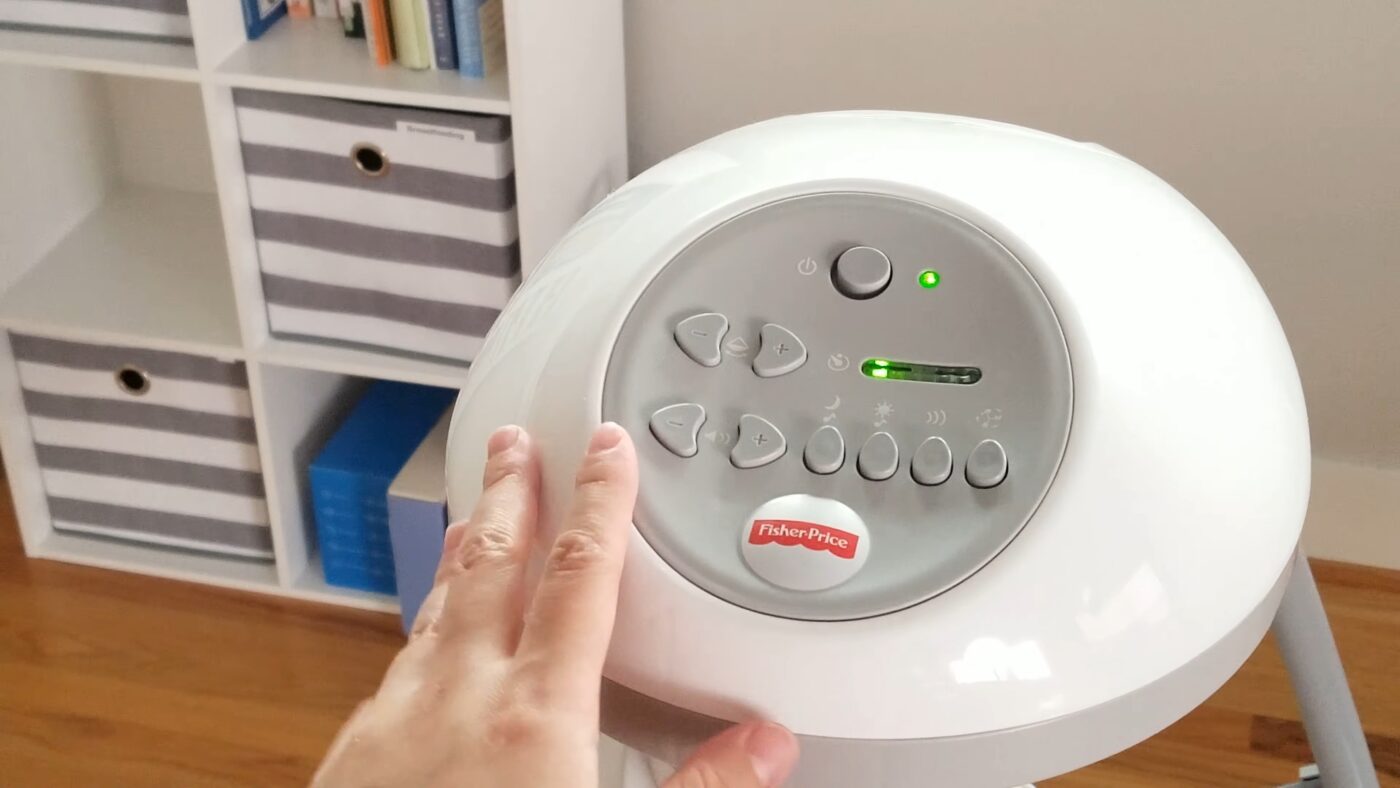 The swings that plug in are normally used at home near ac adapter. But what if you attempt to use it for travel use occasionally? Well, for such conditions, there are types with a plug-in option.
Plug in baby swings is perfect in saving energy, while battery-operated swing machines work well in outdoor use. By getting a baby swing with a plug-in option, you are able to use them almost anywhere in any condition.
However, in purchasing, you need to take care that not all the plug in baby swings with battery can be powered totally by the battery. They are frequently used for the function of vibration.
Portable Baby Swing With AC Adapter
For most occasions, infant swings with ac adapter are normally full-size type, pretty heavy and hard to move around.
Portable baby swing with ac adapter perfectly solves the problem, it is quite light weighted as foldable or compact types. You can take it around easily as long as the power cord can be found in the room.
The best type we would like to suggest is as follow:
Compact Baby Swing With AC Adapter

– Graco Glider Lite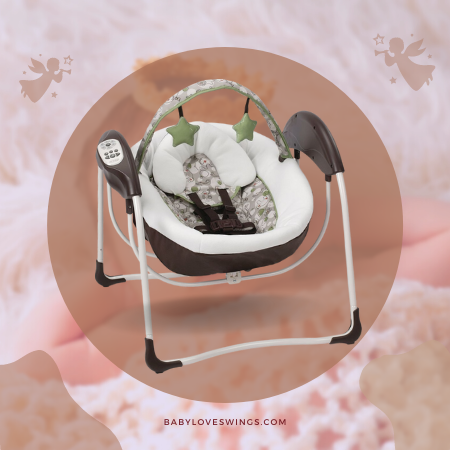 Why Do You Need a Plug-in Baby Swing?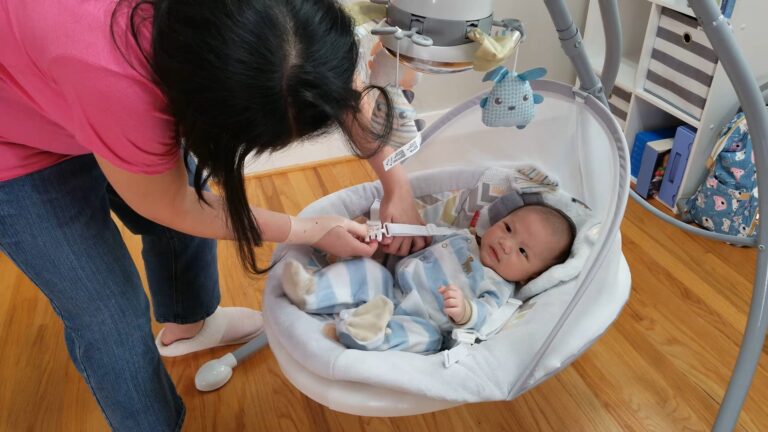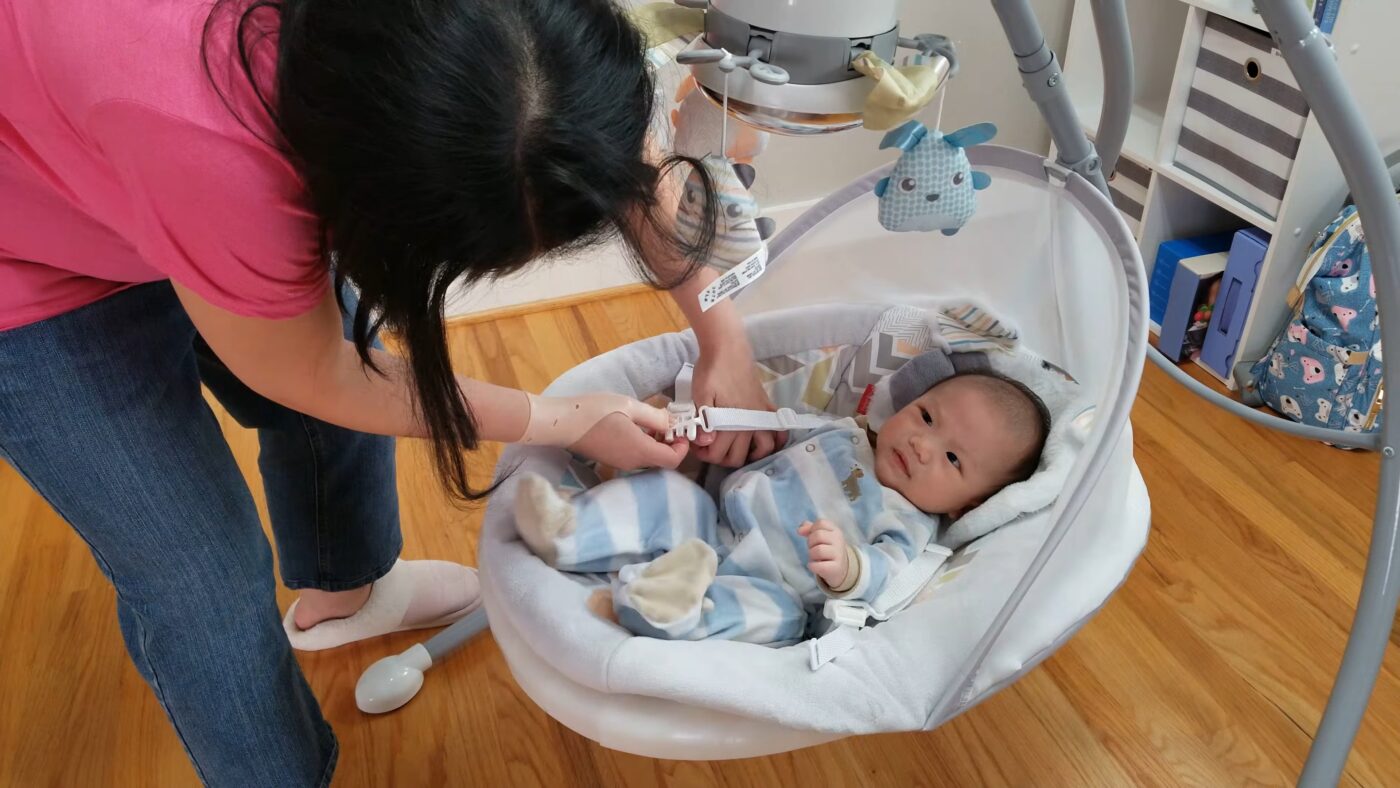 Baby spends 75% of their time sleeping, and for the rest of the time, it cries and eats. Most parents believe their infants to be a falling angel when sleeping, however, they always regret what they have said before when you feel tired of soothing them. Thus, that is the reason for a baby swing, the unnecessity, to be a popular product on the market and is well praised as a lifesaver.
So you may wonder, which exactly kind should I choose?
Well, if you intend to use it for the home only, definitely choose plug-in type!
Why?
Do you want to spend most of your money and time on buying batteries? If not, then that is the key and primary reason for choosing a baby swing with an ac adapter. A data may be more convincing for you, according to our tests and calculation, getting an ac powered baby swing saves $130 for a year. Come on, with $130 at hand, you can totally buy a brand new baby swing, perhaps even better than yours now. Not to say how environmentally friendly it can be.
Besides, what comes out of your mind when referring to baby swing with a power cord? The full-size type, right? Yes, it is a truth that nearly 90% of the plug in baby swing belongs to full size, or say functional baby swing. Because battery alone is not capable of powering multiple functions at the same time unless you are willing to change batteries once a week.
In a word, with a plug in swing, you are able to:
Use it longer
Get more entertained choice
Save your wallet a lot
And protect the environment unintentionally
Pros & Cons Of Plug-In Baby Swings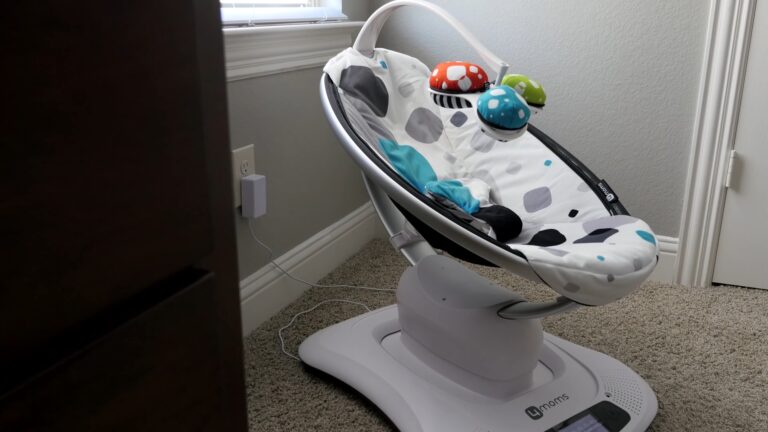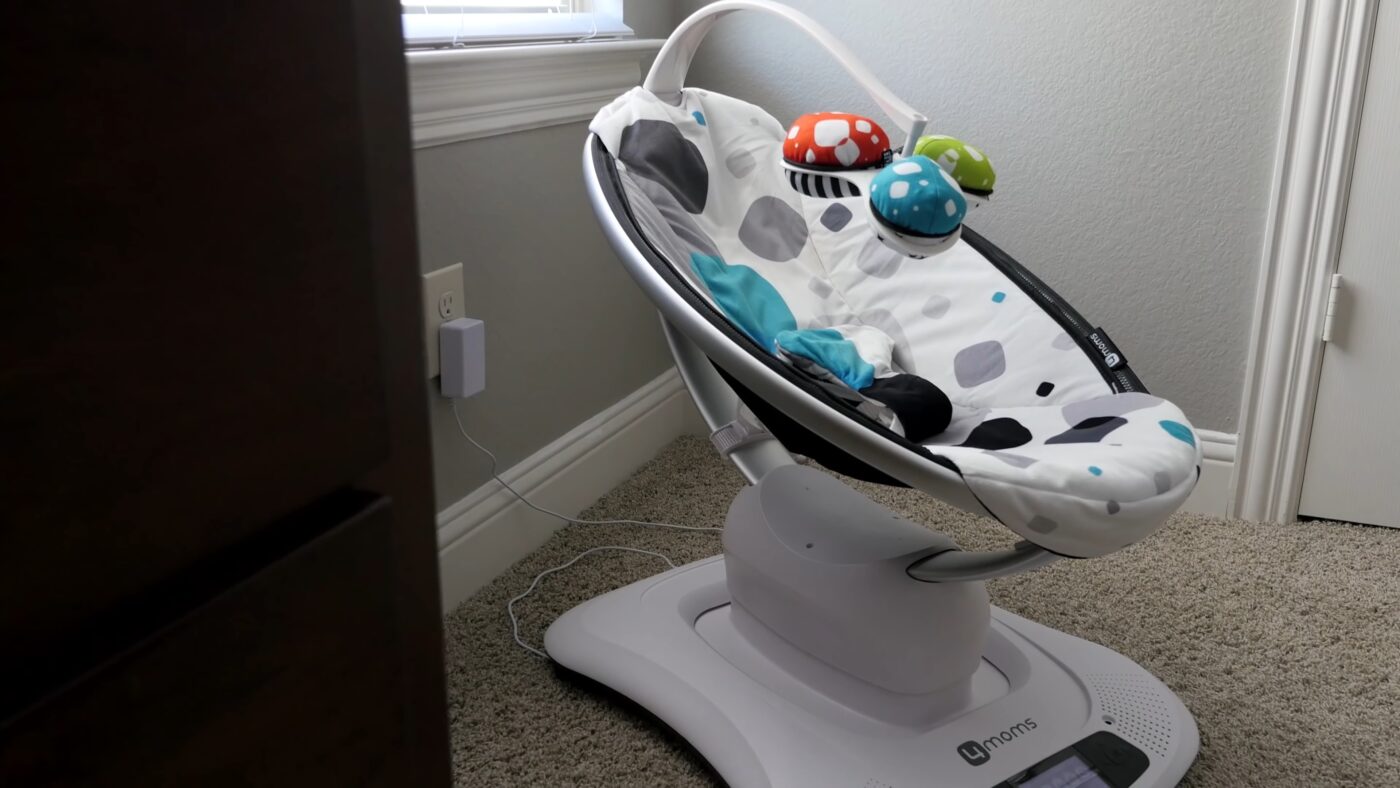 Pros:
1. Save more money on battery cost
2. Support more functions
3. Perfect for indoor use
Cons:
1. Unable to move around causally
2. Not suitable for outdoor use
Plug-In Baby Swing vs Battery Operated Baby Swing
Usages
Plug in baby swings are perfect soothing machines to be used for indoor, it saves a large sum of money of buying battery constantly, and gets rid of the trouble to replace it monthly. All you need to do is to plug it in the wall, and then you can let it go.
Besides, nearly all the full-size baby swings adopt plug-in operation, it is able to support more function. For long term use, using costs of plug in baby swing is far lower than the battery-operated one.
On the other side, battery operated baby swing can be used for traveling. They are normally portable type, the small shape and compact design make it super easy to be carried away in a backpack or suitcase.
With battery operation, you are free from finding plug outdoor anywhere, you can just take out the baby swing and turn on it easily, making it a lifesaver even outdoor.
Shortcomes
Both of them have their advantages and shortcomings, it determines where you use frequently. If you are a travel lover, then you can choose a battery-operated one, to have more easy but precious time with baby outdoor. If you just want a safe machine to use at home, be a home lifesaver, then plug in is, of course, the best choice.
But actually most full-size baby swings support plug in and battery both, you can choose that type if you still have trouble in deciding.
Summary
If you have the intention of getting more information on price and product performance, please feel free to check out for Amazon.
---