We all like something bright, it gives us hope, warm and the feeling of security, so do infant babies. The light attracts babies' attention and makes them feel protected especially at night. That is why the best light up baby swing is always on hot demands, I assume.
However, baby's eyes are in rapid development for the first few months, too bright light may do harm to them. Apart from this, there are also other things you need to pay great attention to buying one.
In this post, we will give you the answers on how to choose, and what is the best light up baby swing on the market of 2020. Hope you get ideal types through our guidance and reviews.
Now, let's dive in…
Best Light Up Baby Swing Reviews of 2020
1.
Best Baby Swing With Lights

– Ingenuity DreamComfort InLighten Cradling Swing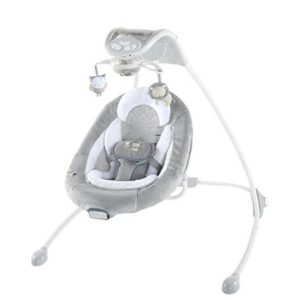 This is a functional full size baby swing, with light up mode, rotates with mobile. At night, you may turn up the light and attract baby with the moving bright mobile.
If you find the light not attracting enough, try to play the music. Apart from the sounds and songs inserted, there are also optional smartphone connectivity; by connecting the swing with your phone, you can finally play the favorite songs your baby loves most.
6 adjustable swing speeds meet with different baby preference. Don't worry about the weight, as baby grows, the swing speed auto adjusts to ensure that she can still enjoy the fun. For playing, napping and feeding, you may choose the 3 different seat positions. All is easy with a gentle pull.
What movement baby loves the best? Definitely the vibrating, and here comes the vibration mode set on the swing seat. By the way, it is mainly operated by the battery. Turning the button from left to right, and you can have it fast or slow.
All the function proves it to be a highly cost-effective chair that deserves to get it soon!

Pros:
Multiple directions available
Soothing vibration
Automatic swing
Plug in design
Sturdy and stable
180-degree rotation
Cons:
Not suitable for small house

---
2.
Best Baby Girl Swing With Lights

– Fisher Price Starlight Papasan Cradle Swing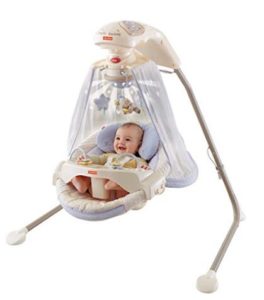 Respond to the series name – Starlight, it does shine light star when you turn the light on at night. The light up motion sets on the mobile, and with mobile rotating, a few beams shine out on the net, which makes the swing change into a warm and cozy castle to the little baby.
What comes with the light and mobile is a detachable tray. For babies around 3-4 months, the tray plays an important role. It exercises baby's arm strength and mental strength (thanks to the toys set on the tray). Most importantly, it frees your hands in feeding babies.
Seeing its wide open legs, you may consider, how large space it occupies. Yes, it is a truth. Yet, it also brings along with sturdiness and stability. Carrying babies around 25 pounds can be a small piece of cake for it.
Another thing I would like to praise is the machine washable fabric, soft and cozy, there's nothing more you can expect on other units. When it gets dirty, take it off and throw it in the washing machine can always be the best thing.
Pros:
2 different swing motions
6 swing speeds
Soft hanging toys
Motorized mobile
16 inserted songs
Plug in and battery mode

---
3.
Fisher Price Baby Swing With Lights

– Mocha Butterfly Papasan Cradle Swing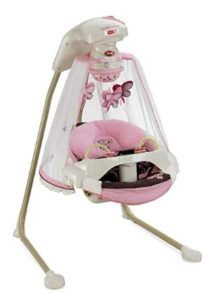 This baby swing with lights inherits the cute and beautiful shapes of Fisher Price, pink pillow along with cute butterfly toys hanging and rotating around the mobile. Like the starlight type, it lights up with the movement of the mobile.
The net around the swing gives baby the sense of security when lying in it, mesh fabric is breathable, letting more fresh air in no matter for indoor or outdoor use. Plus, in summer, you do not need to worry about the annoying insects such as mosquitoes any longer.
Its supporting legs are wide and stable, surprisingly, it is also foldable. By putting the legs together, you can store it in the house or the garage.
6 adjustable swing speeds, 16 soothing sounds and songs, 3 seat positions, you may use it to meet all the demands of your babies. And the last worth mentioning thing, is that it is powered by ac adapter, which means you save a large sum of money on buying batteries constantly.
Pros:
6 swing speeds
Perfect for baby girl use
Foldable for storage
Plug in option to save battery and money
Stable and cozy
Magic light show

---
4.
Portable Baby Swing With Lights

– Fisher Price 4 in 1 SmartConnect Cradle 'n Swing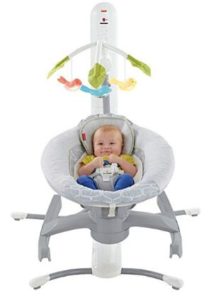 This baby swing also lights up, but unlike the other three types we have recommended before, it lights on the toys. The toy bar is hanging on the swing, with four little birds rotating around; if you turn on the light, it shines and moves to grab the infant's attention. The best part is, it is a rocker and swing combo; in other words, you can take it along with you as a portable type, but still able to enjoy the light by putting the baby on the rocker.
No matter for the rocker or the swing, it offers two options on swing motions, either from side to side or from front to toe. Simple as it looks, it is actually mobile connected. As you download the SmartConnect app, you can control the swing speeds and music all by your phone.
In terms of music, there are 16 melodies, with 3 nature sounds inserted. If none of which is on your baby's preference, try to play some other types with your phone.
The machine washable fabric and infant head support gives the baby the best feeling. Anyway, if you want one portable type with light up function, buy this one!
Pros:
2 in 1 rocker and swing combo
16 songs and 3 nature sounds
Plush seat pad
Easily removable body support and seat pad
Smartphone connectivity
Cons:
It takes some time to connect the phone with the swing

---
Why You Need a Baby Swing with Light?
1. You need this to attract baby's attention
Getting a baby swing chair with lights, it is a good helper on helping you soothing baby down in a minute. Just imagine, everything goes on well and out of a sudden, your baby starts crying, perhaps because she gets bored on staying inside. However, the exhausting body of yours makes it impossible to hug her and swing around to soothe her down. What to do next?
Well, open up the light with mobile, decorated along with soft plush toys. I am sure that your baby calms down in a minute. Why? Everyone likes the bright thing, especially for newborn babies, the light is a strange thing that will effectively attract their attention.
2. It illuminates at night and drives the darkness away
Turning the light on at night brings a warm and comfortable environment, especially in warm and moderate brightness level. According to the experiments, white bright light is perfect for reading or studying for a long time; warm light can be a great light source for bedside reading, which, in other words, it makes you feel cozy and secure, and is easier to fall asleep in such a peaceful atmosphere.
It works well for the young babies, lying in the soft swing, with gentle vibration or smooth left-to-right swing, they listen to the soothing sounds and meanwhile are deeply attracted by the yellow light, perhaps also with mobile; what a peaceful scene. In such conditions, they fall asleep rapidly and soundly, and then it is time to move them to a crib or a bassinet, and send them to the sweet dreamland.
3. The light brings about a sense of security.
Light represents hope and warmth, but most importantly, we feel secure and protected in the brightness. Nearly every kid is afraid of darkness, not to say the infant babies. Getting a light up baby swing is actually bestowing the baby with the feeling of being guarded all the time.
What You Should Know on Baby Swing with Lights?
While bringing cozy and security to babies, the baby swing lights also come with some cons; But do not worry, there are always ways to get rid of them.
1. It burns the batteries.
Infant swings basically feature the music and swing motion; for a portable or a travel swing that powered by batteries, it takes no more than a month or two to replace it with new batteries. Now, with the light turns on for nearly 1 hour, I assume that the batteries burn up in around half a month. Well, perhaps that is the reason why most portable types are equipped with some simple functions only.
Upon the calculation, if your baby is a big fan of the light, you may as well consider a full size type, with the plug in operated I mean (A full size type with battery operated will only make things worse).
2. Do not let your baby stare at it for a long time.
The light, no matter how soft it is, will always do harm to our eyes if you stare at it for a relatively long time. Thus in using it, if your baby keeps staring at it, you can use a toy or some other attractive thing to stop it.
How to Get Best Baby Swing with Lights?
Choosing the best type saves not only the money but also more energy, the following part is a guide on helping you figure out some vital considerations in purchasing.
1. Choose the soft light
As we have discussed before, the bright white light is perfect for reading or studying, while the soft warm light is suitable for soothing baby down at night. The too bright light is also harmful to baby's eyes.
2. A timer set is better
When it comes to the big concern on using light up swing, energy costs, or in other words, electricity costs can be listed on the top. Especially to the battery operated type, you may find that in a short period of time, the battery runs out of its energy.
Thus, the timer function set on some swings can be a great help. By setting the time to auto-shutoff, it saves much energy and money. It also serves as a reminder, if you have a bad memory like me, the timer helps to turn it off when you are busy cleaning all other mess made by babies.
3. What functions do you need?
The light up swing not only refer to those with light function, if searching on the Amazon, you will find many different functions of swings on the market. Some rotate with mobile, some hang with toy bars, and there are also some types with different lighting modes and brightness.
Each refers to the different price level, thus considering the budget first, and then figure out which functions suit your needs the most.