What can the best automatic baby swing do? Why should every parent own one on soothing babies? Well, if you get one when your babies are getting fussy or have a difficult time calming down, then you will know what the true meaning of "lifesaver"!
The automatic baby swing refers to the machines different from outdoor types, for they rely on electricity to work. The special users (infant babies within 6 months old) makes you pay additional attention in use.
Here in this post, we offer not only the reviews on the best automatic baby swings on the market in 2020, but also using tips and guidance you should know.
Now, let's get started!
Best Automatic Baby Swing Reviews 2020 on the Market
1.
Overall Best Automatic Baby Swing

– Graco Abbington Simple Sway Swing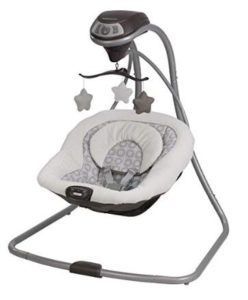 The plug in design eases your energy and time finding and changing batteries, and automatic sway motion comes with it entertains babies when he or she gets fussy. Multiple functions as it owns, its small shape helps it to be suitable for small apartment use. Metal steel structure adds up sturdiness and stability, all you need to do is place the baby in and buckle the harness tightly!
Want one with longer service life? Just look at its large seat. Deep, ample chair seat surrounded by soft and breathable fabric, trust me, the baby will fall in love with it the moment she gets in.

---
2.
Automatic Electric Baby Swing

– Graco Rascal Dream Glider Swing
With the automatic sway motion from front to back, babies enjoy the soothing time as a glider. There are three positions available, vertical one for entertainment, flat one for napping, and the middle one for eating. All can be adjusted by an easy-operated lever.
The vibration modes, powered mainly by batteries, have two speeds for comforting your babies. Cozy seat with machine-washable fabric brings joy to babies all the using time. The plush toys with mobile rotate with beautiful songs.

---
3.
Motorized Baby Swing

– Fisher Price Snugapuppy Dreams Swing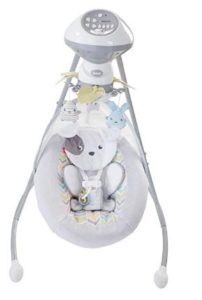 The electric swing we are going to recommend is a hot selling type, ranking the best sellers on each shopping platforms for several times. Apart from brilliant performance, its adorable appearance has been the most appealing thing. The cute patterns, along with the toys on mobile and harness, mix with soft seat pad, making it a unique decoration at home.
16 soothing songs, including several white noises, help a lot in coaxing babies into sleep. Press the buttons set on the seat, then you can adjust the recline positions and sway motions.

---
4.
Automatic Baby Swing With Vibration

– Ingenuity Fanciful Forest Portable Swing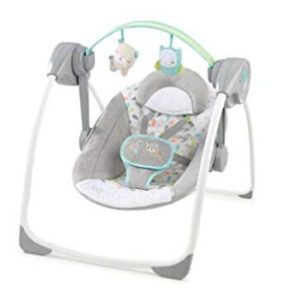 Here comes a portable type, small size with a lightweight design, making it easier to take along for outdoor use or traveling. The anti-skid rubber set on the leg adds up durability and sturdiness. Light grey color enables both baby boy and girl use.
It has newborn head support, and is detachable for easy cleaning. The cloth that covered around harness protect baby's sensitive skin. After placing babies in, put in batteries and start the machine, and it is a relaxing time for babies!

---
5.
Portable Baby Swing

– Fisher Price Deluxe Take Along Swing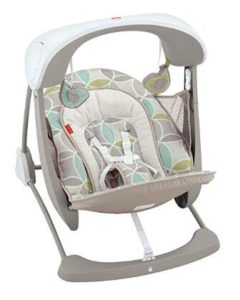 All the moving movement seems to be appealing to babies, however, there are always the moments babies need to sit calmly for eating. Under such conditions, this 2 in 1 portable swing chair and seat is what you need most. Buckle up the belt under the seat and you can convert it into a stationary seat.
Its portable design is the best option for the people on the go. Fold it up and you can pack it into the suitcase or backpack anytime you want. Cheaper than most of the baby swings, it is also functional, all the basic demands as music and vibrations can be found on the unit.

---
6.
Best Quiet Baby Swing

– Ingenuity Ridgedale Convert Me Swing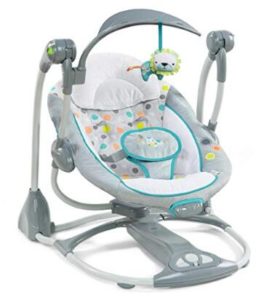 No one likes the noisy, neither do the infants. The advanced technology adopted on the motor enables it to work without any noise. Though it is battery operated, the Hybridrive technology prolongs the batteries life to 3x longer, reducing the unnecessary expense on batteries.
All the buttons set on the base of the swing that you can easily control by your feet. Turn the toy tray away if you think it an obstacle as babies get sleepy. By turning it off, you get a stationary seat with relaxing vibrations.

---
7.
2 in 1 Baby Swing

– Graco Roam Duet Sway Swing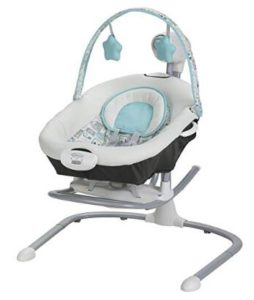 The swing doubles as a portable rocker when you take the seat down. With the handle design on the side of the seat, carrying it along with you is an easy piece. Multiple automatic swing speeds are adjustable based on the baby's preference. The maximum weight limit for swing reaches up to 30 pounds, which is perfect for babies under 5 months use.
Which sway motion your babies like? This swing offers two soothing motions, either from side to side or from front to back. The multi-directional seat also allows babies to enjoy different comforting options.

---
8.
Automatic Baby Bouncer Swing Combo

– Graco Manor Duet Connect Swing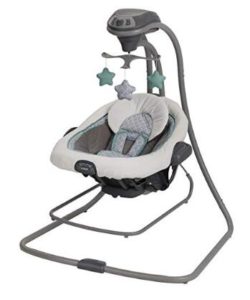 The automatic baby swing with full size shape is normally multiple in functions, and for 2 in types, it is also more cost-effective. The sway motions with adjustable speeds calm babies down; The soothing music with natural sounds coax babies into sleep effectively; Three plush toys hanging around the toy tray move with rotating mobiles.
Take the seat down and you get a lightweight bouncer, with vibration seat and pretty soft seat pad. The handheld set on either side of the seat enables you to take along. The large seat of which meets large babies use perfectly.

---
9.
Baby Swing with Motorized Mobile

– 4moms Mamaroo Bluetooth Baby Swing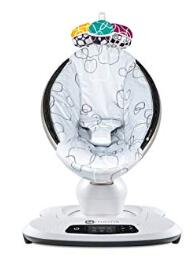 Being a modern baby swing, this swing has always been regarded as the future of the swing. From its shape, color design, to the performance and innovative motions on the swing, you can see the future shadows showing around.
The small base saves much floor space, 5 unique motions imitate the way of parents. Mobile toys with soft plush toy balls joy babies effectively. By connecting it with the Bluetooth, you can control it remotely on both motions and speeds.

---
10.
Automatic Swing Cradle for Baby

– Graco Soothing System Baby Glider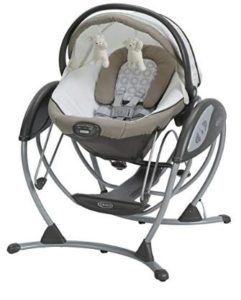 Shape as a baby swing, it is actually a 4 in 1 type, combining a swing, glider, bouncer, and bassinet together. In other words, costing around $200, you can take all the baby necessities home.
As a swing, the small footprint saves much floor space; The glider motion from front to back with different swing speeds coax babies into sleep; When going out for traveling, take the seat down and the portable bouncer is the best accompany on the way; Adjust the seat recline and it changes into a bassinet.

---
11.
Newborn Baby Automatic Swing

– Graco Josephine Everyway Soother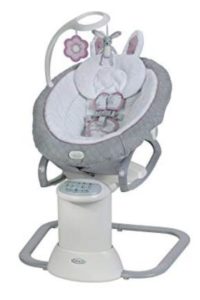 This automatic baby rocker features 8 swing motions, which includes arch, swing, bounce, figure 8, circle, wave, zig-zag, and sway. You can choose whichever baby loves most, together with the adjustable swing speeds.
If you live a small apartment, try this one. Thanks to the compact and small footprint, it saves much space for you. The buttons set under the seat control the swing speeds, music and all the other basic functions babies need.

---
12.
Automatic Baby Swing for Reflux Babies

– Graco Linus Slim Spaces Swing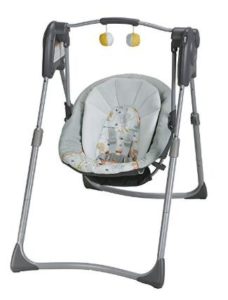 Baby colics and reflux are two common pains most babies are still suffering, if your babies are one of those, this type is a perfect choice. Verticle and straight-up seat recline help relieve the pain. Apart from that, the adjustable height of the swing legs meet the needs of babies under different ages.
Various swing speeds cater to different moods of babies. The overhead toys attract all the attention when babies sit in the seat. The 5 point harness safeguards babies all the using time. When the seat pad gets dirty, just take it off and throw it all in the washing machine.

---
13.
Automatic Baby Swing With Timer

– Ingenuity Braden Power Adapt Swing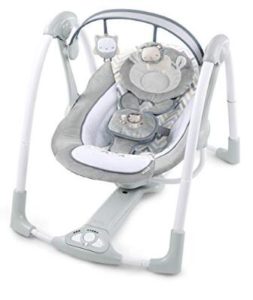 Do not let babysitting be the obstructions on the way traveling, with suitable baby gear, you can always enjoy intimate time with babies. This type is made compact and light, its foldable design eases the way of carrying it along.
Unlike other portable types, this one is AC Adapter available. Plug it in the wall for indoor use and use batteries when you take babies out. The quiet motor creates a peaceful environment for babies to have fun. What's more, it comes with 3 timers and 5 swing speeds. Just choose the one suits babies the most.

---
14.
Best Plug in Baby Swing

– Graco Light Beige Duet Soothe Swing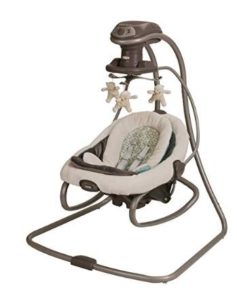 If asked what is most worth buying baby swing? I would like to say the full-size type (if you have enough space at home.) Full size baby swings are more stable and sturdy than portable types, because of the steel metal structures. Aside from that, their multiple functions and long service life have added up their values to a large extent.
The large seat bears larger weight capacity, even the rocker seat carries babies up to 25 pounds. when babies get tired and try to sleep, play the white noise and they fall into sleep soundly and peacefully soon.

---
Automatic Baby Swing vs. Toddler Swing
If you search for the baby swing on the market, you will find two types that frequently seen, one is automatic type, while the other is toddler swing, or say outdoor swing. So what are the difference between them? And how should I choose?
Automatic baby swing requires electricity, no matter from the battery or from ac adapter, to swing the unit by itself. You can also call it electric baby swings. After placing babies into the seat, buckling the harness tightly, and turning on the machine, then babies get soothed by the sway motions and sounds come with it. Toddler swing, on the other hand, refers to the gear hanging on the tree or the hall, using one's own power to swing oneself up.
It saves much energy in babysitting.
Hugging babies can be a tiring thing. It can be pretty exhausting and desperate when your babies start crying for no reasons. Then an automatic baby swing comes to rescue you out. It moves on its own, thus simply placing your babies in, and then you can do your own business while keeping an eye on them from time to time.
You may need it for your newborn babies.
The major difference between infant swing and toddler swing is the usage. If read carefully on the weight capacity, you will find that newborn swings carry up to 30 or 40 pounds at its maximum level. In other words, babies over 6 months may as well choose other gears. Right, the baby swing is designed for those unable to crawl and sit on one's own, it provides only a safe place for small babies to stay in while the parent is busy doing other business.
As the baby grows old, you can choose a toddler swing to strengthen up the muscle around the legs and upper body. It also gives them more chance to have an intimate touch with nature. For indoor use, there are also a baby rocker or walker that you can choose.
The functions vary based on needs.
Newborn babies are easily attracted by sounds and moving things, that is why nearly all the automatic baby swings come with music and toys. For high-end types, there are also Bluetooth control, Auto cry activation, and Hybridrive technology, etc. All of which serves as a accompany to babies, or as a soother, in substitute of the parent for a short period of time, thus giving the parent some time to relax oneself.
Toddler swing, while, serves more like an outdoor toy. Whenever you are free, you can take your kids out for a swing, not only can it improve body strength, but you can also get relaxing family time, which is the most important thing during kids' growth.
It is determined by where you use it frequently.
As we have talked before, the baby swings are mostly used at home. Even when you take it out with a portable type, you still need batteries to provide enough electricity for it to operate.
The outdoor swing, as the name suggests, uses out of the home. You can simply hang it on the big tree, make sure all the thing goes right, and then it is time to have fun together.
Automatic swing prices might be a lot expensive.
Because of the different functions and different usages, automatic baby swings can be a lot higher than outdoor types in price. But do not be scared by that, it is always the wise choice when the thing you get meets your demands. The automatic swing and toddler swing are not substitutable, they are catering to different age levels of babies. Therefore, choosing a suitable type is the primary thing.
Different Types of Automatic Baby Swings
When it comes to automatic baby swings, the single swing comes out in the mind for most people. However, they are far from that. From bouncer, rocker to cradle and bassinet, you can also find the best motorized baby swing based on your needs.
For the following part, we picked out the top-rated electric types for each type, and hope you get the suitable one.
Best Automatic Baby Rocker
The baby rocker that moves automatically is hard to find on the market, most of which are 2 in 1 types, which means, the swing and rocker combo. This kind of rocker bears the maximum weight limit to around 25 pounds, suitable for newborn babies use and is normally regarded as a portable gear in replacement of a full size swing.
Best Automatic Baby Bouncer
The baby bouncer is also a baby gear that nearly all the families have at home. It can be used as a stationary seat as well as a entertainment machine. The well-known brands on the bouncer include Fisher Price and Ingenuity, and each of which are in wonderful performance and quality levels.
Best Automatic Baby Crib
Automatic baby crib is quite the same as the automatic swing cradle for baby, but is more suitable for taking a nap during the daytime. It swings with side to side motions, comes with beautiful music and sounds, as well as flat wide sleeping space.
Things You Should Know on Buying
1. Quality
For each product especially for baby stuff, quality is the primary and the most important factor in choosing. The quality level, in most occasions, refers to the using safety and value. The baby swing is not a gear that accompanies a long time for babies, it is only useful in the first period of infants.
2. Safety
The safety harness is closely attached on the swing, in the protection of the babies during use. The sway motion and speed of automatic baby swing is controlled by the machine itself. Aside from checking the harness, you should also make sure the swing is stable and sturdy.
3. Power
There are two types of power in offering needed electricity to the swing units, they are ac adapter and battery. The ac adapter type, or say the plug in type, is more suitable for residential use, most seen on full size infant swings. While the other type, battery-operated one, is majorly used for portable or outdoor swing. It saves much energy on finding the adapter in the wild but also adds up the costs on buying and changing batteries constantly.
4. Functions
What are the basic functions that the baby needs when sitting in the swing? The sway motion, of course. There should also be inserted music and perhaps vibration modes. Those are what needed urgently on buying baby swings. However, when you look for the best types on the market, you will find most with multiple functions such as Bluetooth and unique sway motions, all designed for better entertainment. I'd like to say, if you have enough budget, then you can choose the functional one. Or the basic ones with cheaper price can be a wise choice.
5. Weight Capacity
No matter for toddler swing or automatic swing, there is always weight capacity, meaning the largest weight it can bear. Always use under the instructions and stop using it once your baby overgrows or something strange happens on the unit.
6. Using conditions
Are you the people frequently on the go? Or you are the type that spends a mass of time staying at home? Automatic baby swings can be divided into portable types and full size types based on the differences in sizes and functions. The portable types are designed to be light in weight and small in shape, they are foldable enough to be packed into the suitcase or in the backpack, perfect for outdoor travel use. Well, if you belong to the latter, then measure the space that is intended to place a swing. If it is large enough, get the full size one. For small spaces or small apartment use, a portable type can never be a wrong idea.
Tips on Buying
Apart from the above 6 factors you should bear in mind before purchasing, here are some suggestions that may help if you are still hesitating.
#1. A timer helps prolong battery life
If you luckily get an automatic baby swing with timer, then you have saved a large amount of money on buying batteries constantly. When the unit turns on for a whole day, the batteries run out easily. However, hugging and coaxing a baby is not an easy task, when he or she gets fussy, you will get no time caring about the machine. That is why the timer is designed. It helps to turn off the machine automatically when you are busy coping with urgent matters.
#2. Multiple sway motions tend to be more entertained
There is never enough to soothe a baby with single one sway. Babies get bored pretty soon, the single motion will soon lose its power in comforting babies. Thus, you may choose the one with multiple motions, when he gets impatience, try the other way. Besides, the adjustable swing speeds are also important, change different speeds with different weight of babies!
#3. 2 in 1 types are more valuable
If comparing the prices between 2 in 1 types and single types, you will find they are barely different. It costs even higher for those high end motorized electric swings. Under such conditions, buying a 2 in 1 rocker or bouncer combo can be pretty cost-effective. It is also a wise choice for a small apartment that spares no room for multiple baby gear.
FAQ:
1. Can a baby sleep in an automatic swing?
No. Baby swing is a gear for a temporary stay rather than long-time sleeping. The seat is not as stable as a crib or a bassinet, making it harmful when the baby sleeps inside for a relatively long time.
2. How long can a baby stay inside?
The baby should stay in a swing for no more than 2 hours a time. For infant babies, they need ample sleep to grow, and sitting inside the swing for a long time does no good to the bone development of an infant.
3. Can baby use it alone?
Never let your baby use it alone! The baby swing is a relatively safe place to stay. However, even with the protection of the harness, there still be a potential danger. Once it happens, the infant is unable to protect himself, which leading to unpredictable hurt. Therefore, no matter what you intend to do, always put babies around with you and keep an eye on them.
4. Is it suitable for large babies to use?
The maximum weight capacity for a baby swing is around 30 or 35 pounds, which is the average weight of babies around 4-5 months old. As the baby grows older, they begin to crawl and climb, making it unsafe to stay in the swing. Therefore, for large babies under 5 months, you can find some with stable structure; for babies more than 6 months, the toddler swing can be a perfect choice.
>Click here to check best baby swings for large babies