Traveling with babies can be a tough thing.
For the majority of my life, I am always traveling, to Europe, to Africa, and everywhere that is beautiful. It brings me not only the gorgeous scene but also a positive life attitude. Before I had my baby, all I need to bring is a lightweight suitcase, with simple clothes.
But what now?
I need to get a baby diaper bag, cribs, bottles and all sorts of baby necessity. It nearly kills me. But, I'd say, thanks so much to various portable baby gears. I love them! Those folding cribs, travel cot, outdoor bassinet, etc, just buy them all if you are super fond of traveling like me.
Then,
here comes my gift to you:
Get basic knowledge on the portable baby bassinet and find the ideal type from picked out 16 best portable bassinets I have tested.
Best Portable Bassinet Reviews
#1.
Portable Baby Bed – MiClassic 2 in 1 Rock&Stay Bassinet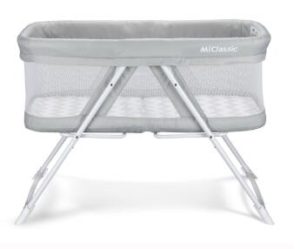 | | |
| --- | --- |
| Giftable: | (4.8 / 5) |
| Storage Capacity: | (4.8 / 5) |
| Comfort: | (4.5 / 5) |
| Price: | (4.8 / 5) |
| Durability: | (4.6 / 5) |
| Average: | (4.7 / 5) |
When I searched the best portable bassinet on Amazon, I found this type ranks the first and was the best seller at the moment. So I check and yes, it worths the title perfectly.
Being a portable bassinet or a travel crib, folding it up is really simple, just pull it up from the middle. Breathable mesh eases the way parents communicating with babies and brings them a sense of security.
The maximum weight it holds up is 35 lbs. The rocking option works perfectly; Extend the bracket at the bottom of the foot and it changes into a stationary bed.
Large enough for toddler use
Though it serves perfectly for travel use, also, you can put it at home for everyday use. The footprint is small, but once open into the full angle, it becomes sturdy enough to fit baby for many months. but for a small home, its size can be a headache issue, so do not get this if you have a small space at home.
Pros:
Lightweight
Safe enough for daily use
Large sleeping space for baby
Easy to assemble
High quality for the price
Cons:
Not suitable for small space use
No automation of any kinds.

#2.
Portable Baby Crib – Fisher-Price Stow 'n Go Bassinet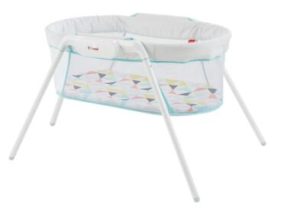 | | |
| --- | --- |
| Giftable: | (4.6 / 5) |
| Storage Capacity: | (3.0 / 5) |
| Comfort: | (4.5 / 5) |
| Price: | (4.8 / 5) |
| Durability: | (4.5 / 5) |
| Average: | (4.3 / 5) |
Fisher Price is not a strange brand to me, I have a Fisher Price baby swing and it works well with my baby. So is the bassinet.
Assemble and disassemble of it can be fairly easy, making it perfect fit in the trunk for driving. Plus, with the bag comes with the unit, you can store it anywhere possible. However, the mattress of it can be a headache thing, for it does not fold. Thus I am not sure whether it is suitable for air travel.
Baby is especially fond of the vibration movements, every time I put my baby into a vibrating swing, she falls into sleep immediately. So I would recommend moms get one crib with vibration.
Apart from the vibration mode it gets, there is also hanging toys on toy bars(Remember to remove it before baby sleeping, for it distracts baby), a small nightlight, soothing music(nature sounds included), and a large space underneath for placing diaper or other baby necessities.
Pros:
Suitable for everyday use
Cute appearance
Easy fold up for travel use
A great solution for newborn
Firm mattress
Sturdy and safe
Cons:
Swaying is not as powerful

#3.
Portable Infant Sleeper – Dream On Me Traveler Portable Bassinet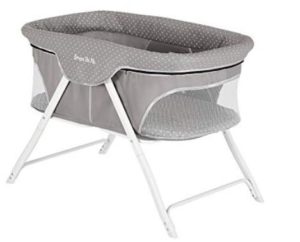 | | |
| --- | --- |
| Giftable: | (4.5 / 5) |
| Storage Capacity: | (4.7 / 5) |
| Comfort: | (4.4 / 5) |
| Price: | (4.4 / 5) |
| Durability: | (4.7 / 5) |
| Average: | (4.5 / 5) |
This is really the largest bassinet I've seen, just as the brand says, the size of which is bigger than others. As long as your baby is unable to stand up on its own, you can always use it.
Many complain that the mattress of most bassinets are too thin for baby to sleep. This one is thick and soft, you do not need to place extra cushion inside any longer. It can also be a co-sleeper bassinet, breathable mesh enables great visible.
Folding it is not a difficult task, just lift the mattress and pull the center latch to close. Then you can pack it in your travel case. Place a board under the mattress if you think middle part may bother your infant.
Trust me, choose the one that is capable of removing the fabrics. It saves much energy and also is good for baby, for you do not want it to sleep somewhere dirty(they are really superior in making a mess).
Pros:
Soft and large
Extremely large and sturdy
Great price
Very comfortable to use
Light and small
Cons:
The mesh isn't set on the longer side

#4.
Portable Baby Dome – Fisher-Price On-The-Go Baby Dome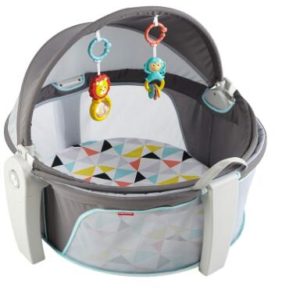 | | |
| --- | --- |
| Giftable: | (4.9 / 5) |
| Storage Capacity: | (4.2 / 5) |
| Comfort: | (4.5 / 5) |
| Price: | (4.3 / 5) |
| Durability: | (4.8 / 5) |
| Average: | (4.5 / 5) |
If you attempt to get one for air travel, I would rather you get another types. Foldable as it is, it is still too large for you to carry on in traveling, but a perfect cot for daily home use.
Perfect size for babies under 7 months
The first time I look at the picture, I thought it must be quite small and have short using time. However, it shocked me a lot when it comes. It is big enough to put two babies in and is still sturdy and safe to use.
All the pad and fabrics on the units are removable, thus you can wash it up frequently. Though it is not suitable for a long-distance trip, taking it with you to park or beaches, you can enjoy a relaxing time while keeping the baby into a safe place. The canopy keeps the sun and bugs out, so there is no need to worry about bright sunlight.
With a click of a button, it closes and opens easily. The legs can be folded up and be stored somewhere at home when not used for a long time.
Pros:
Perfect for summer babies
Keep sand and wind out
Take up small space
Reasonable price
Great for newborn baby
Lightweight
Cons:
Not suitable for air travel

#5.
Cheap Portable Bassinet – SwaddleMe By Your Side Sleeper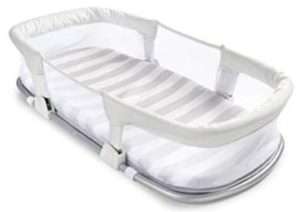 | | |
| --- | --- |
| Giftable: | (4.8 / 5) |
| Storage Capacity: | (4.2 / 5) |
| Comfort: | (4.1 / 5) |
| Price: | (4.5 / 5) |
| Durability: | (4.5 / 5) |
| Average: | (4.4 / 5) |
This is a portable baby sleeper, which you can put it on your bed to be a co-sleeper bassinet. Fold it up and you can easily put it into the suitcase, bringing it anywhere for traveling.
Installing takes only a few minutes, so is the folding process. It is also easy to clean, all the fabrics are removable and machine washable.
A perfect co-sleeper bassinet
Infant babies are afraid to sleep on their own, then you can put this sleeper on your bed and sleep with it. Its frameless portion in the middle enables you to put the baby down gently with no obstructions. Do not worry about it rolling over or sliding out, for there is a rigid frame on it.
Mesh sides of the bassinet keep it breathable and visible, it provides a clear view of baby in sleeping and thus protects the baby well. However, the major cons are that it tilts to some extent once you sleep near it. However, to the unbeatable price, it is wholly valuable.
Pros:
Sturdy metal frame
Soft and comfortable fabric
Portable for travel use
Simple design
Lightweight
Cons:
It leans when someone laying nearby

#6.
Portable Bassinet With Canopy – Primo Cocoon FoldingBassinet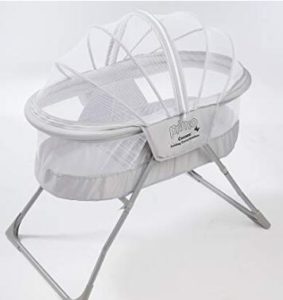 | | |
| --- | --- |
| Giftable: | (4.5 / 5) |
| Storage Capacity: | (4.6 / 5) |
| Comfort: | (4.5 / 5) |
| Price: | (4.8 / 5) |
| Durability: | (4.6 / 5) |
| Average: | (4.6 / 5) |
If you are on the go person, I am sure you will love this type. It works perfect for outdoor travelling, serves as a folding bed.
There are two ways of folding a portable bassinet up, to put the legs on or to remove them totally. I'd highly recommend you choose the first type. It takes a shorter time in assembling and also does less harm to the legs. It comes with a travel bag, where you can put everything folds neatly in easily.
What worries me most for outdoor travel in summer is the annoying mosquitos, so I really love the canopy design. It prevents the baby from harmful insects; the breathable mesh also offers clear vision – convenient for parents to check baby all the time.
The bassinet itself weighs only 9 lbs, maximum child weight is 20 lbs. Compact shape as it is, it fits newborn baby well, a bigger baby may not suitable for staying inside any longer. It has a good height for bedside use, you can easily reach down into it.
Pros:
Super convenient in traveling
Sturdy enough
Solid skeleton and holds well in place
Perfect in portability
Sets up easily and securely

#7.
Portable Crib Bassinet – Brica Fold N' Go Travel Bassinet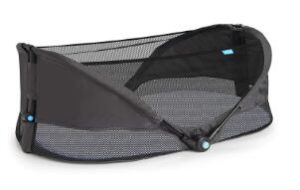 | | |
| --- | --- |
| Giftable: | (4.5 / 5) |
| Storage Capacity: | (5.0 / 5) |
| Comfort: | (4.5 / 5) |
| Price: | (5.0 / 5) |
| Durability: | (4.4 / 5) |
| Average: | (4.7 / 5) |
This is really a lifesaver in traveling! And what I love most, is the price. I rank it 5 starts for price. It costs no more than $50, a lot cheaper than most portable bassinets on the market. Of course, it meets basic needs on sleeping only, but what else do we expect when taking baby out?
Weighs no more than 3 pounds, you will find it super easy to carry around. Press down the button and it folds flat for convenient storage. It comes with a carrying handle, thus there is no need to buy extra travel bags for it.
There is a T-Lock system in control of the whole frame. There is an audible click at four different points to make sure bassinet is sturdy for use.
I would recommend babies under 4 months to use it, for it is not large enough to room a large baby. There is really no need to spend $200 or even $300 to buy alternatives.
Pros:
Elastic mesh side
Comfortable
Perfect for outdoor use
Well structured
Perfect size
Cons:
it isn't padded well at the bottom
Not suitable for large baby use

#8.
Portable Rocking Bassinet – Fisher-Price Rock 'n Play Portable Bassinet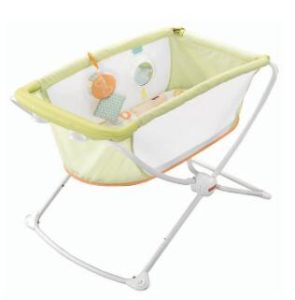 | | |
| --- | --- |
| Giftable: | (4.1 / 5) |
| Storage Capacity: | (4.8 / 5) |
| Comfort: | (4.5 / 5) |
| Price: | (4.5 / 5) |
| Durability: | (4.6 / 5) |
| Average: | (4.5 / 5) |
This is a 2 in 1 portable bassinet, combines the function of a rocker. Rocking movement is able to soothe baby effectively, at least to my baby. Every time I put her into vibrating machine, she feels relaxed and calms down immediately.
The flat elevated sleeping surface
It is a portable bassinet, but I don't recommend you to use it for travel. The flat sleeping surface adds up comfy, but also comes with difficulty in storing in a car unless you are willing to sacrifice large space in putting it.
Mirror design for monitoring
That is a thoughtful design, and I do love it! There is a mirror set aside, through which I can look at her face without leaning over. However, it will be wonderful if the mirror is detachable, for baby is likely to touch it by her hands.
Gives it a gentle push and it starts rock; sing a soft song, I am sure your baby will fall in sleep instantly.
Pros:
Affordable
Very good quality
It folds flat
Easy to assemble
Easy to clean
Works perfectly for a bed side sleeper
Cons:
Pad shrinks in washing
Too large for travel use

#9.
Portable Sleeper – Lulyboo Bassinet To-Go Metro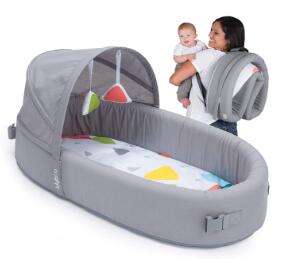 | | |
| --- | --- |
| Giftable: | (4.0 / 5) |
| Storage Capacity: | (4.7 / 5) |
| Comfort: | (4.5 / 5) |
| Price: | (5.0 / 5) |
| Durability: | (4.5 / 5) |
| Average: | (4.5 / 5) |
This is amazing! All the parts of the unit is soft, even for the wall. But it is also durable and stable enough to carry heavy baby. My baby is able to sleep in for over 8 hours each nights. Highly recommend!
Unlike other portable bassinets, this Lulyboo bassinet can use directly on the bed, for there are no legs supports. That is why it has a waterproof base, no matter you put it on wet grass or dirty rock, it keeps wonderful working performance.
It scores high for its dangling toys, some are balls, while some types are animals. Baby loves mobile and hanging objects, staring at them and playing can help kill a heck of time. Also, the BEST part is the removable canopy. It prevents direct sunlight and offers baby sense of secure the same time.
There is a buckle set on the side of bassinet, used for folding it up. Then it becomes a small backpack that takes up no room at all in traveling. The seat is large, a baby boy from my neighbor is 9 months old, he is a bit long for this but putting legs out, he can still use it.
Pros:
Lightweight
Soft and sturdy side
Serves as a co-sleeper bassinet
Firm bottom
Built for outdoor use
Machine washable fabric
Cons:
The bottom cushion is a bit thin

#10. 
Portable Playard – Graco Pack 'n Play On the Go Playard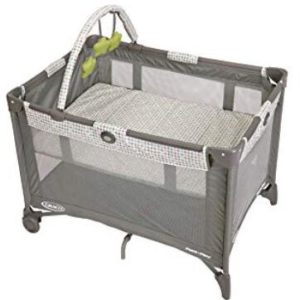 | | |
| --- | --- |
| Giftable: | (4.6 / 5) |
| Storage Capacity: | (4.8 / 5) |
| Comfort: | (4.5 / 5) |
| Price: | (4.6 / 5) |
| Durability: | (4.6 / 5) |
| Average: | (4.6 / 5) |
It is a playard but can also serve as a portable bassinet, for it folds up easily. Not an expensive bassinet but very functional.
It is ridiculously easy to set up, features automatic folding feet and wheels. When it folds into a compact shape, you can pack it in the carrying bag and take it for traveling. The whole structure is pretty sturdy, so do not worry about the safety issue.
Mesh offers breathable space for babies, while keeps a clear vision for parents to look after infants without leaning forward. And to add up, one customer tells it is so strong that even a cat tries to sharpen her claws on it…
The mattress is pretty plush and easy to clean up, but still, I think it is a bit thin for infant to sleep in for long periods. The instructions tell not to insert own mattress inside for safety, thus, you may use it for day time nap.
Pros:
Easy to set up
Bassinet portion snaps on and off easily
Removable toy bar
Lightweight, easy to move around
Reasonable price
Clear instructions
Cons:
A bit wide, take up much floor space

#11. 
Portable Folding Baby Bassinet – Evenflo Loft Portable Bassinet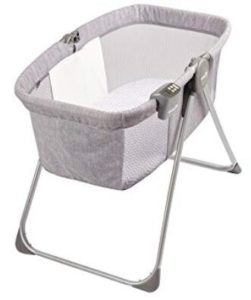 | | |
| --- | --- |
| Giftable: | (4.0 / 5) |
| Storage Capacity: | (4.9 / 5) |
| Comfort: | (4.5 / 5) |
| Price: | (4.6 / 5) |
| Durability: | (4.6 / 5) |
| Average: | (4.5 / 5) |
The outstanding feature of this portable bassinet is Bluetooth speaker, in other words, it is not a mere bed, but an entertainment place.
It has a Bluetooth connective speaker set on one side of the crib, it plays music or natural soothing sounds. A soft nightlight and room-temperature monitor offer baby optimal comfort. All are powered by 3 AA 1.5v batteries.
It takes only 5 minutes to set up, which makes transportation super convenient. It is not as bulky as other bassinets, thus takes up no big space in your home.
It is pretty simple and modern, with soft washable fabric, the baby is able to spend an enjoyable time in it. The mattress is a bit thin, so you may get another in it.
Pros:
Easy to travel with
Lightweight
Nice nightlight
Easy to assemble
Reasonable price
Multiple functions
Cons:
Do not come with a carry bag
Bluetooth speaker shut off in 20 min

#12.
Portable Crib Bassinet – Ingenuity Foldaway Rocking Bassinet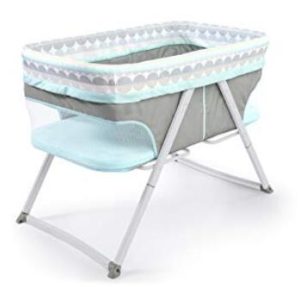 | | |
| --- | --- |
| Giftable: | (4.5 / 5) |
| Storage Capacity: | (4.8 / 5) |
| Comfort: | (4.5 / 5) |
| Price: | (4.6 / 5) |
| Durability: | (4.6 / 5) |
| Average: | (4.6 / 5) |
What I love most is how easily portable it is. The whole bassinet is folded up when pulling the lever under the mattress. Its large size enables your baby to use for long periods.
It changes into a crib once you turn around the supporting legs. Baby loves rocking motions(that's why a rocker can be a necessity for most families), sing a song and push the crib gently, the small angel sleep soundly.
Pretty big but lightweight
The maximum weight limit for it is 15 lbs, but the sleeping space is quite large, a bigger baby will have enough room to play and roll over. Moving it around is not a difficult task, for it weights super light.
Machine washable mattress
Keep clean on fabric and mattress is an effective way to prevent baby from disasters. For newborn moms, I recommend you to buy one that is machine washable. Or you will be fussy about washing all day long. However, the major complaint point is also the mattress, it is a bit hard and thin. You may as well put another one to adds up comfy.
Pros:
Nice rocking motion
Fits small space use
Sturdy
No assembly required
Easy to fold up
Cons:
The hard and thin mattress

#13. 
Small Portable Bassinet – Dream On Me Karley Bassinet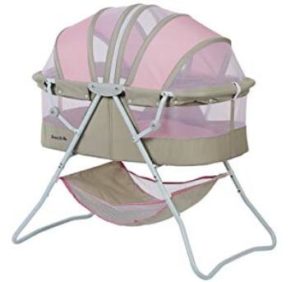 | | |
| --- | --- |
| Giftable: | (4.5 / 5) |
| Storage Capacity: | (4.6 / 5) |
| Comfort: | (4.5 / 5) |
| Price: | (4.8 / 5) |
| Durability: | (4.5 / 5) |
| Average: | (4.6 / 5) |
I always feel it look like a stoller, differ mainly in supporting parts and of course lack of wheels. Anyway, it is a bassinet that provides a cosy place for baby to sleep.
While taking a baby out, you need to bring diapers, cloth, bottles, and all other stuff. For most occasions, I will carry a bag and put all those in the bag. However, with this bassinet, you can put baby's necessity under the crib.
Saying it as light as a feather is really an exaggerating, but it is pretty light. No matter for indoor use or outdoor travel use. It occupies a small piece of space. The height and depth design of the bassinet enables you to reach her without hurting your back.
Mesh canopy prevents sunlight and also potentially harmful insects for outdoor use. At the same time, it offers a secure space for baby to sleep in.
Pros:
Compact and folding
Storage for baby's necessities
Easy to clean up
Zipper hood
Multiple colors available
Made of soft and safe polyester foam fabric
Cons:
The pad does not come with sheet
Need to get another mattress

#14. 
Summer Portable Bassinet – ComfyBumpy Travel Bassinet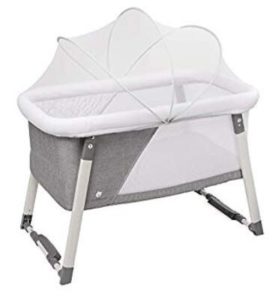 | | |
| --- | --- |
| Giftable: | (4.0 / 5) |
| "Storage: | (0.0 / 5) |
| Capacity: | (4.2 / 5) |
| Comfort: | (4.5 / 5) |
| Price: | (4.2 / 5) |
| Durability: | (5.0 / 5) |
| Average: | (3.7 / 5) |
This is a summer infant portable bassinet, all mesh design on the wall and canopy are quite breathable, yet prevents mosqitous and other harmful insects in hot weathers.
The biggest impression I have on this machine is its sturdiness. Though stable enough, it is quite lightweight, you can simply move it around with a single one hand.
Pull of the leg and it folds up to the travel bag easily. It comes with a carry bag, so there is no need to buy an extra one. But still, it can be too big to fit into airplane check-in luggage. Thus if you attempt to have air travel, you may as well choose another type.
Changing the bassinet from a stationary position to rocking position, you need only adjust the structure between two legs. Mesh design on the side gives great airflow to the baby.
Pros:
Large sleeping space
Rocking motion
Solid quality
Nice folding mechanism
Easy assembly
Nice mosquito net
Cons:
The height is not adjustable

#15. 
Portable Newborn Sleeper – Abreeze Baby LoungerPortable Bassinet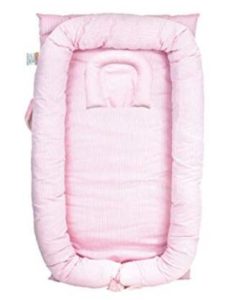 | | |
| --- | --- |
| Giftable: | (4.5 / 5) |
| Storage Capacity: | (4.0 / 5) |
| Comfort: | (4.5 / 5) |
| Price: | (5.0 / 5) |
| Durability: | (5.0 / 5) |
| Average: | (4.6 / 5) |
Right, this is basically a lounger, or say a nest for co-sleeping. You can use it on the bed for sleeping or on the grass for outdoor playing.
It tends to be large for my 6 months baby; When she lies in it, there is still large empty space for her to roll over. It is designed mainly for co-sleepers, giving babies a sense of sleeping in the arm of moms.
The fabric is plush and soft, making it so comfortable in use. When it gets dirty, you can remove all the fabric and throw it into the washing machine.
It is a cheap portable bassinet, or a cheap lounger, that costs no more than $60. If your crib is large enough, you can directly put it into your crib, making it a soft mattress.
Pros:
Super sturdy
Large sleep space
Good value
Soft fabric
Machine washable
Perfect size
Cons:
Uneasy to pack into suitcase

#16. 
Newborn Portable Bassinet – Baby Delight Snuggle Nest Harmony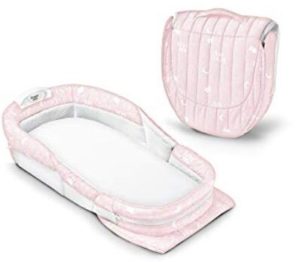 | | |
| --- | --- |
| Giftable: | (5.0 / 5) |
| Storage Capacity: | (5.0 / 5) |
| Comfort: | (4.0 / 5) |
| Price: | (4.5 / 5) |
| Durability: | (4.2 / 5) |
| Average: | (4.5 / 5) |
This type is quite the same as the upper lounger I have introduced, but it is more portable, can be folded up. In other words, it is more suitable for travel use.
If you are a new mom, then you may consider getting this one, for it is a lifesaver! Baby always loves to sleep with moms or dads, that gives it a sense of security. Put this on your bed, and he or she will fall asleep pretty soon.
When stop using it for some time or intend to get it for traveling, you can fold it up and it occupies only half of your suitcase.
Pros:
Comfortable
Lightweight
The wedge design lifts the baby's head just enough
Easy to remove the fabric and wash them
Portable for travel use
Cons:
Not suitable for summer use for its unbreathable mattress

---
Do I Need a Bassinet?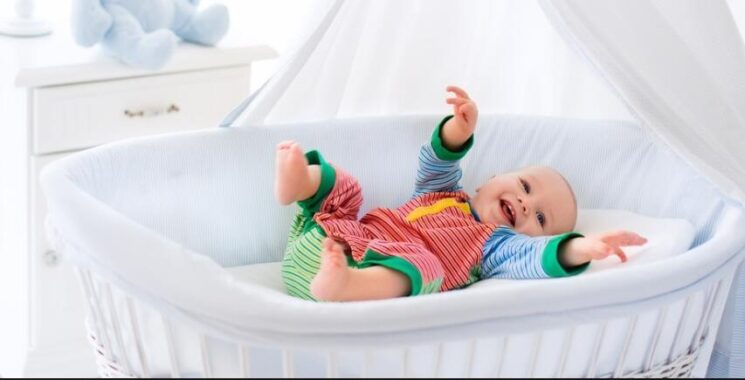 A newborn baby spends around 18 hours in sleeping, it helps it grow rapidly mentally and physically. Well, many parents start with a crib, but I would like to recommend a bassinet. Unlike a baby swing, the bassinet can be a must at home. Unless you want to spend all night long coaxing your baby into sleep.
Take care of the baby at night
Not only does baby need masses of time in sleeping, but they also eat frequently. And, if unluckily, your baby gets enough sleep during the daytime, it means your whole night is going to spoil out.
Getting a bassinet near your bed, you can take care of the baby anytime during the night, without leaving your warm and cozy bed. You can feed them conveniently when they feel hungry.
I am sure most moms have the same concern as me – worrying about the baby's safety in sleeping. According to new data of the National Institute Of Child Health And Human Development (NICHD) in 2019, there are around 3,500 infants die annually in the United States during sleep. It is really a SCARING number, especially, to moms.
An infant is too young to control its body, it can not roll over or take self-protective actions in dangerous situations. That's why you need to check the baby's condition from time to time. Normally, I will wake four to five times a night, pad my baby and see if she is all right.
With a bassinet around you, you are free from getting up frequently, just lift your upper body and check your baby's safety.
Suitable for moms recovering from delivery
After giving birth to my baby, there is a period of time I feel so painful rolling over my body, not to say walking around. Then the bassinet really saves my life. If you are also recovering from delivery, I would recommend you to get a bassinet.
What is SIDS? It refers to Sudden Infant Death Syndrome, which means baby under 1-year-old die in sleeping, mostly because of bad sleeping positions, that is why it is also called "crib death". It has killed thousands of baby each year.
Sleeping with the stomach can greatly increase the risk of SIDS, and also, data shows another major reason is sharing with the bed. Most parents would place the baby on the same bed to sleep with, that is highly forbidden. Parents will unintentionally pin on the baby or get baby into a choke.
Sharing the same room with a bassinet instead of sharing the same bed can effectively reduce the risk.
A lifesaver for new parents
Baby loves sleeping in a cozy situation(who doesn't love…), and sleep in arms of parents gives its a sense of security, just like still lying in the belly of moms. However, it can be tiring hugging it all night long.
My daughter happens to be such kind of baby, for the first month, every time I put her down, she woke up and started crying, no matter how gently my movement is. Then I bought a bassinet, put it near me. I sang songs and rocked it smoothly, then she finally sleeps.
A bassinet can really save the life of parents, especially for new parents. It offers baby a safe place to sleep, and at the same time, the sleeping quality of moms and dads add up.
A safe place to stay in traveling
Seldom do hotel offer crib or bassinet in traveling, that is why you need a portable bassinet or crib if you plan to tour with your little baby.
Moreover, you can take it for hanging out. No matter you are playing in gardens or parks, unfold it and put the baby in, then it is time for sharing the beautiful scenes with it.
When Do I Need a Portable Bassinet?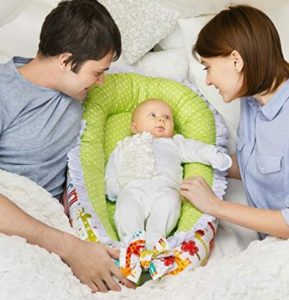 A portable bassinet, as the name suggests, is easy to carry out and store. Normally, the recommended age for using bassinet is 3-6 months old. Thus when your baby grows large enough, you can fold it up and store it somewhere in your garage or storeroom.
Infant baby needs sufficient sunlight to grow up, staying at home for all day long is not good for its health. For outdoor play, you may as well need a bassinet to place baby in. (A stroller with canopy also works.)
Moreover, if you a deep travel lover, you will definitely need a portable bassinet. It offers the same security and cozy as at home.
Tips on Using Portable Baby Bassinet
Check if bassinet is in stable condition before putting the baby in.
Place baby on its back for all sleeping time.
Abandon the soft mattress, and replace it with a firm one.
Keep extra beddings such as pillows, cushions, toys, and pads out of the bassinet.
Have baby share your room instead of your bed.
Stop using when baby can roll over, sit up and move around.
Use under instructions.
Check baby frequently at night.
Bassinet vs. Crib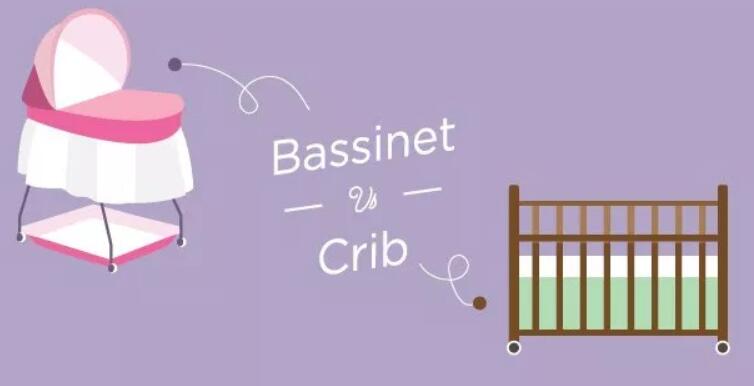 Both bassinet and crib serve as a bed for baby to sleep in for the whole night, they differ mainly in sizes and using time.
The bassinet is a bit smaller than the crib, not to say portable type. It takes little space at home, thus is suitable for small home use. The main material it adopts is plastic and metal. Price of which are cheaper and using applications are wider than the counterpart.
A portable bassinet, however, is one kind of bassinet, varies in different designs and usages. Of course, the major advantage of it is portability. You can move it around with you, put it in your suitcase, bags or in your car.
Besides, a bassinet can be shorter than a crib and is far lighter (perhaps because of its lightweight material). It also gets lower side rails.
On the contrary, a crib has a longer time span. Babies from 0 months to even 2 years old are able to sleep soundly in it.
How Do I Choose a Portable Bassinet?
For more than 8 hours a day, your baby will be sleeping in a bassinet. Choosing the right one determines its sleeping quality directly, especially for outdoor use. Thus, here, I outlined several important considerations in choosing the best portable bassinet.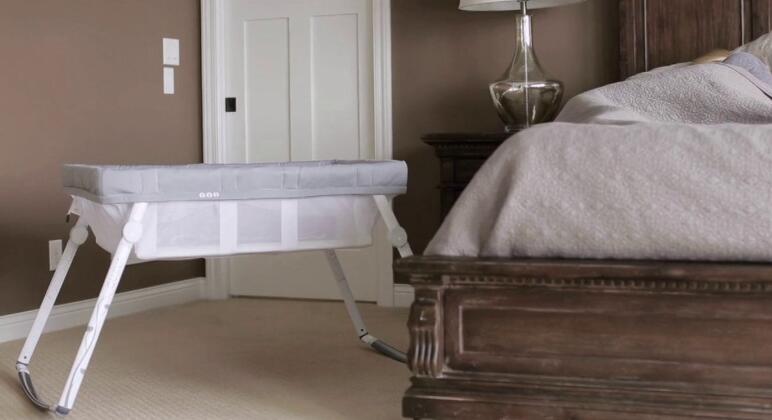 Portability
In terms of portable bassinet, of course, the major feature it owns need to be portability. Compared with other types of bassinets or cribs, it is lightweight and easy to move around. Perfect for having a nap during day time while you are doing your own business. Some are also foldable, pack it into a carry bag, take it on the car and go on a nice trip with your baby.
But remember, safety is the primary matter. Never move the bassinet when your baby is in it!!
Style
The ideal portable bassinet depends totally on your usage, whether you want a simple bed for baby to sleep in, or an entertainment area? There are several different styles you can choose:
Co-sleeper Bassinet
Infant baby under 1 year old is unable to protect itself in sleeping, and it wakes up frequently, crying for comfort or for milk. That is exactly why you need to keep baby sleep next to you. However, sharing a bed with him or her is a bad idea, it results in SIDS potentially.
You can pull a standard crib or bassinet next to your bed, while a co-sleeper bassinet does the same job. Without occupying space of baby, you can nurse your baby in bed at night.
A portable co-sleeper bassinet can mainly be divided into two types, one with structure and is set on the ground, while the other, is placed directly on the bed. Choose one based on your need.
Travel Bassinet
Travel bassinet equals to the folding bassinet, you can fold it up into a compact shape and pack it into the backpack, very convenient for outdoor travel use. Whether it folds easily or small enough is the key you should consider. Those with carrying bag can be a helper.
If you do not like the idea of bringing all baby's entertainment essentials on the trip, you might consider one that doubles with a playard or rocker. Not only does baby have a place to sleep in, but also you can place it into a safe place for entertaining.
For air travel, be sure to get a small one, that can be packed into a suitcase.
Function and Features
Portable bassinet meets the basic need to provide a safe place for baby to sleep in or take a short nap, for it uses mainly for outdoor or for storage. However, there are some add-ons that might help you out in soothing baby:
Vibration
Baby is particular fond of vibration motion, it reminds infant of staying in the womb and thus feels relaxed. With a vibration mode, the bassinet can help calm your baby down and soothe him or her effectively.
Rocking Motion
Unlike a baby rocker rocks automatically, a portable bassinet with rocking motion requires manual power, kind of like crib. Rotates the stick between two supporting legs, and you can change the bassinet from a stationary position to rocking position.
Night Light
A built-in night light is really helpful when you attempt to nurse your baby at night. The night-light set on portable bassinet should be weak, a too bright light does harm to baby's eyes especially in dark area, and also wake baby up in the middle of sleep.
Music And Sound
Listening to white noise is an effective method on coaxing people in sleeping, no matter for an adult or for a newborn baby. It brings you a sense of peace and relaxed, which helps sleep soundly. Instead of buying a separate sound machine to play white noise, a portable bassinet with music inserted can be a perfect choice.
The one with music and sound may be a bit expensive, but as long as baby sleeps well at night, all is worth.
The portable bassinet with sound or vibration requires battery powered, that said, a small sum of money will be spent on buying batteries. It costs really less, though. And after all, you need a portable bassinet only for the first few months.
Mattress
A baby's bone develops gradually in the first few months after she or he was born. A soft mattress can be comfortable to sleep in but do much harm to the infant's bone. Thus the best bassinet mattress should be relatively thin and also hard, it keeps baby safe from potential suffocation.
Breathable Mesh
Well, it depends on the weather condition you use the bassinet. In summer, a portable bassinet with breathable mesh offers fresh airflow while the baby sleeps in it. It also provides a clear vision for parents, you can check the baby's condition without leaning forward typically in the middle of the night.
Besides, some may find it useful when there is a pet at home. Keeping a mesh on bassinet prevents baby from scratching. It prevents the baby from harmful insects at the same time.
Well in winter use, the mesh walls are improper to use. Get one with detachable mesh walls perfectly solves the problem and enables you to use it all year long.
Canopy
The baby can not stay at home for the whole day long, it needs to bath sufficient sunlight. However, shining under the sun for too long can also be harmful to the baby. A portable bassinet with canopy helps you out, it also offers shade from excess light.
Easy Assembly
Though a portable bassinet is lighter than normal bassinets or cribs, it still requires basic assembling in using. Especially when taking it out for outdoor entertaining, you won't want to spend 1 or 2 hours assembling it. Choose the one that folds and unfolds easily.
Price
Compared with the crib, a portable bassinet is less expensive, typically around $60. If you use it only for a substitute of a bed, you can find the one with a simple design, no music, no vibration, but only safe and soft enough to sleep in; That costs normally around $50, some are even under $40.
Bassinet with a wood frame can be pretty sturdy but is not portable at all. Most portable bassinets are made of hard cloth or plastic. Simple as it is, it is more durable and of course cheaper. If you want one with 2 in 1 or 3 in 1 functions, you might as well go deeper into your wallet.
Safety Standard
According to AAP(America Academy of Pediatrics), the baby should sleep on its own sleep surface. Instead of sharing the same bed, you should share the room with the baby, it is the safest way for a baby under 6 months, which is also known as "co-sleeping".
Therefore, the safest portable bassinet should enable you to get a room share. Consider your room space, a compact type can be a perfect choice if you own a small home. Want to nurse baby at night? Then you can get one portable type to easily transfer the baby after feeding.
Quality level is, of course, the second thing you should check. Whether you use it indoor or outdoor frequently determines you to get a hardwood type or plastic type. Be sure to test before using.
Most complain the bassinet they get smells bad, it is OK if the smell is gone after putting it somewhere airy. However, I suggest you get one without smell for baby's safety.
Age And Weight
Using span of the bassinet is shorter than a crib, normally from 2-6 months, while portable bassinet can be shorter, because of lightweight design and materials it uses. Always use under instructions!
Accessibility
Baby cannot sleep soundly through the whole night, which means moms and dads need to comfort him or her at least twice a night. If you are a new mom, you will find it super annoying on getting up from the bed and walking to baby for soothing or feeding it. In such condition, you will need a portable bassinet next to your bed, even put right near to you on the bed. Every time the baby cries, you can reach it perfectly.
Are Bassinets Good for Newborns?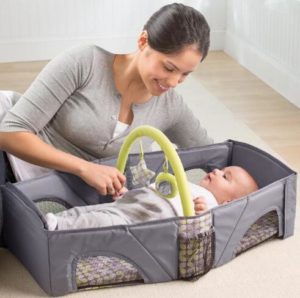 The bassinet, especially for the portable bassinet, has been a baby essential for each family. But you may wonder, is it safe to use a portable bassinet?
Well, the answer is: Yes! Only if you master the basic knowledge of sleeping in a bassinet.
A portable bassinet enables you to place baby somewhere safe at home or in traveling. It is a perfectly safe place for baby to sleep if made with the safety standard.
But you must:
#1. Keep Baby Sleeps in Right Position.
#2. Check Baby's Condition From Time to Time. 
#3. Use Under Recommended Weight Limit
According to the latest data, 9% baby dead in the bassinet, the majority of accidents happens when putting baby facing down in sleeping. A baby is too young to roll over, long time face-down sleeping gets it easily chocked. Besides, extra beddings such as plastic bags, plush toys, cushions, and blankets all contribute to SIDS.
Can SIDS Happen on Bassinet?
SIDS, refers to sudden infant death syndrome. It happens mostly during sleep on the baby less than a year old. The cause of which still remains unknown, but there is a saying that defects in the portion of an infant's brain have a large association with the death.
It is also known as "crib death" for most infants die in their crib. But do not be so afraid of the crib! Once you master the right sleeping position, the risk of SIDS can be largely reduced.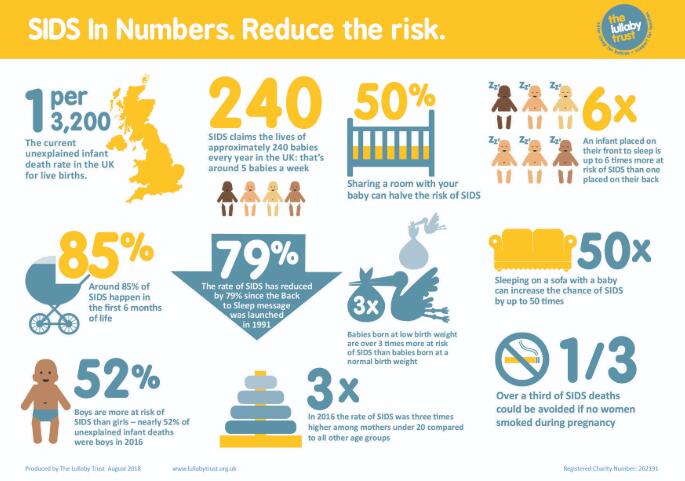 Sleeping Causes of SIDS
Here I outlined several wrong sleeping environments, which to a large extent results in SIDS.
Sleep on the stomach or side. Baby sleeping on its stomach has difficulty in breathing, thus the right position should be sleeping on the back.
Sleep with soft toys or extra bedding. Plastic bags, plush toys, cushions, pillows, and other extra beddings will also get baby into choking.
Sleep on the soft surface. Sleeping on a soft place can not only block the infant's airway but also bad for bone development of the baby.
Share the bed. It is a must to share a room with the baby but never ever share the same bed with it!
Overheating. Being too warm in sleeping can also increase the risk of SIDS.
Prevention of SIDS
Do not smoke near the baby. The smell of cigarette does large harm to the baby's brain and respiratory passage.
Sleep on the back. Always place your baby to sleep on its back, especially for the first year of life.
Use a firm mattress. For most cribs or bassinet, the mattress comes with the machine can be thin and hard, that helps in baby's growth. If you think it's too thin, you can get another one on it, just not too soft. And always use under instructions!
Stop overheat your baby. You can choose sleep sack or other sleeping cloth to keep baby warm, do not add extra covers, and never cover your baby's head.
Do not share a bed. For the first year of baby's life, you should keep her or him sleep in your room. Never share the same bed with you. You can place him or her in a crib or a bassinet, and put it next to your bed.
Anyway, no matter for a crib or for a bassinet, it is only a place for baby to sleep. Once you take care more on the baby, the risk of SIDS or other related diseases can decrease a lot.
Types of Portable Bassinet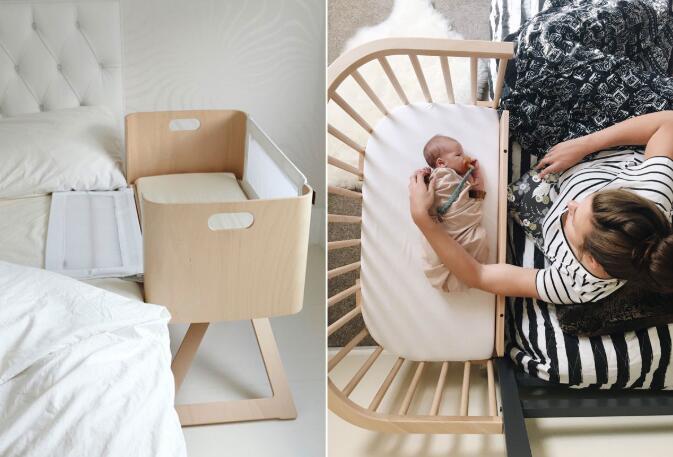 Portable Cradle
Cradle is the first kind of sleep unit for baby, the traditional type is made by hardwood, while the modern type adds up more advanced features and soft pad. The cradle bassinet is more compact and lighter than a crib. The biggest advantage of it is rocking motion. Some come with a canopy or a toy bar.
There are also 3 in 1 cradle, combines rocker, cradle, and bassinet together, meet all the basic needs of a baby. If you want to get an ideal baby cradle, please find through our expert's reviews.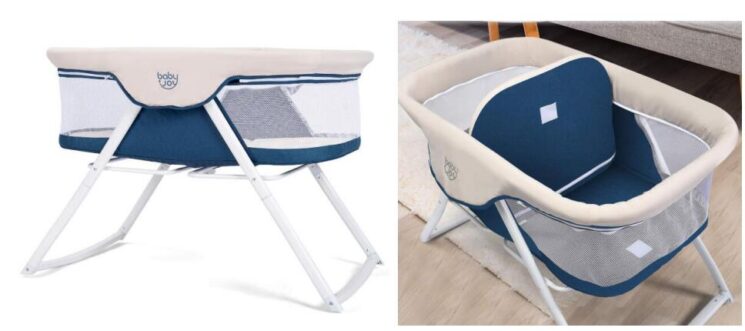 Portable Rocking Bassinet
When the baby stays in the womb, it keeps moving all the time. Thus a portable rocking bassinet is able to provide the same environment that baby finds relaxed. The rocking motion relies mainly on its leg, give it a gentle push and it helps coax baby into sleep.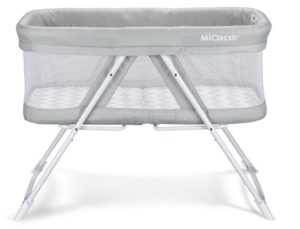 Best Portable Bassinet Brands
Fisher Price Portable Bassinet
Fisher price is one of the leading brands on the baby gears market, its products include baby swing, baby cradle, baby bassinet, and rockers, etc. With the mission of "enriching the lives of young families, bringing joy to generations and nurturing what's in each child's unique nature", Fisher Price is still on its way on providing more innovative products. The top portable bassinet of the brand is Stow 'n Go Bassinet.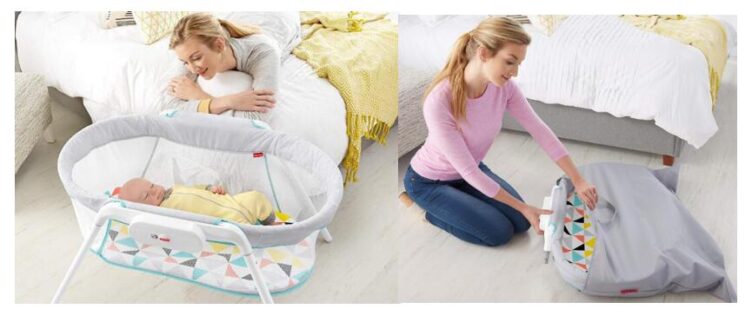 Chicco Portable Bassinet
Founded in 1958, Chicco has now developed into a global brand with its products spread over 120 countries. It continues to create better solutions for babies and parents. Chicco steps into the area of strollers, bassinets, baby toys, car seats, high chairs, and play yards, etc. That is to say, you can find nearly all the baby stuff from the brand. If you have an interest in the brand, you may check its hot-selling bassinet: LullaGo Primo Portable Bassinet.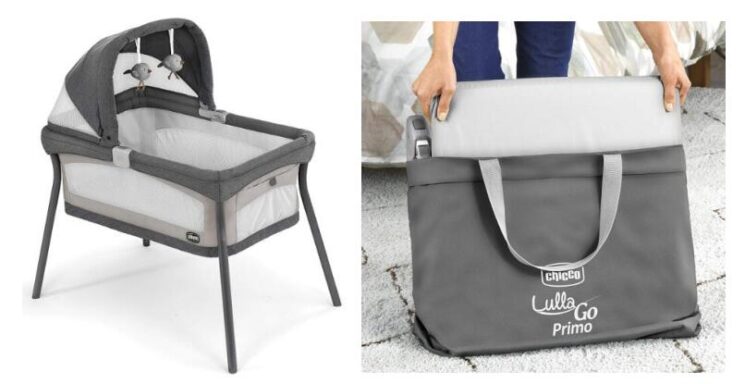 Brica Portable Bassinet
In terms of best Brica portable bassinet, I would highly recommend you Brica Fold N' Go Travel Bassinet. Shapes quite the same as a boat, it offers you a safe sleeping place for infant baby. Breathable mesh fabric brings fresh airflow, 4 point T-Lock system ensure safe and secure in use. Press the button and it turns into a compact shape, small enough to be packed into carrying bag. Solid and sturdy structure guards baby's safe all the time. Check here to get the latest cheap price.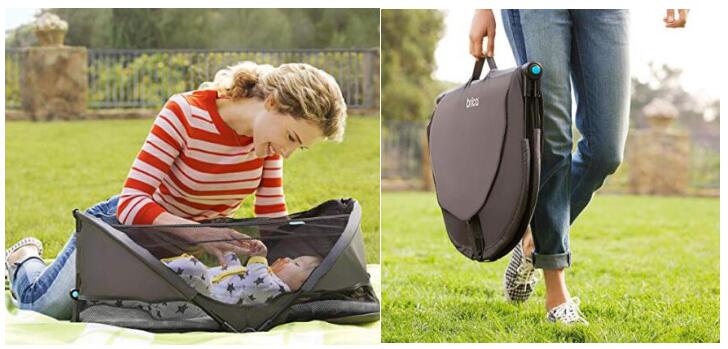 Graco Portable Bassinet
Graco is also a well-known brand, experts in producing strollers, high chairs, play yards, and swings. For over 60 years, it has provided thoughtful and dependable baby gears for millions of families around the world. What comes with high-quality products is its wonderful after-sale service. The top bassinet? Of course it belongs to Graco Dream Suite Bassinet.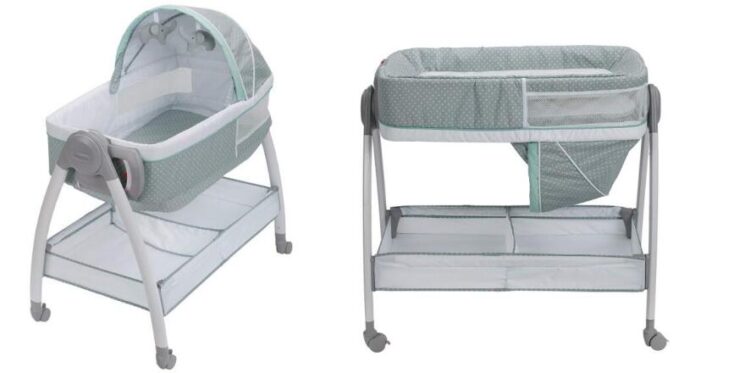 FAQ:
1. Can I buy a used portable bassinet?
No, never get a used portable bassinet. It may no longer meet the latest safety standard of the Consumer Products Safety Commission (CPSC), and there may be some missing parts on it.
2. Are portable bassinet mattress waterproof?
Most of them are.
3. Can I add a blanket or bumpers to a bassinet?
No, do not put extra beddings in a bassinet, they may cover baby's face.
4. How long should baby sleep in a bassinet?
A bassinet serves as a crib, baby can sleep in it all day long. However, you must ensure you are using it under instructions. Stop using it when baby overweights.
Final Verdict:
A portable bassinet may not be essential for you, but it does help in outdoor or travel use. The most vital thing in taking care of the baby is offering a comfortable sleeping environment for him or her. No matter which type of portable bassinet you choose, make sure it is super safety. All the considerations you should get in choosing I have listed for you, be sure to check size, safety, comfy and all other factors. The best-rated one may not be the most ideal one for you, but the suitable one is.