A baby swing is not a necessity for each family, but it can be a good helper, many moms who bought and used it regarded as a real life saver. Therefore, you can get one if you have enough budget.
Price of baby swings can be various a lot, if you do not have enough budget, or want to get one for outdoor or travel use baby swing, then you may consider the baby swing under $100, it meets the basic needs of soothing babies and can be your best partner on taking care of babies.
Here we made a review on best baby swings under $100, you can choose the one you like most.
Top 5 Best Baby Swings under $100 of 2020
Best Baby Swings under $100 Reviews
1. Affordable Baby Swing – Graco Simple Sway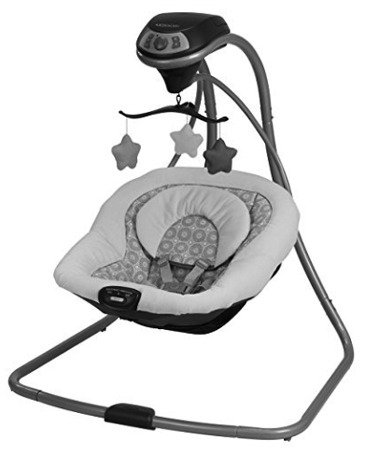 Being a full size baby swing, the price of this Graco baby swing is really cheap, thus it is frequently regarded as the most cost-effective baby swing on the market. The operation of it is quite simple, and assembling of it is easy.
Other features:
6 swing speeds
15 songs and natural sounds inserted
Plug in and battery operated
Gentle vibration
5 point harness
Small frame to save more floor space

2. Best Cheap Baby Swing – Ingenuity Cozy Kingdom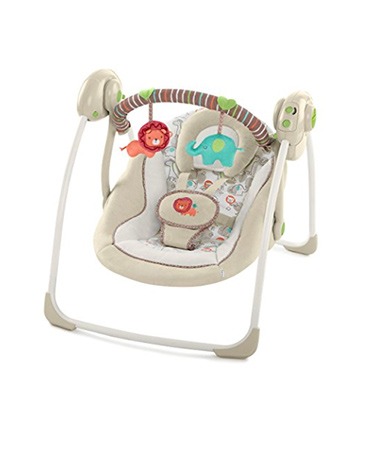 Portable and compact size make it super easy to carry around anywhere you want. It is folded up and meet the basic needs of soothing babies. Battery operation makes it perfect for outdoor use but you should also think about the high battery cost.
Other features:
Folded up, easy to be carried away
6 swing speeds can be adjusted
6 songs and natural sounds inserted
No working noise even in high swing speeds
Soft and cozy seat pad

3. Best Portable Baby Swing Under $100 – Fisher Price Take Along Swing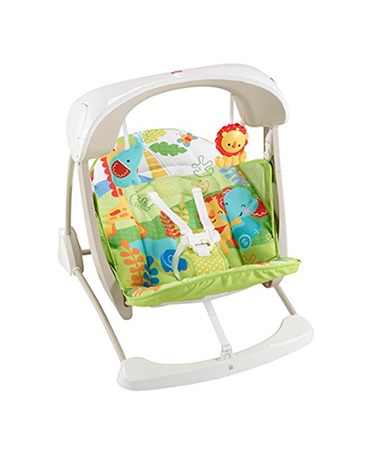 Though being a portable baby swing, this is more functional than other types. It is a baby swing that vibrates, two vibration modes can be adjusted for soothing babies. The compact shape is also suitable for storage and taking along.
Other features:
6 swing speeds
10 tunes and natural songs inserted
Easy to convert to stationary baby seat
Small shape for take along or storage
Battery operated only
Soft and comfort seat, also machine washable

4. Best Affordable Outdoor Baby Swing – Ingenuity Swing'n Go Portable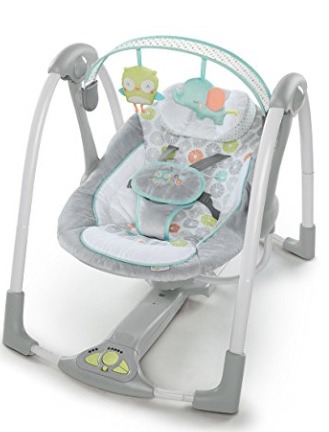 This portable baby swing is able to fold up for storage, 5 point harness keeps baby safe all the using time. It is relatively more functional and cost-effective than other portable ones.
Other features:
5 swing speeds
11 songs and white noise inserted
Lightweight makes it simple to carry
Noiseless working condition
Volume control inserted
3 timer settings inserted
Battery operated

5. Best Baby Boy Swings – Graco Slim Spaces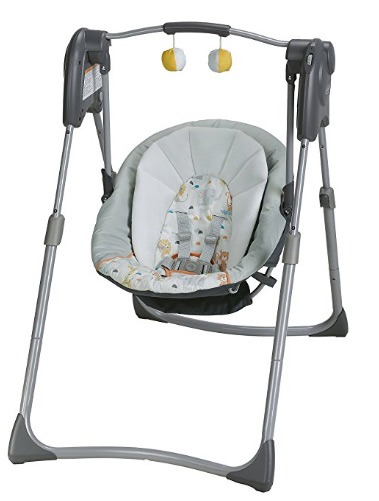 Graco baby swing of this type is easy to be carried, the height of the swing can be adjusted with adjustable supporting legs. But compared with other portable baby swings, it is even less functional, no music and vibrates inserted, only use swing motion to soothe baby.
Other features:
Height adjustable leg
Compact and portable size makes it a super space saver
Easy to folded up for storage and take along
Battery operated
Adjustable swing speeds
Machine washable seat pad

Features of Best Baby Swing under $100
1. Less functional but easy operation
Baby swing under $100 usually means it has less function than other full size or expensive baby swings, but it doesn't mean it is not a good soother. With basic adjustable swing motions and music, perhaps also with vibration setting, baby swing under $100 can be highly cost-effective. And the design style of it is quite simple and easy to operate for each parent.
2. Space saver
Full size baby swing is normally charged high, so the baby swing under $100 is normally the small type, and can be a perfect space saver. They weight light and are easy to be carried around.
3. Easy carry and suitable for outdoor use
They are normally portable and compact types, the leg can be folded up as half of its original size. You can pack it into a suitcase or large backpack after folding, and take it out for travel.
Attention:
Most portable baby swings are
powered only by battery
, and the battery costs can be expensive. For daily use, the battery is normally lasting for a month, which means you need to buy and change batteries monthly, for long period of using, the
battery costs
can be even higher than full size functional baby swings. Therefore, if you want to get the best baby swing under $100, you need also consider the using costs of it.
Our Pick Is…
Among all the best baby swing under $100, you can see clearly that nearly all of which are portable types except for Graco Simple Sway Baby Swing- Abbington one, and yes, this is our most recommended baby swing under $100 for you.
As a full size baby swing, the machine is far beyond its value. The primary reason for its top position on our list is that it supports plug in operation. As we have said before, the battery cost can really be a trouble thing for most parents. You need to buy and change battery nearly a month later constantly, and the price can be even more expensive than buying a full size baby swing. Therefore, we strongly suggest this most cost-effective baby swing for you.
If you want to know the latest price or deal, just check on Amazon by clicking the button below.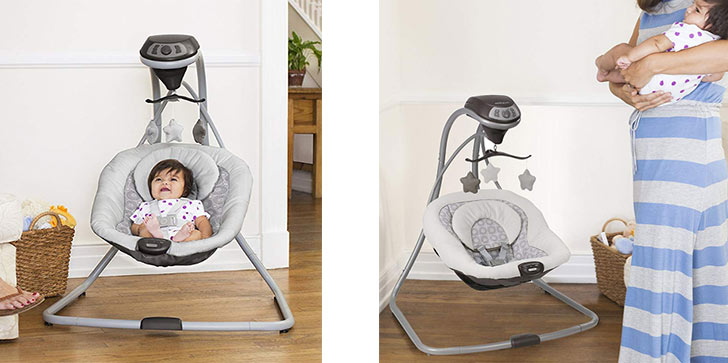 ---