If you are fond of highly advanced baby gear, then you can never miss 4moms baby swing. It excels in function among baby swing markets. Plus, Mamaroo series of 4moms baby swing can even be used for nursery in hospital, it works wonderfully in calming baby down.
What attracts most is its simple but sleek design, which suits perfectly with the modern decoration of the home.
But is it really worth it?
Can I use it for a long time?
Well, in this article, you will get all the solutions.
Also, do not miss the top-rated 4moms baby swings reviews we made for you!
About 4Moms
4moms is a baby swing brand excels in providing modern design infant swings. The price of which is much higher but the appearance is definitely worth the money. Till now, they mainly provide two series of baby swings, Rockaroo and Mamaroo series. Both of them work well to some degree. Apart from baby swing, they also provide baby Playard and high chairs.
All Sorts of 4moms Baby Swings & Accessories You Will Need
Can a Baby Sleep in 4moms Swing?
A baby can sleep in a 4moms swing. So long as the guidelines that have been outlined for a safe sleep has been followed. A baby sleeping in a 4moms swing is possible but the best thing you can do is to move the baby to the crib or bassinet when he falls asleep in the 4moms swing.
How Long Can Babies Use 4moms Swing?
Experts normally advise the use of baby swings for 30 minutes. It is not good to let your baby stay on the swing for a long period. The perfect duration is always 30 minutes. You can choose to have two sessions in a day. Each session must not exceed 30 minutes which is recommended. This is for the good of the baby. Furthermore, there is an age limit for babies using the baby swing. This is when the baby can climb out of the swing. This is always 8 to 12 months of age.
Is 4moms Safe for Newborns?
4moms is always safe for newborns. They offer a comfortable and great mimicking feeling that babies will love. So if the baby is not in your arms, then the 4moms can be an alternative option. These 4moms are always very safe for the child and they offer no issues for the baby.
4moms Baby Swings Reviews: Top in 2023
RockaRoo Series
1. 4moms rockaRoo – compact baby swing with front to back gliding motion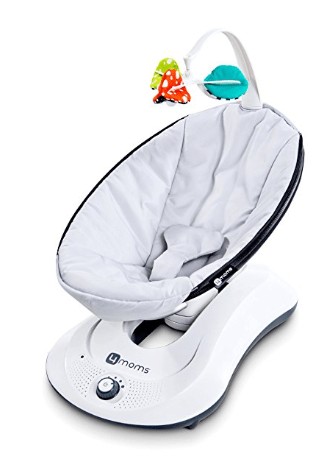 Look at the appearance, you will find it is more modernize compared with other brands. And it is the character of all 4moms series products. It imitates the motions when mom soothing baby in arms and so it glides from front to back.
5 speeds settings on the control panel, but there is actually only one speed, and the swing speed is quite fast, suitable for fussy baby but not for all babies. The seat is fixed and no reclining option, suitable for napping but unable to sit up straightly.
The size of which is 3 times smaller than over size types, therefore it can be a good space saver. The built-in speaker is excellent and you can also plug your phone onto the machine for playing music.
The seat fabric is easy to move and is machine washable. But the creak clicking noise can be much annoying, the hanging ball is unable to rotate. It is plug-in operated, saving much money in buying the battery, and has no battery setting.


 2. 4moms rockaRoo Baby Swing – Multi Plush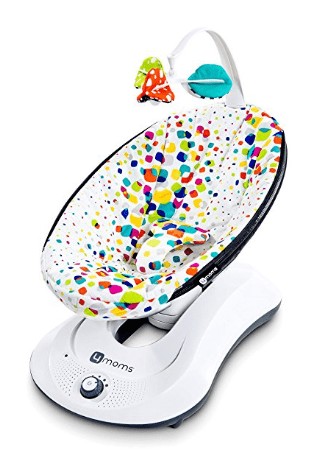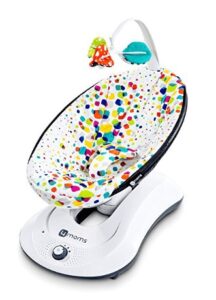 This kind of swing machine is actually the same as the grey one, but with a plush cover. And extra money is charged for additional plush cover. But the plush is quite thick and unable to hold the baby up.
Like classical grey, it rotates from head to toe, just like mom hugging on the chair. Plug-in set makes it more saving on buying battery frequently. But once you assemble the machine up, it may be hard to move.
This one is excellent for indoor use but can hardly be used for traveling because it unfolds and not portable enough.
Because of the small size design, it is really suitable for small space, though owning all the functions full size types have, it only occupies three times smaller space. So if you want a good looking baby swing with small shape, this can be a perfect choice for you.
Pros:
5 gliding speed
Mp3 plug in
Removable seat fabric
Compact, space-saving
Modern design
Built-in speaker
Cons:
Plug in only
Not vibrate
Head to toe only
Making clicking noise
Only goes 1 speed

MamaRoo Series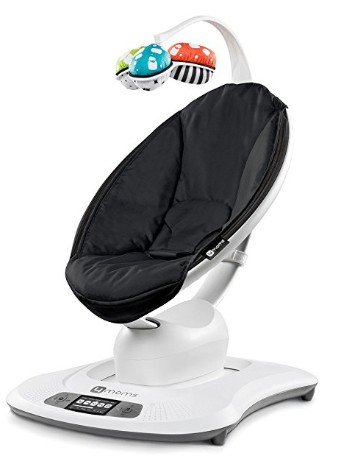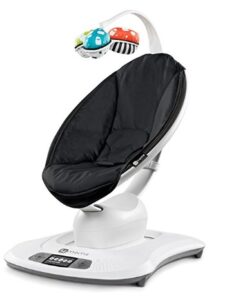 Do you want a baby swing of the future? Compared with the baby swing of the other brands, this MamaRoo series is definitely the one with the highest appearance. So if you want one with modern design and you have enough budget, this could be on your bet.
MamaRoo is an improvement of rockaRoo, many of the functions have been perfected especially for the swing motion. The official said it is the only baby swing machine on the market that replicates the natural motions of parents. Therefore, instead of side to side or front to toe motion, it has 5 unique motions, including car ride, kangaroo, tree swing, rock a bye, and wave.
5 speeds can be adjusted, as one of the shortages of rockaRoo series is its fast speed, this has been improved and even on the highest speed level, it moves not so fast. One of the functions that suit its modern look lies in app control, you can control the music and swing motion or speed on the mobile device easily.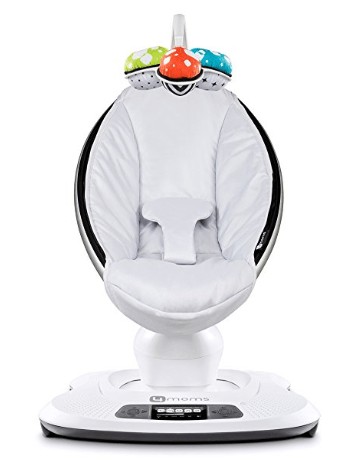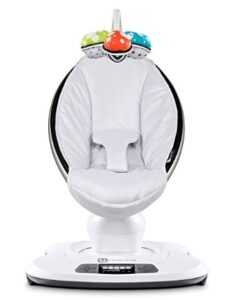 This is another color of the same series, all the functions are the same except for color. MamaRoo series inherits one advantage of rockaRoo, it is still a space saver.
Compared with other full-size infant swings, it occupies half a smaller space. Through testing, we find it extremely easy to assemble, and it is not too heavy. Though unable to carry out for traveling, you can still easily move it from room to room.
Adjustable seat recline and Mp3 compatible makes it better to soothe the baby. If used for newborn baby, you still need to buy extra head support for this has no newborn insert. Mobile ahead is unable to move by itself.

3. 4moms Mamaroo Bouncer – Blue Plush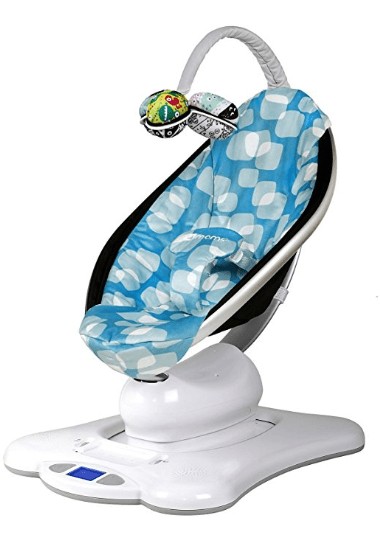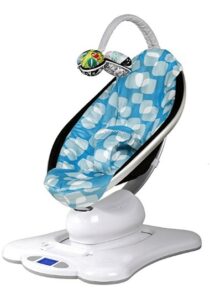 This one is the third color of its series, covered with blue plush all over the swing seat. The entertainment toy is hanged on the top of the machine, so it is super easy to get baby in and out. The motor sound can still be heard, but not too noisy.
It mimics parents' motions when soothing babies, therefore, it has no vibration set. Plug in set helps save $$ on buying and changing battery monthly.
Small footprint and compact design make it occupy little space of yours. Though it has 4 built-in sounds, it only plays natural songs. So you need to connect with your smart device to play songs if baby likes.
Pros:
5 unique motions
Bluetooth Enabled – control motion & sound
4 built-in sounds & MP3 plug-in
Machine washable seat fabric
AC Adaptor–no batteries required
Adjustable seat recline
Cons:
Only natural sounds
No vibration
Have no newborn insert

---
What's a Mamaroo?
Mamaroo is a machine that can hold your baby. It has a natural motion of swinging from side to side and also up and down. This device is used to hold babies when you can't hold them. It is a machine that is built for holding the baby.
When Should the Baby Stop Using Mamaroo?
It is always good to stop using the mamaRoo when the child can sit on its own. This is always about 8 months. This varies in different babies but it always falls between that period. It is always good to stop using the mamaRoo when the child can sit without any help since they can fall off the mamaRoo.
Can You Put Newborns in Mamaroo?
Yes, you can use the mamaRoo for the newly born babies. Some children love the support that it provides on the kneck and also the back. The mamaRoo can also provide the baby with a swaddling feel that they love. MamaRoo can be used for newly born babies hence it is not necessary to purchase the newborn insert.
Who Can Use the 4moms Mamaroo?
4moms mamaRoo can be used by anybody with the baby. So long as your baby has not more than 25 pounds in weight, then 4moms mamaRoo can be good for you to use. it has no specification of the people to use the 4moms mamaRoo but so long as your baby is less than 25 pounds then you can use the device.
What Sounds Can the Mamaroo Play?
Mamaroo is known to feature 5 unique sounds. These sounds have been designed fit for the baby. There is the car ride, tree swing, rock-a-bye vibration, and even the kangaroo sound. All these sounds can be played using the app that is used by the device. You just select the perfect sound for the baby and it will automatically play.
What Accessories Are Available with the Mamaroo?
The mamaRoo machine always comes with a few accessories. These include the toy balls and even the toy mobiles. These are all meant for the baby. It also comes with its own AC adapter which is used by the device.
Can the Mamaroo Be Washed?
Mamaroo can be washed since it is made from a fabric material. It is always advisable to use cold water while washing this device. Also, avoid the use of bleaching washing materials. You can seek help from the manual on how this device can be washed. This has been highlighted very well and if you lost it then try the internet.
Do the Mamaroo and Rockaroo Use Batteries?
MamaRoo and the rockaRoo do not use batteries. They come with an AC adapter that will supply the power. Batteries are not used by these two devices. They just use the AC adapter that comes with them when you purchase the device.
4moms Mamaroo Baby Swing Pros
4moms mamRoo baby swing enables the bay to relax.
This is possible with the ability to adjust the incline of the device and also its ability to play 5 different sounds. This gives the baby a humble time to relax.
Easy to operate.
Since the 4moms mamaRoo comes with their app, the settings, and also the operation is made very simple.
Comfortable.
The 4moms mamaRoo is comfortable due to the fabric lining that has been used to make the device.
4Moms Mamaroo Baby Swing Cons
They are slow that other baby swing devices.
The car ride sounds are not similar to a natural car ride sound.
It requires access to a Power source.
RockaRoo vs MamaRoo
Above are the features of rockaRoo and mamaRoo. MamaRoo, as the improvement of rockaRoo, has more function and of course, has a higher price. Here we will give a detailed comparison between rockaRoo and mamaRoo:
| Series | RockaRoo | MamaRoo |
| --- | --- | --- |
| Motions | 1 gliding motion | 5 unique motions |
| Speed | 5 speeds(only 1 useful) | 5 speeds |
| App Control | - | Able to control motion and sound |
| Size | 1/3 size of traditional swing | 1/2 size of traditional swing |
| Sounds | Mp3 plug in | 4 natural songs& mp3 plug in |
| Adjustable recline | - | able |
| Machine washable fabric | able | able |
| Power | AC adapter | AC adapter |
| vibration | - | - |
| Swing speed | fast | Relatively low |
In conclusion, the major difference between the mamRoo and the rockaRoo is how they swing. mamaRoo swings from side to side and in a bouncing manner. While the rockaRoo swings in a back and forth manner. This is what differentiates these two devices. However, both of the two series meet the basic demand of soothing baby. If you do like the modern design baby swing, 4moms will be your perfect choice.
On choosing rockaRoo and mamaRoo, you need to consider your budget, if you have enough money and would like a more multiple functional swing machine, MamaRoo is the best choice. On the contrary, RockaRoo is also suitable if you do not have much budget.
How Can I Get My Baby to Like the Mamaroo?
Babies a time can have a negative attitude towards the mamaRoo. But you can make them like it by making the mamaRoo swing a little bit. Babies do like these gentle movement and they might like it. You can also play some sound for the child which is soft and not irritating. This will make the baby love it. Another aspect that you can consider is making the baby as comfortable as possible.
How to Set Up Your 4moms Mamaroo?
MamaRoo has a manual that you get to follow when setting it up. You will also make use of the app that deals with the device. With the app on your phone, you can just simply set it up since the app and the device will be connected. After your setting ensure that you save the settings and your device will be good to be used.
FAQ:
1. Is it suitable for a newborn baby?
Both of them can be used for newborn babies, but one needs to buy extra head support by oneself because of both of the two series lack of newborn insert.
2. What are the age and weight limits?
The maximum weight of 4moms baby swings is 25 pounds. But if your baby is able to sit up unassisted or attempt to climb out, it should not be used any longer for safety.
3. Does it have a timer on it?
No, there is no timer inserted, you need to turn it on and off by yourself. But as it connects with a phone, you can also control it with your mobile device.
4. Is it suitable for a girl?
This is a unisex design, so it can be used both for girls and boys.
5. Does the motor sound a lot?
The motor sound can be heard, but not too much. Normally the baby will not be disturbed by the sound.
Conclusion
Title
4moms High Chair For Baby
If you still have any other problems on 4moms baby swings performance or interest in the price of each type, you can check out for more details on Amazon by clicking the button below:

---