Graco, Fisher price, Ingenuity, and 4moms are the top baby swing brands on the market in 2020. Each of them has various series and functions. As baby swing is becoming more and more popular as a lifesaver especially for now moms and dads, choosing a suitable baby swing brand and baby-loving swing is very important. Here we will give some comparison on the best baby swing brands and each of their features and shortcomings.
Hot selling series of Graco baby swing include simple sway baby swing, slim space compact baby swing, and duet connect LX swing and bouncer series, etc. The price level of its products are under $150, of course, some full-size types can be as high as around $180.
Safety
On safety, Graco infant swing is proved to be sturdy enough even with a compact design. Most of them are 2 in 1 baby swing and rocker combo or swing and bouncer combo, which means you can buy two machines at the time at a reasonable price.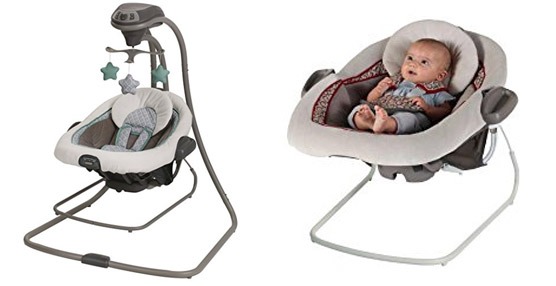 Working noise
Working noise can be a big shortage, but as the motor is at the base, the problem has been a common issue for nearly all the baby swings on the market, slightly noisy will not have much influence with a small baby. And the noise level of Graco is it can be heard clearly, but makes no such effects.
Common features
One common feature of Graco infant swing is its deep seat, nearly all the baby swings of Graco are designed to be deep, for the safety of course, but is also shortened the using life of swing. As the baby grows big enough, the activity space becomes small and he or she may find it not comfortable to stay in there any longer.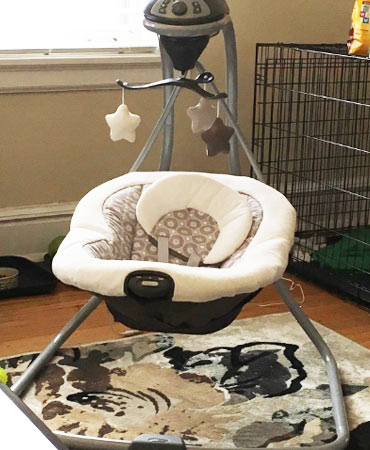 Types
Most of Graco swing machines are full-size types, with plug-in and battery operation both. They may take up much floor space but is more functional and sturdy. Heavyweight and full-size design make it hard to be moved again once you assemble them. But most of them can be used as portable bouncer or rocker, so they are of highly cost-effective.
Usages
Wide ranges of types including compact one, full size one, fold up one, etc give you more choice. Most of them are suitable for indoor use. If you have interested in other items of the brand, you can check out more information on the official website of Graco baby swing.
Fisher-price baby swing is most famous for its Snugapuppy Cradle'n swing series and take along rainforest friends series. The price of Fisher-price products ranges from $100-$200. Portable infant swings are much lower, reaching under $100.
Safety
Safety is the main concern for each baby swing brand and so for Fisher-price. For full-size type, long and sturdy leg keep the balance of swing, and 5 points harness keep baby secure anytime in use. Portable swing of Fisher-price is normally low to ground, equipped with 5 point harness to ensure baby's security.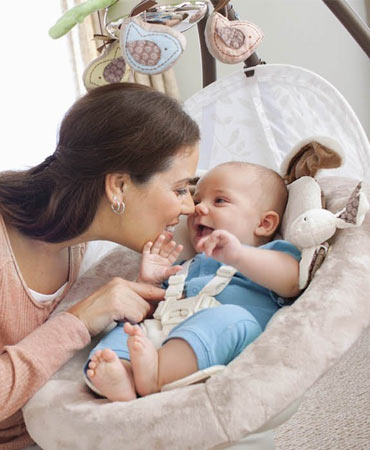 Working noise
The working noise of the motor is also able to be heard, but not too loud, especially for portable ones. A full-size baby swing can be a little annoying when they start working, it will be much lower after working for some time. Body support and head support are normally equipped with the machine, and the patterns are designed super cute. 2 reclined positions for full-size type enables the baby to play and sleep in comfortable positions.
Types
All the pads are machine washable and can be removed easily from swings. They are normally single swing type, seldom can be used as rocker or bouncer. The heavy body and large body size determine them to be unable to move casually.
Most of them are unsuitable for small space use. Soft fabric and cozy seat pad make the baby feel comfortable, and the whole comfort level of Fisher-price products is relatively high. Nearly all the full-size products are plug-in and battery operated while portable types are battery operated only. So the choosing range of travel baby swing is narrowed a lot.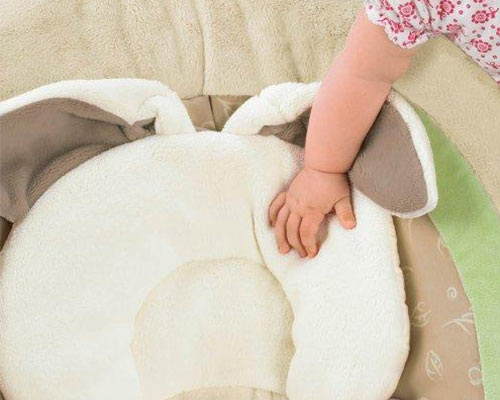 Usages
Unlike other brands, Fisher-price baby swings are not designed unisex. Mommies can choose a suitable one according to the baby's sex. We have made reviews on baby boys and baby girl infant swing for you to choose. And many kinds of patterns can be chosen. You can also check the latest types and prices on the official website of Fisher-price.
Ingenuity baby swings are most famous and excellent in its portable baby swings. Most of its swing price is under $100, therefore, it can be a good choice for the low budget family. For full-size baby swings, the price level can be around $200.
Safety
The seat of Ingenuity baby swings are set low, moms need to bend down and put the baby in and out. But the seat is designed comfortably. The simple design of the baby swing makes it operate much easier. 5 point harness keeps baby secure all the time. For most portable type, you can keep swing close with you whatever you are doing.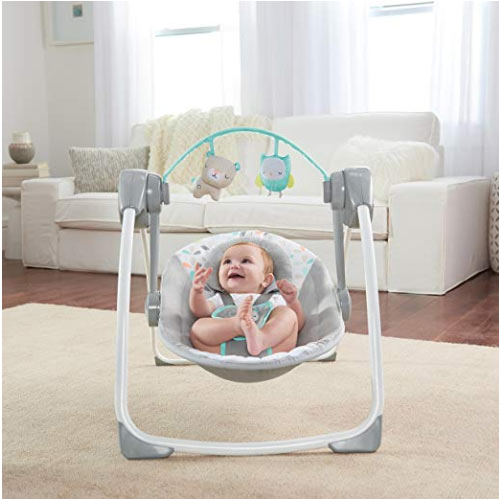 Working noise
The biggest advantage of the Ingenuity baby swing is its noiseless working condition, the motor noise can hardly be heard. According to the test and feedback, the swing speed is a bit low even at the highest level. Most of the baby swings are designed to be compact and small, perfectly fit small space and travel use. Battery operated machines make them easier to be used outdoors but are also costly on buying batteries.
Types
Full-size swings normally are swing and rocker combo, easy to be moved from room to room. Seat pads are cozy and washable. The design style of baby swings is unisex, suitable for both girl and boy of each type. Portable type swings are the hot selling and cost-effective products for Ingenuity, thus they are more suitable to be used for traveling, when used at home, they can be a great space saver.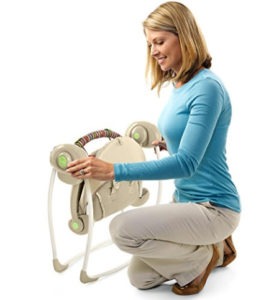 Functions
The functional performance of Ingenuity is much lower than other brands, but products of the brand are still equipped with basic functions, able to soothe baby quickly. Quality and overall performance perfectly value their prices.
Check for more information and price on the official website of Ingenuity if you are interested.
Compared with the other three infant swing brands, 4moms baby swing price is the most expensive one but is also the most modern type. All together two series are for sale, including RockaRoo and MamaRoo, the price of which can be $100-$300.
Appearance
The appearance of it is the coolest one, if you like modern design products, then 4moms will fit all your demands. The function of which is also different from traditional types. It mimics actual parents' motions on soothing baby and thus the comfort level can be high.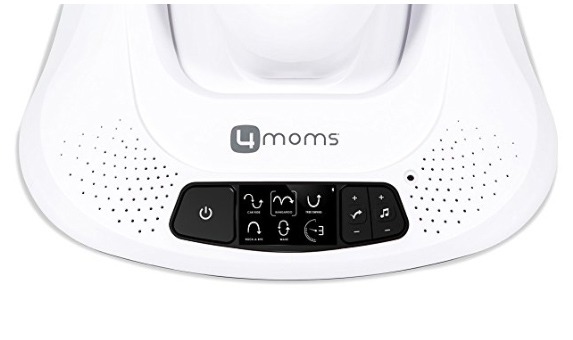 As it insists on baby enjoying unique sway as most parents do, the two products lack vibration settings, so it may not suitable for all the babies.
Working noise
The working noise of 4moms baby swing is also an inevitable problem, it can be heard clearly, but the noise level differs with different machines. So if you are lucky enough, you may get a super quiet baby swing. The swing seat is set low to the ground, the safety of it can be reliable.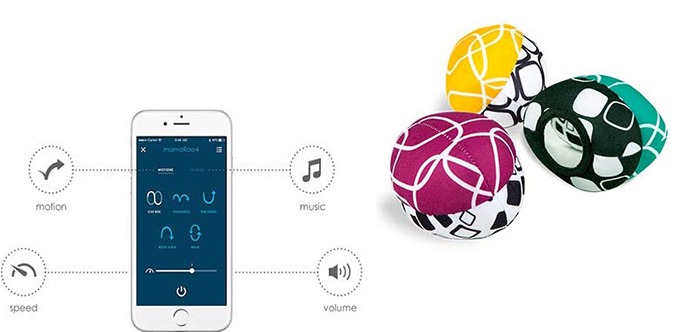 For newborn babies, you may need to buy an extra newborn insert for supporting the baby's head. The plush of it is quite thin.
Usages
Application of 4moms baby swings are restricted at home, no battery settings and unfold design makes it nearly impossible to use outdoors. And as only two series are selling, you can just choose one of them for buying.
Check for more information and after-sale service on the official website of the 4moms baby swing.
From the above analysis, we can rate the four brands from each different aspects as follow,
---
If you want the safest baby swing, the four brands,

Graco, Fisher-Price, Ingenuity, and 4moms

are all the best choices.
If you want the one with low noise or super quiet in whole working conditions,

Ingenuity

can be a best choice.
If comfort is your primary choice, go to the

Ingenuity, and Fisher-Price

directly.
If you want a larger weight limit, which means getting one for larger babies around 6 months, discard 4moms,

Fisher-Price, and Ingenuity

are more suitable.
For multiple functions design,

Graco and Fisher-Price

have more types available for choosing.
In terms of swing speed,

Fisher-Price

becomes the winner thanks to the advanced technology on adjusting swing speed based on the baby's weight.
When it comes to appearance, the

4moms baby swing

is unbeatable for a modern look, while

Fisher-Price

can be more colorful and delight your room with a sleek design.
If picking the most cost-effective one, the

Ingenuity baby swing

is the final winner!
---
Ingenuity Baby Swing vs. Fisher-Price
The price of the Ingenuity baby swing is lower and is more cost-effective, while Fisher price baby swing price is a bit higher than Ingenuity, but is also worth the value.
Most of the Ingenuity swings are portable ones, they are more compact and space-saving, but battery-operated set makes it more costly on buying batteries constantly. Fisher-price infant swings are more excellent in full-size types, take up much space but plug in operate enables to save a large sum of money.
Choosing ranges of Ingenuity swing is not as much as Fisher-price, because the products of Fisher-price is richer and are able to meet nearly all the demands of customers. Safety and comfort level of both are quite the same, the baby is able to sleep soundly in the cozy fabric and has much space to play.
Design styles of each kind different a lot, for Ingenuity, it aims at designing for unisex use, both girl and boy can choose and use them perfectly. Fisher-price pays more attention to baby swing appearance, some of them are beautiful and perfect for girls, while others are more boy-like colors.
Ingenuity products are perfect for outdoor use, they are able to fold up and put in the car or large suitcase, so if you want to have a travel baby swing, it will be a good choice. On the contrary, most full-size baby swings in Fisher-price are highly cost-effective and are an excellent machine for indoor use. But it also designed several travel baby swings. Thus the choice range of Fisher-price is wider.
The top-rated advantage of Ingenuity swings are their noiseless working condition, but to some people, a noisy motor of Fisher-price can be rather annoying.
Graco vs Fisher Price Baby Swing
Price of Graco baby swing and Fisher-price swings are quite similar, but Fisher-price costs a little higher than that.
Both of them are designed sturdy and safe enough to keep baby secure in use. On swing seat, most complain about the deep seat of Graco infant swing, which shortens using life and is less comfortable than Fisher-price ones.
Fisher-price baby swings are normally single swings and seldom are rocker combo, while most of Graco baby swings are designed to be 2 in 1 type, portable rocker makes it easier to move from one room to another.
The noise level of the two brands' products is the same, they can both be heard clearly. Some may feel them so annoying, but it proves the noise actually do less effect on the baby.
On appearance and design style, Fisher-price is more colorful, parents can choose according to the baby's sex and one's preference, and all the patterns are made super cute. Graco baby swing style is more unisex, both girl and boy baby can use it, and all the baby swings are made simple.
On function, Fisher-price baby swings have more functions and advanced technology, entertainment setting is more various. Graco is designed to meet basic functions.
Both of the brands have a wide range of indoor and outdoor products for choosing.
Which Brands to Choose?
The four brands have their own features and shortcomings, we can not say which one is exactly the best brand, but just make a comparison among them and choose the most suitable one according to one's actual needs.
If you feel annoyed about any sound of a baby swing, then you may choose Ingenuity. If you want a super modern type, then 4moms will be on the best bet…
Before buying, you should know which function of each brand is more needed for you, and then make clear of the maximum weight of each baby swing. As any of the four brands have dozens of series and products, on choosing a suitable one, you should get their basic needs and decide which to buy on considering your actual budgets.
---