Have you ever encounter the situation that your baby is crying constantly and has the phenomenon of spitting the food it just ate. No matter how you comfort or swing the infant, he or she is still crying. If so, you need to be careful that your little baby may get reflux.
What is reflux in babies?
How do I know if my baby has reflux?
What causes reflux in babies?
How to cure reflux in babies?
You may get puzzled on all the related problems, and are so worried about your infant.
Well, do not worry, in this article, we will give a detailed introduction on reflux and give you best suggestions on how to treat acid reflux in babies, and of course, the best baby swing for reflux to help relieve the pain for your little angel.
Best Infant Swing For Reflux Babies of 2020
Best Baby Swing For Reflux Reviews
1. Graco Slim Spaces Compact Baby Swing- Linus/Etcher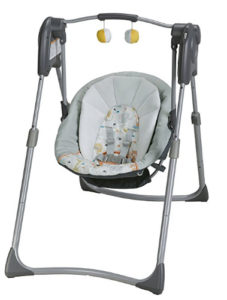 This is a quite simple design compact baby swing. The seat of it is set pretty upright, meeting the demand of reflux babies. And the 5 point harness is set on the seat to keep baby safe and prevent him or her from falling down.
If the baby is in pain or coughing a lot, you can put him or her on the swing, the front to back swing motion keeps infant calm pretty soon and give baby the feeling of lying in the arm of moms still.
Two balls are set on the toy bar to entertain babies. As is known to us all, if you are in pain, you can distract your attention and such movement reduce your pain a lot. Therefore, all the entertainment design on the machine is able to reduce the pain for babies.
It weights pretty light, and the height of it can be adjusted. No matter you are at home or outside, you can use it conveniently and easily.
Pros:
Upright positions for reflux baby
Space save
Easy to fold up
Height adjustable leg
Multiple swing speeds
Entertained toys
Cons:
No music inserted
Battery only

---
2. 4moms mamaRoo 4 infant seat
Mamaroo is the updated series of 4moms infant swing. The seat recline can be adjusted. For reflux babies, you can adjust the seat to the upright position, and tighten up the seat belt.
Unlike other baby swings for reflux babies, this swing machine is moved in unique motions, imitating the ways that parents use in real life in comforting babies. And to distract and reduce the pain of babies, you can play the built-in 4 music or to connect your phone with the machine and play whatever music he or she likes.
It weighs light and occupies an only small piece of land in your home, but do not get fooled by its compact shape, it is still sturdy enough to support the small baby. But you need to make sure that there is always someone watching in using.
Actually, 4 moms baby swings are frequently used for nursery in hospitals. Thus for baby with reflux, it is really a good choice. And many parents praised that the disease is cured with the machine.
Pros:
5 unique motions to soothe reflux babies
Mp3 plug in
Soft seat pad
Adjustable seat recline
Perfect one for nursery
Weight light
Cons:
Only natural sounds are inserted

---
3. Fisher Price Sweet Snugapuppy Dreams Cradle'n Swing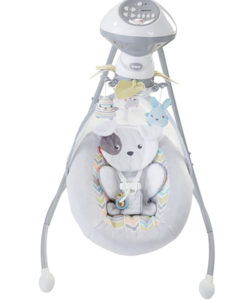 This baby swing is the classical and hot selling series of Fisher Price. There are two recline positions, for reflux babies, you can change the seat into upright positions. When you put the baby on the machine, you can easily feed something for baby to eat, and the upright position prevents stomach content flow backward.
There are two swing motions you can choose, one is from side to side while the other is from front to back. For each different babies, the preference of his or her is also different.
6 swing speeds can be set, and we strongly suggest slow speed should be used for a baby with reflux. The strong movement will be harmful to the stomach especially for small babies.
The seat pad is smooth and satisfying, you can take it off and put it into the washing machine for cleaning. 5 point harness keeps baby safe when lying in the machine.
Pros:
2 swing motions, from side to side and from head to toe
Upfront positions can be adjusted for a refluxing baby
6 swing speeds and 16 soothing sounds
Machine washable seat pad
Smart technology set
Cons:
Lack of vibration mode

---
4. Graco Duet Soothe Swing and Rocker – Winslet
This is a swing and rocker combo, and for baby with reflux, we strongly suggest the rocker to you. It weighs light and can be carried anywhere with you. When the baby is suffering from the pain of reflux, you can put him or her in and shake it with your hand or foot. It will give the baby the feeling of lying in the arm of moms.
Remember to adjust the position into an upright situation, especially when you finish feeding. The gravity keeps food into stomach directly and baby will feel comfortable.
There are 15 songs and sounds, including natural music and white noise, when the baby is in fussy or in pain, the melodies are able to soothe him or her effectively.
Both plugin and battery are available for the machine, and the battery is used for controlling vibrating. By the way, the vibrating movement is able to help baby burp but do not set it too fast.
Pros:
3 sitting positions
2-speed vibration to help easily burp
15 songs and sounds soothe babies
Plug in and battery available
6 swing speeds
Cons:
The swing is heavy and not convenient to carry

---
All above-recommended baby swings are the top 4 best infant swings for reflux we picked out for you. They are designed especially for baby in reflux and are proved to soothe baby in pain. With the swing machine, you are able to save much energy and time in hugging baby all day long, and also the upright seat brings great enjoyment for baby with reflux.
What Is Acid Reflux In Babies?
Reflux is also known as Gastroesophageal reflux disease (GERD), it refers to the long term condition when food back up in the stomach and causes the baby to spit up. It is not a serious disease in common situations and can be cured automatically when baby grows large enough.
However, seldom causes serious conditions such as allergy. Therefore, moms and dads should still pay great attention if your baby gets reflux.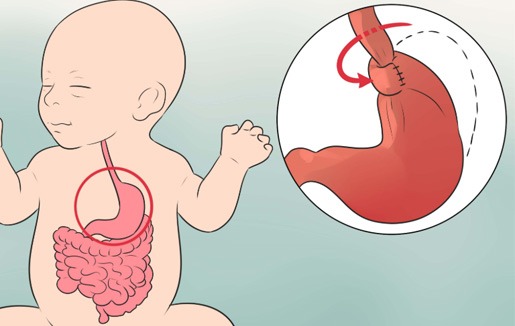 Signs And Symptoms of Reflux In Newborn Babies
Baby with reflux is difficult to detect for small babies are unable to describe their feelings. They can just cry out when in pain, but it is not a worry of concern. In only a few situations do the stomach content to get enough acid to irritate the throat and causes signs and symptoms.
However, the symptoms and signs of reflux in newborn babies varies according to certain causes. They may encounter the spitting up, coughing, wheezing and vomiting, etc. When series situations occur such as refusing food, having blood his or her stool, spitting up blood content, failing to gain weight, difficulty in breathing, etc. You need to get him or her to the hospital right away.
What Causes Reflux In Babies?
Small babies under 18 months easily get the disease, the lower esophageal sphincter( a ring sets between esophagus and stomach) is not mature, thus the stomach contents get easily backward. For a healthy person, the ring opens up only when swallowing and for most of the times, it keeps closed tightly.
There are three main causes for reflux in babies, including the long term flat lying, completely liquid diet and premature born situations on babies.
Apart from this, reflux can also be caused by serious situations, such as the allergy to certain milk or protein contained and pyloric stenosis ( the ring gets too narrowed that preventing the stomach content into small intestine).
How to Relieve Reflux In Babies?
Baby reflux can be cured by itself through time, but the pain of it may get baby into the situation of failure into sleep at night. Thus in order to soothe and relieve reflux, here experts give some suggestions for home remedies:
1. Try upright positions in daily feeding.
When you hold your baby in upright positions, the gravity keeps stomach content to stay where it should be. And remember to keep baby still in upright positions in at least thirty minutes after feeding. In such situations, a best upright baby swing can be a great help.
2. Feed baby in smaller and more frequently way
Do not feed the baby too much a time, you can feed him or her in small amount and prolong the feeding time, giving stomach enough time to digest.
3. Do not keep baby in flat positions for a long time
Apart from sleeping or taking a nap, hold baby upright especially after having a meal. Flat position will easily get stomach content flow back.
4. Take time to burp your baby
In order to help relieve your baby, you should also patiently burp your baby especially after feeding.
5. Put baby sleep on his or her back
If the baby feels so uncomfortable because of the pain, you can put the baby to sleep on his or her back. But there should always be someone looking in case baby gets stifle.
What to Do for Reflux In Newborns
When your baby gets reflux, he or she will be so difficult in eating and sleeping because of the pain. And of course you are also unable to sleep, in order to help you in such situations, you need to get a machine, one best swing for reflux baby can help you a lot. And the special design also helps soothe the baby of reflux in pain.
Why You Need a Baby Swing for Reflux?
Once your baby gets reflux, he or she needs to stay upright for a long time, because the flat position is painful for babies and they will get fussy. It means you need to hug your baby for hours. So why don't you get a baby swing to help you?
It keeps upright situations with safety 5 point harness, so you can have a rest when the baby is sitting on it. And the front to back or side to side swing motions bring large satisfying and comfort to the baby.
When a baby is in pain, the beautiful melodies will attract their attention and reduce the pain as much as possible. In a word, a baby swing is not a necessity for each family, but when your baby is suffering the pain of reflux, the swing machine can really be a great help.
Features of Reflux Baby Swing
Upright seat
Safety five-point harness
Front to back or side to side swing motions
Comfortable seat fabric
Stable frame
Among so many baby swings brands on the market, here we pick out several best baby swings and rockers for reflux babies. They are set upright and are helpful in curing the disease.
Summary
If you want to know more details about the products or want to check out the price, please feel free to contact us or to get the price on Amazon directly, there will always be large discount to save money for you.
---